Oatmeal and I haven't always had a lovely relationship.  Sure – I love a good oatmeal cookie now and then and love using it in granola and recipes but oatmeal on its own – notsomuch.  Perhaps it was one of those lovely micro packets back when I was a kid that had the flavor what one might think of as cardboard with chewy "fruit" flavor.  Perhaps I nuked the heck out of it.  Any way I looked at it – if you told me I was having oatmeal for breakfast, I probably would tell you not in this lifetime.  As I've gotten older, I do keep some "instant" oatmeal at the 9to9 and, if I do decide oatmeal is the way to start the day, I'll jazz it up with my own spin.  My friends have talked about overnight oats and baked oatmeal as the way to make oatmeal nowadays, so I thought I'd give my own attempt a try. The key would be to make a recipe that was so good I'd crave it again.  Well folks, we have an oatmeal convert here – this Lemon Blackberry Baked Oatmeal is a tried and true dish that will be made time and time again. 
Often for breakfast, I love to swirl berries and lemon curd into a bit of yogurt so I figured I'd play with the classic flavors of lemon and blackberry for this baked oatmeal.  I saw some gorgeous blackberries in the store – delightfully tart and bursting with flavor.  I added a bit of sweetness, a swirl of vanilla and some walnuts for crunch and this baked oatmeal was ready in no time.  Make a batch of this and keep it in the fridge and you and your family will have a scrumptious breakfast that is so much better than a grab and go "instant" packet.
On to the recipe:
Gather your ingredients
Whisking together these rolled oats with the spices and the rest of the dry ingredients

Look at the specks of vanilla bean in the vanilla bean paste swirled into the custard mixture

Adding the vanilla custard to the berries, lemon and oats

 Let's chop some walnuts for crunch
Chopped walnuts scattered along the top of the oatmeal mixture and ready for the oven
Let me make you a plate
Make This Baked Oatmeal – Often!
Aly M. Cleary
Lemon Blackberry Baked Oatmeal
This Lemon Blackberry Baked Oatmeal is sweet and tart with a touch of vanilla and a bit of walnut crunch. This Baked Oatmeal will be a family favorite!
20 minPrep Time
40 minCook Time
1 hrTotal Time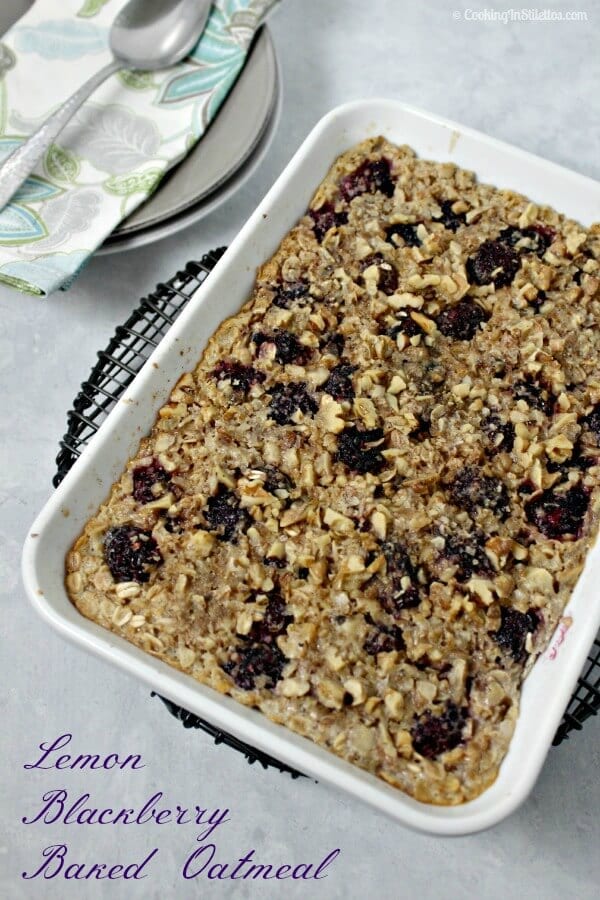 Ingredients
2 pints of fresh blackberries
1 lemon
1/2 cup of granulated sugar, divided
2 1/4 cups of old fashioned rolled oats
1 teaspoon of baking powder
1/2 teaspoon of cinnamon
1/4 teaspoon of nutmeg
1/2 teaspoon of salt
2 cups of milk
1 egg
2 tablespoons of butter, melted
1 teaspoon of vanilla extract (I used vanilla bean paste for a bit of vanilla oomph)
1/2 cup of walnuts, chopped
Instructions
Preheat your oven to 350 degrees F.
Spray a 9 x 13 pan with baking spray and set aside.
In a small bowl, tumble in the blackberries.
Add 1/4 cup of the sugar to the berries.
Zest your lemon, reserving half of the zest for the oat mixture. Add the other half of the zest to the berries.
Juice the lemon, adding the juice to the sugar and berry mixture and toss gently with a spoon to mix.
Set aside to macerate.
In a medium bowl, whisk together the rolled oats, baking powder, cinnamon, nutmeg, salt and the reserved lemon zest to mix.
In another bowl, whisk together the milk, egg, melted butter, remaining 1/4 cup of sugar and vanilla extract.
Add a light layer of the oat mixture to the bottom of the baking pan.
Lightly sprinkle some of the juicy berries over the oats.
Add the remaining oat mixture and add the remaining berries and juice over the top.
Pour the custard so that it coats everything.
Finally, tumble the chopped walnuts over the top so it forms a bit of a crunchy streusel.
Bake for about 35 - 40 minutes until the sides are golden brown and everything is set.
Serve warm and enjoy!
7.8.1.2
169
https://cookinginstilettos.com/lemon-blackberry-baked-oatmeal/