This post is sponsored by ConAgra RO*TEL.

Cinco de Mayo is just around the corner and I have some fabulous recipes to get you in the spirit!
When I think of throwing together a casual soiree for just a few friends, either I look for a few tried and true recipes that one can make ahead or I let the slow cooker do the heavy lifting. I am not a fan of fussy recipes and prefer delicious bites that I know my friends will adore. When it comes to casual entertaining, I often find that my guests love food served either buffet or family style.
While planning this year's Cinco de Mayo celebration, I wanted the menu to reflect some classic Mexican flavors along with a bit of spice and sass. As Cinco de Mayo falls midweek, I will be hosting a small soiree for a few but this menu is perfect to double for a crowd, make for a Cinco de Mayo dinner or a casual Girls Night In.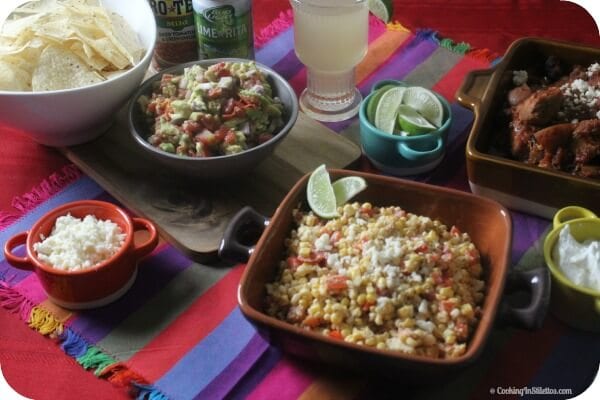 It wouldn't be a proper Cinco de Mayo without guacamole and margaritas so I am serving refreshing Bud Light Lime-A-Ritas along with my tried and true RO*TEL Rockin' Guac to kick off the festivities. They pair well together – the creamy avocado accented with a bit of spicy bite and fresh citrus and the crisp, refreshing Bud Light Lime-A-Ritas, which will be the signature cocktail of the evening. No cocktail shakers or mixologists needed.
As work does not always mean "over at 5" for this gal, a race home to have everything ready to go is a definite. Thankfully, most of my menu can be made ahead. Right before my guests are due to arrive, I can whip up this delicious creamy, chunky guacamole, serve with some crisp tortilla chips and greet them with a frosty Bud Light Lime-A-Rita ready for sipping! The party can officially begin!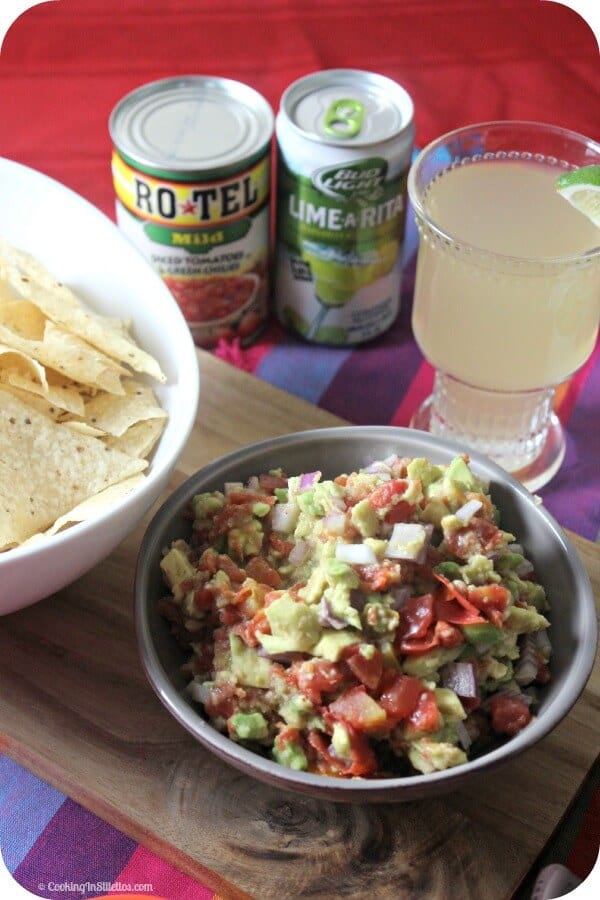 A must for any Cinco de Mayo celebration – Bud Light Lime-A-Ritas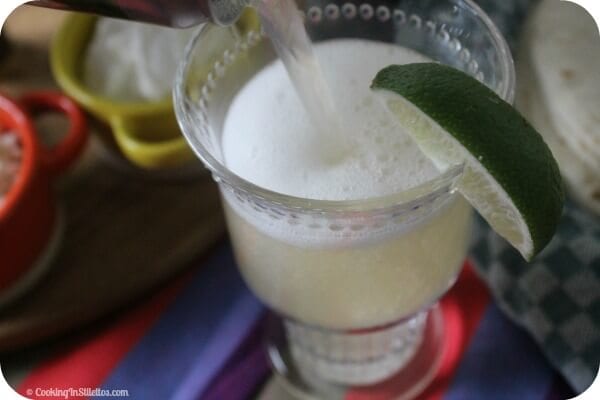 And, of course, no soiree is complete without RO*TEL's Rockin' Guac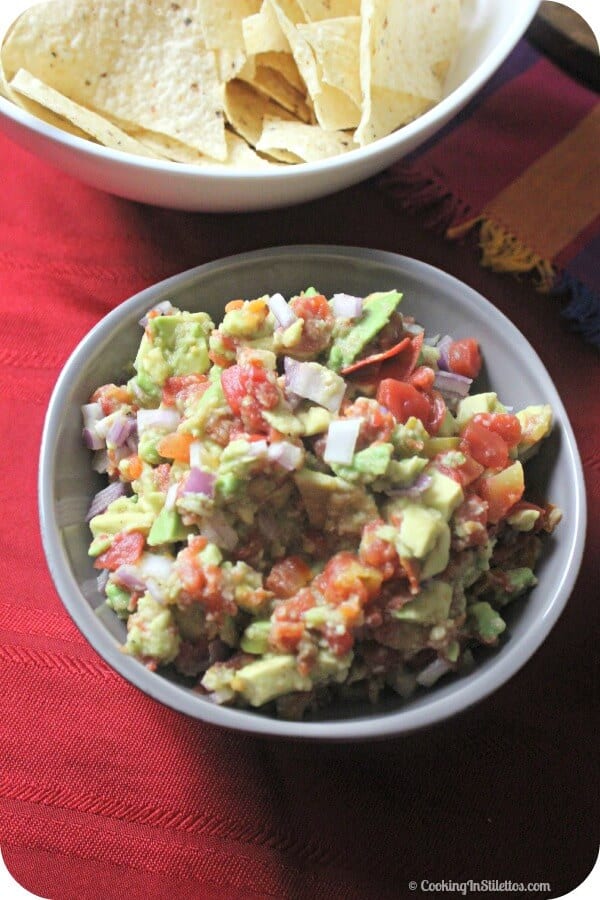 RO*TEL's Rockin' Guac Esquites - Mexican Street Corn Salad
---
[RO*TEL|http://bit.ly/1IRwMbg" target="_blank] Aly M. Cleary
Yields 6-8
This Rockin' Guac is guacamole with a kick. Creamy avocado accented with chilies, tomatoes and lime with a bit of red onion bite - now this is how you celebrate Cinco de Mayo!
15 minPrep Time
10 minCook Time
25 minTotal Time
Ingredients
3 ripe avocados, pitted, peeled and diced
1 tablespoon freshly squeezed lime juice
1 can (10 ounces) of RO*TEL® Original Diced Tomatoes & Green Chilies, drained
1/2 cup finely diced onion (I love using red onion in guacamole)
1/2 teaspoon kosher salt
1/4 teaspoon of freshly ground black pepper
Tortilla chips
5 ears of corn, husks and silks removed
1 tablespoon of vegetable oil
1 red pepper, seeded and diced
1 tablespoon of melted butter
Zest and juice of one small lime
3 tablespoons of non-fat Greek yogurt
2 tablespoons of light mayonnaise
1 tablespoon of parmesan cheese
2 teaspoons of chili powder
1/2 teaspoon of kosher salt
1/3 cup of crumbled Queso Fresco (or Cojita) cheese
Lime wedges for serving
Directions
In a bowl, mash together the avocado and mix with the lime juice. I prefer my guacamole a bit chunky but you can do it to your texture preferences.
Add the RO*TEL® Original Diced Tomatoes & Green Chilies to the mashed avocado mixture, followed by the diced onion, salt and pepper.
Mix until fully combined.
Serve with tortilla chips and enjoy!
On a grill or on a grill pan, preheat the vegetable oil over medium high heat and add the corn.
Grill the corn, turning often until you have beautiful charred grill marks on all sides. When the charred corn is cool enough to handle, cut the kernels off the cob and, for a bit of extra flavor, run the back of your knife blade lightly over the cob to get out any additional corn "milk".
Add the diced red pepper to the bowl and toss the corn and red pepper with the melted butter.
In a bowl, whisk together the lime zest and juice, Greek yogurt, light mayonnaise, parmesan cheese, chili powder and salt until it all comes together. Check for seasoning and add more salt if you feel it is necessary. Remember, the parmesan cheese is a bit salty so this is definitely to your taste.
Add the dressing to the corn and pepper mixture and toss until everything is mixed thoroughly.
Add the crumbled Queso Fresco and toss again to mix.
Serve with a wedge of lime and enjoy!
7.6.7
1007
https://cookinginstilettos.com/cinco-de-mayo-menu-and-mexican-street-corn-salad-recipe/
All images and content are © Cooking In Stilettos. Please do not republish without contacting us first. Thank you.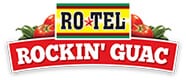 Zest up your fiesta with RO*TEL's Rockin' Guac and Bud Light's Lime-A-Rita.
This post is sponsored by ConAgra RO*TEL. Compensation was provided by ConAgra RO*TEL via Mode Media.
Please note Bud Light Lime-A-Rita® is a registered trademark of Anheuser-Busch. ConAgra Foods, Inc. All Rights Reserved.
Did you enjoy this post?
| | |
| --- | --- |
| Share the love | Get free updates |