This Grilled Chicken & Pear Salad with Lemon Basil Vinaigrette will be a favorite for grilling all year long  – grilled chicken and pears are tossed with fresh veggies and peppery arugula in a delicious and easy lemon basil vinaigrette that's made from scratch!
Disclosure:  This post has been sponsored by Pompeian.  My love for the brand and opinions are all my own.
When Pompeian reached out to see what recipe magic I could whip up with their Extra Virgin Olive Oil, I wanted a recipe that would carry the buttery flavor throughout while not being too heavy for summer.  It's National Olive Oil month and Pompeian is encouraging everyone to lose the butter.  No problem – I love using olive oil, in fresh and cooked preparations and especially with my summer salads.  There's nothing that beats a homemade vinaigrette, in my opinion.  The main component of a great vinaigrette – a fabulous olive oil.
Do you ever have a dish that has you thinking "I so need to recreate that at home"?  That was my dilemma a few weeks ago.  We have this local restaurant near the 9to9 that has some killer salads and, recently, I had one of their salads which had pears, chicken and a lemon basil vinaigrette.  It was soooo good but I was thinking "I know I can make that with a bit of a spin" and it hit me – I'd use freshly grilled pears along some peppery arugula.   I'd also carry the lemon flavors throughout with a lemony marinade for the chicken and that would also be grilled.  I'd drizzle the salad with a fresh lemon basil vinaigrette and top it with my favorite cheese – a salty, crumbly ricotta salata.  Southern Living had a fabulous vinaigrette recipe that I jazzed up and it's full of fresh summer flavors.
This Grilled Chicken and Pear Salad with Lemon Basil Vinaigrette is the ultimate summer salad my friends!
On to the recipe:
Gather your ingredients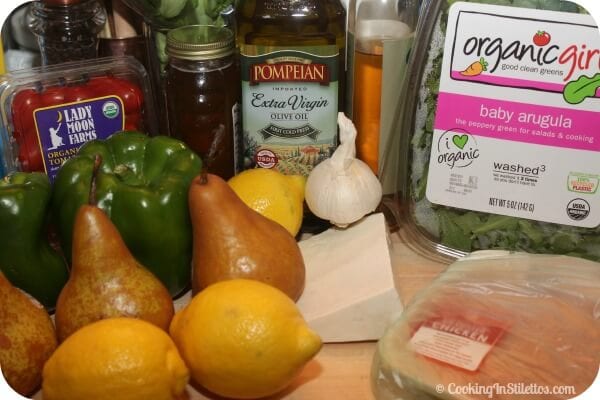 Let the chicken tenders marinate in that citrus olive oil goodness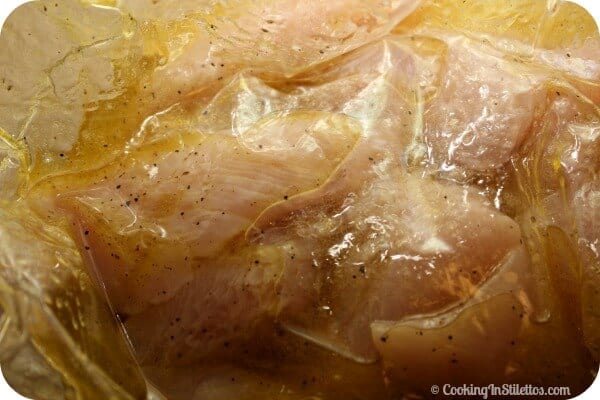 Look at these lovely pears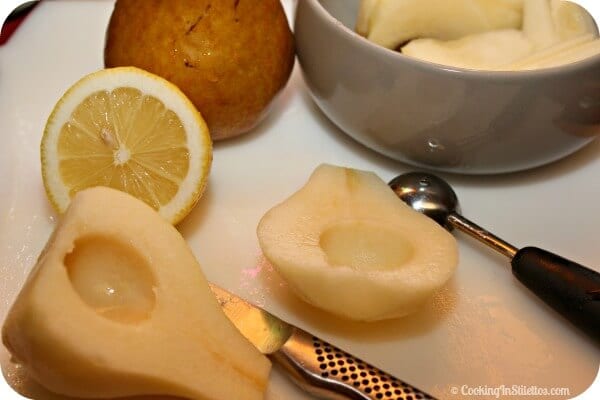 Let's grill those pears to caramelize and soften them a bit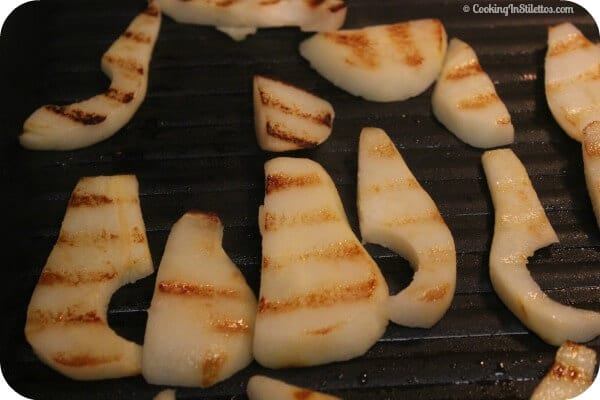 Make the Lemon Basil Vinaigrette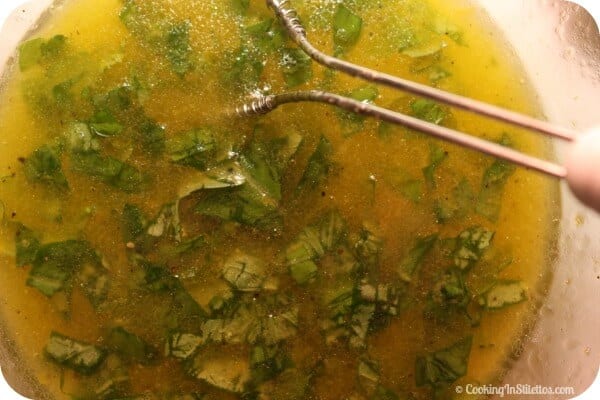 The main flavor factors woven throughout the dish – Pompeian Olive Oil, Lemon and Basil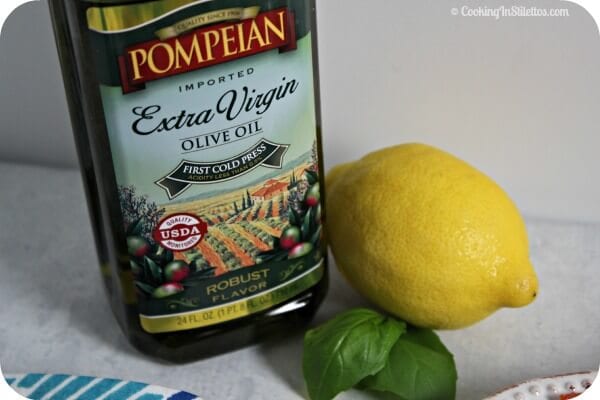 Seriously – my favorite summer salad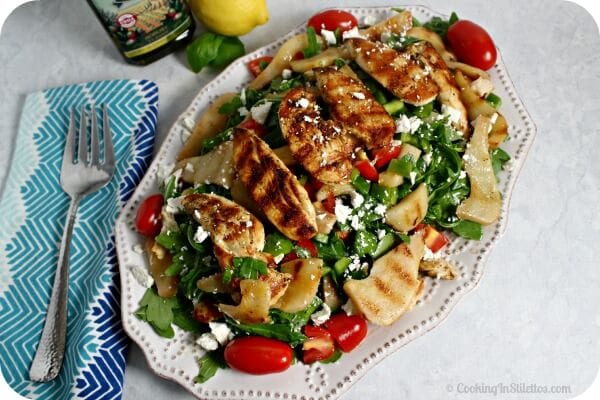 Aly M. Cleary | Dressing adapted from Southern Living
Yields 4
Grilled Chicken and Pear Salad with Lemon Basil Vinaigrette
This Grilled Chicken and Pear salad has the flavors of summer accented with a divine Lemon Basil Vinaigrette
30 minPrep Time
30 minCook Time
1 hrTotal Time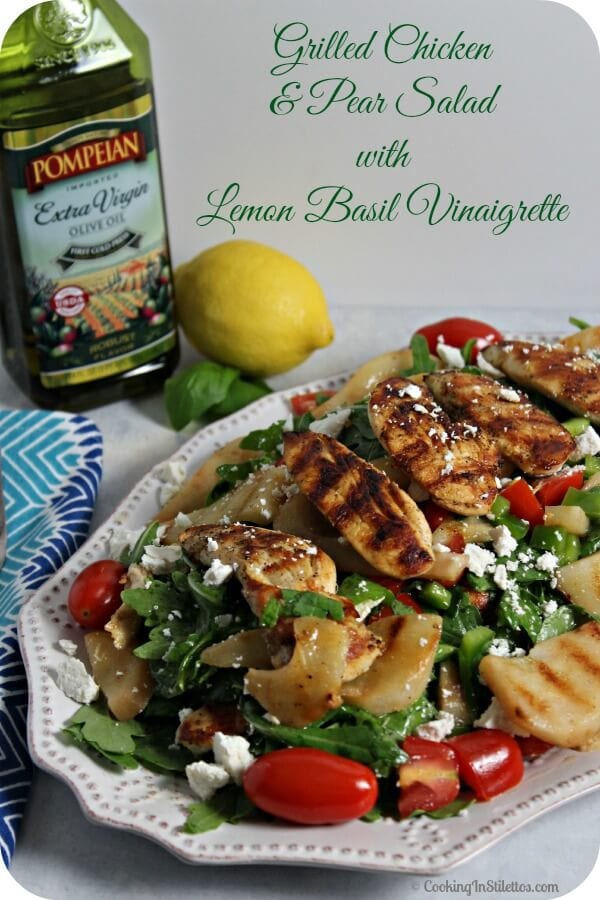 Ingredients
For the Marinade:

1 1/2 pounds of chicken tenders
1/4 cup of extra virgin olive oil
1 large lemon, juiced
1/2 teaspoon of salt
1/4 teaspoon of freshly ground black pepper

For the Lemon Basil Vinaigrette:

1/4 cup of extra virgin olive oil
1/4 cup of freshly squeezed lemon juice
Zest of two lemons
1 tablespoon freshly minced basil
1 tablespoon of champagne vinegar
1 teaspoon of honey
1/2 teaspoon of kosher salt
1/4 teaspoon of freshly ground black pepper

For the salad:

1 10 ounce package of fresh baby arugula
2 - 3 pears, peeled and sliced thin (lightly squeeze some lemon juice over them to stop from browning)
2 green peppers, seeded and diced
1 cup of grape tomatoes, quartered
1/2 - 3/4 cup of ricotta salata, crumbled (depending on how cheesy you want it)
Instructions
To prepare the Lemon Chicken:

In a large plastic bag, add the chicken tenders.
Add the olive oil, lemon juice, salt and pepper.
Seal the bag and squish it together so all of the chicken is soaked in the marinade.
Let sit in a bowl for about 15 minutes or so to marinate (no longer than 30 minutes).

To make the Lemon Basil Vinaigrette:

In a bowl, whisk together the olive oil, lemon juice, lemon zest, champagne vinegar, honey, salt and pepper until everything is mixed well. Set aside.

To make the salad:

Heat a grill pan over medium high heat.
Lightly oil the grill pan with a bit of olive oil.
Place the pears on the grill and cook until they soften a bit and have some nice grill marks. Flip and continue to cook until done.
Lightly oil the grill pan again and grill the chicken tenders for 5 - 6 minutes per side, until done. Remove and lightly tent with some foil.
In a large bowl, add the argula, diced green peppers, cherry tomatoes, and a small bit of the ricotta salata.
Dice a bit of the chicken and the pears and mix them in with the salad.
Toss everything with some of the vinaigrette until the arugula is well coated.
Place on a serving platter and lightly place the remaining sliced pears and the chicken tenders over the top of the salad.
Crumble the remaining ricotta salata over the top and drizzle a bit more vinaigrette.
Serve and enjoy!
Notes
Lemon Basil Vinaigrette adapted from Southern Living
7.8.1.2
227
https://cookinginstilettos.com/grilled-chicken-and-pear-salad-with-lemon-basil-vinaigrette/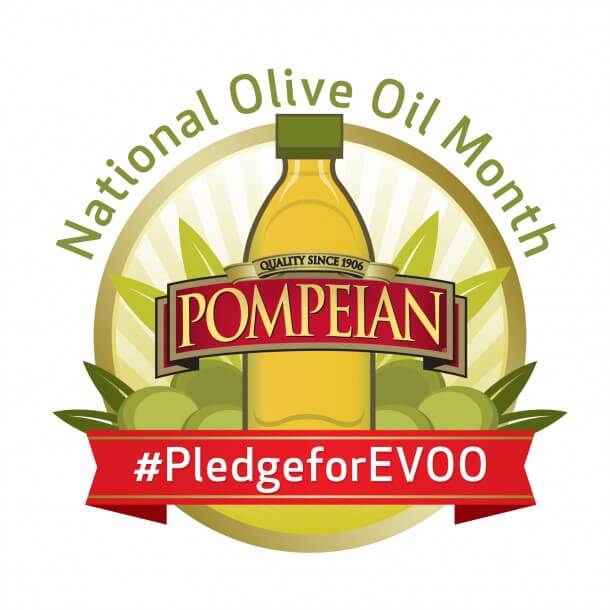 Pompeian, a leader in the olive oil industry, is encouraging everyone to take the #PledgeforEVOO, and swap butter for olive oil in your favorite recipes.  It's easy to do and, to help you out, tPompeian has an easy conversion chart to help you out. Visit Pompeian's #PledgeforEVOO, take the pledge and you might win a surprise from Pompeian which will have you and your family enjoying a fabulous movie night at home.  Every week during National Olive Oil Month, 5 additional fans who have pledged will win a fun prize pack on Pompeian's timeline.
So – are you ready to take the Pompeian Pledge?
Disclosure:  This is a sponsored post written on behalf of Pompeian.