Disclosure: Compensation was provided by Hebrew National via Mode Media. The opinions expressed herein are those of the author and are not indicative of the opinions or positions of Hebrew National.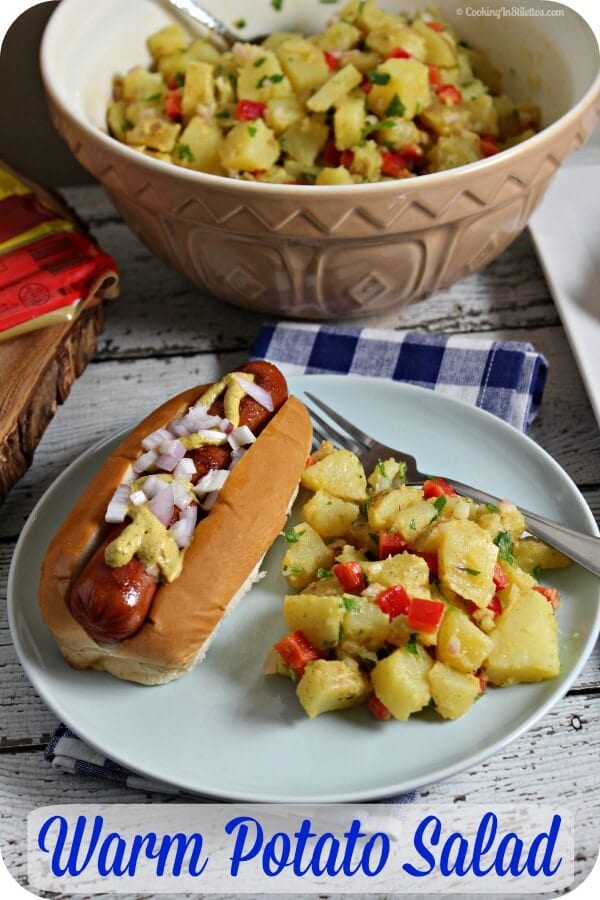 In summer, when it comes to all things grilling, it's all about the food pairings…
Hot Dogs and Hamburgers
Mustard and Ketchup
Potato Salad and Macaroni Salad
Grilled Chicken and Ribs
Lemonade and Iced Tea (or spirit of choice)
Things tend to go together when you break out the grill tongs and get to grilling.
Potato salad is one of my family favorites. While I'm still trying to figure out my Nana's classic potato salad, this Warm Potato Salad has become a tried and true. Don't get me wrong – I like mayonnaise on occasion but potato salads with a ton of mayo sometimes are a bit too heavy for moi. Plus, being outside can possibly make it a hot mess if the potato salad gets too hot. This Warm Potato Salad that I loved from Epicurious just needed a bit of a stiletto spin and let's just say – warm or room temp, it's all about the mustard vinaigrette. Added bonus – no mayo. All of that combined with the crunchy peppers and shallots and a bit of my favorite Honey Apple cider vinegar made this an amazing side dish.
What does this Warm Potato Salad pair well with – Hebrew National Hot Dogs of course. I normally am a mustard and onion gal with my hot dogs so with a bit of minced shallot and some spicy brown mustard, my Hebrew National Hot Dog and Warm Potato Salad was a match made in heaven.
On to the recipe:
Gather your ingredients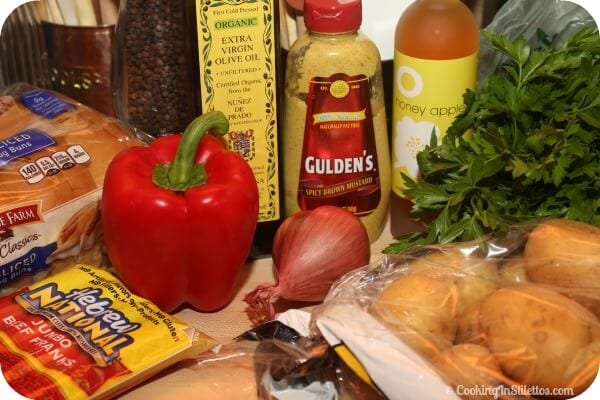 Let's bring these lovely potatoes to a boil shall we?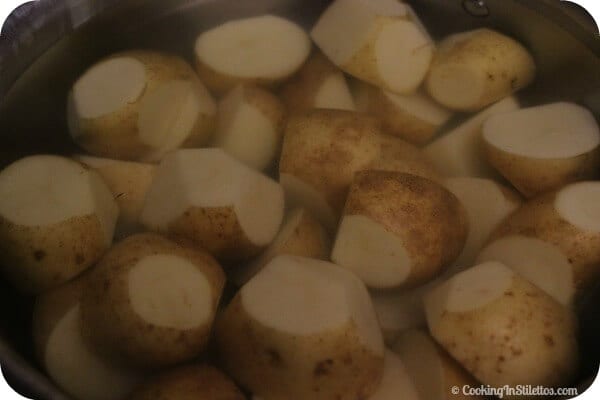 I adore shallots – they add the perfect bite to this salad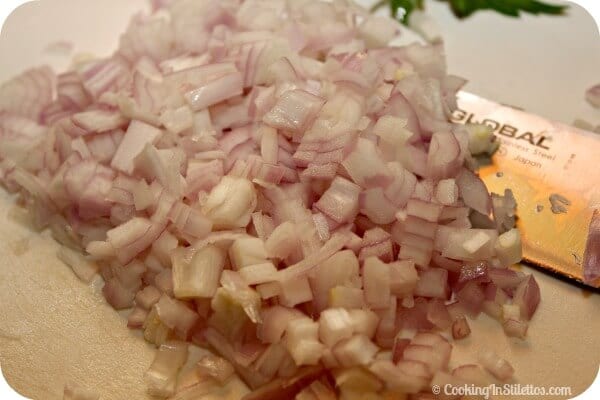 Let's make the vinaigrette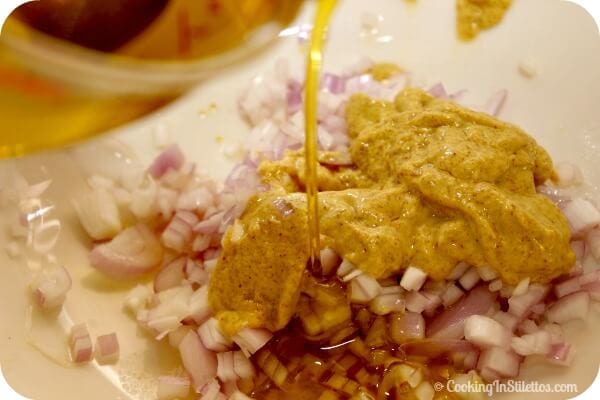 Time to Mix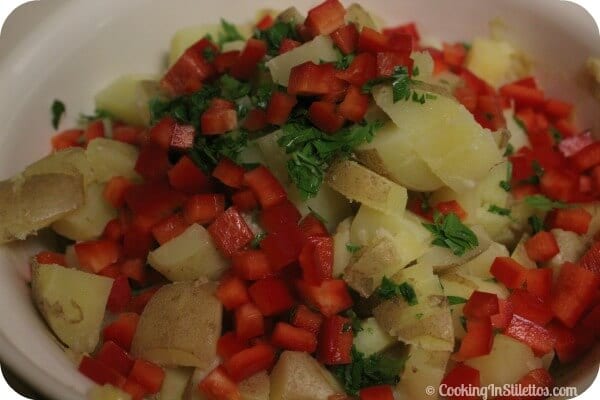 Look at that salad – the perfect complement to the perfect hot dog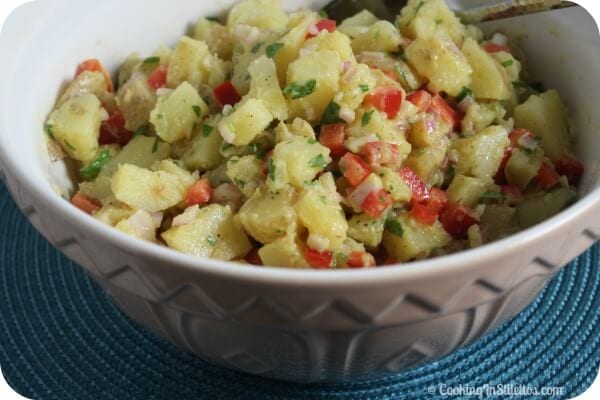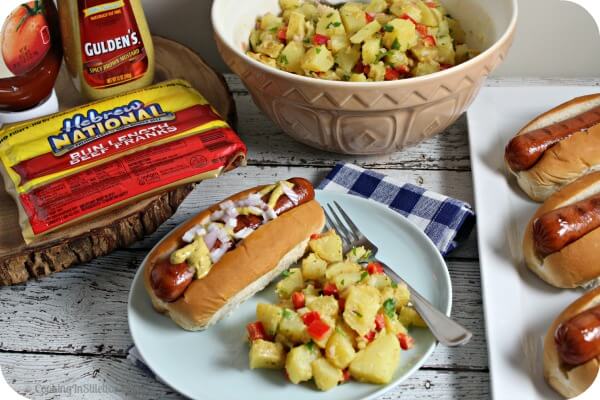 Warm Potato Salad
---
Adapted from Epicurious
Yields 6-8
Looking for a potato salad without the mayo - this Warm Potato Salad is perfect! Fresh Yukon gold potatoes tossed with a mustardy dressing and fresh veggies - perfect for your summer cookout!
20 minPrep Time
20 minCook Time
40 minTotal Time
Ingredients
2 1/2 pounds of small Yukon gold potatoes, scrubbed and cut in half
1 1/2 teaspoons of kosher salt, divided
1 medium shallot, finely diced (about 3 tablespoons or so)
2 tablespoons of spicy brown mustard (I used Gulden's)
1 tablespoon of apple cider vinegar (I used Honey Apple cider vinegar_
1/4 cup of extra virgin olive oil (use unfiltered if you want a more peppery bite)
1 teaspoon of freshly cracked black pepper
1 large red pepper, diced
2 tablespoons of flat leaf Italian parsley, minced
Directions
In a large saucepan, add the potatoes and cover with cold water so that there is an inch or so over the potatoes.
Add 1 teaspoon of kosher salt and bring to a boil over medium heat. When the potatoes come to a boil, reduce the heat to a simmer and simmer, partially covered for about 10 minutes or so, until the potatoes are tender.
Drain and let cool slightly until you can handle them.
In a bowl, whisk together the shallots, brown mustard, apple cider vinegar, the remaining 1/2 teaspoon of kosher salt and freshly cracked black pepper.
Slowly drizzle in the olive oil while whisking until everything is emulsified.
Add the warm potatoes to the mustard vinaigrette along with the diced red peppers and parsley.
Toss everything together until the potatoes are all coated with the vinaigrette.
Enjoy!
7.6.8
958
https://cookinginstilettos.com/warm-potato-salad/
All images and content are © Cooking In Stilettos. Please do not republish without contacting us first. Thank you.
With grilling season upon us, everyone is craving an all-American hot dog. What makes a kosher hot dog different? It's all about what makes the cut (and what doesn't). Hebrew National is choosy about what goes into their franks – only 100% pure kosher beef so you know what you're getting and they taste great. No artificial flavors, colors, fillers or byproducts.
Did you enjoy this post?
| | |
| --- | --- |
| Share the love | Get free updates |