These festive Cranberry Pumpkin Cookies, studded with pecans and fresh cranberries and drizzled with a sweetly spiced glaze, are a delicious addition to the holiday cookie plate.

The holidays call for lots of cookies and this year I am thrilled to take part in The Great Food Blogger Cookie Swap again. Last year, I made my favorite Orange Cranberry Chocolate Chip Cookies which are a must every year for the holidays. The year prior, I made Cinnamon Peanut Butter Cup Cookies. This is a cause I adore as it helps raise funds for Cookies for Kids' Cancer which is a fabulous charity to support in their fight against pediatric cancer.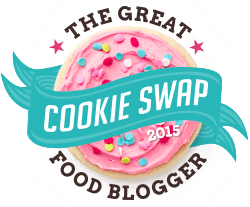 For the past 5 years,
The Great Food Blogger Cookie Swap
has been hosted by two of my favorite bloggers, Julie of
The Little Kitchen
and Lindsay of
Love & Olive Oil
. Brand Partners,
Land O'Lakes, OXO and Dixie Crystals
, partnered with the event and are matching donations. Last year alone, this event raised almost $14,000 for
Cookies for Kids' Cancer
and I can't wait to see what this year's tally will be. Talk about a feel good moment! Plus – who doesn't love cookies, right?
I received delicious cookies from 3 amazing bloggers that disappeared like hotcakes in my house. I was sent Vanillekipferl (Austrian Vanilla Crescent Cookies) from The Curious Cuisiniere, Chocolate Shortbread Holiday Cut Out Cookies from The Beach House Kitchen, and Rosemary Corn Cookies from The Toasted Sprinkle. Somehow I think my mailman found out about the cookie trade because he held up delivery of some of the cookie packages. I might have to bribe him with some of these Cranberry Pumpkin Cookies to keep the mail from being held hostage.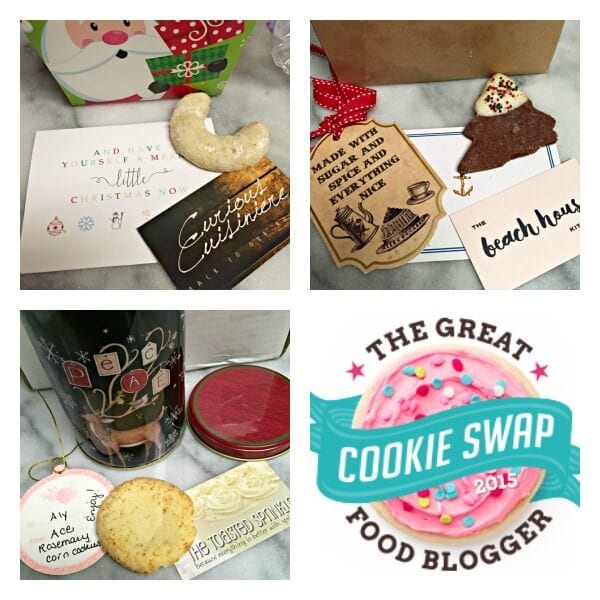 I sent out cookie care packages to 3 fabulous bloggers that should be on your must read list: Victoria of Wilde In The Kitchen, Katie of Clarks Condensed and Ashley of Blond Girl Cravings. However, I have a confession – these were not my original cookie plan. See – I had this idea for Rocky Road Cookies and did multiple attempts to perfect my recipe but the oven fought me left and right. We are talking either not baked or hockey puck central. Dozen after dozen were scrapped and that recipe went on my "needs alot of work" list for next year. I looked in my pantry and saw that I have a plethora of pumpkin on the shelf. Part of the reason was because I was testing pumpkin recipes for the holidays and I also bought into the fear of "There's a pumpkin shortage". [Annoying, right? Me and my irrational fears.] Anywhoo. – I broke out the pumpkin and some frozen cranberries and got to playing with this recipe from All Recipes. What resulted was this moist cakey cookie that I drizzled with a sweetly spiced glaze which played beautifully with the tart cranberries.
If you are looking for a cookie that will disappear quickly – this is the recipe for you! These Cranberry Pumpkin Cookies are a must make this holiday season.
On to the recipe:
Gather your ingredients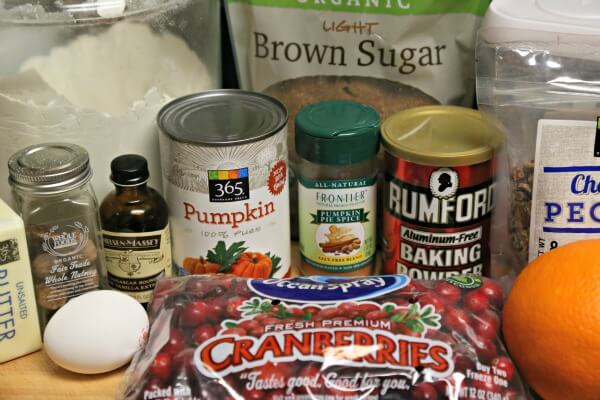 Sifting the dry ingredients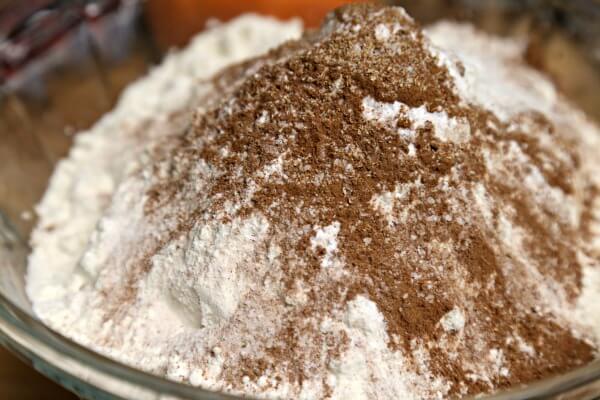 Swirling the cranberries and nuts into the pumpkin batter
Freshly Glazed Cookies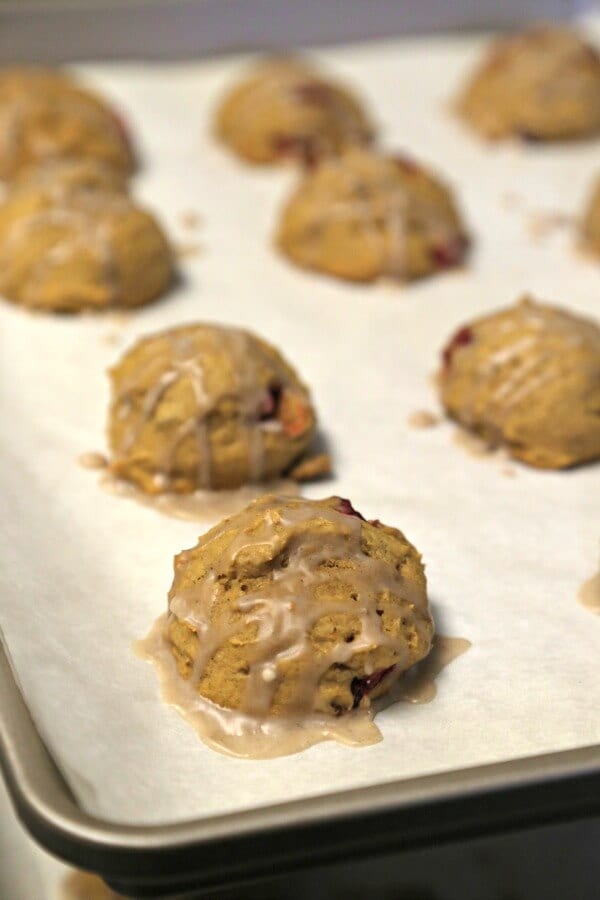 Now – wouldn't you want these at your next cookie swap?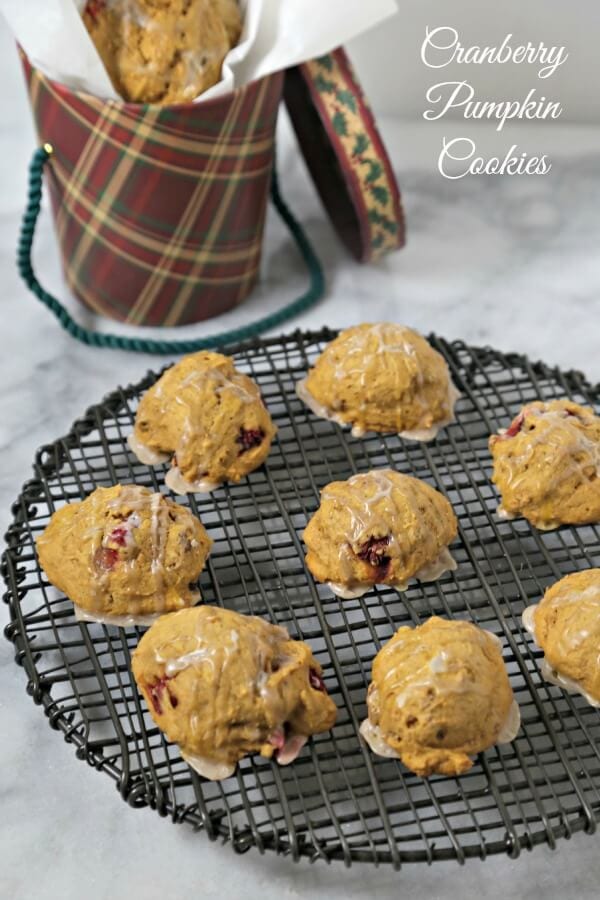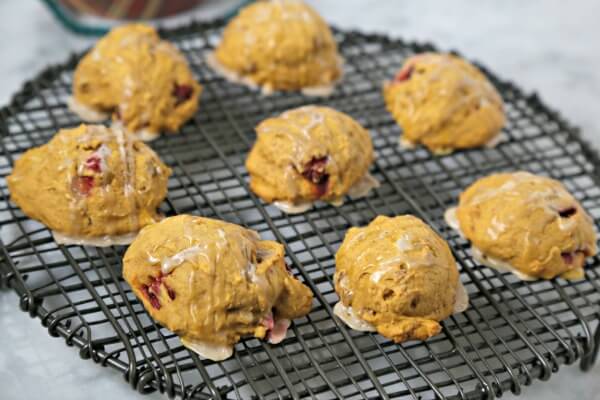 Ingredients
For the Cookies:

1 stick of unsalted butter, room temperature
3/4 cup of brown sugar
1 large egg, room temperature
1 cup of pumpkin puree
1 1/2 teaspoons of vanilla extract
2 1/3 cup of all-purpose flour
1 teaspoon of baking soda
2 teaspoons of baking powder
2 teaspoons of pumpkin spice
1/2 teaspoon of kosher salt
1 cup of frozen or fresh cranberries, halved (I used frozen)
2 teaspoons of orange zest
1/3 cup of chopped pecans

For the Spiced Glaze:

1 cup of confectioner's sugar
1/2 teaspoon of pumpkin spice
1/2 teaspoon of vanilla extract
2 - 3 tablespoons of milk or water (depending on how thick you want it)
Directions
To Make The Cookies:

Heat the oven to 375 degrees F.
In the bowl of a stand mixer, cream the butter and the sugar together until light and fluffy.
Add the egg to the butter and sugar mixture and mix in thoroughly.
Add the pumpkin puree and vanilla extract and mix thoroughly.
Sift together the flour, baking soda, baking powder, pumpkin spice and kosher salt.
Add the mixture slowly to the pumpkin batter, taking care to not over mix.
Fold in the cranberries, orange zest and chopped pecans until they are incorporated into the batter.
Using a cookie scoop, add about a tablespoon scoop of the cookie batter to a baking sheet lined with parchment paper or a silpat.
Bake for about 9 – 10 minutes.
Let cool for a bit on the baking sheets while you whisk up the glaze.

To Make The Spiced Glaze:

In a small bowl, whisk together the confectioner's sugar, pumpkin spice, vanilla extract and 2 tablespoons of milk until the glaze comes together. If you want a thinner glaze, add another tablespoon of milk. Personally, I like the thinner – it drizzles better.
Glaze the cooled cookies with the sweetly spiced glaze and let harden.
Enjoy!
7.6.8
1078
https://cookinginstilettos.com/cranberry-pumpkin-cookies/
All images and content are © Cooking In Stilettos. Please do not republish without contacting us first. Thank you.
Many thanks to all of the bloggers that participated as well as the brand partners and, of course, Julie & Lindsay for organizing this fun event. Weren't able to participate this year? No worries – you can sign up here to be first on the list for 2016's fun event and follow the hashtag #FBCookieSwap for some amazing cookie recipes!
Did you enjoy this post?
| | |
| --- | --- |
| Share the love | Get free updates |