One thing I miss about living in Central Florida is the abundance of fresh Florida citrus everywhere – lemons, limes, grapefruit and oranges.  There is nothing like it!  Whenever I fly to Florida, I'm one of those crazy people debating "Do I send citrus home or not", often going with the option to pick up some for home.
I often cook with citrus in my recipes – it adds the perfect fresh note – whether it's a bit of lemon and orange in a freshly roasted chicken, grapefruit in a fresh salsa over salmon or limes to add a bit of zing to my favorite tinga recipe.  Grapefruit and I started our love affair later on in life. I love it in the morning, sprinkled with a bit of brown sugar and a small pinch of sea salt and torched for a bruleed treat or segmented in a salad with a bit of feta cheese to add a salty bite.  It's the perfect healthy snack, as half a Florida grapefruit contains 100% of the recommended daily allowance of vitamin C.  Added bonus, they also contain vitamin A, potassium and fiber so, perhaps, it might be a grapefruit a day could keep the doctor away?  Florida grapefruits are so sweet and juicy, especially when they are at their peak – between January and March.
Have you ever tried a Paloma? A Paloma is often thought of as Mexico's favorite cocktail. Essentially, a Paloma is fresh grapefruit juice, tequila and lime juice with a splash of grapefruit soda or club soda and a dash of orange juice.  It's refreshing and full of citrus flavor.  This chicken takes on the flavors of the traditional Paloma cocktail.  A quick marinade followed by a brief oven bake and this Paloma Chicken is perfect for a weeknight dinner!  I wanted the grapefruit flavor to come forward more so I added a bit of punch with the grapefruit juice and zest.  The honey added a bit of sweetness to balance everything.
So – when you want to add a bit of citrus zing to weeknight dinner, why not grab a Florida grapefruitand make this Paloma Chicken!
On to the recipe:
Let's gather the ingredients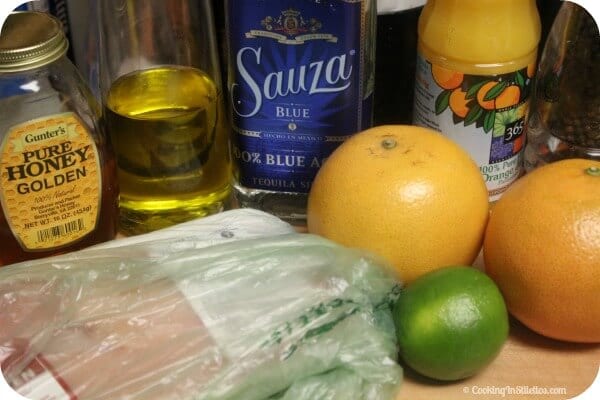 One vital component of this Paloma – Fresh Florida Grapefruit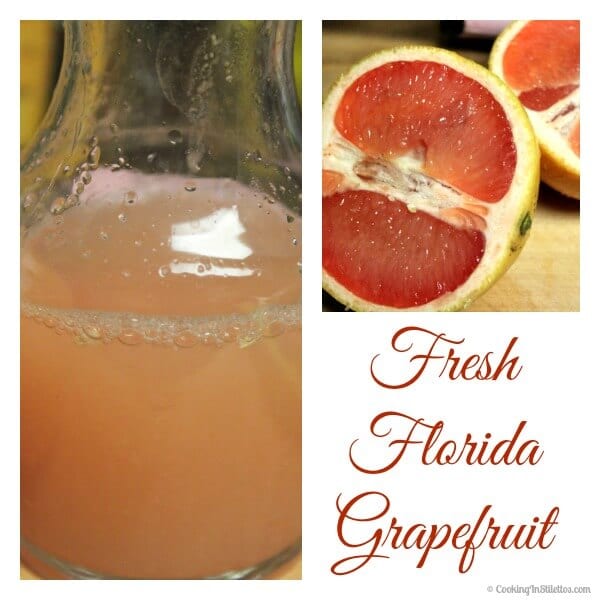 Let's get this marinated chicken ready to bake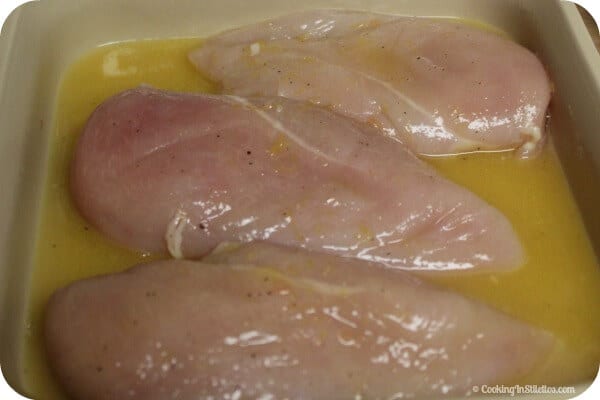 Served over rice, this Paloma Chicken is moist and delicious!
Aly M. Cleary
Yields 4
Paloma Chicken
The tastes of a traditional Paloma cocktail take weeknight chicken on a culinary journey!
30 minPrep Time
40 minCook Time
1 hr, 10 Total Time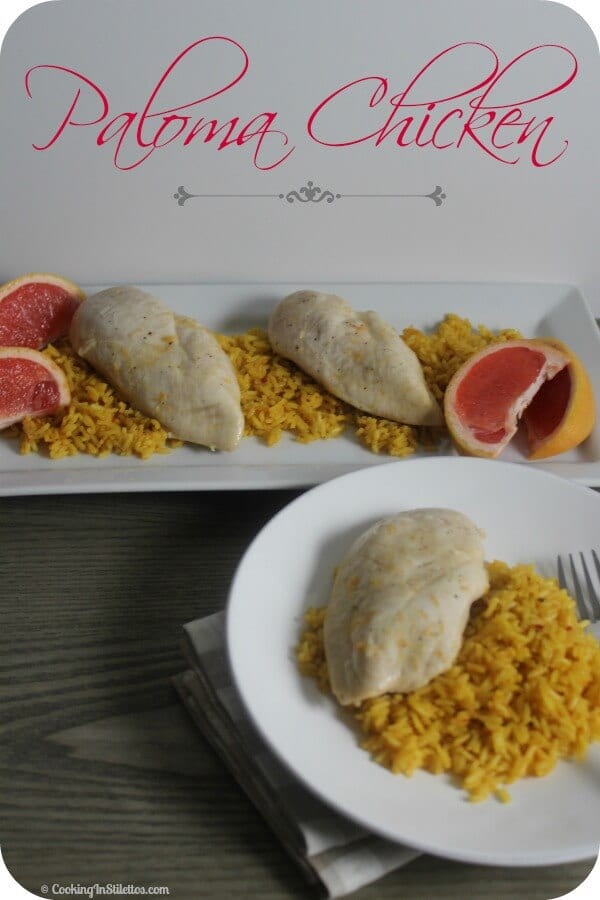 Ingredients
2 pounds of boneless skinless chicken breasts
1/2 cup of freshly squeezed Florida grapefruit juice
Zest of one Florida grapefruit
Juice of one lime
1/4 cup of orange juice
2 tablespoons of honey
2 tablespoons of olive oil
2 ounces of tequila blanco
1/2 teaspoon of kosher salt
1/4 teaspoon of freshly cracked black pepper
Instructions
In a small bowl, whisk together the grapefruit juice, grapefruit zest, lime juice, orange juice, honey, olive oil and tequila. Add the salt and pepper.
In a plastic zip bag, add the chicken breasts.
Pour over the paloma mixture and cover the chicken breasts.
Let marinate for about 30 minutes in the refrigerator.
Preheat the oven to 400 degrees F.
Add the chicken to a baking dish that has been sprayed lightly with a bit of baking spray.
Add a small amount of the marinade to the dish.
Cover the chicken with a bit of parchment paper that has also been sprayed with the baking spray.
Cover the baking dish with aluminum foil and bake for 30 - 40 minutes until done.
Serve over rice and enjoy!
7.8.1.2
178
https://cookinginstilettos.com/paloma-chicken/