This is a sponsored post.  My opinions are my own.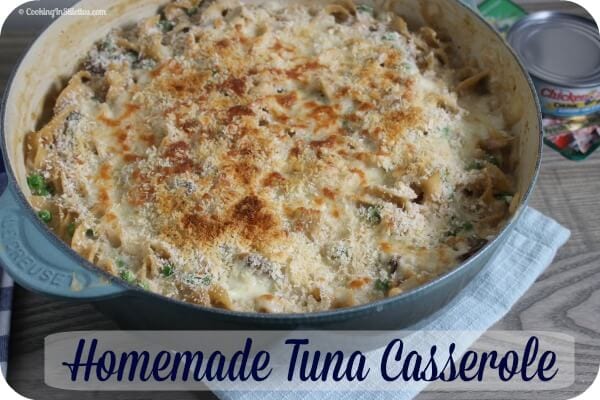 I always love a company that gives back.  Chicken of the Sea is celebrating their 100th anniversary by paying it forward.  They are awarding 100 Great American Gratitude awards of $10,000 to community champions across the country (that's $1 million dollars in total) and need your help.  They are looking for individuals and various organizations who would benefit from a Great American Gratitude Award and will be going on The Great American Gratitude Tour.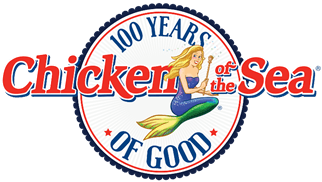 The Great American Gratitude Tour
will be visiting Philly August 16th and 17th at Philadelphia Folk Festival at 1323 Salford Station Road in Harleysville, PA (right outside of Philly).  They will be there on August 16th from 10 am to noon and on August 17th from 10 am to 9:30 pm.  So you can go to the festival, hear some great music and meet the fabulous people of Chicken of the Sea and find out more about their Great American Gratitude mission.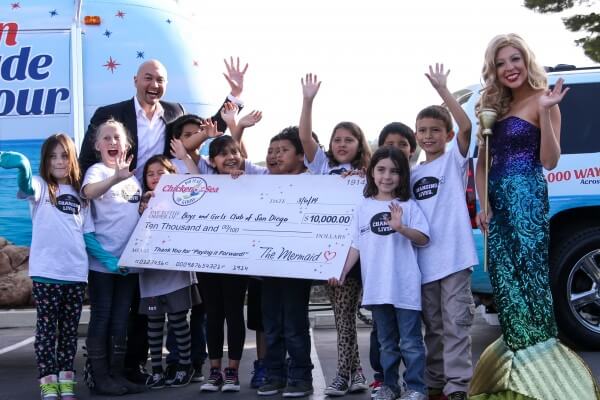 Do you have someone you would love to nominate for a Great American Gratitude Award?  You can nominate them at http://www.chickenofthesea.com/100  and see when they will be hitting your town!
When you open up my pantry, there are some staples that are a must – whole wheat egg noodles, panko bread crumbs and tuna.  Tuna is one of those staples that I have always have on hand – whether it's for a quick pasta salad, a fabulous tuna sandwich or, one of my favorites, a Homemade Tuna Casserole.  I am the type of gal who doesn't always like using a canned soup – don't get me wrong, it's great in a pinch but sometimes making a mushroom base from scratch adds so much flavor.  I played with this Eating Well recipe along a touch of lemon zest inspired by a recipe from Coastal Living and wound up with a family favorite!  This Homemade Tuna Casserole is a from scratch must make version that is 90% stovetop, followed by a quick sauna under the broiler which will result in the perfect bite of comfort and it couldn't be easier to make.  I also make it a bit lighter with using whole wheat noodles and lowfat milk.  A few changes but
On to the recipe:
Gather your ingredients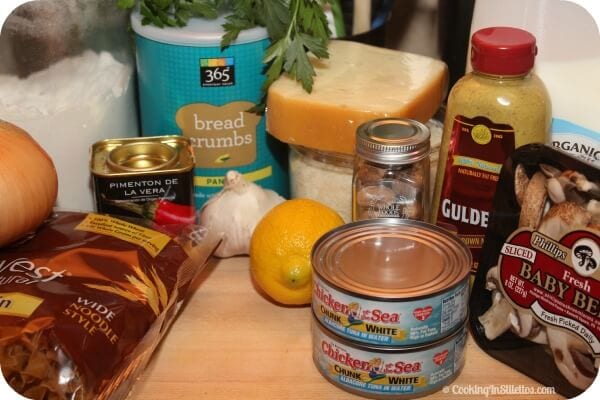 "Don't Crowd the Mushrooms"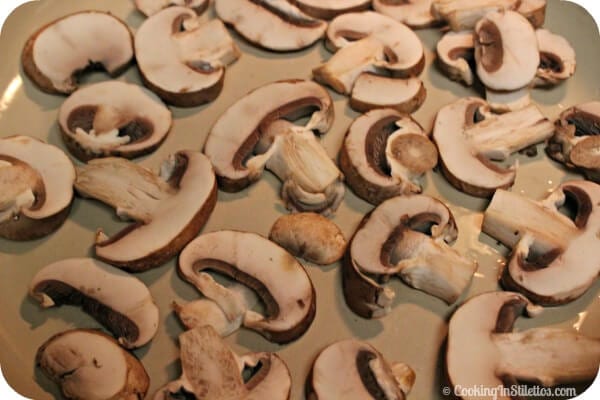 Let's add a touch of flour to the mushrooms and onions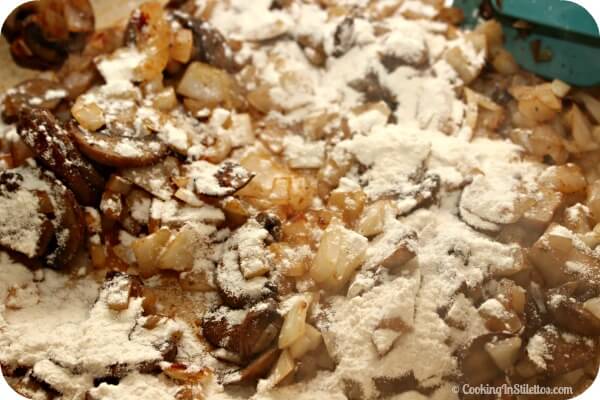 When the sauce is thick and lovely, add the tuna, lemon zest and some of the Parmesan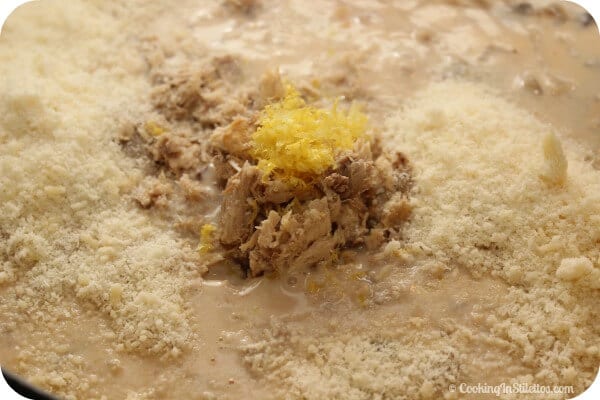 Don't you want a bite?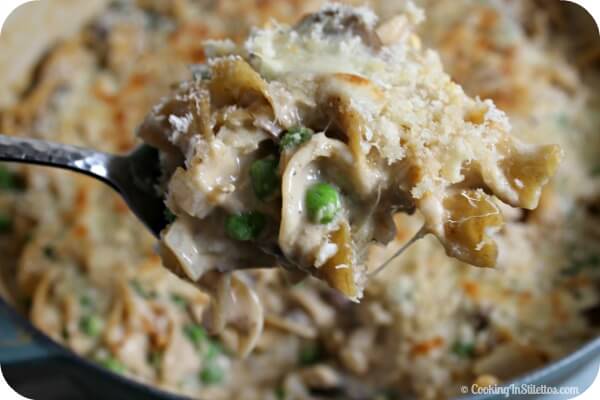 Seriously – you are going to want to make this – over and over again

Homemade Tuna Noodle Casserole
---
Ingredients
2 5 ounce cans or pouches of your favorite flaked tuna packed in water (I used Chicken of the Sea)
8 ounces of whole wheat egg noodles
1 8 ounce package of baby bella mushrooms
1 onion, finely diced
1 clove of garlic, minced
4 tablespoons of flour
3 1/2 cups of lowfat milk, divided
1/4 teaspoon of freshly cracked black pepper
1/4 teaspoon of smoked paprika
1/2 teaspoon of kosher salt
1/8 teaspoon of freshly grated nutmeg, optional
2 teaspoons of spicy brown mustard
Zest of 1/2 a lemon
3/4 cup of Parmesan cheese, divided
1 cup of frozen peas, thawed
1/2 cup of panko bread crumbs
1/2 cup of smoked mozzarella cheese, grated
Directions
Drain the tuna and set aside.
Bring a large pot of water to a boil. Add a bit of salt to it and then boil the noodles for 6 minutes or so. Drain and set aside.
Preheat the broiler.
In a large ovenproof skillet, add one tablespoon of olive oil and tumble in the mushrooms. Don't crowd the mushrooms - you want them to brown, not steam. Saute for about 5 minutes or so until nicely browned.
Add the onions and saute until soft and slightly translucent. Add the garlic and saute for a minute more.
Dust the mushroom and onion mixture with some of the flour. Cook for a minute or so and then, using a wooden spoon, add 1/2 cup of milk and deglaze the pan, scraping up anything from the bottom.
Using a whisk, whisk in the remaining milk until smooth.
Add the pepper, smoked paprika, salt, nutmeg (if using) and mustard until everything is mixed throughout.
Add the tuna, lemon and 1/2 cup of the Parmesan cheese.
Bring to a slight simmer and then add the noodles.
Mix well until the noodles are coated throughout and tumble in the peas.
Mix again and remove from the heat.
Cover the tuna noodle mixture with some of the grated smoked mozzarella, followed by a bit of the panko, and then the remaining Parmesan. Drizzle lightly with olive oil to get it somewhat toasty and put under the broiler for 3 - 5 minutes, until the top is crusty brown, bubbly and gorgeous.
Enjoy!
Notes
Adapted from Eating Well & Coastal Living.
7.6.7
850
https://cookinginstilettos.com/homemade-tuna-casserole-and-the-great-american-gratitude-tour/
All images and content are © Cooking In Stilettos. Please do not republish without contacting us first. Thank you.
Chicken of the Sea also has a little somethin' for you all – they have a Chicken of the Sea Prize Pack with $20 worth of Chicken of the Sea Seafood, plus some other goodies.  All you have to do is tell me what your favorite tuna recipe is – let us know in the comments.  We'll pick a winner on the 18th via Random.org  – easy peasy!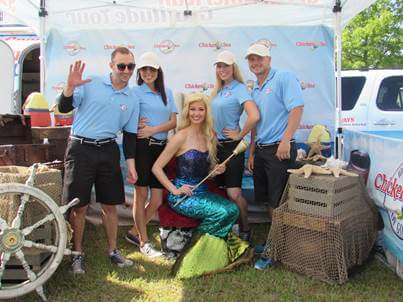 Disclosure:  This post and giveaway  has been sponsored by Chicken of the Sea – my opinions are my own.
Did you enjoy this post?
| | |
| --- | --- |
| Share the love | Get free updates |