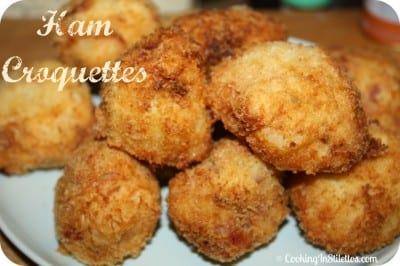 Food Bloggers:  Ever have a moment when you are going through your blog archives or photo files and discover that you thought you shared a recipe and, after reviewing all the recipes, you realize "Snap – I NEVER told anyone about xyz recipe?!?" or am I alone and channeling my inner forget-me-not?  Well, that's what happened with my croquette experiment.
I am in the process of upgrading Cooking In Stilettos and there's a lot going on in the back end– right down to coding recipes, revising plugins and lots of techy stuff that I recently learned.  I can cross a couple culinary goals off my list – namely blog conferences because, between Food Blog Forum Orlando and Bloggy Boot Camp, I have learned more about blogging in 6 months than I have learned in 4 years of blogging. If I only knew then what I know now, right?
I digress – let's get back to talking about these croquettes, shall we. See, when I made a Bourbon Cider Glazed Ham for Easter, I also made some delish mashed potatoes from a fave Philly cookbook, The City Tavern Cookbook: Recipes from the Birthplace of American Cuisine
, and had leftovers for days.  One of the things that my Bampa would always do after a holiday is make croquettes – whether it was turkey, ham, chicken- you name it, he could make a croquette out of it.  My family still talks about those croquettes but, until this year, I had never attempted replicating his recipe.
I have to caution you – these are not like the croquettes you might find at a Tapas bar like my fave, Amada, these ham croquettes are definitely homey comfort food that will have you channeling your inner Paula Deen, heating up the fryer and going to town. Plus – it makes use of leftovers and, quite frankly, how bad could that be, right?
Now, a question for you – have you ever made croquettes? What is your favorite way to use up holiday leftovers.
Gather up those leftovers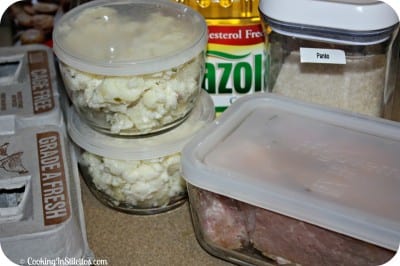 Breading up the croquettes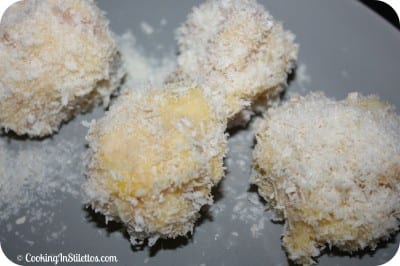 Fry Baby Fry
Pure Comfort Food – Ham Croquettes
Ingredients
2 cups of vegetable oil
1/2 cup of chopped ham
3 cups of mashed potatoes
2 eggs, divided
1 tablespoon flat leaf parsley, finely chopped
1/4 teaspoon Aleppo pepper
1 1/2 teaspoon salt, plus extra for seasoning the breading
1/2 teaspoon freshly cracked pepper, plus extra for seasoning the breading
1 cup Panko bread crumbs
Directions
In a large Dutch oven, add 2 cups of vegetable oil and heat to 350 degrees.
Set up your breading station. In one large bowl, beat up one egg and season slightly with salt and pepper. In a large plate or bowl, add your Panko bread crumbs. Set both aside.
In a large bowl, combine the mashed potatoes, ham, 1 egg, slightly beaten, parsley, Aleppo pepper, salt and freshly cracked black pepper and combine.
Using an ice cream scoop, scoop out the mixture and shape each ball into small round croquettes.
Dip each croquette into the egg mixture and then roll in the Panko mixture. Set aside.
Fry each croquette in the heated oil until golden brown.
Remove from the oil and drain on a rack or paper towels.
Serve while hot.
7.6.8
696
https://cookinginstilettos.com/ham-croquettes/
All images and content are © Cooking In Stilettos. Please do not republish without contacting us first. Thank you.
[FTC Disclosure:  This post contains affiliate links.  My opinions, as always, are 100% my own]
Did you enjoy this post?
| | |
| --- | --- |
| Share the love | Get free updates |