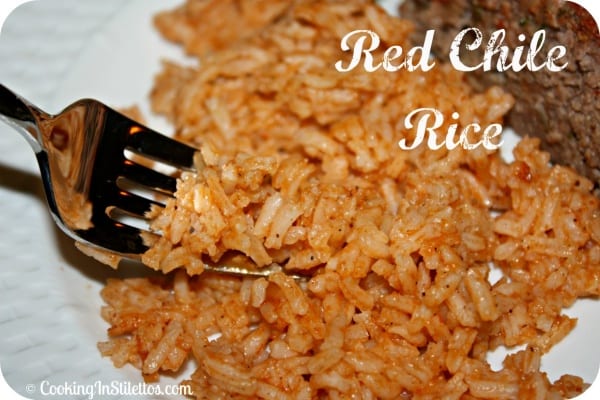 My thoughts are that if you are going to make the Chipotle Glazed Meatloaf, you need the perfect side to go with. It is just common sense – like cowboy boots and a ten-gallon hat.  In Miss Ellie's kitchen, she would need something spicy yet simple enough to make even when J.R.'s screaming in the background about all things oil, mergers, takeover and that doggone Sue Ellen. I just don't know how Miss Ellie ever put up with him because, quite frankly, I would have walloped him with a stiletto.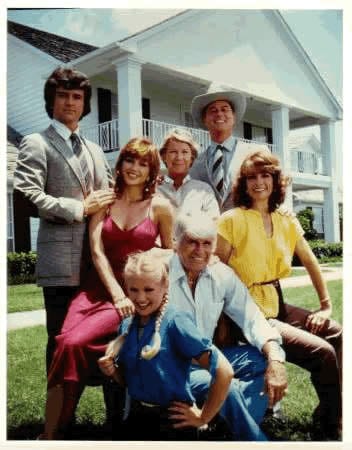 [Cast of Dallas – 1978]
When I was mulling over The Homesick Texan, I noticed that Lisa had said that her Red Chile Rice was the perfect accompaniment to the meatloaf and, quite frankly, who am I to doubt her brilliance, right? Well, I will testify to the fact that Lisa IS brilliant. I have to confess, this is the first time I've made a rice like this that didn't come from a box and it was quite simple! Plus, my favorite toy aka the Vitamix came in handy when it came to making the tomato chile puree. My other simple substitution – the chipotle puree. A few ingredients, a bit of whirring, and a bit of simmering and you have the perfect rice – every time.
And, with that, I have a bit of news… with DALLAS having a full season on TNT kicking off tomorrow, I thought, why not have a little DALLAS homage every Wednesday with Miss Ellie's Kitchen. Have a great tex-mex recipe that you would like to feature? Starting tomorrow there will be a link up every Wednesday while new DALLAS Episodes are airing so make sure to "tune in" tomorrow because I have the PERFECT dish for the DALLAS premiere that even J.R. and Bobby would agree is divine.  I mean, they wouldn't dare cross their momma, would they?
Gather the Ingredients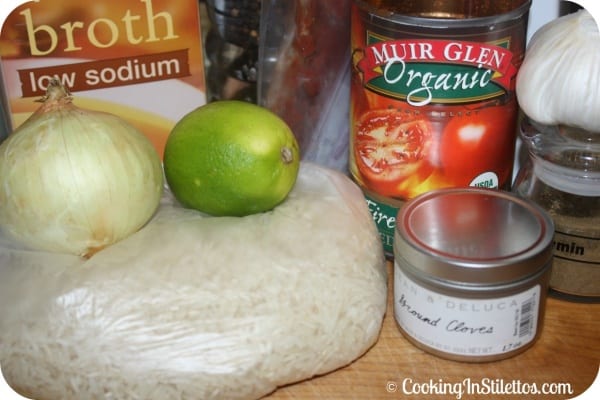 Sauce ingredients patiently waiting to be whirred into oblivion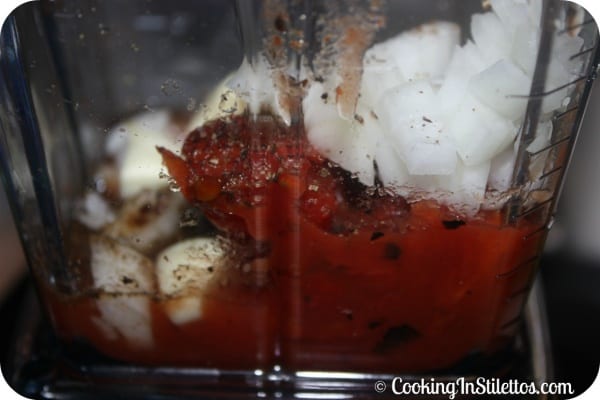 Toasting the rice (Always toast your rice – it does make a difference!)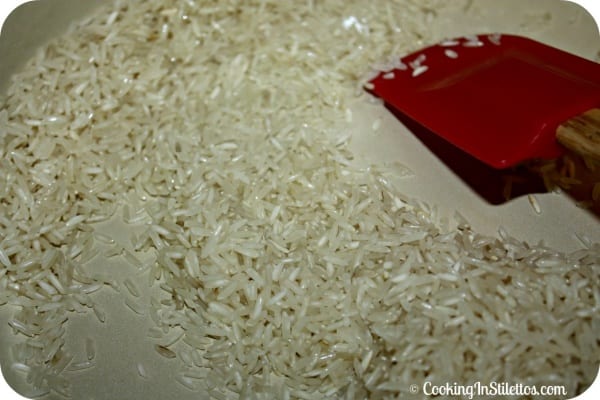 Marrying the Puree and the Rice – True Love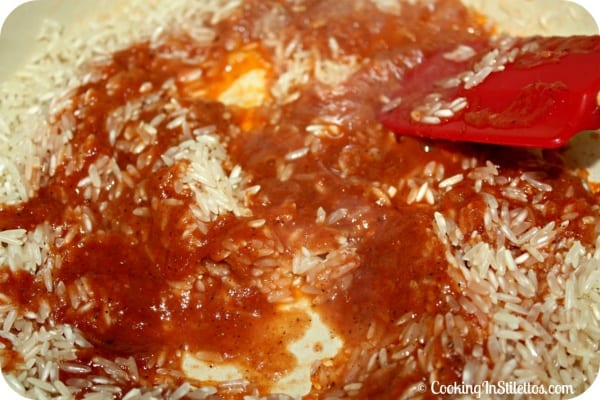 Perfect rice every time!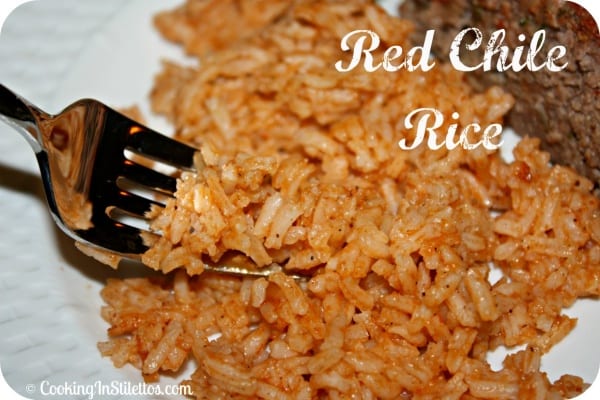 [b]Red Chile Rice[/b]
---
Slightly adapted from Lisa Fain, The Homesick Texan
Yields 4-6
This Red Chile Rice is the perfect Tex-Mex side. Rice is blended with a tomato chipotle puree and once you see how easy it is to make, you won't buy the prepackaged again!
20 minPrep Time
40 minCook Time
1 hrTotal Time
Ingredients
1 cup of fire roasted tomatoes, drained
1/2 small Vidalia onion, chopped
2 cloves of garlic, smashed
1/2 – 1 teaspoon of chipotle puree
1/2 teaspoon of ground cumin
1/2 teaspoon of smoked paprika
Pinch of ground cloves
Zest and juice of half a lime
1 tablespoon of olive oil
1 cup uncooked basmati rice
2 cups of low sodium chicken broth
Salt, to taste
Directions
In a blender or food processor, add the fire roasted tomatoes, onion, garlic, chipotle puree, cumin, paprika, cloves, and lime juice. Blend until you have a thick paste which should be about a 1/2 cup of liquid.
In a heavy bottomed pot, heat up the oil over medium heat. Add the rice and toast for a bit.
Add the tomato chile puree and stir for another minute or so.
Pour in the chicken broth and bring the mixture to a boil.
When it boils, cover, reduce the heat to low and let it simmer for about 20 minutes.
After 20 minutes, turn off the heat and let it sit for another 10 minutes.
Stir the rice, making sure that any tomato chile puree that might have risen to the top is fully incorporated and add salt to taste.
Enjoy!
7.6.7
888
https://cookinginstilettos.com/red-chile-rice/
All images and content are © Cooking In Stilettos. Please do not republish without contacting us first. Thank you.
Did you enjoy this post?
| | |
| --- | --- |
| Share the love | Get free updates |