This shop has been compensated by Collective Bias, Inc. and its advertiser. #4MoreWaffles #CollectiveBias All opinions are mine alone.
Aunt Jemima Frozen Waffles are drizzled with the flavors of fall – Roasted Pear and Apple Syrup.  This easy to whip up breakfast is good for those busy mornings – added bonus – the fruit compote syrup can be made the night before!
There is nothing like a waffle, hot, toasty and drizzled with syrup to start the day.  However, what about those days that you don't want to rifle through the back of the cupboards to drag out the waffle iron and making a batter that has to rest for a half hour or more.  My freezer has a tried and true solution to help me on those mornings when those waffle cravings hit hard – Aunt Jemima Frozen Waffles.
When stocking up my pantry, I searched my local grocery stores and noticed that my local Shoprite had a deal on the Aunt Jemima Frozen Waffle 14 packs – their original 10 pack now has four more waffles – yes #4MoreWaffles.  Added bonus – the pack is resealable which means no freezer burn and they stay fresh longer – win win!  My local ShopRite has their freezer/dairy products in one entire section of the store and you can't miss it (or feel it – there's a chill in the air in that section). After getting all of the other shopping essentials, I headed to the frozen section, picked up the waffles right before checkout and everything was still chilly when I got home.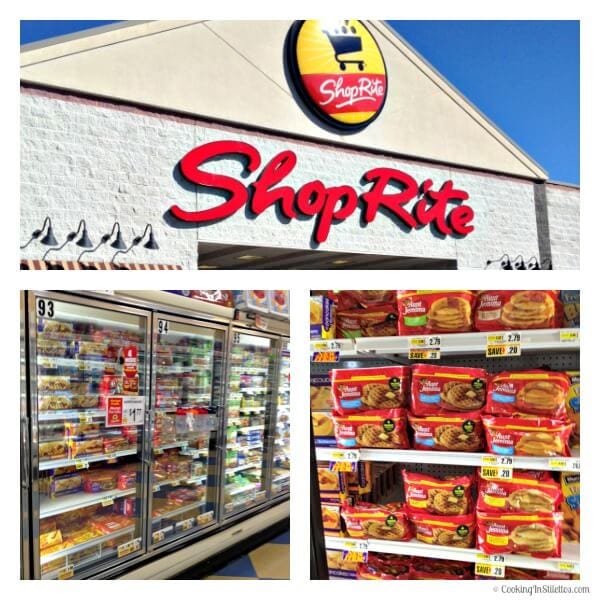 I'm a fan of the Aunt Jemima Buttermilk and Homestyle Waffles and keep both in my freezer on the regular.  Waffles are always a favorite in my household.  Whether it's slathered with a bit of peanut butter for a quick breakfast on the go, mixed in with a bit of yogurt and berries for a parfait-esque treat or, my personal fave, drizzled with a homemade syrup and a bit of fruit compote, like my Roasted Pear and Apple Syrup, waffles are the perfect way to start the day.
I love making homemade syrups and this one is one of my favorites for fall.  It pairs two of my favorite fall fruits – apples and pears with some spices and you can control the sweetness factor.  I love using apple juice or apple cider as a base for syrup.  The warm spices of the cinnamon, cloves and nutmeg pair well with the roasted apples and pears and this fruit compote syrup will be one of your new favorites!
This syrup couldn't be easier to make – you can make it the morning of or, even better, the night before and store it in the fridge.  Just warm before serving.  Drizzle this Roasted Pear and Apple Syrup over waffles, yogurt, ice cream – you name it – the ideas are endless.  Plus – doesn't the doctor suggest that we all have an apple a day?  He didn't say HOW we were to have it, right?
On to the recipe:
Gather your ingredients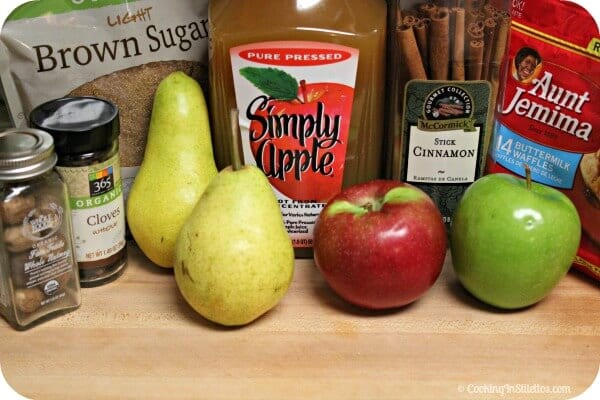 Easiest syrup ever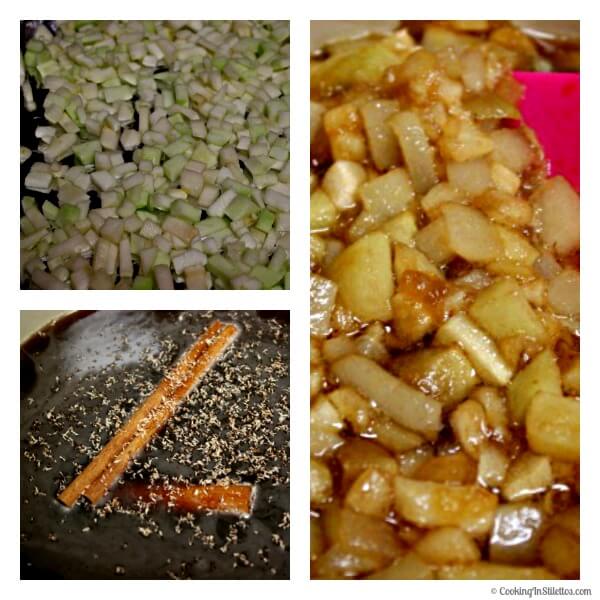 Don't forget to toast up the Aunt Jemima Waffles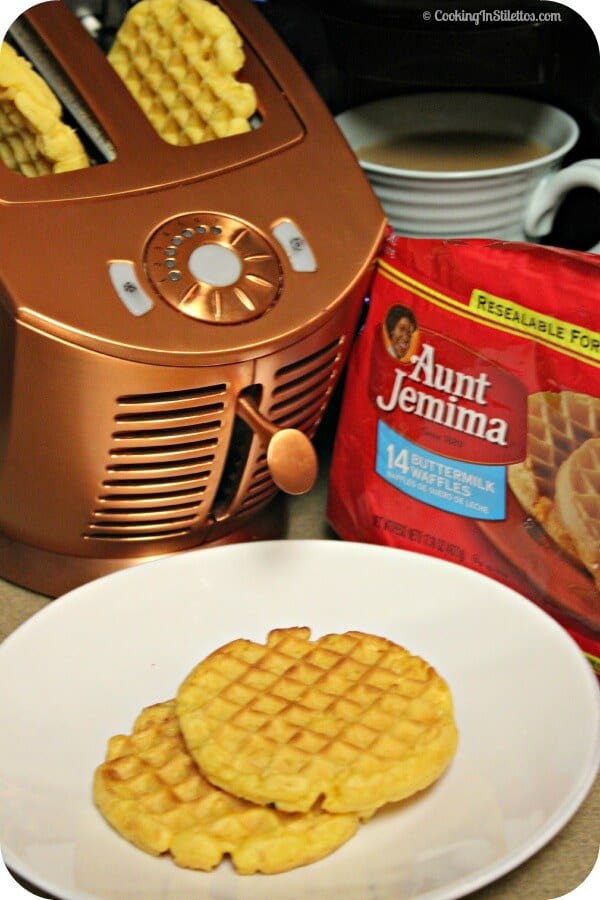 Love this resealable pack!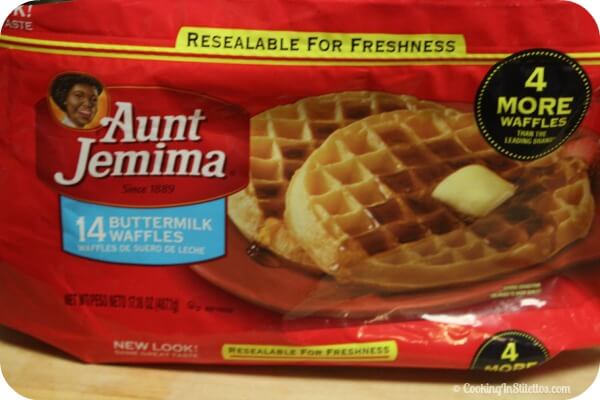 Here – want a bite?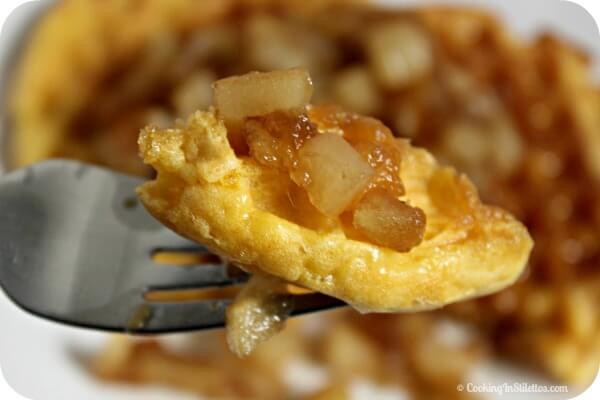 Shall I make you a plate?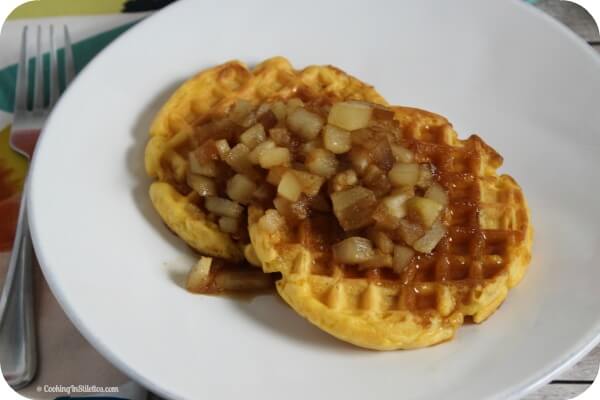 Roasted Pear And Apple Syrup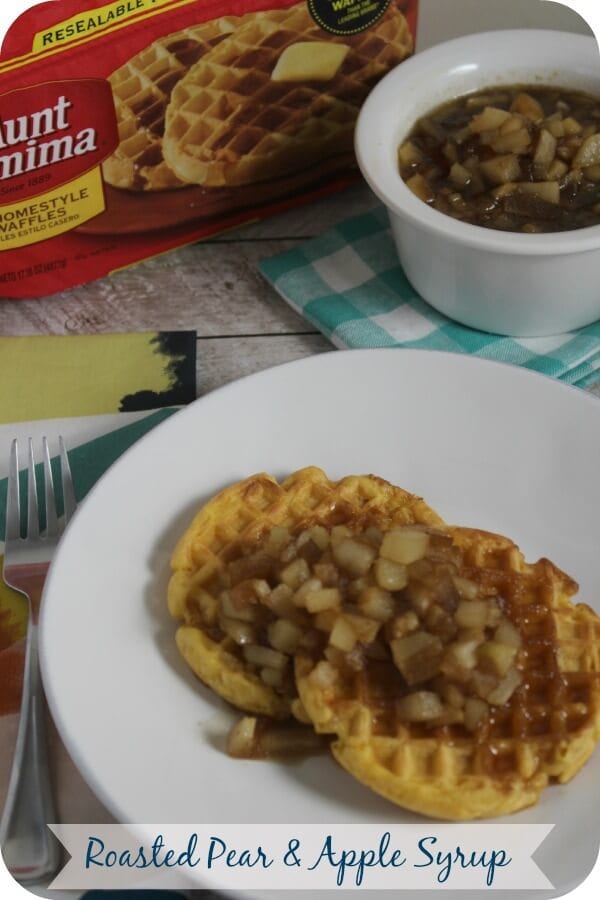 Ingredients
2 apples (I used one Granny Smith and one MacIntosh), peeled, cored and diced.
2 pears, peeled, cored and diced
1 cup of 100% apple juice
3/4 cup of light brown sugar, packed
1 1/2 tablespoons of butter, diced
2 cinnamon sticks
2 cloves
1/8 teaspoon of freshly grated nutmeg
1/16 (small pinch) teaspoon of kosher salt
Aunt Jemima Waffles for serving
Instructions
Preheat your oven to 425 degrees F.
To a baking sheet, lined with foil or a silpat, add your diced pears and apples and spread evenly in one layer.
Bake for 20 – 25 minutes, until they are soft and take on a slightly golden hue. Remove and let cool for a moment.
In a heavy bottomed saucepan, add the apple juice, brown sugar, butter, cinnamon sticks, cloves, nutmeg and kosher salt. Stir until the brown sugar dissolves and bring the mixture to a boil.
Let boil for a few minutes and reduce to a simmer.
Simmer until reduced and thickened – about 10 minutes or so. Remove the cinnamon sticks and cloves and discard.
Add the roasted pears and apples and stir until combined.
Ladle over toasted Aunt Jemima Waffles and enjoy!
7.8.1.2
208
https://cookinginstilettos.com/roasted-pear-and-apple-syrup/