I have been mulling over doing a lighter banana muffin.  However, when you do a lighter muffin, sometimes the flavor can take a beating.  How can I give a banana muffin a light and fluffy texture while packing a flavor punch.  Then it hit me – roasting the bananas.  This recipe couldn't be easier – some roasted bananas, a bit of spice with cinnamon and nutmeg, and the piece de resistance – plain greek nonfat yogurt.  Next time you want to make a banana muffin that will pack a flavor punch, make a batch of these!
On to the recipe:
Gather your ingredients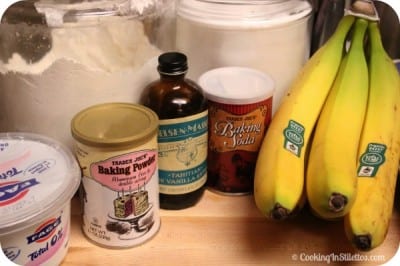 Time to roast the bananas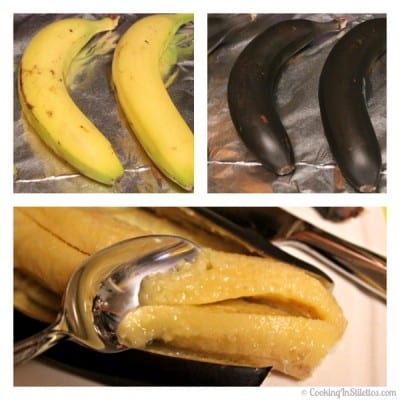 Whisk all the banana goodness into the batter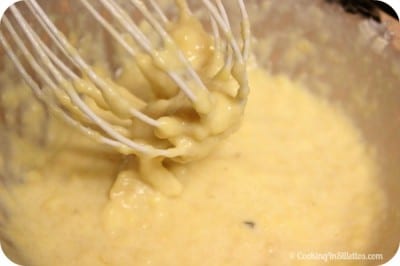 Freshly baked and steaming hot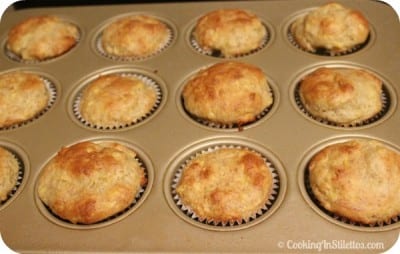 Now – try to have just one – I dare you!
Adapted from AllRecipes
Roasted Banana Muffins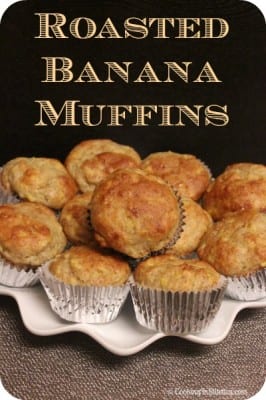 Ingredients
3 ripe medium bananas
1 cup of all purpose flour
1 tablespoon of baking powder
1/2 teaspoon of baking soda
1/4 teaspoon of salt
1/2 teaspoon of cinnamon
1/8 teaspoon of freshly grated nutmeg
1/3 cup of sugar
1 egg
1/2 teaspoon of vanilla extract
1/4 cup of plain nonfat greek yogurt.
Instructions
Preheat the oven to 400 degrees F.
On a baking sheet, lay the 3 bananas out, in their peels.
Bake for about 15 - 20 minutes, until the peel is blackened and the bananas are soft.
Let cool for about 5 - 10 minutes while you prep the remaining ingredients.
Reduce the oven heat to 350 degrees F.
Line a muffin tin with baking cups lightly sprayed with non-stick spray or lightly spray the muffin pan. Set aside.
In a large bowl, mix together the flour, baking soda, baking powder, salt, cinnamon and nutmeg.
In a another bowl, mix together the sugar, egg, vanilla extract and yogurt.
Whisk in the roasted bananas and mix thoroughly.
Mix the wet ingredients into the flour mixture, taking care to fold in the mixture so as to not loose the airiness of the batter.
Using a large ice cream/cookie scoop, scoop into the muffin cups.
Bake for about 20 minutes, until a toothpick inserted comes out clean.
Let cool for a few minutes and enjoy!
7.8.1.2
275
https://cookinginstilettos.com/roasted-banana-muffins/