With the start of the month comes a new Leftovers Club spotlight.  This past month has been a whirlwind for me with the holidays, adopting Jeffie, work commitments, etc.  Before I knew it, it's the first week of January and *poof* time for The Leftovers Club.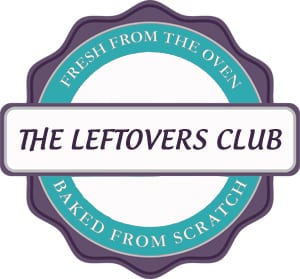 For those that aren't familiar with The Leftovers Club, let me give you a quick breakdown.  When you are a food blogger, leftovers are always abundant.  There comes a time when family, friends, neighbors and co-workers will give you that look, knowing that your kitchen has runneth over with goodies and they can't eat another morsel.  So – being a friendly food blogger, we share the abundance with other food bloggers of our latest culinary creation.
This month, I was apired up with the lovely Marissa of Pinch and Swirl.  Her site is full of stories that will inspire you to get into the kitchen.  I could spend all day perusing her site.  She melds words and photographs in such a way that you just want to keep reading.  Her recipes are top notch and some that I have bookmarked to obsess over are her Oatmeal in a Little Black Dress, Giant Delicata Ravioli with Sage and Brown Butter, Savory Bread Pudding Pumpkin Tureen, and, perfect for fall, a Classic Onion Soup.
I have been mulling over doing a lighter banana muffin.  However, when you do a lighter muffin, sometimes the flavor can take a beating.  How can I give a banana muffin a light and fluffy texture while packing a flavor punch.  Then it hit me – roasting the bananas.  This recipe couldn't be easier – some roasted bananas, a bit of spice with cinnamon and nutmeg, and the piece de resistance – plain greek nonfat yogurt.  Next time you want to make a banana muffin that will pack a flavor punch, make a batch of these!
On to the recipe:
Gather your ingredients
Time to roast the bananas
Whisk all the banana goodness into the batter
Freshly baked and steaming hot
Now – try to have just one – I dare you!
Ingredients
3 ripe medium bananas
1 cup of all purpose flour
1 tablespoon of baking powder
1/2 teaspoon of baking soda
1/4 teaspoon of salt
1/2 teaspoon of cinnamon
1/8 teaspoon of freshly grated nutmeg
1/3 cup of sugar
1 egg
1/2 teaspoon of vanilla extract
1/4 cup of plain nonfat greek yogurt.
Directions
Preheat the oven to 400 degrees F.
On a baking sheet, lay the 3 bananas out, in their peels.
Bake for about 15 - 20 minutes, until the peel is blackened and the bananas are soft.
Let cool for about 5 - 10 minutes while you prep the remaining ingredients.
Reduce the oven heat to 350 degrees F.
Line a muffin tin with baking cups lightly sprayed with non-stick spray or lightly spray the muffin pan. Set aside.
In a large bowl, mix together the flour, baking soda, baking powder, salt, cinnamon and nutmeg.
In a another bowl, mix together the sugar, egg, vanilla extract and yogurt.
Whisk in the roasted bananas and mix thoroughly.
Mix the wet ingredients into the flour mixture, taking care to fold in the mixture so as to not loose the airiness of the batter.
Using a large ice cream/cookie scoop, scoop into the muffin cups.
Bake for about 20 minutes, until a toothpick inserted comes out clean.
Let cool for a few minutes and enjoy!
Notes
7.6.4
842
https://cookinginstilettos.com/roasted-banana-muffins/
All images and content are © Cooking In Stilettos. Please do not republish without contacting us first. Thank you.
Many thanks to our fearless leader, Elizabeth, for putting together such a fabulous group of bloggers and giving us so much culinary inspiration to kick off 2014!
Did you enjoy this post?
| | |
| --- | --- |
| Share the love | Get free updates |