This shop has been compensated by Collective Bias, Inc. and its advertiser. All opinions are mine alone. 
This year, for the holidays, I'm leaning towards gifts that are more of a homemade holiday vibe.  Sure, there will be gifts under the tree but for friends, family and neighbors, there will also be some delicious treats studding their stockings, gift bags and mailboxes.  I find that homemade treats go over well with friends and family and is a thoughtful gesture for neighbors and coworkers.  Plus, what says I care more than something that is delicious and made from scratch, right?  Now – we're not going down the road with leaving cookies for the mailman ala Monica in Friends, but you know what I mean.
Y'all know I am a shopping ninja and I leave no find uncovered.  I am always on the hunt for great deals and I'm about to share something with you that I haven't disclosed to my closest gal pals… specifically, one of my favorite shopping haunts – Big Lots!
Big Lots! and I began our torrid shopping flirtation back in the Orlando days but when I moved up here to Philly, I happened to discover the Big Lots! in King of Prussia and it's been true love ever since.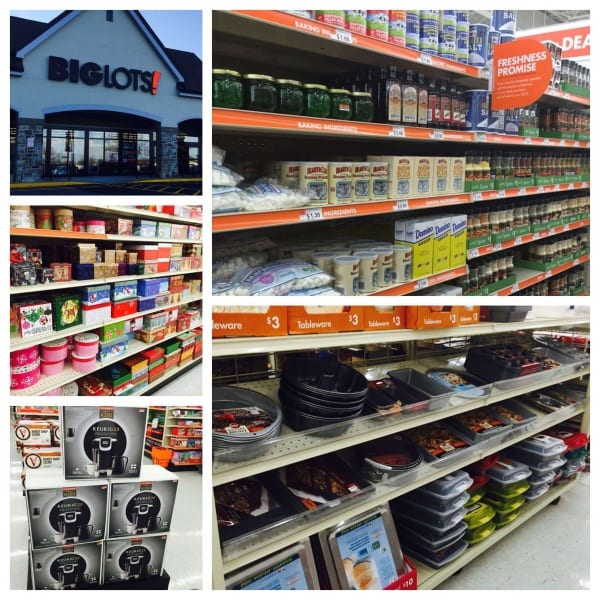 Confession: I did some serious shopping damage the other day.  I am Thanksgiving prep mode, and, armed with my shopping list, I needed to pick up supplies for some Double Chocolate Cranberry Quick Bread to send to family.  I headed to Big Lots before I went to do my grocery shop because I knew they are a great place to find not only baking ingredients and supplies that I needed, including a sassy new silicone spatula and mini non-stick loaf pans, but also holiday finds including gorgeous holiday tins and packaging.
One of my major scores – I was able to find Guittard chocolate and I NEVER am able to find it in my local grocery store.  I picked up some of the ingredients that were already on my grocery list, like dried cranberries, sugar and dark chocolate chips but at a fraction of the cost!  Now do you see why it's one of my shopping haunts.  I also found some adorable holiday decorations and some gifts for friends and family, including the Keurig 2.0 which I know is on someone's holiday wish list!  All in all, a super successful shopping day and Big Lots makes my holiday planning so much easier!
Let me tell you about this Double Chocolate Cranberry Bread.  One bite of this moist quick bread, will have everyone swooning.  Tart fresh and dried cranberries are folded into a luscious vanilla scented batter and studded with white and dark chocolate chips.  The piece de resistance – a light white chocolate glaze that hardens to form a sort of icing that you might find yourself sneaking bits of.  I do a light glaze on the mini loaves that I send to friends and family but for the one at the house, that might be glazed a bit more.
This Double Chocolate Cranberry Bread is a delicious holiday gift to give or to receive – you might want to make a double batch.
On to the recipe:
Gather your ingredients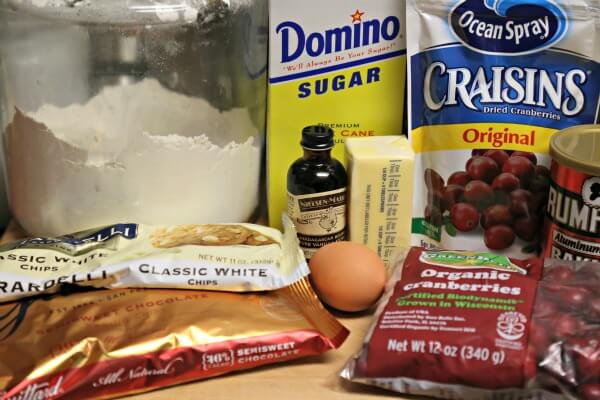 Check out some of the fab baking supplies I found at Big Lots!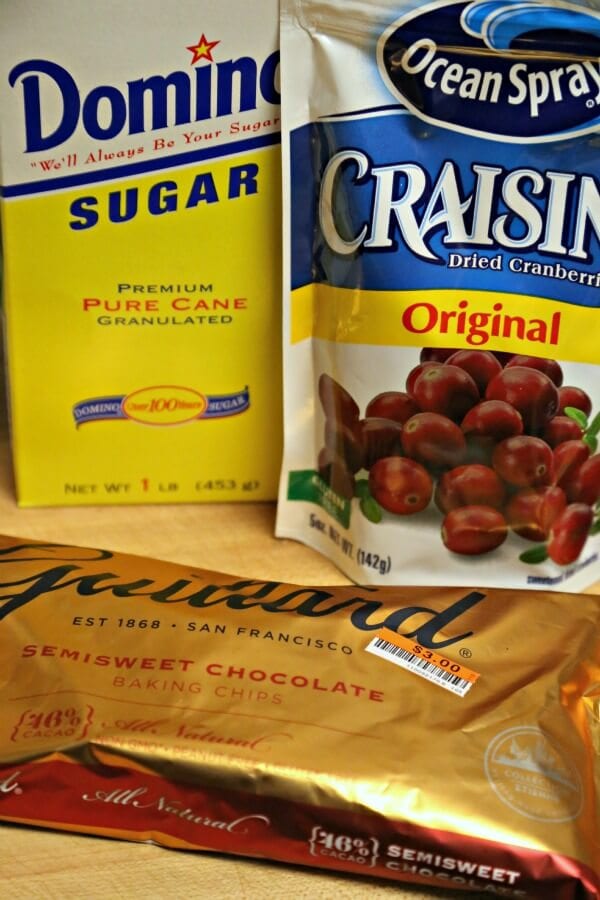 Folding the wet and dry ingredients together with my sassy new spatula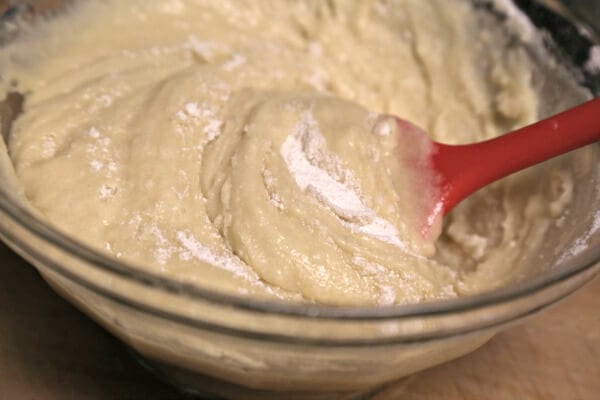 Let's fold in the floured cranberries, white chocolate chips and dark chocolate chips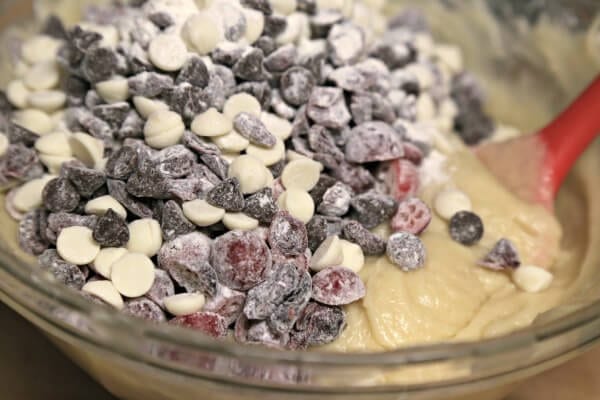 Ribbons of white chocolate ready to incorporate into the glaze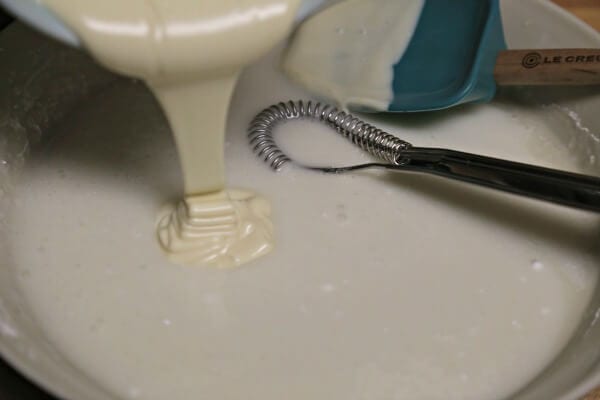 I am in love with these mini non-stick baking pans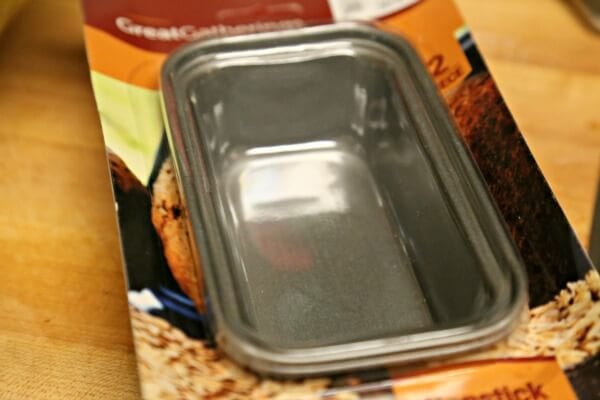 Some gorgeous Double Chocolate Cranberry Bread to not only enjoy but to give!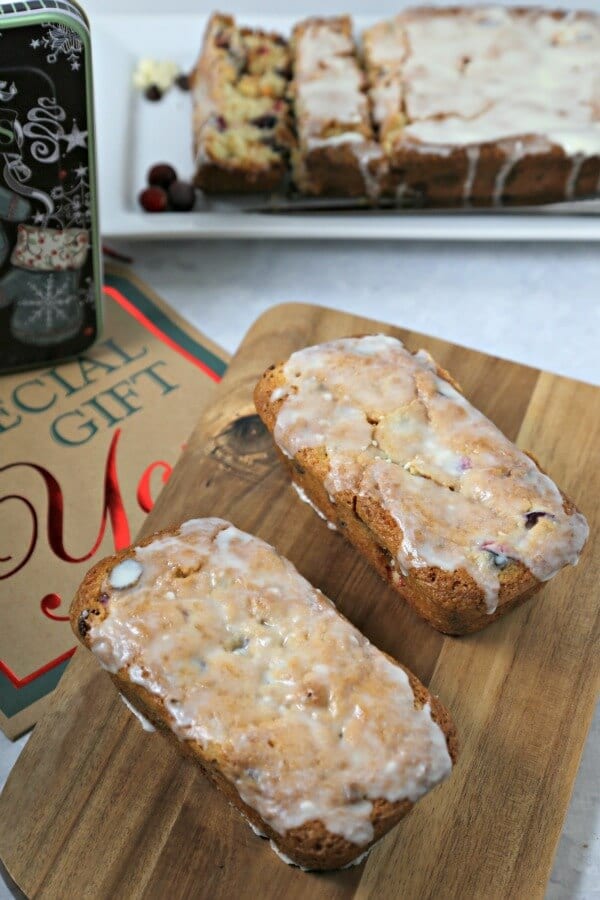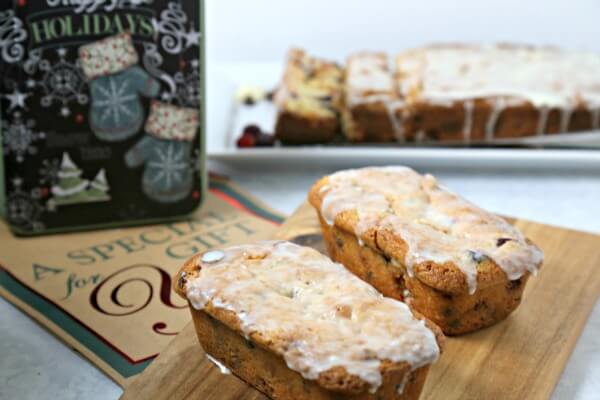 Aly M. Cleary
Yields 10-12
Homemade Holiday: Double Chocolate Cranberry Bread
This Double Chocolate Cranberry Bread is a delicious holiday treat. Moist vanilla scented quick bread is studded with cranberries, dark chocolate and white chocolate and finished with a white chocolate glaze
20 minPrep Time
55 minCook Time
1 hr, 15 Total Time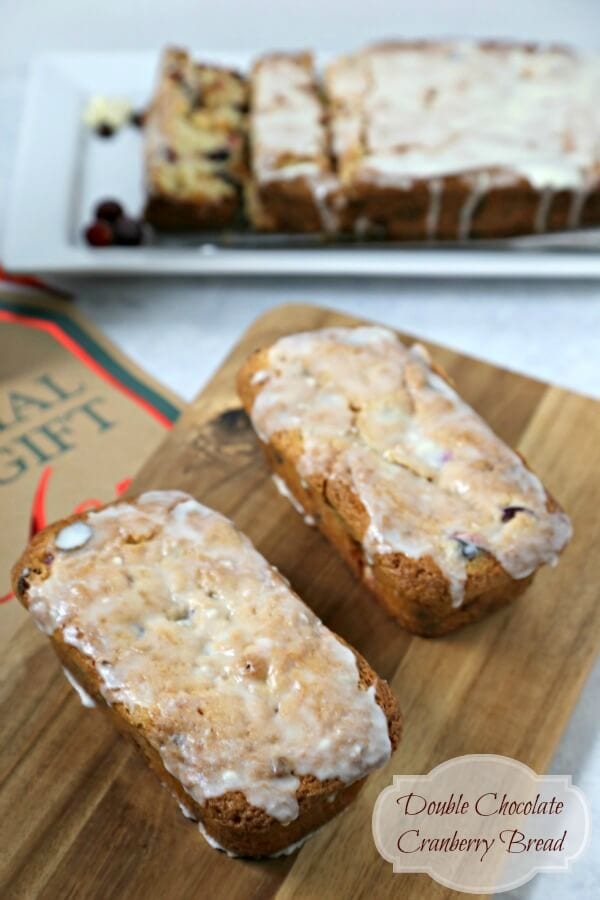 Ingredients
For the batter:
2 cups of all purpose flour, plus 2 tablespoons, divided
1 cup of granulated sugar
2 teaspoons of baking powder
1/2 teaspoon of kosher salt
1 large egg
3/4 cup of milk
6 tablespoons of butter, melted and cooled
1 teaspoon of vanilla extract
1/3 cup of fresh or frozen cranberries, halved
2/3 cup of dried cranberries
1/2 cup of white chocolate chips
1/2 cup of semisweet chocolate chips
For the glaze:
3/4 cup of white chocolate chips
3/4 cup of confectioner's sugar
1/4 cup of milk
Instructions
To make the batter:
Heat the oven to 350 degrees F.
Lightly spray the mini loaf tins (if using) and/or a loaf pan with a nonstick spray. Set aside.
In a large bowl, whisk together 2 cups of flour, granulated sugar, baking powder and salt.
In a smaller bowl, whisk together the egg, milk, melted butter and vanilla extract.
Fold the wet ingredients into the dry ingredients, taking care to not over-mix.
In a small bowl, add the halved cranberries, dried cranberries, white chocolate chips and semisweet chocolate chips. Toss the cranberries and chocolate chips with the remaining 2 tablespoons of all-purpose flour so that the mixture is evenly coated.
Fold the floured cranberries and chocolate chips into the batter.
Pour the batter into the prepared muffin tins and spread the batter evenly, taking care to level out the top of the batter. (My tip – I lightly tap the pans on the cutting board before placing them in the oven).
Bake for 45 – 50 minutes if they are mini-muffin tins or 55 – 60 minutes, until a toothpick inserted in the center comes out clean.
Let cool in the pan for about 15 minutes.
Let cool completely on a wire rack while you make the glaze.
To make the glaze:
Microwave the white chocolate chips in a bowl for about 30 – 40 seconds. Stir repeatedly until everything melts evenly.
In another bowl, whisk together the confectioner's sugar and milk until it turns into a runny glaze.
Add the melted white chocolate to the glaze and whisk together. If it gets too thick, thin it out with another teaspoon or two of milk.
Glaze the breads with the white chocolate glaze and let harden.
Enjoy!
Notes
For the mini loaves, reduce the baking time to 45 - 50 minutes.
Makes 2 mini loaves and 1 standard size loaf.
7.8.1.2
47
https://cookinginstilettos.com/double-chocolate-cranberry-bread/