Whenever I get my monthly assignment for the Secret Recipe Club, I know I have a delicious mission ahead of me. Like the months prior, this month's mission was a fun one: find and blog about a recipe from Mangia!  Chelsy, a Texan gal, is the mastermind behind Mangia and she has a wonderful outlook on life.  I love her reasoning behind her blog title.  She writes:
Mangia means "eat" in Italian. Now, you can't take this word for face value. Mangia means more than eating in the physical sense, but also, eating to enjoy life. Eating is what we do best in an Italian family, it's what we do to come together, to share stories, and to show one another love through food. Naturally, I want to share this love with you, through my recipes.
Plus, as a certified personal trainer and exercise enthusiast, many of her recipes are deliciously healthy and, because her sister has celiac, she also has a number of gluten free and vegan ricettes (recipes in Italian). With my goal to eat a little healthier this year, I added Mangia to my Google Reader so quick and have so many recipes bookmarked to play with for the fall. I mean, c'mon – doesn't this tempt you a little bit: Fire Roasted Pumpkin Soup, the Ultimate 'Shroom Soup, a comforting Pumpkin Butter, or this divine sounding Meyer Lemon-Lavender Tea Bread with Meyer Lemon-Lavender Glaze.  Since I couldn't make up my mind – I decided to toss a stiletto into the ring and attempt my very first fruit butter – namely this Overnight Apple Butter. I figured it would be great for the morning oatmeal, for toast or, if I wanted to channel my inner Nigella, to sneak a spoonful straight from the jar.
This recipe, while excellent, taught me more than I ever could expect from a recipe. I learned that I have no patience (no surprise there *LOL*), I have slippy finger syndrome when peeling apples – a number were sacrificed as they either slipped into the sink or went bouncing along the floor. I learned that when you buy a bag of apples from Whole Paychex, they are smaller than the average grocery store apple so plan accordingly. I also learned that my vegetable peeler will be switched out for a Rosle because, as I'm learning the hard way, the quality of the tools is vital sometimes. Perhaps those apples didn't have to be sacrificed if I used a quality peeler because the one I have now is on its last legs. But, through it all, I learned that I can think quick on my stilettos, adjust as necessary and have fun in the kitchen and isn't that what Mangia is about?
This Spiced Apple Butter is a recipe that I will make again (and again, and again). It is the flavors of fall and, even better – it is prepared in the slow cooker and y'all know how I love my slow cooker. I also love how she uses Mexican Vanilla, which is one of my absolute favorites!
Confession: I did make a couple errors when I was making the recipe because the apples were so small (and the slippy finger syndrome.  Thankfully, I had a couple granny smiths to toss in), my liquid to apple ratio was off and I didn't leave the lid slightly ajar while cooking overnight. Long story short, I would up with a bit of applesauce after pulsing it in the food processor. So, I quickly dumped it in the dutch oven and let it simmer on the stove for another hour and a half until it was reduced by almost half.  I think I drove the SousPug mad with the smells of apples wafting through the house (which was torture because apples are one of his favorites and the vet won't let him have any on his prescribed diet).  I'm happy to report that I wound up with some divine apple butter that I promptly spread on a croissant and enjoyed while watching my new fave show, Merlin (I am finishing up the DVD of Season 3 – BBC America – hurry up and release Season 4 please!).
Chelsy – thank you for so much inspiration – I truly enjoyed my SRC assignment this month!
Now y'all – go make this recipe and MANGIA!
Ingredients
8-9 ginger gold apples (or any apples that you prefer), peeled, cored and sliced into wedges.
2 cups apple juice (you can add an extra 1/2 cup if your apples are larger)
1/4 cups of light brown sugar
2 teaspoons cinnamon
1/2 teaspoon of ground nutmeg
1/4 teaspoon of ground cloves
1 1/2 tablespoons Mexican Vanilla
Directions
Tumble the apples into the slow cooker.
To the apples, add the brown sugar, cinnamon, nutmeg, ground cloves, Mexican vanilla and apple juice. Stir well and place the lid on slightly ajar.
Turn the slow cooker on low for 12 hours or so.
After the mixture has cooked, turn the slow cooker off and allow the mixture to cool for an hour or so.
Transfer the entire apple mixture to a food processor and puree.
If the mixture is not thick enough to your liking, transfer to a dutch oven and simmer on low until reduced a bit.
Put the apple butter into individual canning jars and enjoy!
Notes
Slightly adapted from Chelsy of Mangia's recipe
Note: If you are canning the apple butter, make sure to process according to canning instructions. If not, it will keep in the fridge for a while.
7.6.8
767
https://cookinginstilettos.com/spiced-apple-butter/
All images and content are © Cooking In Stilettos. Please do not republish without contacting us first. Thank you.
Gather the ingredients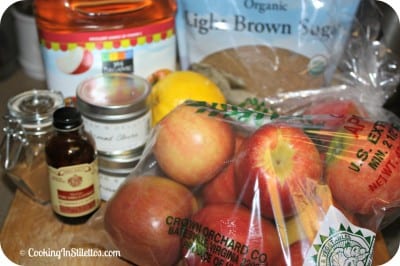 Adding the spices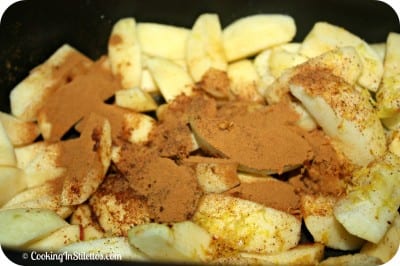 Time for the Apple Juice (you could use cider if you wish or even add a splash of Bourbon)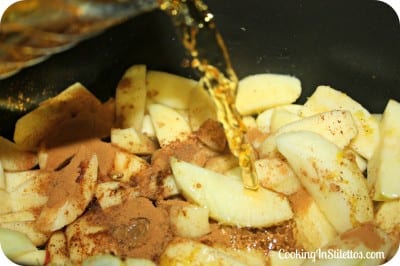 Stewed Apple Goodness – Time To Puree!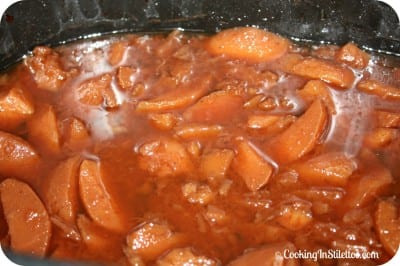 Not as I thought – time to thicken in the Le Creuset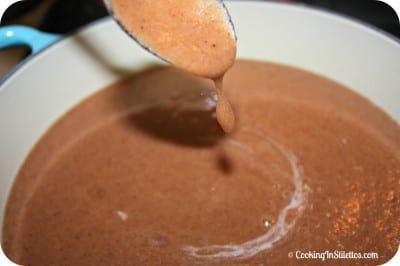 Mmmmmmmm – the flavors of fall!
Did you enjoy this post?
| | |
| --- | --- |
| Share the love | Get free updates |