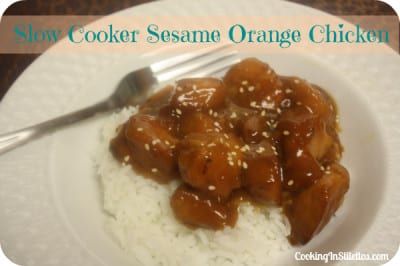 It's the beginning of April and you know what time it is – time for the Secret Recipe Club's Big Reveal.
This month's Secret Recipe Club assignment was a no-brainer for me.  I was lucky to be assigned Edesia's Cookbook – a blog that I absolutely am denatured with.  Lesa is the scribe behind the site and let me tell you – her recipe index had me flagging so many recipes to make for the future but the minute I saw Slow Cooker Sesame Orange Chicken – well, you know I had make it.  Sesame Chicken is one of my fave take-out dishes and I loved the idea of a citrus spin on it.  Her site is definitely one that you need to bookmark because her recipes are top notch.  I mean – check out her Pumpkin Cheddar Muffins, Brown Sugar Glazed Salmon, a killer homemade BBQ Sauce or these must make Irish Cream and Coffee Muffins.
I made a few minor edits to the recipe but this is going in the tried and true file.  Sweet, savory and the citrus hit is perfection.  I also made a killer teriyaki sauce to go with it and let my favorite slow cooker do the rest.  Seriously – the next time you are tempted to dial the local takeout spot, make this dish.  You'll lose that takeout menu for good.
Many thanks to Jane, our fabulous hostess at the Secret Recipe Club and Lesa for letting me play in the kitchen.
On to the recipe:
Gather the ingredients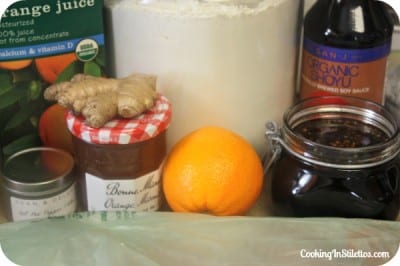 Prepping the Chicken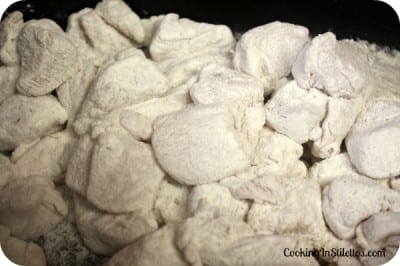 Adding the sauce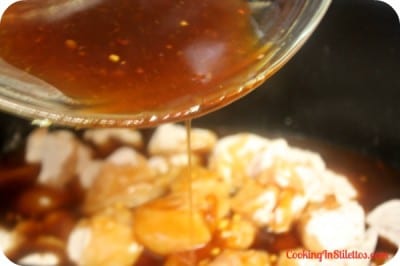 Best Sesame Orange Chicken Ever!
Slow Cooker Sesame Orange Chicken
---
Ingredients
1/3 cup of all purpose flour
4 chicken breasts, cubed
1/2 cup of teriyaki sauce/marinade
1/2 teaspoon of sesame oil
1 cup of orange marmalade
1/2 cup of orange juice
Zest and juice of one medium orange
1/4 cup of soy sauce
1 tablespoon of fresh ginger, grated
1/4 teaspoon of red pepper flakes
1-2 tablespoons of toasted sesame seeds
Cooked Jasmine Rice for serving
Salt and pepper
Directions
In a large resealable plastic bag, add the chicken and flour. Season with a bit of salt and freshly cracked black pepper.
Shake to coat the chicken and transfer to the slow cooker.
In a large bowl, combine the teriyaki sauce, sesame oil, orange marmalade, orange juice, zest and juice of one orange, soy sauce, ginger and red pepper flakes.
Pour the sesame sauce over the chicken and stir gently to coat.
Cover and cook on low for about 4 hours or so, until the chicken is tender.
Serve over the cooked jasmine rice and garnish with the sesame seeds.
Enjoy!
Notes
Slightly adapted from Edesia's Notebook
7.6.8
741
https://cookinginstilettos.com/slow-cooker-sesame-orange-chicken/
All images and content are © Cooking In Stilettos. Please do not republish without contacting us first. Thank you.
Did you enjoy this post?
| | |
| --- | --- |
| Share the love | Get free updates |