Childhood cancer is a cause near and dear to my heart. OXO asked some food bloggers to Bake A Difference and OXO would donate $100 per post towards childhood cancer via the Cookies for Kids Cancer Foundation which was founded by two OXO employees who lost their dear son to Neuroblastoma.  Reading his story, I knew that I had to participate.
I decided to go out of my comfort zone and, instead of playing with cookies, I decided to do stuffed cupcakes.  One of my favorite flavors this fall is, of course, apple, so I decided to do an Apples and Spice Cupcake, full of warmth and comfort and frosted with a cinnamon cream cheese frosting.  OXO sent a cupcake assist kit and one of my favorite toys to play with from it was their cupcake corer.  See – I'd see all these lovely stuffed cupcake ideas but when it came to attempting on my own – I was terrified.  However, I decided to get my stilettos in the kitchen and get to baking – all for a good cause.
This recipe is a multi-step process but trust me when I say it is WELL worth it.  Once you get going, everything moves right along.  Plus – who doesn't love apples and the flavor from the apple compote combined with the spiced cupcake – divine.
On to the recipe:
Gather the ingredients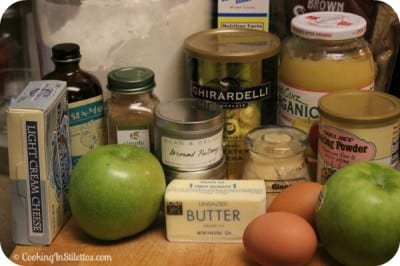 The spices warm everything up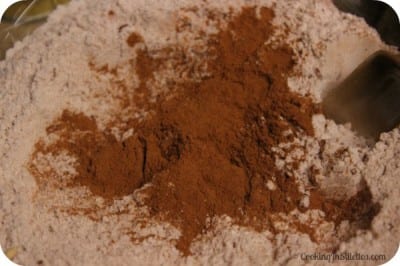 My new favorite toy – the OXO Cupcake Corer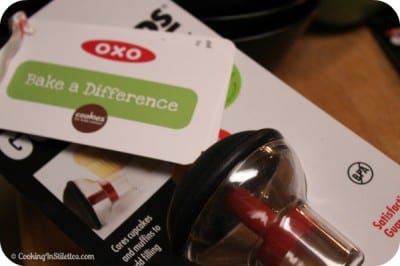 The main ingredient – Apples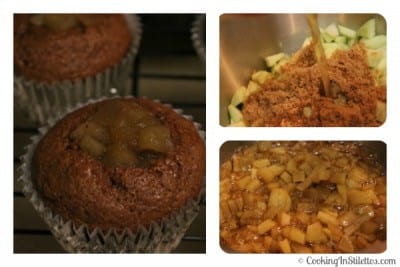 Apples and Spice and Everything Nice – Baking A Difference With OXO Good Cupcake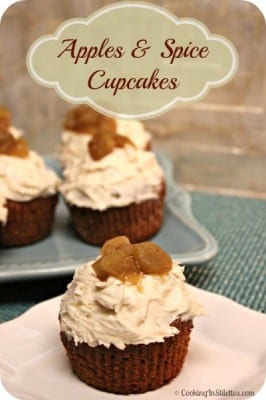 Ingredients
For the Spiced Cupcakes:

1 1/2 cups all-purpose flour
1 teaspoon of baking powder
1/2 teaspoon of kosher salt
1 tablespoon of unsweetened cocoa powder
1 tablespoon of ground cinnamon
1 teaspoon of ground ginger
1/2 teaspoon of ground nutmeg
1/4 teaspoon of ground allspice
1/2 cup of light brown sugar
1/2 cup of granulated sugar
1 cup of unsweetened applesauce
2 eggs
1 teaspoon pure vanilla extract

For the Apple Compote:

2 Granny Smith Apples, peeled and finely diced
1/2 cup of light brown sugar
1/2 cup of apple juice or cider
1/4 teaspoon of cinnamon
1/2 teaspoon of lemon juice
A few grates of freshly ground nutmeg

For the Cinnamon Cream Cheese Frosting:

4 tablespoons of butter, room temperature
4 tablespoons of light cream cheese, room temperature
2 cups of powdered sugar
1 teaspoon of vanilla extract
1/2 teaspoon of cinnamon
Instructions
For the Cupcakes:

Preheat the oven to 350 degrees F.
Line a cupcake tin with liners and spray with a nonstick baking spray.
Combine the flour, baking powder, salt, cocoa powder, cinnamon, ginger, nutmeg and allspice in a bowl.
In another bowl, beat together the brown sugar, granulated sugar, applesauce, eggs and vanilla extract until it's fully blended. Add the spiced dry ingredients until everything is fully combined.
Using a ice cream scoop, scoop the batter into the prepared cupcake cups so that it's 2/3 full.
Bake for about 22 - 25 minutes until a toothpick inserted in the center comes out clean.
Remove to a cooling rack and let cool for about 15 minutes.

For the Apple Compote:

In a heavy saucepan, combine the apples, brown sugar, lemon juice and apple cider or juice.
Let come to a boil and then reduce heat to a simmer for about 10 - 12 minutes.
Let cool for about 10 minutes to thicken slightly.

For the Cinnamon Cream Cheese Frosting:

In the bowl of an electric mixer, combine the cream cheese and butter until light and fluffy.
Slowly add the powdered sugar until everything is mixed.
Add in the cinnamon and vanilla and beat again until everything is fully combined.

To Assemble:

Core out the center of the cooled cupcake, making sure to not touch the bottom of the cupcake.
Spoon in some of the apple compote mixture until full.
Frost with some of the Cinnamon Cream Cheese Frosting and top with a bit of remaining apple compote.
Enjoy!
In a large bowl, beat the sugars, oil, applesauce, eggs, and vanilla extract to blend. Add the dry ingredients and stir until just blended. Pour the batter into the prepared pan and smooth the top with a spatula. Bake for 40 to 45 minutes or until a toothpick inserted into the center of the cake comes out clean. Cool the cake for 10 minutes. Unmold the cake and place on a wire rack to cool completely. Dust with powdered sugar and cut into slices for serving.
7.8.1.2
310
https://cookinginstilettos.com/apples-spice-everything-nice-baking-difference-oxogoodcupcake/