I rarely cook steak in the house – probably because I have the fire alarms from hell. My poor neighbors know when I'm in a cooking frenzy because they hear the constant "BEEEEEEEEEEEEEEEEEEEP" from those daggone alarms and I'm running around like a banshee with a broom trying to shut one down when one of the other two alarms decides to get a word in edgewise. Drives me batty, I swear. I used to have a neighbor that would text "Whatcha Making" whenever they would hear the alarms go off – talk about a dinner bell, right?
This recipe beats any bottled BBQ sauce, hands down. It's so simple to prepare and the flavor is phenomenal. I usually use it when I do a baked chicken and it's all bubbly and caramelized from the oven – delish. Served with a side salad or even some jazzed up quinoa and you have a healthy dinner that was so easy to prepare but, the likelihood of leftovers are pretty much nil.  It's that good.
So – the next time you need an easy weeknight meal and you don't want to use the store-bought with who knows what ingredients are in it, whip this sauce up and, if asked for the brand of sauce you used, you can say "Oh – this sauce – it's not from a bottle – it's something I quickly whipped up." It's up to you if you want to let them in on your Balsamic BBQ Sauce recipe.
What's your favorite BBQ sauce?  Do you make your own or buy it?
On to the recipe:
Gather the Ingredients
The main ingredient – balsamic vinegar

Look at this sauce furiously bubble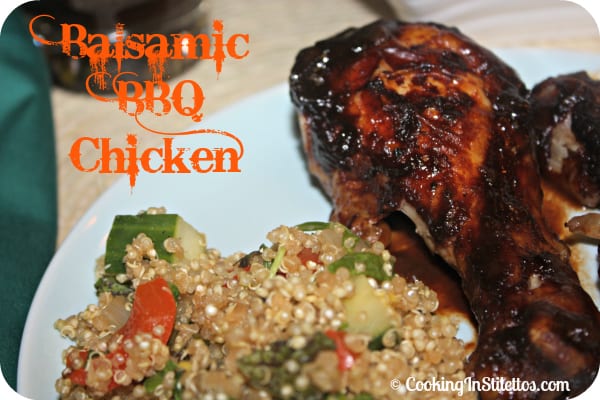 Ingredients
For the Balsamic BBQ Sauce:

1 cup balsamic vinegar
3/4 cup ketchup
1/3 cup light brown sugar, lightly packed
2 garlic cloves, minced
1 tablespoon Worcestershire sauce
1 tablespoon Dijon mustard
Pinch of red chili flakes (optional - make it as spicy as you like)
1/2 teaspoon salt
1/2 teaspoon freshly ground black pepper

For the Chicken:

4 pieces chicken (you can use breast, thigh, leg - your choice.)
Salt and freshly ground pepper
Instructions
For the Balsamic BBQ sauce:

In a small saucepan, over medium heat, combine all the ingredients, stirring until the mixture is smooth.
Simmer the sauce for about 15 minutes until it is reduced by 1/3.
Keep warm.

For the Chicken:

Preheat the oven to 375 degrees F.
Season the chicken with the salt and pepper.
In a lightly greased baking dish, place the chicken, skin side up and bake for 20-25 minutes.
Liberally brush the chicken with the Balsamic BBQ Sauce and return to the oven.
Bake for another 15 minutes or so.
Let rest for 5 minutes.
Enjoy!
7.8.1.2
360
https://cookinginstilettos.com/balsamic-bbq-chicken/