Baja Chicken Chili tastes like it has been simmered for hours but comes together in 30 minutes.  Southwestern flavors and spices meld with a hint of honey for the perfect chicken chili.
Disclosure: OXO sent tools to assist with this recipe.  I was not compensated for this post and my love for this brand is all my own.
Whenever I am looking for a great idea for dinner, chili is one of those go-to recipes I can whip up on the fly.  Whether it's chili chock full of Italian sausage, a light turkey chili or even my favorite cornbread topped chili, I know dinner can come together in a flash and with the right spices, will taste amazing.  Lately, I have been obsessed with various flavor combos and ingredients and when OXO asked us for a fabulous chili recipe that would come together zippy quick with their tools, I knew I'd want to do a Baja style chili packed with the flavors of ancho chili, fresh veggies and black beans and topped with melty cheese and a light avocado creama.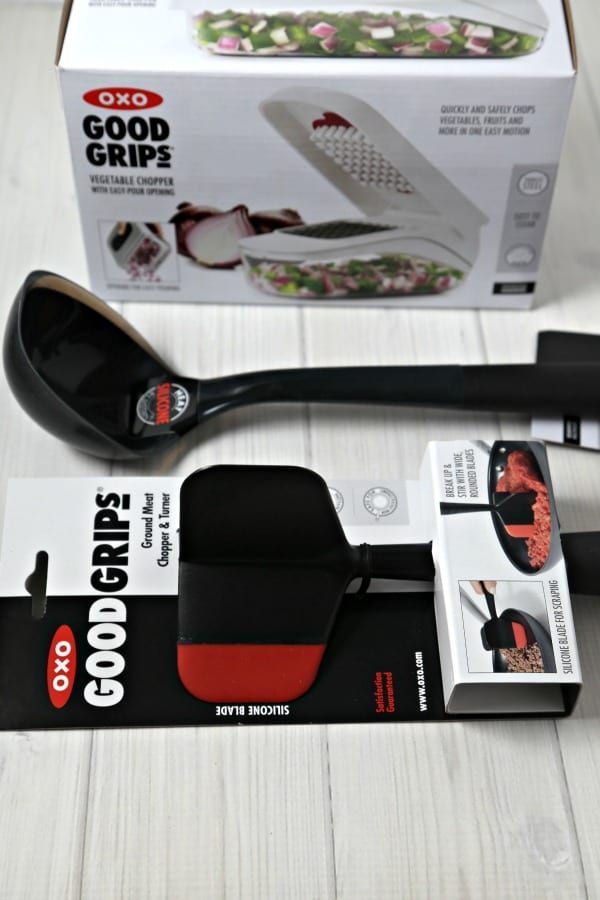 OXO sent us a few of their chili essentials – including a Heatproof Silicone Ladle, perfect for scooping chili into cozy bowls,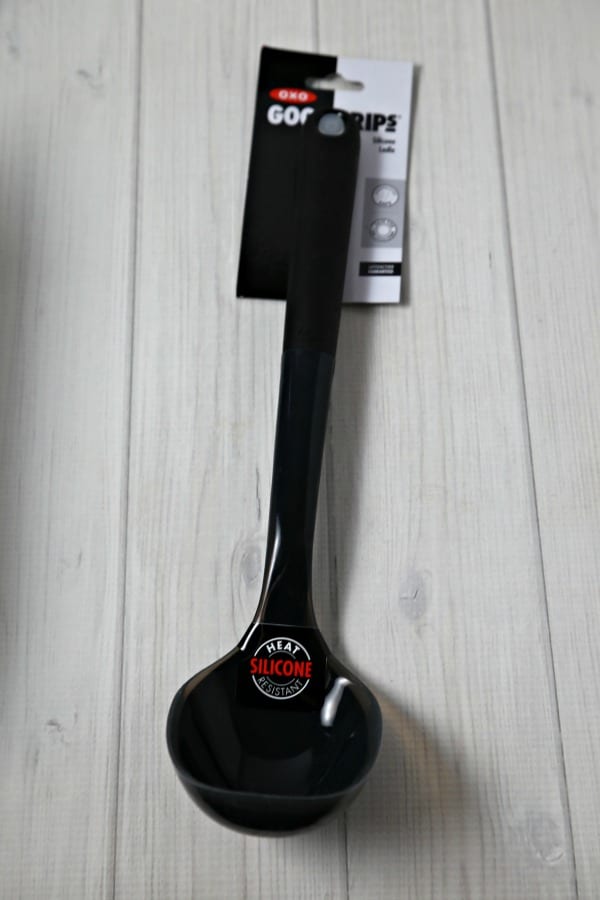 a easy Vegetable Chopper with Easy-Pour Opening that had me dicing onions and jalapenos with no tears and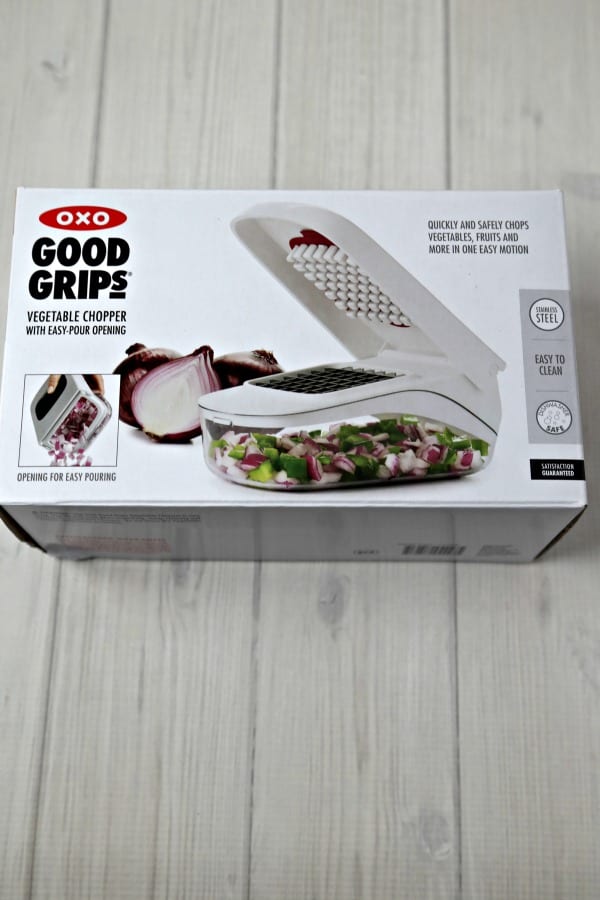 a must have Ground Meat Chopper & Turner that helped break up that package of ground chicken which also has a myriad of other uses!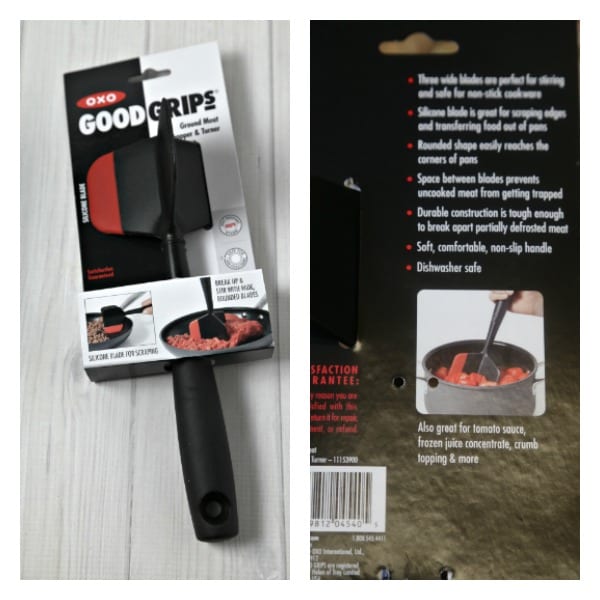 This Baja Chicken Chili came together in just under 30 minutes and tastes like it has been simmered for hours.  The key is to bloom the spice with the veggies so that you have a rich and flavorful broth.  Fire-roasted tomatoes adds a subtle smokiness and to offset the heat factor, a bit of honey added the right balance.  I wanted to put some roasted poblanos in this but apparently there is a poblano shortage here in Philly – 4 different stores and not a poblano pepper to be found.  Knowing that ancho chile powder essentially has the same fruity heat, I figured I would use that in lieu of the roasted poblanos.  I added some smoked paprika to add a tinge more smoky depth along with the other spices, as well as a hint of unsweetened for even more depth, and the kitchen smelled amazing.  To top the flavorful chicken chili, I used some Monterrey jack cheese and a squeeze of lime along with a light and refreshing avocado creama made with yogurt, ripe avocados and a touch of smoky spice.  Now – doesn't that sound easy?  Sure, there are a lot of ingredients but if you have everything at the ready, it moves together really quick.
When you are looking for a chicken chili that is packed with flavor, this Baja Chicken Chili will be your go-to.
On to the recipe:
Gather your ingredients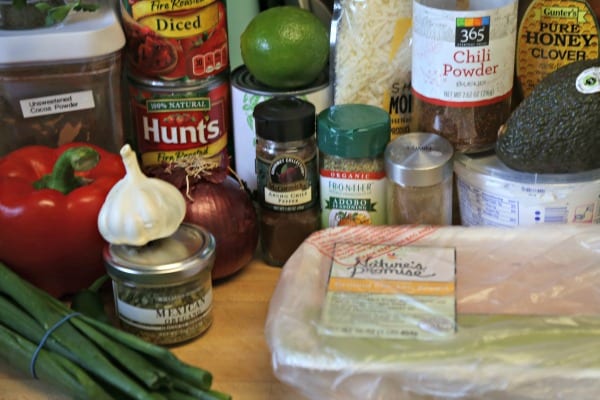 Breaking up the ground chicken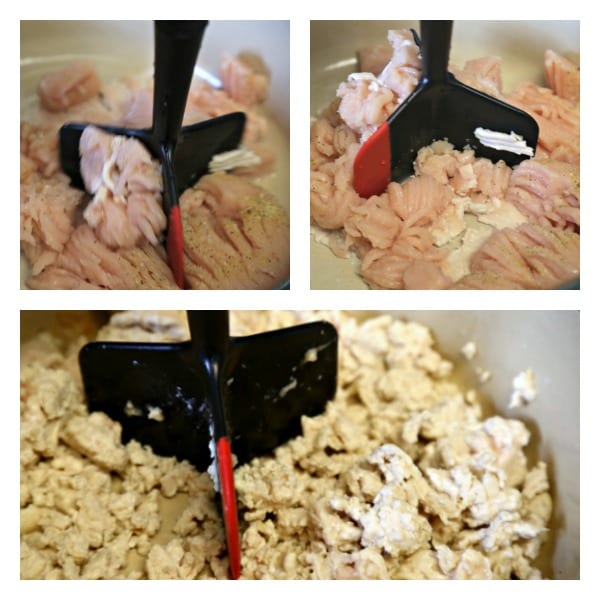 Let's make easy work of these veggies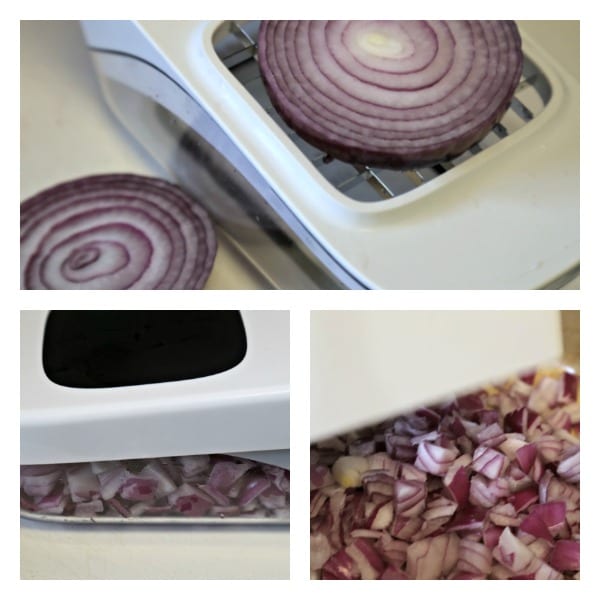 Time to saute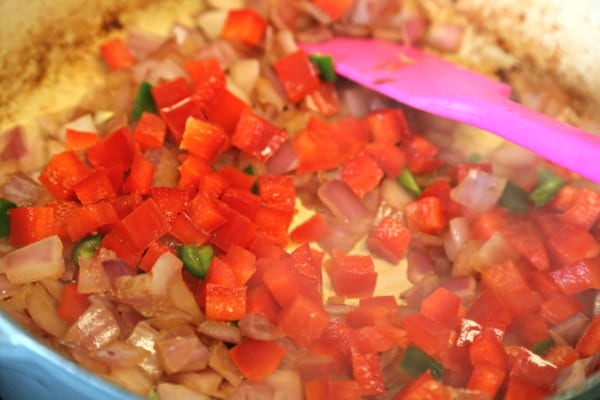 Let's bloom the spices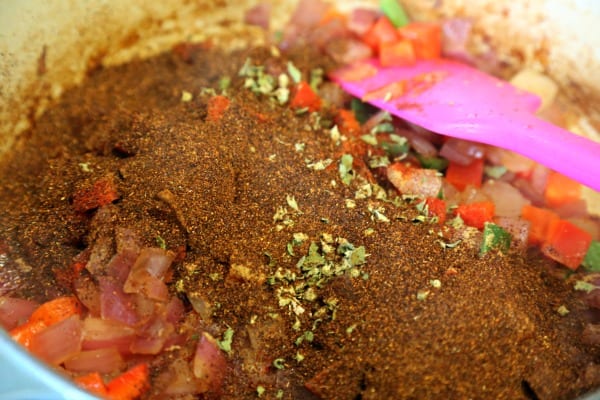 Black beans add a touch of southwestern flair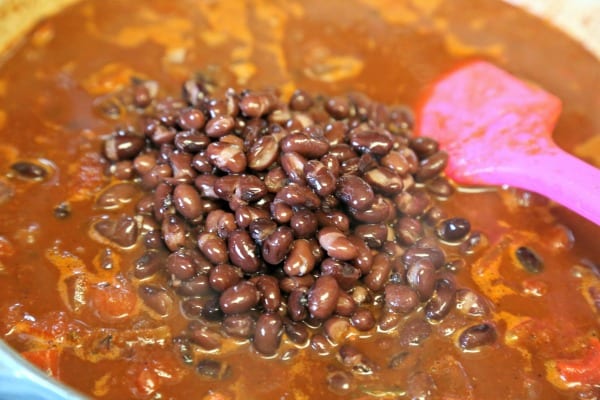 Whisking together this easy avocado creama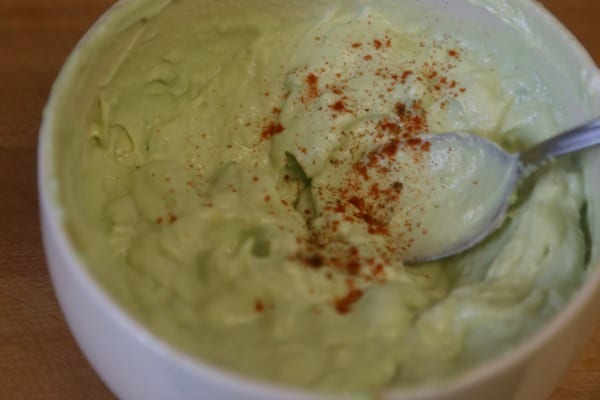 Ladle into bowls and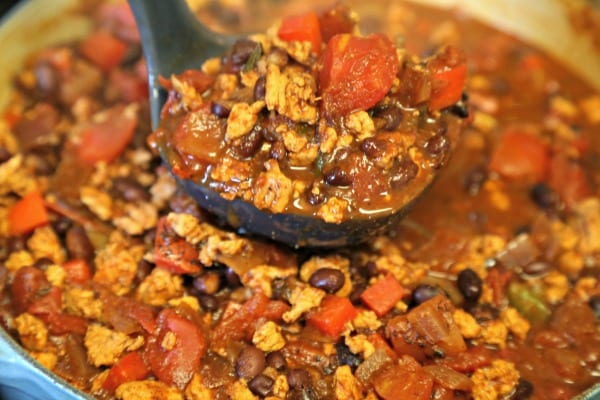 Ready for serving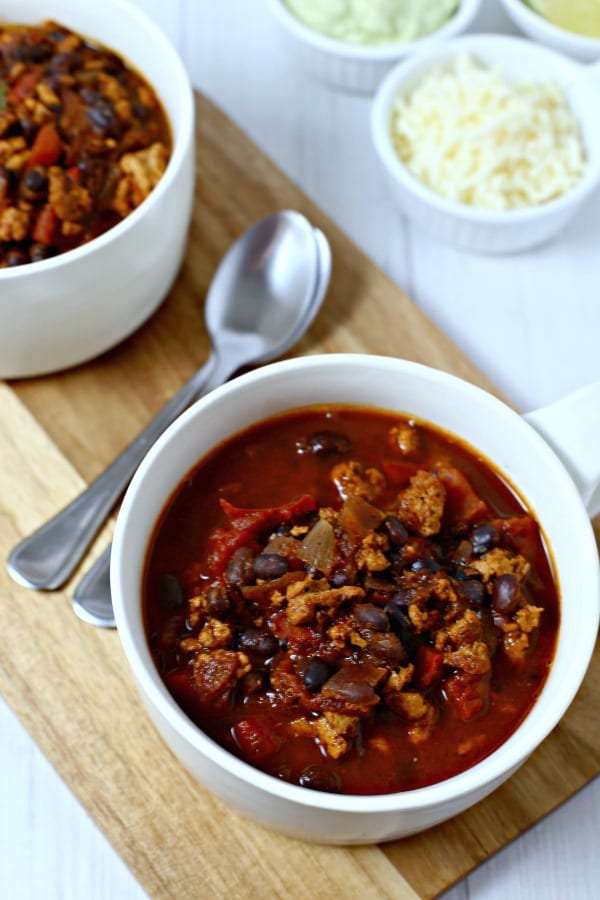 I love mine with a touch more avocado creama for a creamy cooling factor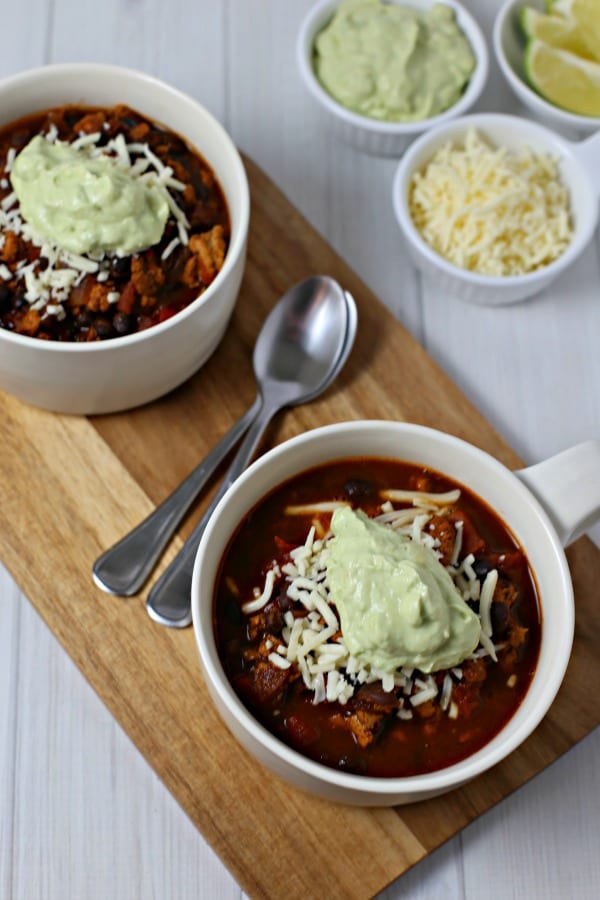 Hungry yet?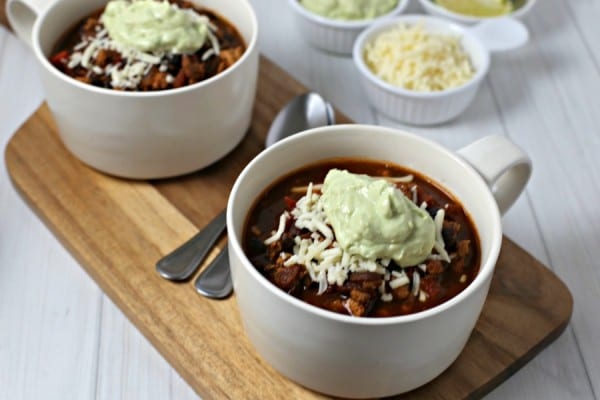 Aly M. Cleary
Yields 4
Baja Chicken Chili – A Flavorful Bowl of Comfort
This Baja Chicken Chili comes together in about 30 minutes and tastes like it has been simmered for hours. Chicken, fire-roasted tomatoes, black beans and spices meld for the perfect bowl of chili comfort.
5 minPrep Time
30 minCook Time
35 minTotal Time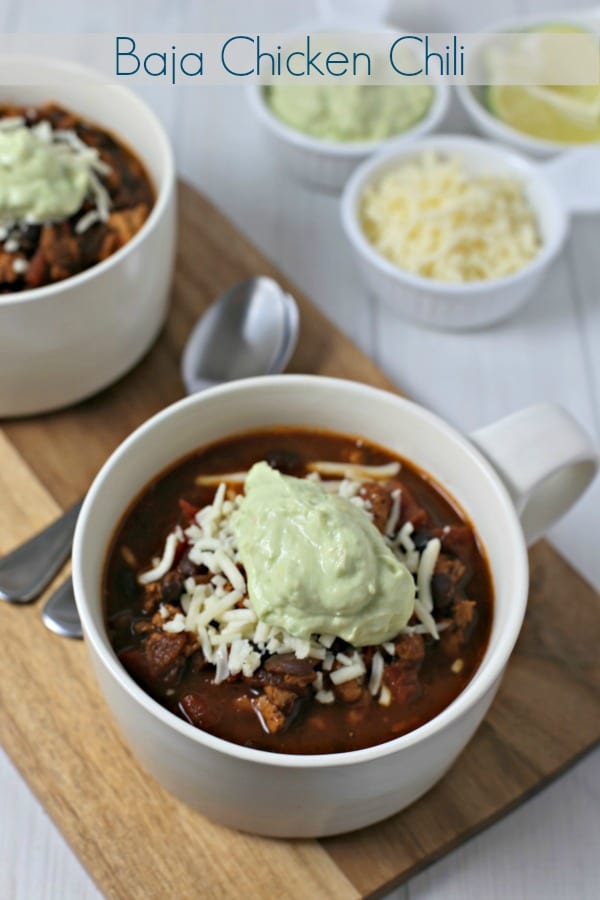 Ingredients
For the Chicken Chili:

2 tablespoons of olive oil, divided
1 pound of ground chicken
1/4 teaspoon of adobo seasoning
1 large red onion, diced
1 large red pepper, diced
1 jalapeno pepper, seeded and diced
2 cloves of garlic, minced
3 tablespoons of chili powder
2 teaspoons of ground cumin
1 teaspoon of smoked paprika
2 teaspoons of Mexican oregano
1/2 teaspoon of ancho chile powder
1 tablespoon of unsweetened cocoa powder
2 15-ounce cans of fire-roasted diced tomatoes, with juice
1 1/2 teaspoons of honey
1 1/2 cups of water
2 15-ounce cans of black beans, drained and rinsed
Salt and pepper to taste

For the Avocado Creama

1 ripe avocado, seeded and mashed
2 tablespoons of non-fat Greek yogurt
Juice of half a lime
1/8 teaspoon of ancho chile powder
1/4 teaspoon of smoked paprika
1/8 teaspoon of kosher salt

To serve:

Monterey Jack Cheese
Lime Wedges
Instructions
In a large dutch oven, heat 1 tablespoon of the olive oil over medium high heat.
Add the ground chicken and the 1/4 teaspoon of adobo seasoning and saute until the meat is just about cooked through, about 5 - 7 minutes
Remove to a paper lined plate and set aside.
Add the remaining olive oil and add the diced onions. Saute for about 4 minutes and then add the diced red pepper, diced jalapeno and minced garlic. Saute for another couple minutes.
To the veggie mixture, add the chili powder, ground cumin, smoked paprika, Mexican oregano, ancho chile powder and cocoa powder. Stir to coat the veggies with the spices. Bloom for about a minute or two, until you can start to smell the spices.
Add the fire roasted tomatoes, water and honey and stir to combine. Add the black beans and ground chicken to the mixture and fold everything in.
Bring the chili to a slight bubble and then reduce to a simmer and cook for about 15 - 20 minutes. While the chili is simmering, make the avocado creama.

To make the avocado creama:

In a small bowl, add the mashed avocado, greek yogurt, lime juice, ancho chili powder, smoked paprika and salt.
Whisk until evertyhing comes together and you have this luscious, slightly green tinted creama.
Taste for salt and add a bit more if you feel it's needed.

To serve:

Ladle the Baja Chicken Chili into bowls and top with a bit of Monterey Jack cheese, a squeeze of lime and a dollop of avocado creama
Enjoy!
7.8.1.2
104
https://cookinginstilettos.com/baja-chicken-chili-a-flavorful-bowl-of-comfort/