Come along as guest contributor, Betsy Cohen of Desserts Required, travels in stilettos to the Food Network & Cooking Channel's South Beach Food & Wine Festival for brunch with the one and only Nigella Lawson and Casa Tua's Simone Mua.
Disclosure:  This post may contain affiliate links of products that I adore and trust in my kitchen.  Thank you for supporting Cooking In Stilettos.
*****
Hello Cooking in Stilettos! I can't tell you how happy I am to be guest blogging here. As a stiletto lover, I feel right at home. Desserts Required is all about the sweeter side of life and my motto is, Without desserts, life would not be as sweet!
The first time I saw Nigella Lawson on tv one of my first thoughts was how much I relate to her cooking style and on-air personality. Her cooking and baking are home style and, as Nigella states on the cover of her latest cookbook, SIMPLY NIGELLA, it's FEEL GOOD FOOD – just the way I like it.
magine my elation when Aly messaged me asking if I would like to go to South Beach Wine & Food Festival's brunch with Nigella at Casa Tua. It took all of a nanosecond to do a very happy dance and say yes.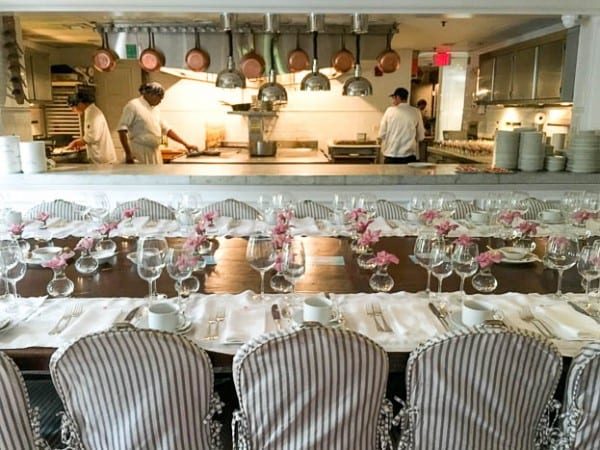 I was seated at the Chef's Table, which was a huge treat because Nigella was seated at this table, too, and it was located next to the open kitchen. Casa Tua's Executive Chef Simone Mua prepared dishes from Simply Nigella along with some of his own specialties.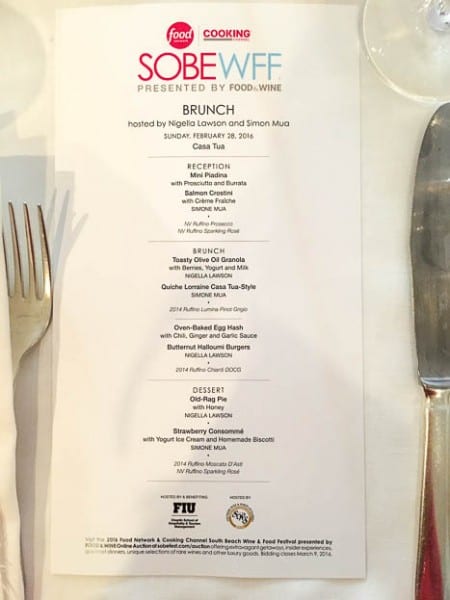 Nigella's Toasty Olive Oil Granola was served with berries, yogurt and milk. Honey and brown sugar were available to put on top, if desired. It was perfect for brunch and complemented Simone's Quiche Lorraine Casa Tua style. The crust of quiche was exceptional in both flavor and texture.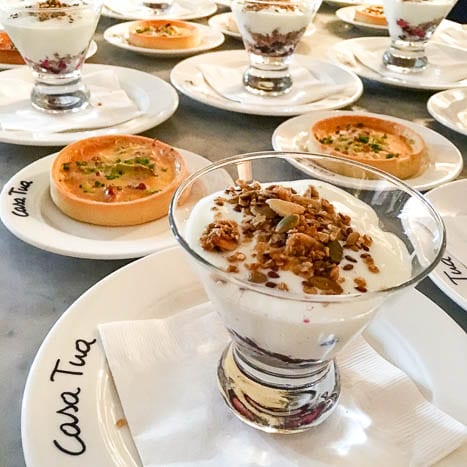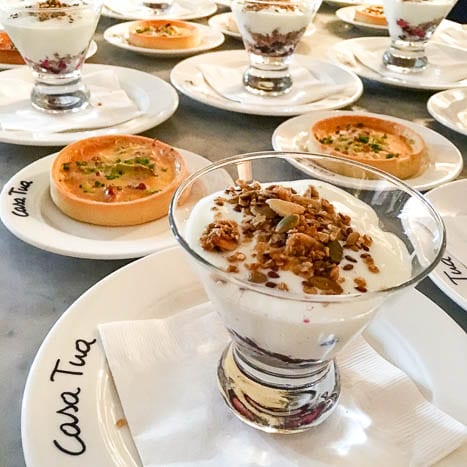 Want something creative? Nigella's Butternut Halloumi Burgers are a terrific vegetarian option well suited for brunch, lunch or a light dinner. The butternut slices come from the neck of the vegetable and are roasted in the oven for a bit. They are then topped with the cheese and roasted once more. The 'burgers' are then served in pita pockets with salad leaves and tomatoes. Fresh and different is a great combination.
The chili, ginger and garlic sauce used for Simone's Oven-Baked Egg Hash was one that would make sriracha sauce lovers weep with envy. I think most of us at the table were trying to figure out how we could get a jar to go.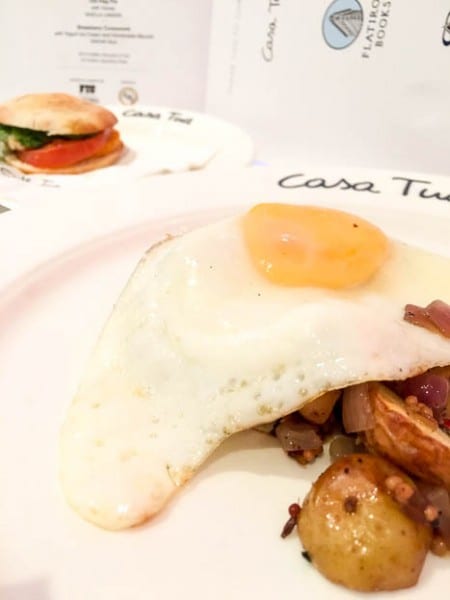 For me the main event was the dessert course and both options exceeded my wishes. According to her book Nigella's Old-Rag Pie with honey gets its name from the Greek word, Patsavouropita, meaning old rags. It is a dish that allows bakeries to use scraps of phyllo dough, thus the rags.  The filling is feta, thyme and Parmesan but it was the honey drizzle over the top that made my heart soar. This could easily be served as part of a cheese course as well.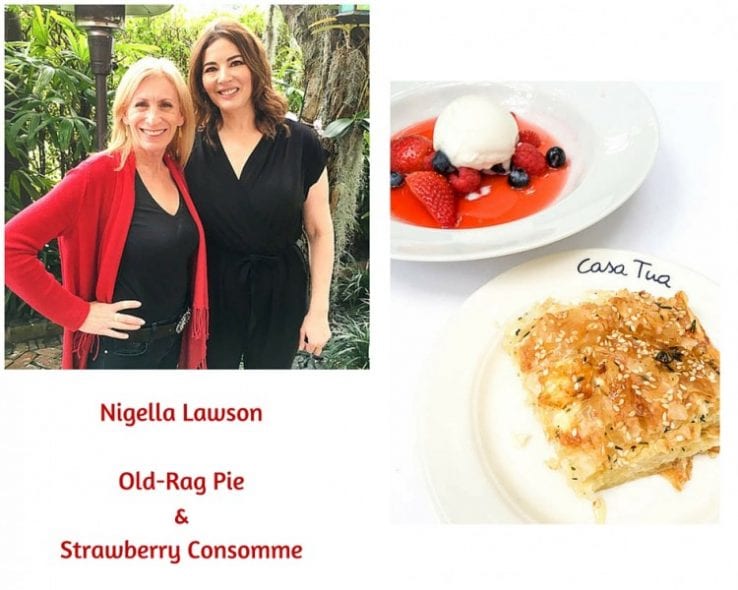 Simone's Strawberry Consommé was served with yogurt ice cream and fresh berries. It reminded me of a favorite childhood memory; eating thawed frozen strawberries in syrup. Casa Tua's version was that memory ramped up 1,000 notches while using only all natural ingredients.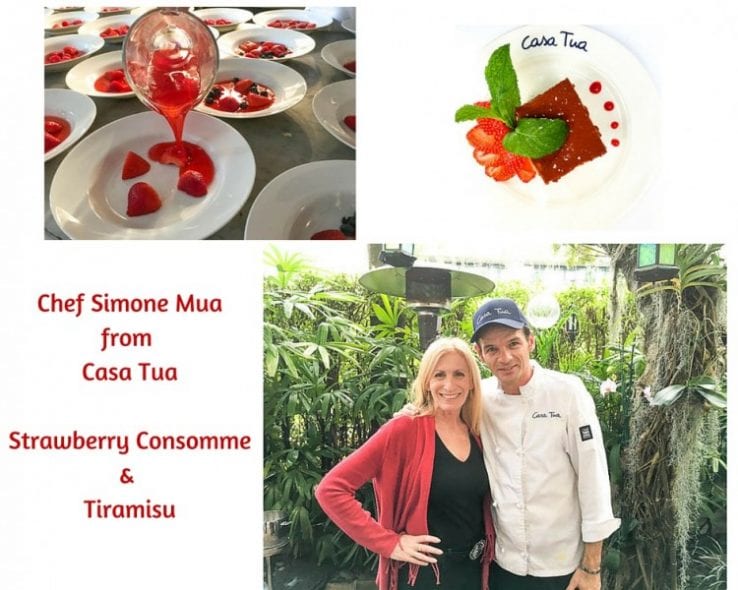 After the event ended I was speaking with Simone about possibly doing a Road Trips for Food to Casa Tua for Desserts Required and said that my requirement is that the restaurant makes its desserts in-house. They do. He asked me if I like Tiramisu and proceeded to give my friend and me a serving to try. Simone boasted that he started making Tiramisu when he was a small child and that his is the best. Guess what? He is right! It was the moistest, most well balanced Tiramisu I have ever tasted and my friend, whose late husband was Italian, agreed.
My time at Casa Tua was a delectable culinary experience and I can't wait to go back for dinner. As a blogger I know that we treat our blogs like children, protecting and nurturing them. As wonderful as my day was at SOBEWFF, being asked to guest blog on Cooking in Stilettos is the most meaningful part of the experience. Thank you Aly so much. You are a rockstar!
*******
Many thanks to Betsy for being such an awesome guest contributor at Cooking In Stilettos and sharing your SOBEWFF adventure.  Nigella is a culinary inspiration for many, including myself, and I am so excited that you were able to share this moment with Nigella, Chef Simone Mua and the brunch attendees as well as Cooking In Stilettos' readers.  Next week I will be sharing a recipe from Nigella's awesome new book that Betsy sent my way (and had signed!) along with some of her delicious Happlicious by Betsy cookie dough balls.  Life is sweet indeed!

About Betsy and Desserts Required
Betsy Cohen has loved desserts for as long as she can remember. She grew up with the smells of freshly baked challah in her maternal great-grandmother's kitchen, the incredible butter cookies from her paternal grandmother and the perfect pies her mother used to bake when company came over. Today Betsy shares her passion of baking as well as amazing finds of other treats on Desserts Required because, as Betsy always says, "Without desserts, life would not be as sweet!"
Betsy just launched Happylicious by Betsy where she sells eggless•bakeless•ready to eat chocolate chip, peanut butter and gluten free oatmeal raisin cookie dough balls and brownie batter balls. The website is happyliciousbybetsy.com and online orders are available.
For the best dessert recipes, make sure to check out Desserts Required and follow Betsy's delicious adventures on Facebook, Instagram, Google+, Pinterest, YouTube and Twitter.