Welcome to Day One of Christmas Week. This event is hosted by Kim of Cravings of a Lunatic and Susan of The Girl in the Little Red Kitchen. We hope to inspire you to break out those holiday sprinkles and get your bake on!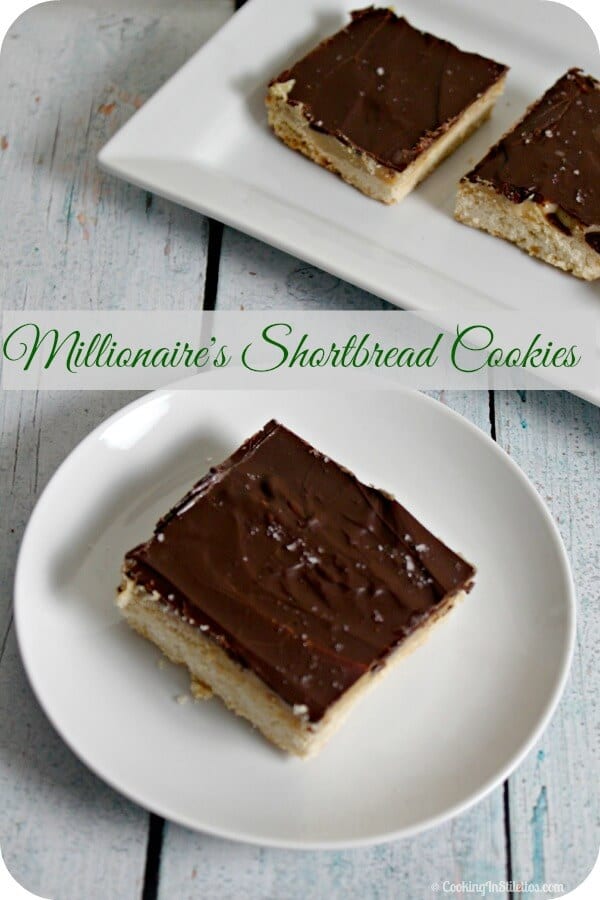 It's the first day of #ChristmasWeek and we've got some delicious sweet treats that will have you forgetting about calories until January hits. Added bonus, we're celebrating Susan of Little Red Kitchen's birthday so I brought a sweetly salted treat to the party – these rich and buttery Millionaire's Shortbread Cookies. What's a Millionaire's Shortbread you ask – a rich buttery shortbread layered with a bit of caramel and chocolate – decadent, divine and utterly delicious!
I decided to play with a basic recipe and add my own spin to the mix with adding a touch of Peanut Butter to the mix. Why Peanut Butter you ask – because peanut butter and chocolate are a match made in heaven and add some caramel and finish with a bit of fleur de sel and this is a cookie that is a must make this holiday season.
It couldn't be easier to make – but you need one vital thing – patience! Oh – and room in the fridge to chill everything. This cookie does take a bit of effort but after you whip up the components – it's assemble, cool, wait, assemble, cool, wait, assemble, cool – cut. See – patience is key.
I promise – if you leave these for Santa, well, he might just leave you a sassy pair of Louboutins under the tree – after all, you need a rich cookie to go with some stylish stilettos, don't you think?
On to the recipe:
Gather your ingredients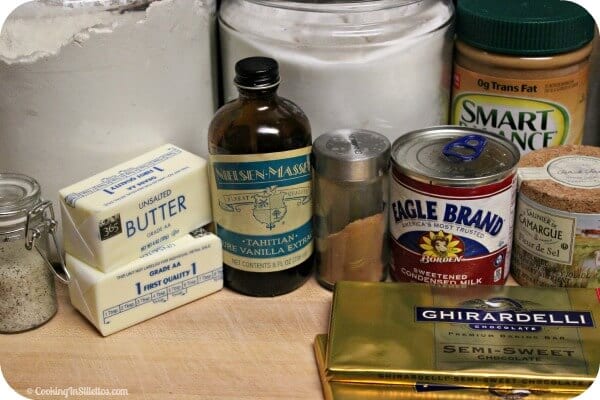 Time to cut the butter into the dry ingredients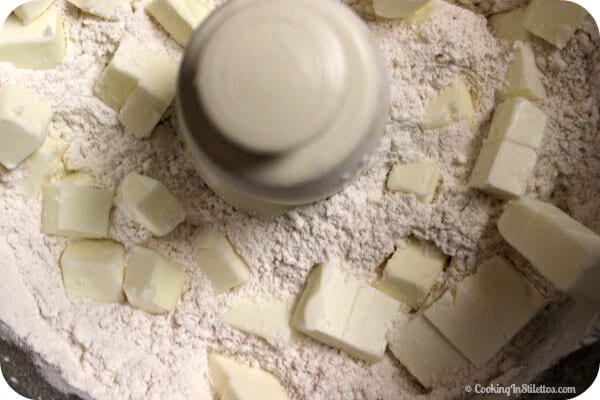 Making the Peanut Butter Caramel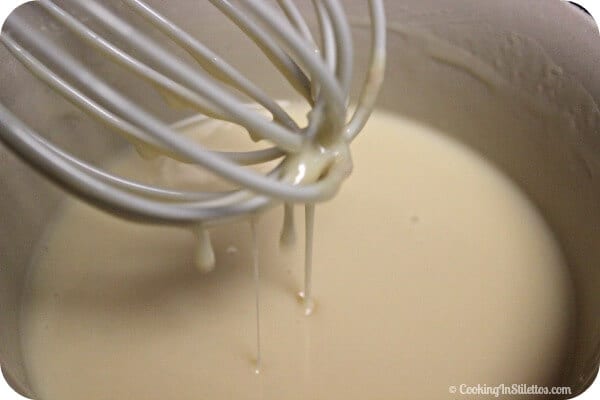 Spreading the Peanut Butter Caramel over the Shortbread Crust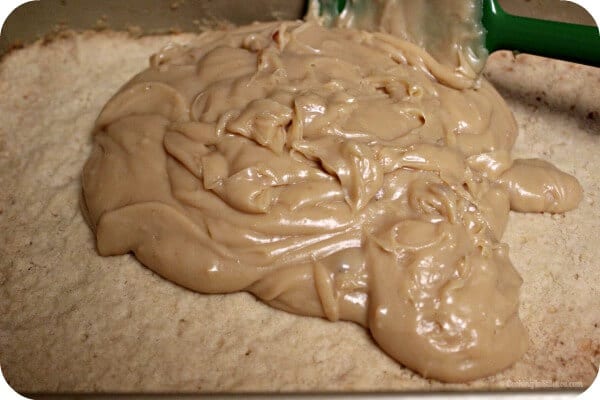 And then with a touch of chocolate over the peanut butter caramel layer and a sprinkle of fleur de sel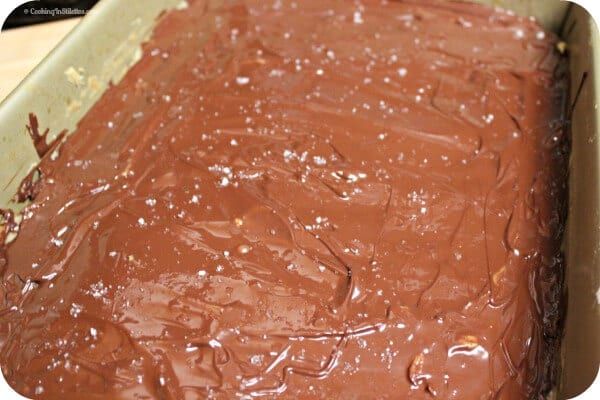 Now – THIS is a cookie my friends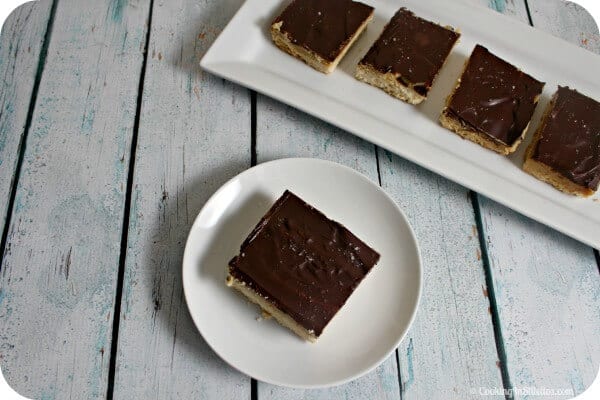 Want one?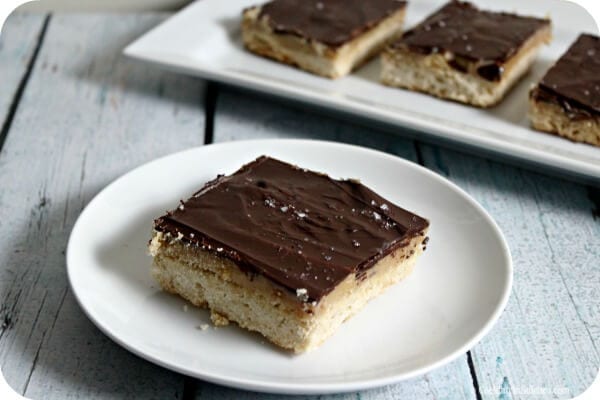 Millionaire's Shortbread Cookies
---
Aly M. Cleary; Inspired by Food Network
Yields 12
A rich and buttery shortbread cookie crust is layered with peanut butter caramel and melted chocolate and finished with a sprinkle of fleur de sel. This is decadence my friends.
2 hrPrep Time
45 minCook Time
2 hr, 45 Total Time
Ingredients
For the shortbread:

12 tablespoons of butter, cut into cubes and chilled
2 cups of all purpose flour
1/3 cup of sugar
1/2 teaspoon of salt
1/4 teaspoon of cinnamon

For the Peanut Butter Caramel Layer:

2 14 ounce cans of sweetened condensed milk
2 tablespoons of butter
2 tablespoons of creamy peanut butter
1/2 teaspoon of vanilla

For the Chocolate Layer

6 ounces of semi sweet chocolate, chopped
Fleur de sel (optional)
Directions
Butter and flour a 9x13 pan and set aside.
Preheat the oven to 350 degrees F.
In a food processor, add the flour, sugar, salt, and cinnamon. Pulse a couple times to mix.
Add the cubed butter and pulse until the mixture starts to come together and the butter looks like peas.
Press the shortbread mixture into the pan to form a crust.
Bake for 20 minutes or so until the edges are golden brown.
Remove from the oven and let cool completely.

To make the caramel:

In a heavy saucepan, add the sweetened condensed milk, butter, and peanut butter.
Stir and slowly bring everything to a boil over medium-low heat.
Keep stirring continuously until it turns a amber color. This should take about 10 - 15 minutes.
Pour the peanut butter caramel over the cooled shortbread crust and spread evenly.
Cool to room temperature.

To make the chocolate layer:

In a double boiler (or glass bowl over a pan of simmering water), add the chocolate.
When the chocolate is melted, remove from the heat and pour over the caramel layer.
Sprinkle the chocolate with a bit of fleur de sel and cool for about 10 - 15 minutes.
Chill for an hour or so, cut and serve.
Enjoy!
7.6.8
987
https://cookinginstilettos.com/millionaires-shortbread-cookies/
All images and content are © Cooking In Stilettos. Please do not republish without contacting us first. Thank you.
Thanks to our sponsors for Christmas Week. Anolon is donating a 5-piece Bakeware Set. Swing by their Facebook Page to show them some love. We also have Ball supplying us with 4 sets of Jars in their gorgeous Green Heritage Color. Swing by their Ball Canning and Recipes Facebook Page to say hello.
Swing by all the participants to see what they've been whipping up for the holidays: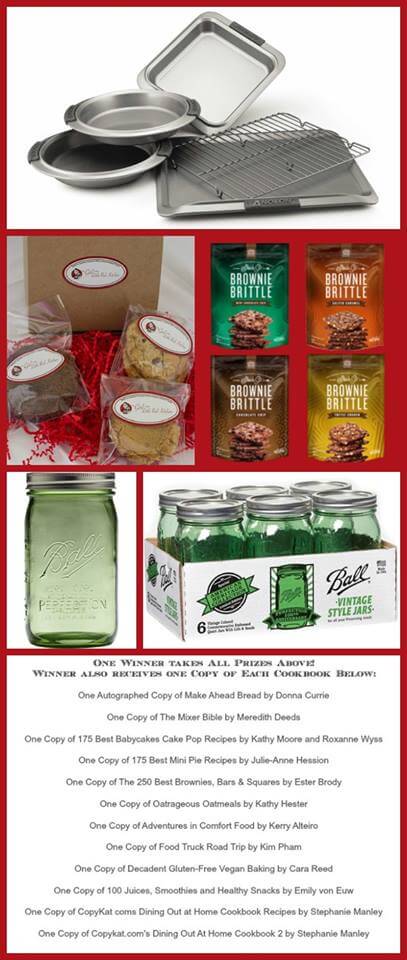 Giveaway Prizes include:
One 5 piece set of Anolon Bakeware Set
Two Sets of Ball Heritage Collection Quart Jars (each set includes 6 jars)
Two Sets of Ball Heritage Collection Pint Jars (each set includes 6 jars)
One Set of 1 Dozen Assorted Cookie Sampler Box from The Girl In The Little Red Kitchen Bake Shop
Two Sets of Brownie Brittle Snack Sampler (each set includes One 5-ounce bag of each flavour)
Plus 1 Copy of each of these cookbooks:
Did you enjoy this post?
| | |
| --- | --- |
| Share the love | Get free updates |