This easy Cranberry Cherry Smoothie is perfect for those grab and go moments with fresh cranberries, cherries, agave nectar and a hint of orange for the perfect sip!

This post and giveaway is sponsored by Acorn Influence. All opinions are my own.
I discovered some fabulous products for my kitchen to keep me on point this holiday season and let me tell you – I. Am. Obsessed! These products would be fabulous in your kitchen or even with a bow on top for holiday gift giving and you can find them all easily at Walmart.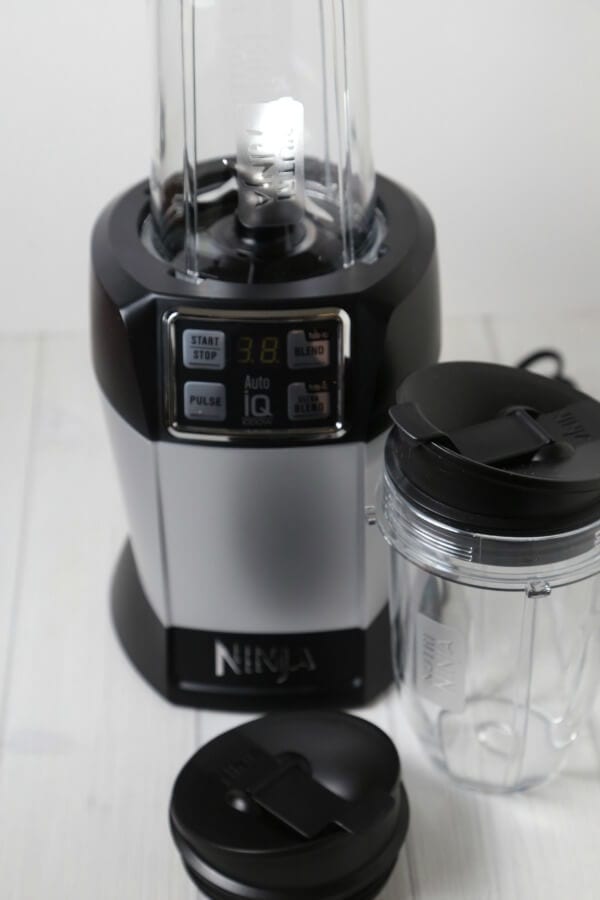 First up – I have been on a smoothie kick lately and I am able to blend and go on the quick with the Nutri Ninja Auto IQ Blender. Not only can I whip up some fabulous cocktails, like an 'Otai Margarita, but also smoothies of every flavor and combo.   I can even do homemade nut butters, sauces and more.  Everything blends together zippy quick, thanks to a 1000w motor, and I have to say, having a one button push for those times when I'm multi-tasking and the machine knows just the right amount of blitzing needed to achieve the perfect texture – love it!  This blender is an amazing find for the holidays and includes two blender cups (one 18 ounce and one 24 ounce) plus sip and seal lids and a recipe book – easily found at your local Walmart!  Better yet – get one for you and one for giving because if you buy just one, you might find yourself not parting with it!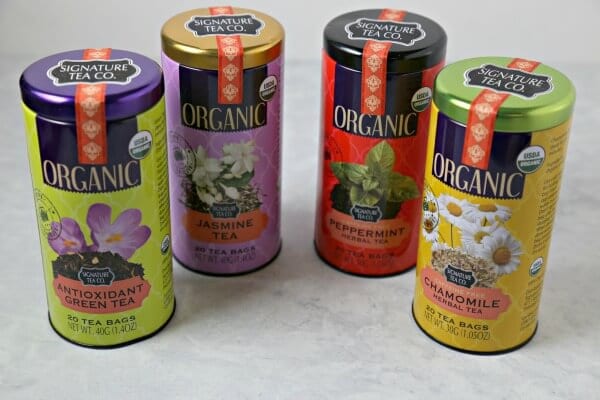 For evenings, when I need to put away the coffee, I fell hard for these organic teas from Signature Tea Company – especially the Chamomile and Green Tea. Rainy, chilly evenings call for curling up with a steaming mug of Chamomile Tea, don't you think?  I'm even thinking of using the peppermint tea in some of my holiday baking – perhaps some peppermint scented teacakes or green tea madelines.  The possibilities are endless!  Thankfully, this delicious organic tea is not hard to find – Walmart carries them!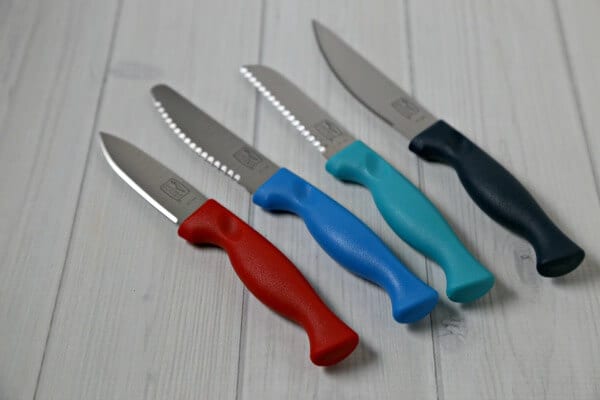 I have been cooking like mad testing recipes for the holiday and the site and these knives from Chicago Cutlery were put to the test. I adored the paring knife, especially for sectioning oranges. Quality workmanship and these knives are sharp – yet easy to grip and they aren't as heavy as my big knife set.  Plus – when I'm racing around my kitchen, I can always spot these colorful handles in a sea of ingredients!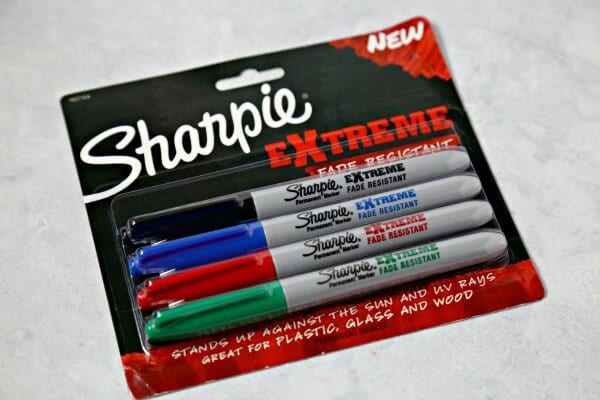 Being that I'm a recovering publicist, I have nothing but love for Sharpie markers. I use them for everything and always tend to keep one in my bag. Where it really comes in handy in my kitchen is my refrigerator and freezer storage and these Sharpie Extreme Markers will stand up to anything my arctic freezer will send its way.  Would it be wrong to color code everything like red sharpie for beef, green for veggies, blue for fish and so on?  Hmmmmm….
Food storage is also a must in my house. Like I said, I have been recipe testing and I always have leftovers. After breaking many a glass storage bowl, I fell hard for these Rubbermaid Premier food storage containers. I love how the plastic does not stain or warp and they have these fabulous flex and seal lids – easy peasy! Plus everything fits neatly in my cabinets – I might have to buy a couple sets for the holiday rush because I know people will walk off with them!  Also new obsession – Washi tape.  I need to get more.  No more busting out the bulky label maker for me – some washi tape, my trusty Sharpie extreme and the Rubbermaid container and my food storage is on lock!
So – those are some of my favorite finds to keep you on point for the holiday, to give and to receive and, if you want to win some of these items for your own – make sure to enter the giveaway below.
Now, let me share one of my other obsessions – this Cranberry Cherry Smoothie!  I have been stocking up on cranberries like mad lately.  I've been keeping them in the freezer, ready for the holiday and the other day, I thought – why not make a cranberry smoothie flavored with a hint of orange and, for added sweetness, some dark sweet cherries?  Rather than ice, I often use frozen fruit instead and this frosty chilly sip is the perfect way to to grab and go in the morning.  I made it with Greek yogurt and almond milk but feel free to play with the recipe and customize it to your liking.  I blended it all in the Nutri Ninja Auto IQ blender, stored leftover cranberries in my Rubbermaid containers, all neatly labeled and marked and, of course, segmented the orange with my new Chicago Cutlery paring knife.
If you are looking for a zippy quick smoothie to whip up this holiday season, make this Cranberry Cherry Smoothie – right before you head out to your local Walmart to pick up these holiday finds!
On to the recipe:
Gather your ingredients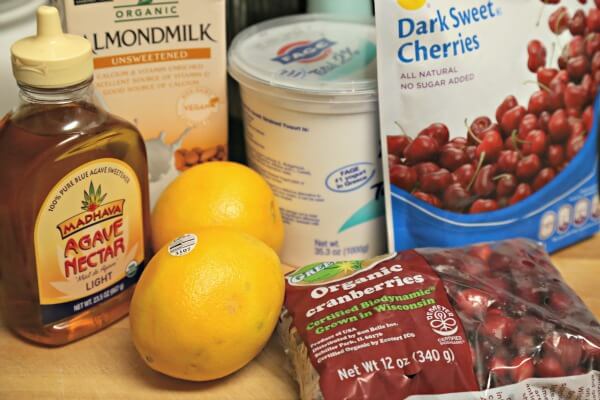 Let's segment this orange (don't forget to zest first)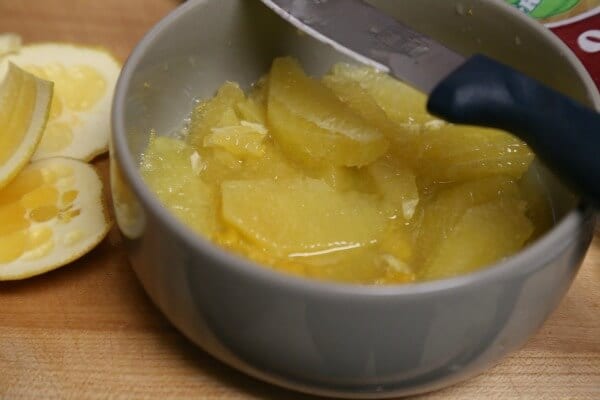 Everything fits perfectly in the Ninja cup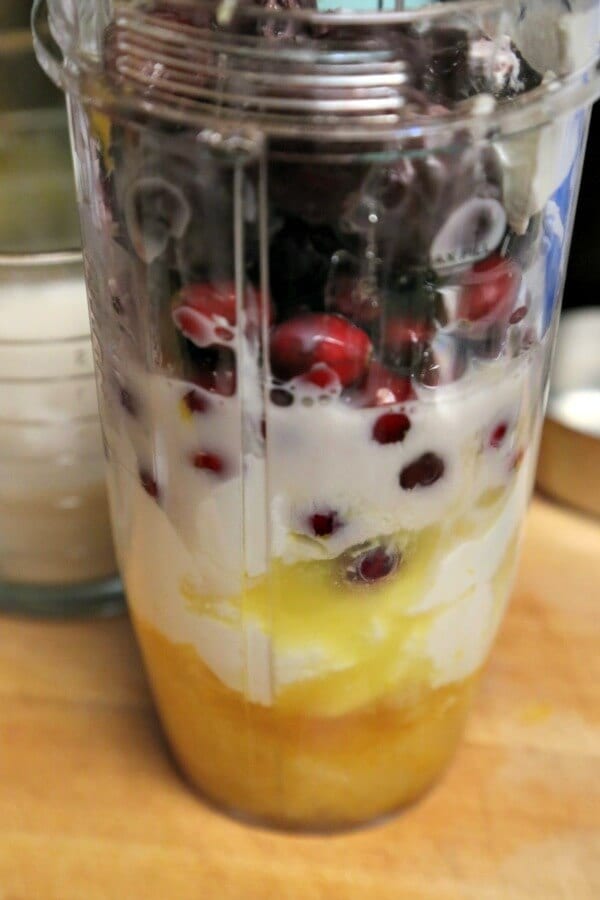 One button blending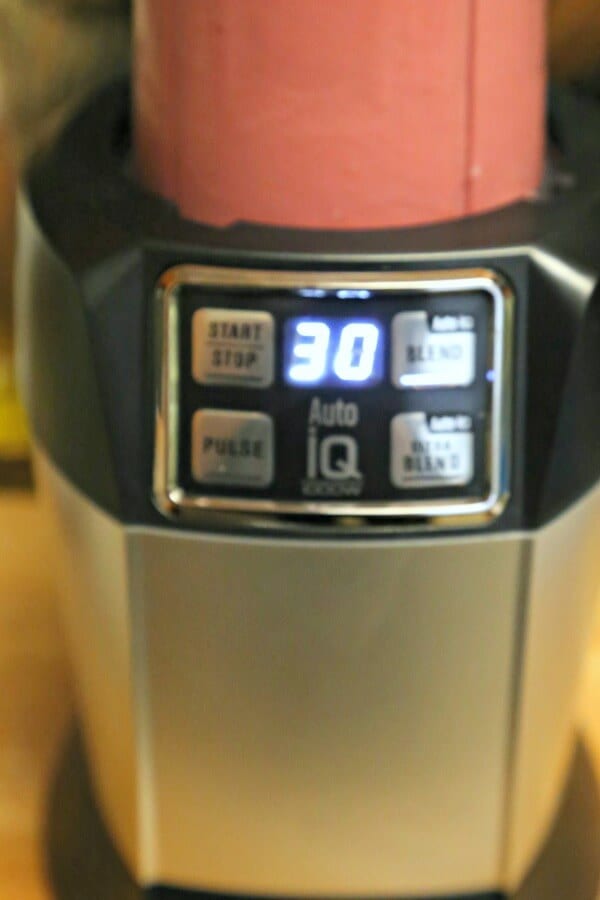 Now THIS is a smoothie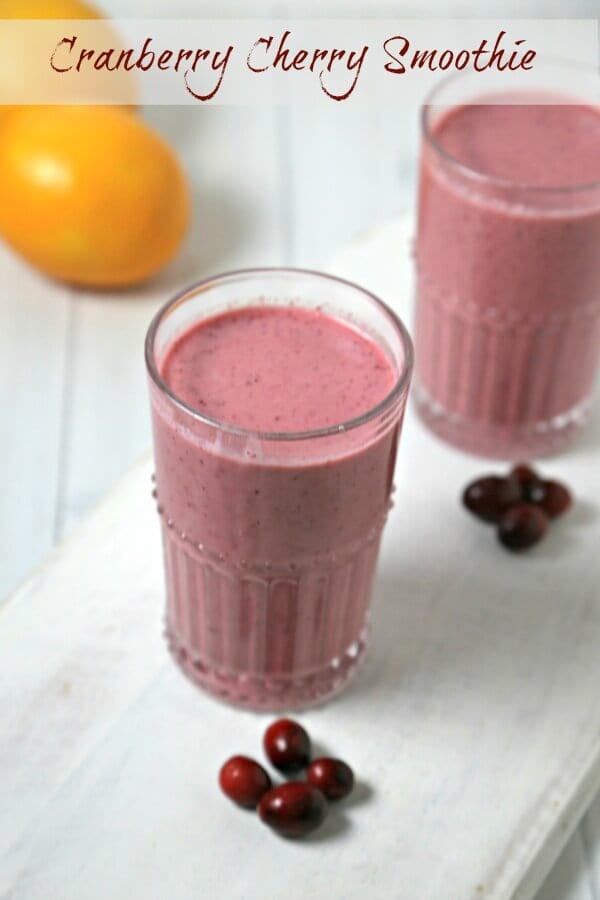 Aly M. Cleary
Yields 2
Cranberry Cherry Smoothie
This Cranberry Cherry Smoothie is sweetly tart, flavored with a hint of orange and agave nectar for sweetness
5 minPrep Time
5 minTotal Time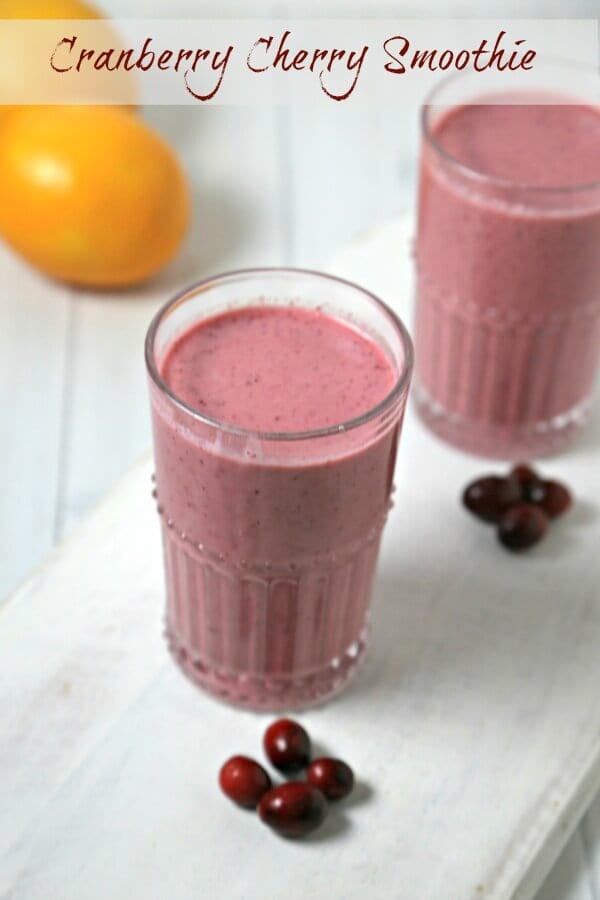 Ingredients
2 oranges, zested, segmented and juiced
3/4 cup of fresh or frozen cranberries
1/2 cup of frozen dark sweet cherries
1 cup of Greek yogurt
3/4 cup of almond milk
2 tablespoons of agave nectar
Instructions
Place the orange zest, juice and segments in the blender, followed by cranberries and cherries.
Add the Greek yogurt, almond milk and agave nectar to the blender cup/canister.
Blend until smooth. If you want it thinner, add a touch more almond milk.
Enjoy!
7.8.1.2
116
https://cookinginstilettos.com/cranberry-cherry-smoothie/