This is the best Thanksgiving Stuffing Recipe – artisan La Brea Bread is baked to perfection with a few fresh ingredients for the perfect holiday side dish!
Disclosure: This post is sponsored by Single Edition Media on behalf of La Brea Bakery.  This post may contain affiliate links to products I trust and adore in my kitchen. Thank you for supporting the brands that make Cooking in Stilettos possible.
Recently, I mentioned La Brea Bakery's amazing #ThanksgivingHero campaign where they are celebrating those that aren't able to celebrate Thanksgiving with their loved ones and today, I wanted to share a bit about who I nominated.  For a brief recap, La Brea Bakery is asking you to nominate your #ThanksgivingHero by November 15th and they will deliver fully catered meals on Thanksgiving to 5 finalists across the nation.
Thanksgiving is a time for friends and family to gather, to celebrate and give thanks and just enjoy spending time together. Yes, I know – there's also football but for this gal, that's not the primary focus. Sadly, there are those that aren't able to enjoy Thanksgiving with family and friends, whether it's due to military and first responder obligations, media personnel or even those that work in hospitality or retail.
Some of my closest friends here in Philadelphia often participate in one Philadelphia mainstay – the annual Thanksgiving parade. One of my childhood friends, Chris Kelly, is one of those. Chris is a partner in a media company and is often on assignment during the holiday, including when clients of his are in the Thanksgiving parade. Chris never complains but is more than happy to pitch in and do what needs to be done and always with his trademark smile and Joey Tribiani-esque charm.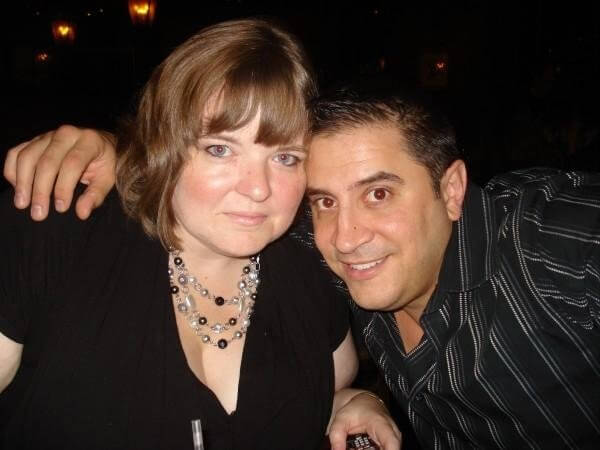 Chris has always been that type of guy who goes the extra mile and has always been there for anyone when needed – 365 days a year. I have known him since I was 16 and he has always had that attitude.  Heck – when I moved from Orlando to Philly, he was there to help us move into the apartment.  One really noteable example of how Chris is a giver happened a few years ago.  One of his friends, Robin, was in dire need of a kidney and Chris was one of the first people to be tested and, thankfully, was a match. He didn't think twice about donating his kidney and she is doing wonderfully, thanks in part to his thoughtful gesture.
So – while that gives you a brief glimpse into Chris, he truly is a hero to his family, to his friends and to his community and Chris, thank you for all that you do!
I didn't want to leave you without a fabulous recipe that you would love for Thanksgiving and this, my friends, is the best Thanksgiving stuffing recipe – it's savory, sweet and made from scratch with, of course, my favorite artisan bread from La Brea Bakery. This stuffing recipe lends itself easily to La Brea's sourdough, ciabatta or even their artisan Italian or French loaf.
Yes, I know – I call it stuffing and others may call it dressing but, here's my argument – my Bampa always called it stuffing – whether it's baked alone in a casserole dish or stuffed in the turkey. So in his honor, I will forever call it stuffing and to me, this is one of the dishes that is always present on our holiday table. It couldn't be easier to whip up and just takes a few ingredients. When I was a child, I often would ask him if it was that brand that came from a box and he would tell me emphatically, "NO!" with this look that I also got when I would ask him if he had whipped cream in a plastic canister in the fridge. Once I learned how to make it on my own, I came to appreciate his culinary vision because this, my friends, is so much better from scratch!
I used La Brea artisan wheat bread for this recipe, but I have also used their rosemary bread. I love the addition of tart Granny Smith apples as well as sweet onion and have been known from time to time to throw in pears or cranberries as well depending on my mood. This is the perfect foil for you to use to make your own stuffing/dressing creation and when your family asks you if it's from a box, feel free to give them "that look" which will let them know that you are the culinary chef in that kitchen – no boxes needed.
Sometimes it's the simplest things that become family tradition and that, to me, is this Thanksgiving Stuffing recipe.
On to the recipe:
Gather your ingredients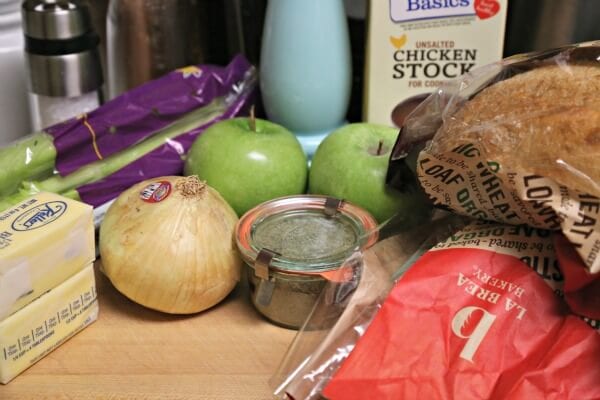 I love using La Brea Bakery's artisan French bread in this recipe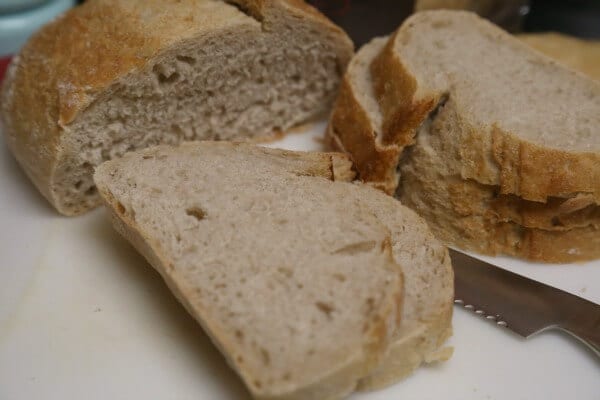 Sauteing the onions, apples and celery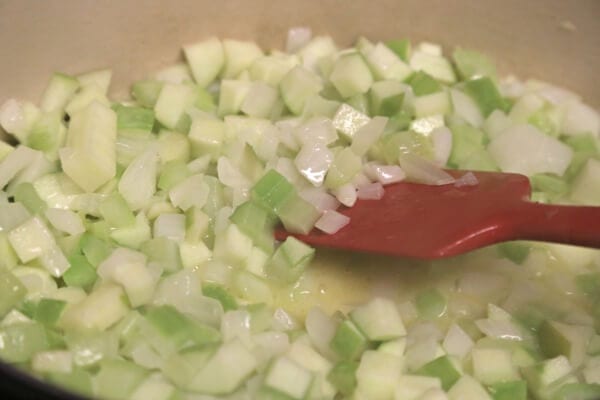 Folding in the bread cubes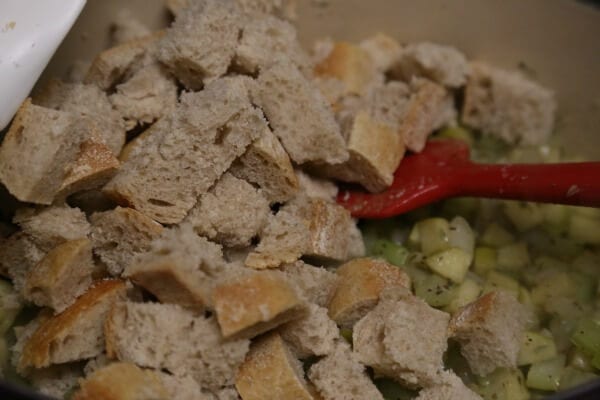 Dot with a touch of butter and off to the oven it goes.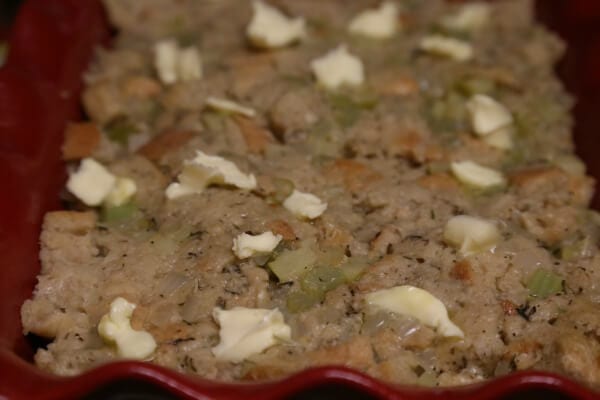 Stuffing/Dressing – Tomato/Tomahto – it's all delicious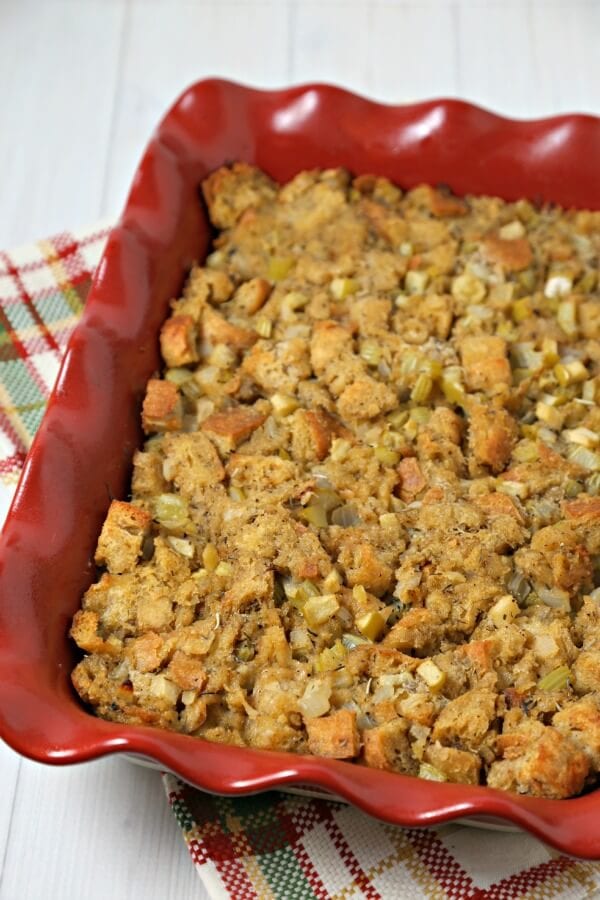 Make sure to have some La Brea Bakery artisan bread ready for your Thanksgiving table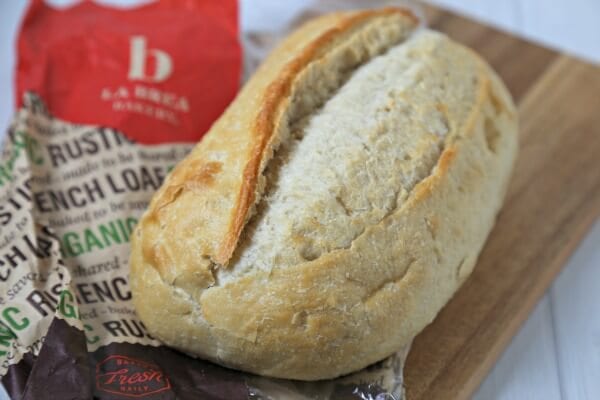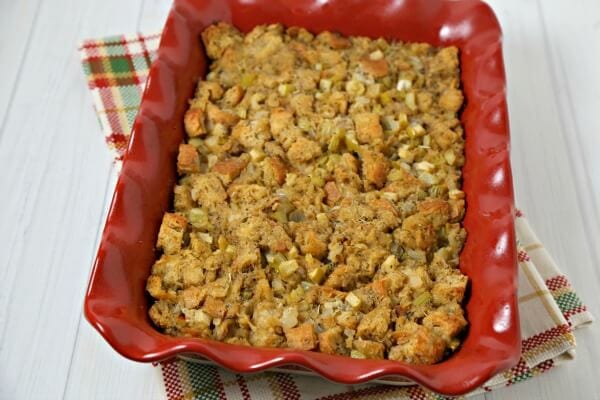 Aly M. Cleary
The Best Thanksgiving Stuffing Recipe
This is the best Thanksgiving stuffing recipe – savory, sweet and made from scratch – what's not to love. Stuffing or dressing – however you call it – it's always delicious!
15 minPrep Time
45 minCook Time
1 hrTotal Time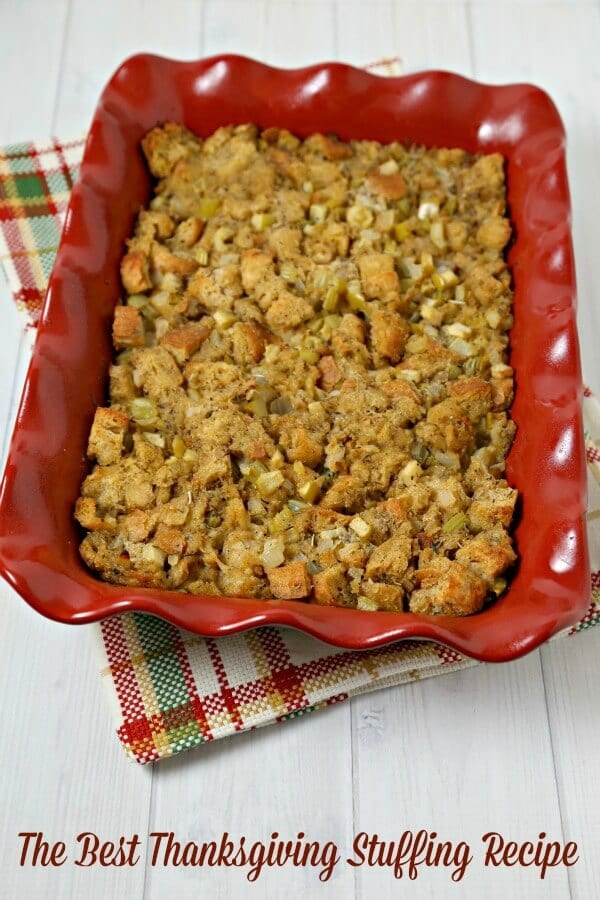 Ingredients
1/2 cup of butter, plus 2 tablespoons, divided and softened
4 celery stalks, cleaned and diced
2 granny smith apples, cored and diced
1 large sweet onion, diced
1 tablespoon of poultry seasoning
1/2 teaspoon of kosher salt
1/4 teaspoon of freshly ground black pepper
8 cups of artisan Italian bread, diced (I used La Brea Bakery Artisan Wheat Bread)
2 cups of chicken stock (plus more if needed)
Instructions
Heat the oven to 375 degrees F and spray a 9×13 inch pan with nonstick spray and set aside.
In a heavy bottomed dutch oven or sauté pan, melt 1/2 cup of butter over medium heat.
Add the diced celery, apples, and onions to the pan and sauté for a few minutes until they start to soften.
Add the poultry seasoning, salt and black pepper to the mixture and sauté for a couple minutes more.
Fold the bread cubes with the sautéed vegetable mixture so that everything is evenly coated.
Pour in the chicken stock so that the bread is damp, but not totally wet.
Pour the mixture into the prepared 9×13 inch pan and dot with the remaining 2 tablespoons of butter.
Bake for 30 – 40 minutes, until the top of the mixture is toasty.
Enjoy!
7.8.1.2
118
https://cookinginstilettos.com/the-best-thanksgiving-stuffing-recipe-and-my-thanksgivinghero/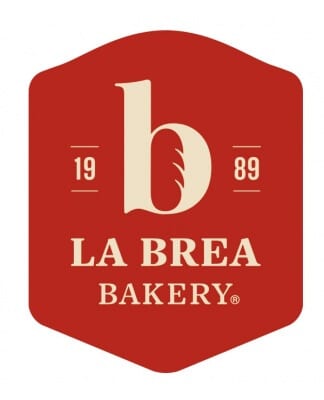 Have you nominated your #ThanksgivingHero yet?  Nominations close on November 15th so make sure to get your nominations in now!*
La Brea Bakery is the leading artisan bread bakery in the United States and you can find their artisan products in over 7,000 outlets. To learn more about La Brea Bakery, click HERE.For more information, or to follow La Brea Bakery, you can find them on Facebook, Twitter, Pinterest and Instagram.
*CONTEST ENTRY INSTRUCTIONS: To submit an entry click the "Thanksgiving Heroes" tab to create your form submission by including: your first and last name; zip code; email address; an essay of 100 words or less telling about your family member that you will be unable to share Thanksgiving dinner with and submit at least one photograph showing both you and your family member that you will be unable to share Thanksgiving dinner with. Submissions must be received by November 15th 2015. Finalists will be announced November 17th 2015, after which the public will have a chance to vote for their favorites through November 20th 2015.