Forget about buying the expensive store-bought version – you can make this easy Homemade Poultry Seasoning from spices already in your spice cabinet!
When I was prepping for a recipe, I noticed that it called for Poultry Seasoning. That was something that my pantry didn't have and, call me crazy, but when it comes to spice blends, lately I have found myself trying to make my own instead of buying a premixed blend from the local grocery store. I just have become a bit more suspicious of what exactly might be in that bottle, especially after what I learned when I made my own Adobo seasoning. Plus, I've said it before, I'm a spice snob sometimes and if it means I can play with some of my fave spices, then why not, right?
This Homemade Poultry Seasoning came together in a snap and guess what the secret ingredient is – Nutmeg.  Yes, a pinch of freshly ground nutmeg just adds a note that makes the poultry blend sing.  So, when you are rifling around in your pantry looking for that bottle of poultry seasoning that hasn't seen the light of day since Holiday Season 2007, know that you can make your own in 5 minutes flat and the most effort you might have to exert will be grinding the pepper (which next time I will do myself in the spice grinder, not by hand).  It keeps well and is a great gift in a spice basket or something around the holidays.
So – why buy when you can make your own Homemade Poultry Seasoning this holiday season- so easy and makes a wonderful gift as well!
Aly M. Cleary
Yields 6
Homemade Poultry Seasoning
Why buy when you can make this Homemade Poultry Seasoning from scratch using spices you already have on hand.
5 minPrep Time
5 minTotal Time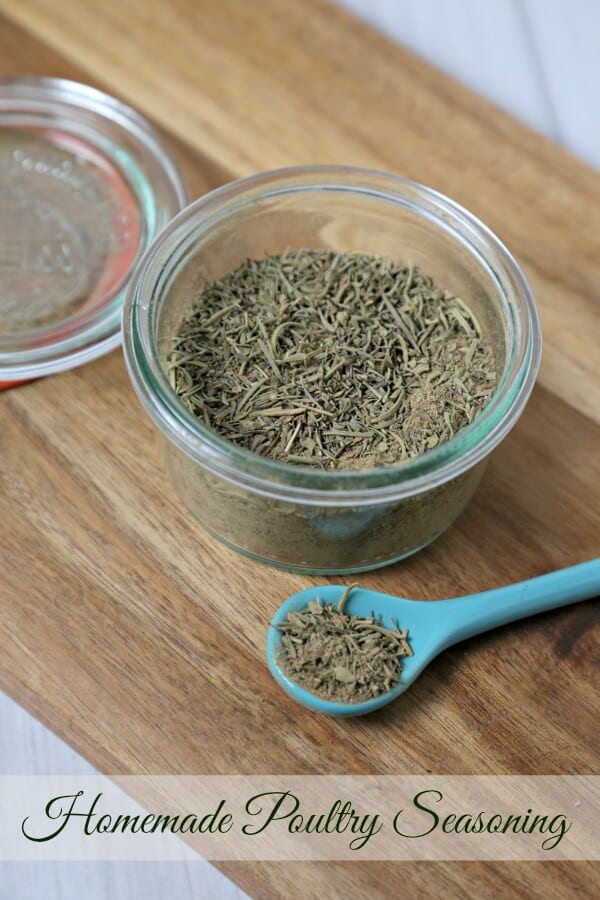 Ingredients
• 3 tablespoons dried thyme
• 2 tablespoons dried sage
• 2 tablespoons of dried marjoram
• 1 tablespoon of dried rosemary
• 1 tablespoon of freshly ground pepper
• 1/2 teaspoon of dried savory (optional)
• 1/4 teaspoon of freshly grated nutmeg
Instructions
Combine all of the ingredients in a bowl and mix well.
Place into an airtight container and it should keep for a year or so.
Notes
This recipe originally appeared on Cooking in Stilettos in October 2011; it has been updated to reflect the changes I have incorporated over the years as well as new photos.
7.8.1.2
4
https://cookinginstilettos.com/poultry-seasoning/
The end result: