I'm not a gal to back down from a challenge and when I heard about Saucy Mama's Sliced Recipe Contest, I decided to throw caution to the wind, toss my stiletto in the ring and give it my best shot. See – not many people know I adore mustard. I don't know what it is but if I'm ordering a sandwich or something, while many opt for ketchup, I'm more of a mustard gal. When Saucy Mama told me that I was one of the contestants picked, I clicked my stilettos with glee and started thinking about what to make for this culinary competition. Various bloggers will be given a secret ingredient and we will have to pair it with the mustard and come up with a recipe that will have that "wow" factor.
This week's round is all about the appetizer using some of the Saucy Mama's mustards and I couldn't resist playing with their Creamy Garlic Mustard. The secret ingredient – BACON. I'm big on comfort food so I was trying to think of a comforting appetizer that would greet my guests, yet be chic and feature the secret ingredient and Saucy Mama's mustard.
Voila! May I present Bacon Mac 'n Cheese Bites.
The key ingredients – the mustard and nutmeg in the cheese sauce – don't skip either! Rather than having chunks of garlic, I decided to grate the garlic into the sauce ala Rachael Ray style.  The garlic flavor was enhanced by Saucy Mama's mustard. I have to confess, this recipe was sooo good, my normal mac 'n cheese recipe – well, I upgraded baby and this one is it.
These Bacon Mac 'n Cheese Bites are a quick bite or two of comfort which will have your guests going "I NEED this recipe!" It's up to you to decide whether or not you want to share 😉
On to the recipe:
Gather the ingredients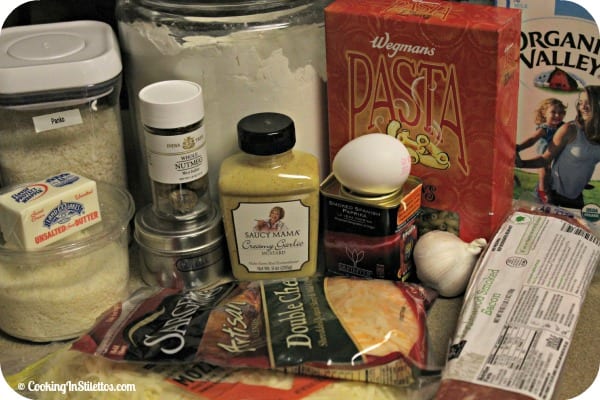 Adding a bit of pepper before the bacon bakes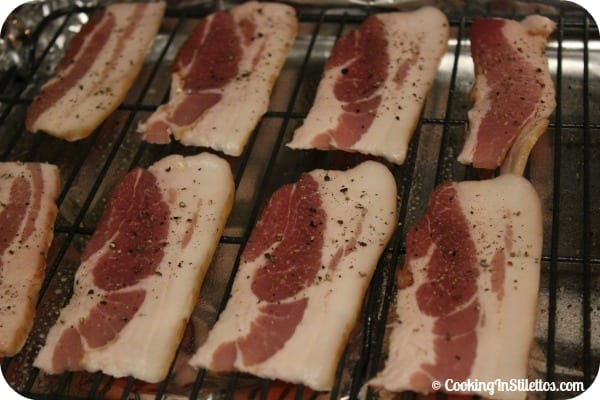 Don't forget to add the mustard – it adds so much flavor!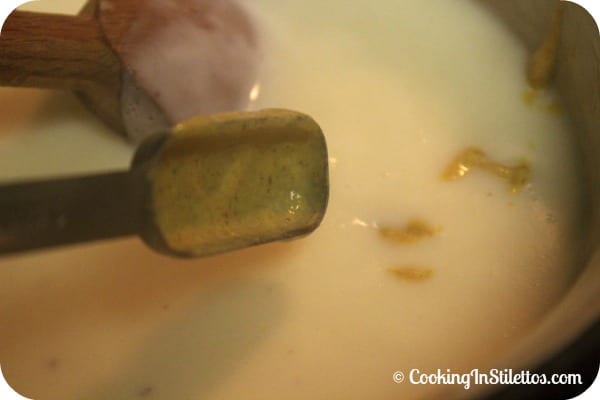 The spoon doesn't lie – the one test you can't skip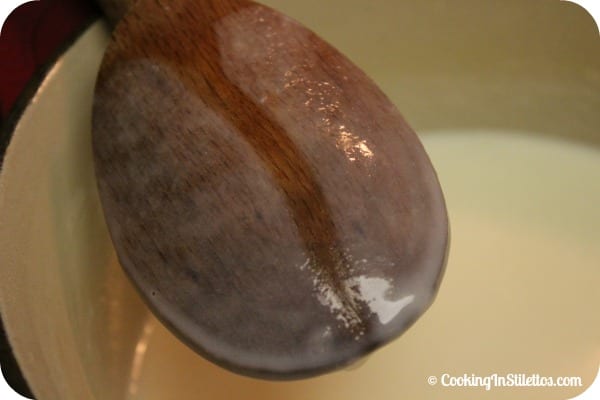 The life of a sauce – from butter to bacon and everything in between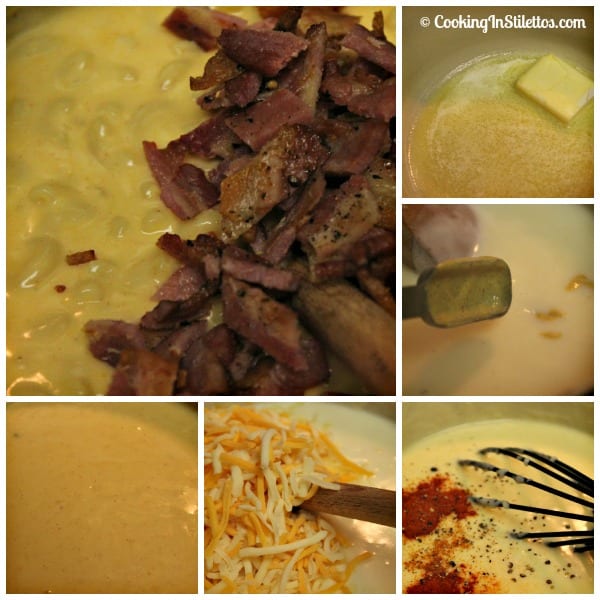 Trick – use some of the bread crumb mixture for a bottom "crust"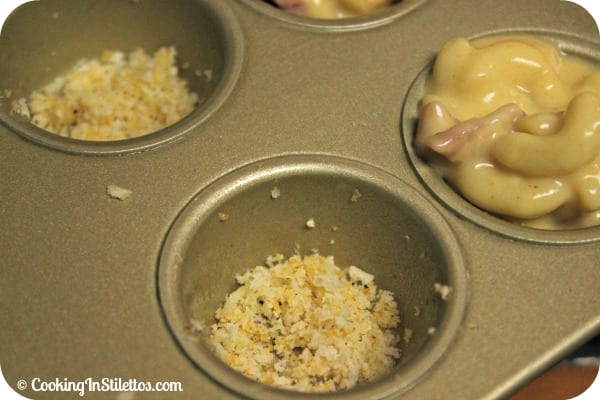 Hot out of the oven – let cool to set!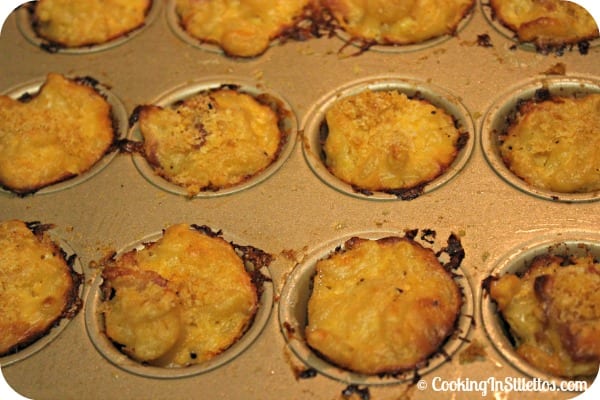 Now – tell me you don't want to grab a bite 😉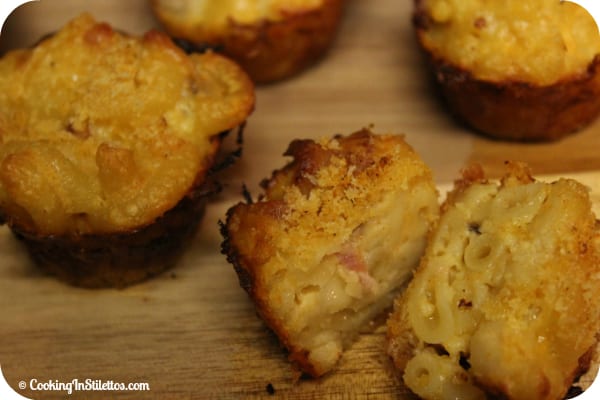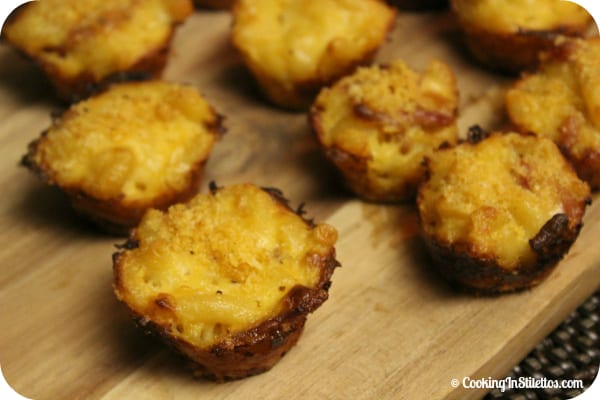 Bacon Mac 'n Cheese Bites
---
Aly M. Cleary
Yields 12
All of the flavors of your favorite childhood mac 'n cheese, but in a chic little bite! This recipe will be a hit at your next party!
30 minPrep Time
45 minCook Time
1 hr, 15 Total Time
Ingredients
For the Mac 'n Cheese:

4 slices of thick bacon
2 cups elbow macaroni, uncooked
3 tablespoons of butter
1/4 cup of flour
2 1/4 cups of low fat milk
1 1/2 teaspoons of Saucy Mama Creamy Garlic Mustard
1 garlic clove, minced (or grated on a microplane)
Pinch of nutmeg
1/2 teaspoon of smoked paprika
Pinch of cayenne pepper
1 cup of shredded mozzarella
1 1/2 cups of shredded sharp cheddar cheese
1/2 cup of grated Parmesan cheese
Freshly grated pepper
Kosher salt (to taste)

For the Crumb Crust/Topping:

1/2 cup of panko bread crumbs
2 teaspoons of olive oil
1/4 cup of grated Parmesan cheese
1/4 teaspoon of smoked paprika
Freshly grated pepper (to taste – I only used a bit)
Directions
For the Bacon:

Preheat the oven to 400 degrees F.
Cover a baking sheet with foil. Place a wire rack on top of the baking sheet.
Lay out the thick bacon on the wire rack and sprinkle a bit of freshly cracked black pepper on the bacon.
Bake for 15 – 20 minutes, until browned & crisp.
Remove and let cool on a paper toweled line plate.
Dice and set aside.

For the Crumb Crust/Topping:

In a small bowl, combine the panko, Parmesan cheese, smoked paprika, a bit of freshly cracked black pepper, and olive oil. Set aside.

For the Mac 'n Cheese:

Preheat the oven to 350 degrees F.
Grease two mini muffin tins with nonstick cooking spray. Set aside.
In a medium heavy bottomed saucepan, melt the butter.
Add the flour and whisk until smooth for about a minute.
Whisk in the milk gradually, making sure there are no lumps.
Continue to stir and let thicken for about 5 minutes.
When the white sauce is thick (I use the spoon test method), add the nutmeg, Saucy Mama's mustard, garlic, smoked paprika, and cayenne and whisk until smooth.
When everything is combined thoroughly, add the mozzarella, cheddar and Parmesan cheeses and stir until everything is melted and smooth.
Taste, adjust for seasonings and add any additional salt and pepper. Simmer on low for a moment while you cook the pasta.
Bring a large pot of salted water to a boil.
Cook the macaroni for about 7 – 8 minutes until it's just about al dente. Remember, it will cook more in the oven so you don't want it too mushy.
Drain thoroughly and return to the pot.
Combine the cheese sauce and the cooked pasta. Stir in the diced cooked bacon and make sure everything is combined.

To assemble:

Add a bit of the crumb "crust" to each mini muffin tin, followed by a tablespoon of so of the bacon mac 'n cheese mixture.
Top with a bit more of the crumb topping.
Place on the top rack of the oven and bake for about 30 minutes or so, until the topping is nicely browned and the cheese is bubbly.
Cool the mac 'n cheese bites in the muffin tin for about 5 – 10 minutes to allow the mixture to firm.
Serve and enjoy!
7.6.4
872
https://cookinginstilettos.com/bacon-mac-n-cheese-bites/
All images and content are © Cooking In Stilettos. Please do not republish without contacting us first. Thank you.
I have good news for y'all! Saucy Mama has been kind enough to share a special discount code. You can get 25% off purchases on their website by using ALY25. Also, for one lucky reader, Saucy Mama is giving away a mustard prize pack with their new flavors, Creamy Garlic, Hatch Chili and Dill. Enter below!
[NOTE:  Giveaway has ended]

FTC Disclosure: I was provided with a pack of mustards by Saucy Mama to use for their #Sliced competition. All opinions, as always, are my own and no monetary compensation was provided.
Did you enjoy this post?
| | |
| --- | --- |
| Share the love | Get free updates |