Ever have one of those days where you have friends that go – "Let's get together at your house" and everything is so last minute that you are rushing around thinking of what to serve and the perfect signature cocktail that will have your guests thinking "How does she do that?"
Entertaining doesn't have to be stressful – as a matter of fact, I have a killer appetizer recipe that is made from leftover kalua pork – one of my favorite ways to make pork in the slow cooker. Thing is – when you make kalua pork, there's always leftovers.  These wontons remind me of those rangoon appetizers and served with a spicy sweet pineapple teriyaki sauce, they are the perfect compliment for Vita Frute Coctails by VEEV's new Coconut Colada. 
Vita Frute Cocktails by VEEV are line of ready to drink cocktails that come in flavors like Coconut Colada, Cosmopolitan, Lemonade and Margarita.  It is made with premium and all nature ingredients, is certified organic and is under 125 calories per serving.  Just shake, pour and serve.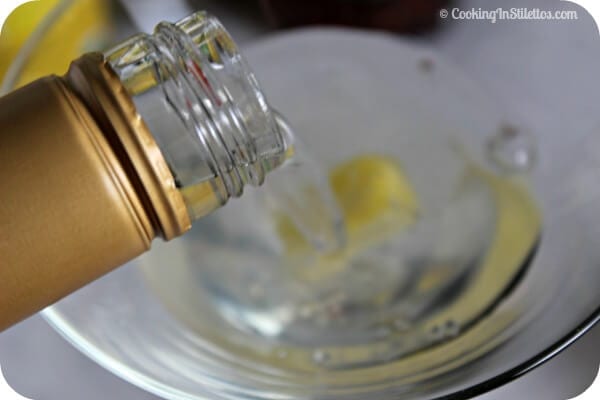 The Coconut Colada is one of my favorites – made with organic VEEV acai spirit, coconut water and pineapple juice.  It just reminds me of cool breezes, sunny beaches and fresh coconuts filled with "spirit".  Now – how bad can that be?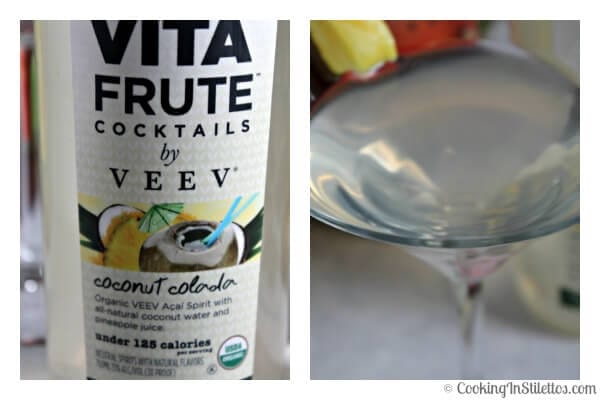 For these Kalua Pork Wontons – essentially, it's a bit of prep ahead of time or, if you have leftover kalua pork – you can whip up these appetizers quickly – about as quick as you can pour cocktails for your friends, these will be out of the oven and ready for nibbling.  The pineapple teriyaki  sauce can be made ahead and keeps well in the fridge.  These Kalua Pork Wontons and some Coconut Coladas are great for easy entertaining.
On to the recipe:
First – make the kalua pork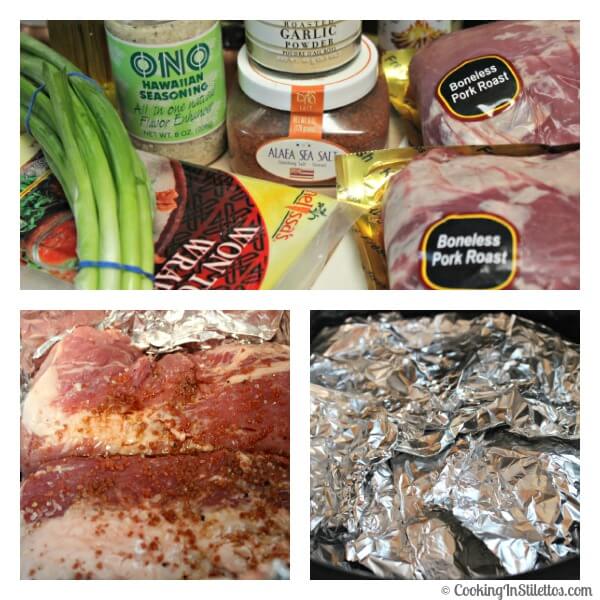 Then gather the ingredients for the wonton cups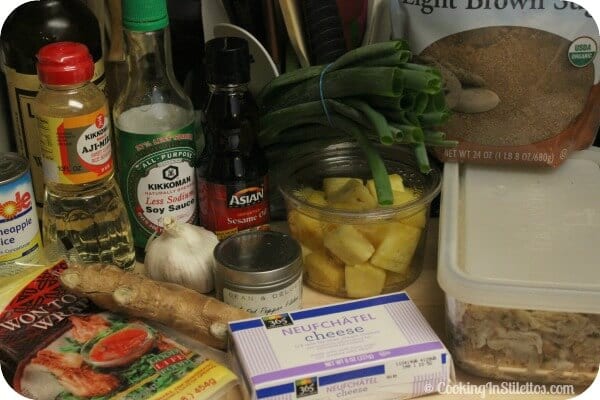 Time to make the filling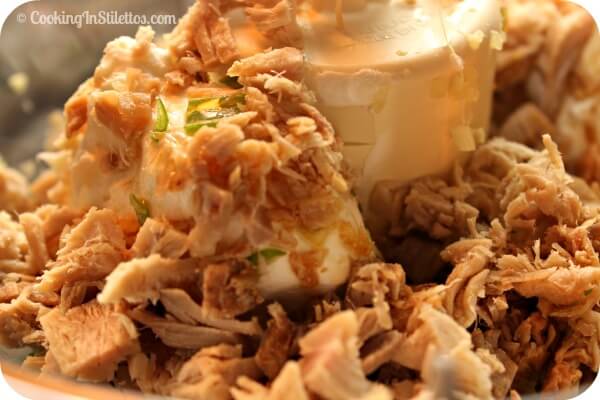 Bake the wonton cups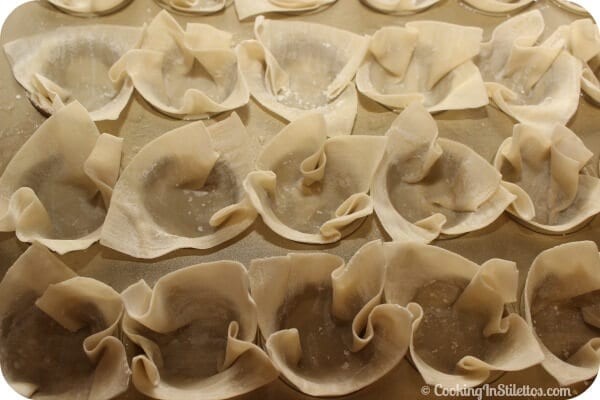 And fill the wonton cups – a small cookie scoop works wonders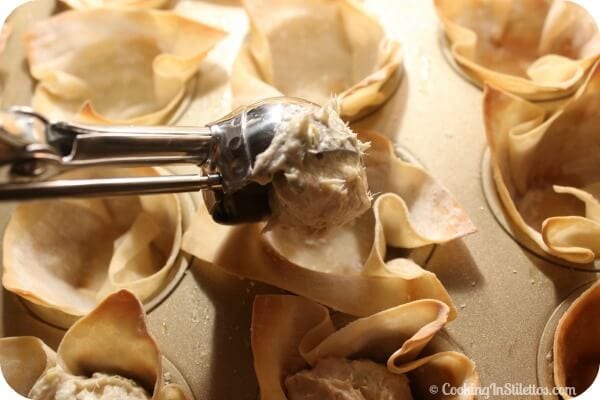 Now – grab a Coconut Colada and a Kalua Pork Wonton and let's get the party started!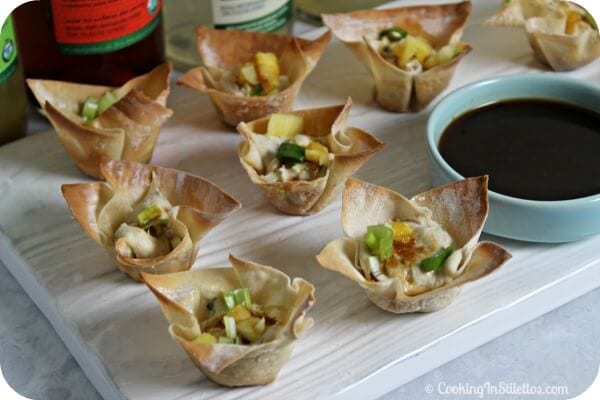 Aly M. Cleary
Yields 24
KALUA PORK WONTONS WITH PINEAPPLE TERIYAKI SAUCE
These Kalua Pork Wontons with Pineapple Teriyaki Sauce are the perfect chic bite. Flavorful kalua pork melds with a savory Hawaiian inspired filling and are served with a pineapple teriyaki dipping sauce that is so easy to make. Your guests will think you are a culinary genius!
20 minPrep Time
8 hr, 20 Cook Time
8 hr, 40 Total Time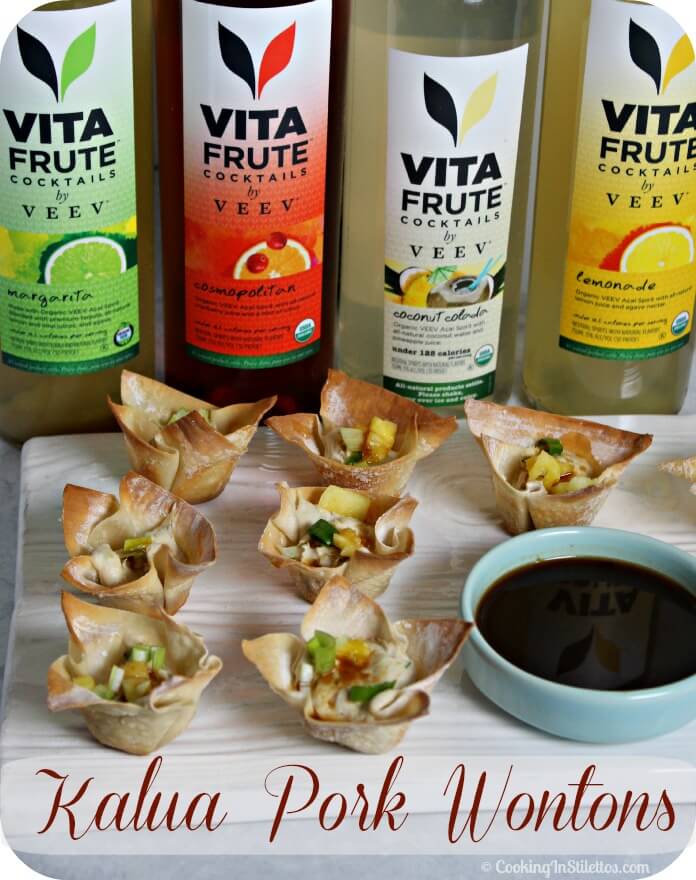 Ingredients
For the Kalua Pork:

4 pounds of boneless pork roast
2 tablespoons of red Hawaiian salt (or kosher salt)
1 tablespoon of liquid smoke
1 - 2 teaspoons of garlic powder
1 teaspoon of Hawaiian Ono Seasoning (optional)

For the Kalua Pork Wontons:

24 wonton skins
Canola Oil
1 cup of kalua pork
8 ounces of low fat cream cheese, softened
3 green onions, minced
1/2 teaspoon of reduced sodium soy sauce
1/2 teaspoon of Worcestershire sauce
1/8 teaspoon of sesame oil
1 teaspoon of minced ginger
1 clove of garlic, minced
1/4 cup of pineapple, minced
For the Pineapple Teriyaki Sauce:
3/4 cup of low sodium soy sauce
1/2 cup of pineapple juice
1/4 cup of finely minced pineapple
1/2 cup of brown sugar
2 cloves of garlic, minced
1 teaspoon of ginger, minced
Pinch of red pepper flakes

For the Garnish:

Minced Fresh Pineapple
Green onions, minced
Instructions
To make the Kalua Pork:

Lightly pierce the pork roast with a knife.
Line a slow cooker with foil and place the pork inside.
Rub with the Hawaiian salt, garlic powder, and Ono seasoning (if using).
Fold the foil over the pork so that it's sealed up tight.
Run on low for 8 - 10 hours until the pork is falling apart.
Set aside a cup of the kalua pork for the wontons.

For the Kalua Pork Wontons:

Preheat the oven to 375 degrees F.
In a mini muffin tin, lightly brush with canola oil.
Place a wonton skin into each of the small muffin tins so that it forms as wonton cups.
Lightly brush the tops of the wontons with oil as well.
Bake for 6 - 8 minutes and set aside to cool.
In a food processor, add the reserved kalua pork, cream cheese, green onions, soy sauce, Worcestershire sauce, sesame oil, ginger, garlic, and pineapple and pulse until everything is mixed thoroughly.
Using a small cookie scoop, add a bit of the filling into the wonton cups and bake again for 2 minutes or so.

To make the Pineapple Teriyaki Sauce:

In a heavy sauce pan, add the soy sauce, pineapple juice, minced pineapple, brown sugar, garlic, ginger and red pepper flakes.
Let come to a boil and reduce to a simmer for 5 - 7 minutes.
Blend with an immersion blender and simmer for another few minutes until it thickens slightly.

To serve:

Garnish each wonton cup with a bit of pineapple and green onions. Drizzle a bit of the teriyaki sauce, serve with some extra pineapple teriyaki sauce for dipping and a Vita Frute Coconut Colada and Party Organically!
Notes
If you make the Kalua Pork ahead, these can be whipped up quickly, shaving hours off of your cook time.
7.8.1.2
231
https://cookinginstilettos.com/kalua-pork-wontons-with-pineapple-teriyaki-sauce/
Vita Frute wants to know how you #PartyOrganically.  It's all about The Ultimate Summer Party Sweepstakes and Vita Frute wants YOU to pin your best party tip and share it with them at http://fb.com/VEEV.  The Grand Prize is an Ultimate Labor Day party for you and 30 friends sponsored by VEEV and Evite.  10 runner ups will get the Ultimate Hostess Cocktail Kits.
Now – which Vita Frute flavor would you shake up your labor day with?
Follow VEEV Vita Frute on Facebook | Twitter | Instagram | Pinterest
Disclosure:  Product and compensation for recipe development was provided for this post.  My opinions are, as always, my own and not indicative of VEEV/Vita Frute.