There's a 90% chance that if you look in my fridge or freezer, you might find a package or two of ravioli, gnocchi or tortellini for quick weeknight meals. It's a pantry staple that has saved my butt on more than one occasion when I need to whip up something scrumptious but have little to no energy to make anything that takes a ton of thought.
Instead of pairing some of my fave tortellini with some marinara, I decided to make Cheesy Baked Tortellini.  Most of the ingredients were already on hand and all I needed to pick up was the smoked mozzarella.  This recipe is going into regular rotation and it is well worth the extra 30 minutes on the treadmill for all the cheesy smoked mozzarella deliciousness.
I'd pair this with a simple salad, a great red wine and enjoy a nice evening in. After all, while it looks like you slaved over a hot oven, we won't tell how simple it really is to throw it all together.
Gather The Ingredients
So simple – sauce, mascarpone, thyme and parsley.
Top with lots of cheese
Hot and bubbling – straight from the oven
The end result – so simple yet packed with flavor
Tried and True – Cheesy Baked Tortellini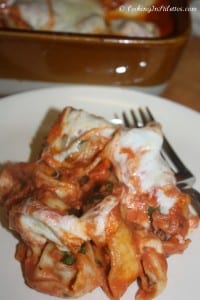 Ingredients
Olive oil or non-stick cooking spray
2 cups of your favorite prepared pasta sauce (I prefer Muir Glen or Rao if possible)
1/3 cup mascarpone cheese
1/4 cup chopped fresh Italian parsley
2 teaspoons chopped fresh thyme leaves
1 pound of your favorite tortellini
2 ounces sliced smoked mozzarella (I was a bit heavy handed with the slicing)
1/4 cup grated Parmesan
Instructions
Preheat the oven to 350 degrees F.
Lightly oil or spray an 8 by 8 by 2-inch baking dish with olive oil.
In a large bowl, whisk the prepared pasta sauce, mascarpone cheese, parsley and thyme until it is fully blended.
In a large pot of boiling salted water, cook the tortellini for a couple of minutes and drain.
Add the tortellini to the sauce mixture and toss until the tortellini are coated.
Transfer the sauce and tortellini to the prepared baking dish.
Top with the sliced smoked mozzarella and the Parmesan cheese.
Cover and bake for about 25 minutes.
Remove the foil and bake for another 7 to 10 minutes until the cheese is nicely browned and bubbling.
Enjoy!
7.8.1.2
399
https://cookinginstilettos.com/tried-and-true-giadas-cheesy-baked-tortellini/