Thank you Lipton Tea for sponsoring this post! Cozy up with a hot cup of Lipton's new black and herbal varieties and improved green teas to refresh your tea experience today.
Whenever I am craving a bit of warmth and comfort in the afternoon, I often brew myself a steaming mug of Lipton tea. Since I was a young gal, I used to steal sips of my Nana's tea and as I got older, I often would enjoy not only Lipton's strong black tea but also their green tea, often with a sweet treat like one of my favorite confections, madeleines. When time allows, I love visiting with friends for afternoon tea at one of the lovely hotels here in Philadelphia where you can find sweet and savory bites to go with a perfectly brewed cup of tea. There is nothing like it – tea can not only be for comfort and relaxation, but also for celebration. It's one of those things that makes me take a minute, relax and enjoy the moment.
I heard that Lipton updated their teas with bold flavors and new flavor combinations so I picked up a few boxes to try – their Pure Green Tea, their soothing Lemon Ginger Herbal Tea and, of course, my favorite – their English Breakfast Tea. The green tea has a light fresh taste, the herbal tea has natural flavors with fresh herbs and is caffeine free – perfect for late night and their black teas are bold and packed with flavor.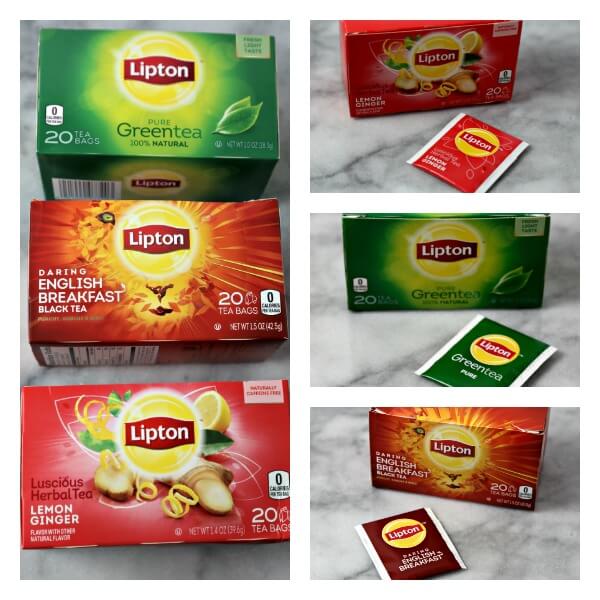 When I was thinking of the perfect recipe to pair with a steaming mug of Lipton tea, I couldn't resist making light as a feather madeleines. There's always the question of are madeleines cookies or cakes. Personally – I think it's a cross between the two. They are light and airy, spongy and oh so chic. When I would take an afternoon break with SL and Kar at the 9to9 in Florida, we would head to the local coffee shop, curl up in their big purple chairs for 20 minutes and catch up while noshing on these sweet treats. Every time I have one, I always remember those days.
What makes them light and airy is whipping lots of air into the egg batter and just a bit of flour. They bake in a little madeleine pan and, dusted with a bit of confectioner's sugar, they are the perfect sweet bite. I decided to infuse some tea flavor into the butter with Lipton's Lemon Ginger Herbal Tea and add an additional citrus note with some fresh Meyer lemons. A touch of honey and a hint of vanilla and these lovely confections were perfect for enjoying with my afternoon tea.
When you are looking for the perfect sweet treat to go with your afternoon tea, make Lemon Ginger Tea Infused Madeleines, curl up and enjoy the moment!
On to the recipe:
Gather your ingredients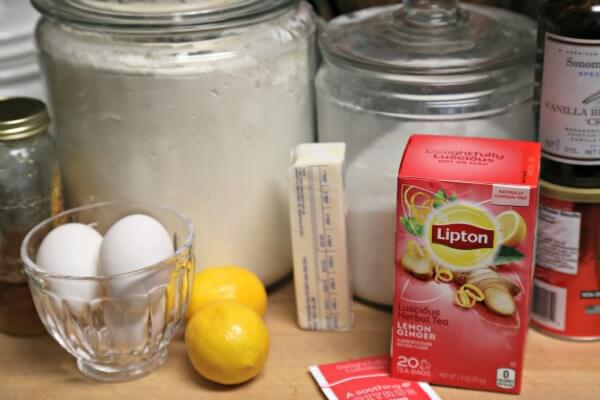 Whisking the eggs into a frothy batter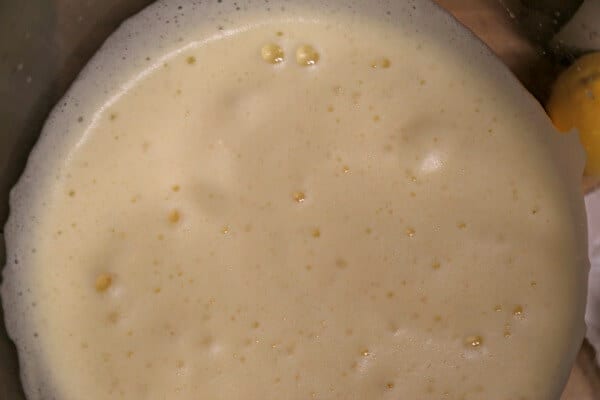 Infusing the melted butter with Lemon Ginger Tea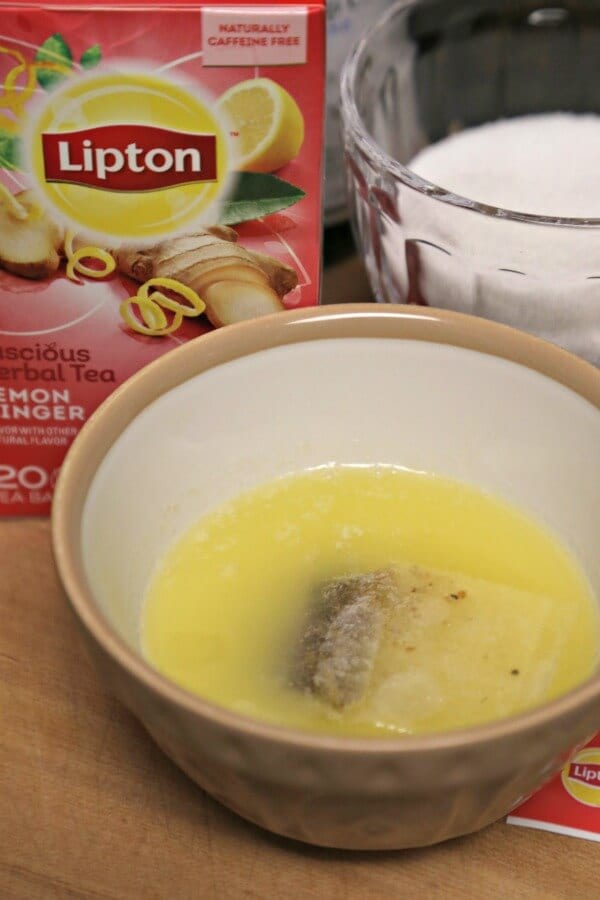 Pour the luscious batter into madeleine molds and bake until golden brown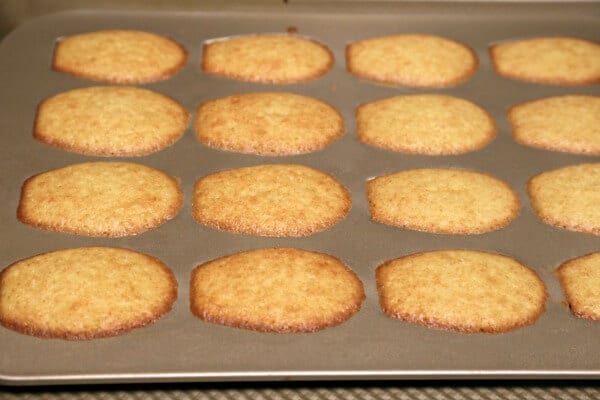 Dust with a bit of powdered sugar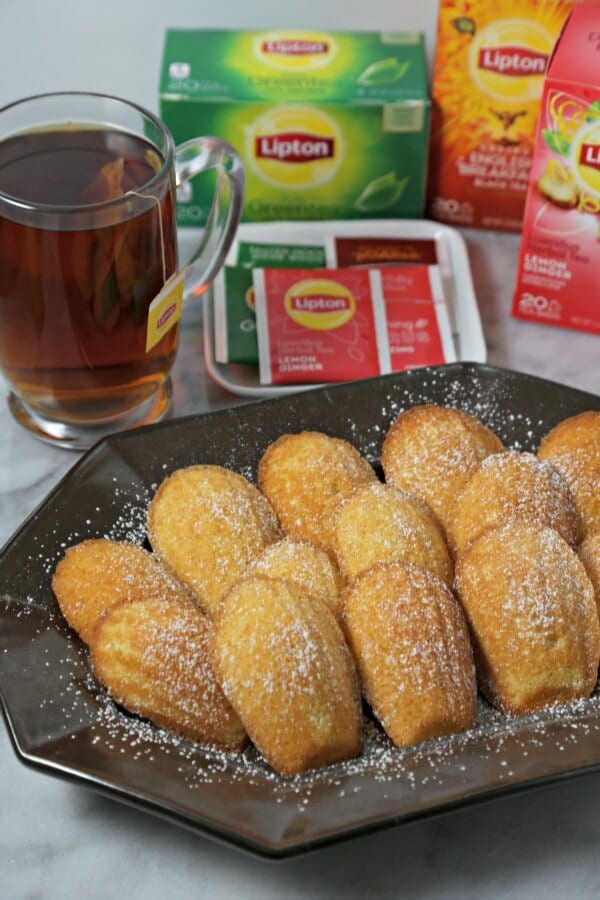 Enjoy with a nice cup of your favorite Lipton tea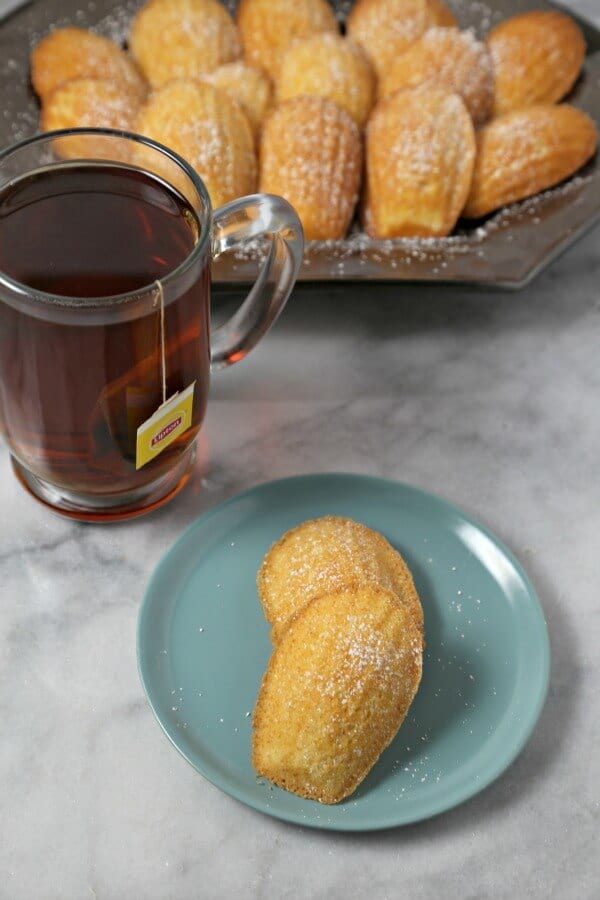 Adapted from Hubert Keller
Yields 32
Lemon Ginger Tea Infused Madelines
Soft, pillowy madeleines are infused with the flavors of lemon ginger tea, Meyer lemons, vanilla and honey and lightly dusted with confectioner's sugar - perfect for afternoon tea!
45 minPrep Time
12 minCook Time
57 minTotal Time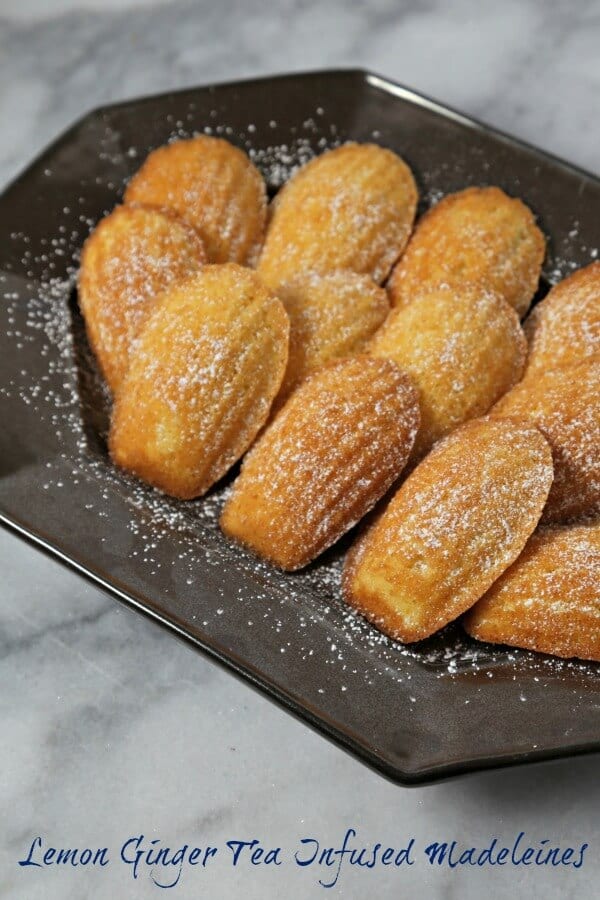 Ingredients
6 tablespoons of unsalted butter at room temperature
1 or 2 teabags of Lipton Lemon Ginger Herbal Tea (depending on how strong you want the tea flavor)
3 eggs, room temperature
1/3 cup of sugar
2 tablespoons of honey
3/4 cup of all-purpose flour
1 teaspoon of baking powder
1/4 teaspoon of kosher salt
Zest of two small Meyer lemons
Juice of one small Meyer lemon
1 1/2 teaspoons of vanilla extract
Confectioner's sugar for dusting
Instructions
In a small saucepan, melt the butter over medium heat. As the butter is mostly melting, add the teabag and let simmer for a minute or so. When the butter is fully melted, remove to a bowl and allow the teabag to steep in the melted butter for about 5 minutes or so and then remove the teabag.
In an electric mixer, add the eggs and beat with a whisk attachment on high for about 2 minutes until it has tripled in size and is pale yellow, thick and frothy.
With the mixer set on medium high, add the sugar and honey and beat for about 5 minutes until the mixture is thick and ribbon-like.
Sift together the flour, baking powder and salt into a small bowl.
With the mixer speed on low, gradually add the flour mixture followed by the lemon zest, juice, and the tea infused butter.
Beat until everything is blended and set the batter aside to rest for about 15 minutes.
Heat the oven to 375 degrees F.
Spray a madeleine pan with a non-stick baking spray and set aside.
Using a tablespoon measure or a small cookie scoop, fill each madeleine well until it is about three quarters full.
Tap the pan lightly on a solid surface and then place in the oven
Bake for about 10 – 12 minutes, until the madeleines are a golden brown.
Remove the madeleines from the baking pan to a wire rack to cool.
Lightly dust the madeleines with a bit of confectioner's sugar and serve with your favorite cup of Lipton tea.
Enjoy!
7.8.1.2
107
https://cookinginstilettos.com/lemon-ginger-tea-infused-madelines/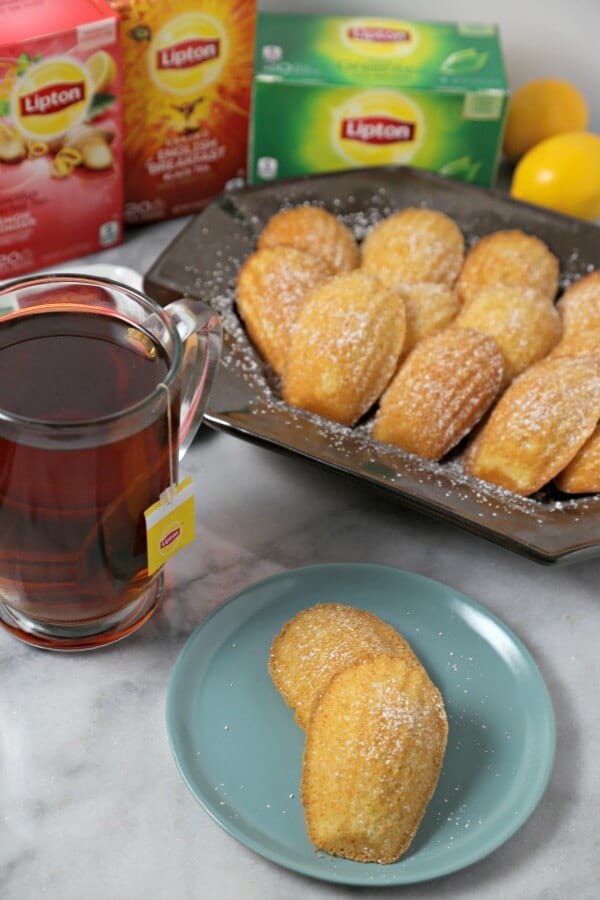 For more information on Lipton, you can check out their website where you can find recipes, coupons and more.  You can also find them on Twitter, Facebook and Instagram.
I was selected for this opportunity as a member of Clever Girls and the content and opinions expressed here are all my own.