This game day, serve this scrumptious Chicken Fajita Queso Fundido. Spiced tender chicken, roasted poblano peppers and sweet onions are baked with layers of cheese until molten and bubbly Serve with soft Old El Paso tortillas and you will have a winning dish!

This conversation has been sponsored by ACME Markets and Old El Paso­™. My opinions are my own.
Are you ready for game day festivities?  I have a recipe that will make your friends and family swoon – a hot molten Chicken Fajita Queso Fundido that will have everyone cheering.
One of my keys to entertaining is planning out the menus and testing the recipes ahead of time.  No party surprises as I like to say.  Game day festivities call for great appetizers, easy cocktails and, more often than not, a main dish where the slow cooker does all of the heavy listing.  I was doing some menu planning and, as football was a must watch this weekend, there was no time like the present to get some supplies and for me to test some recipes.
I headed to my local ACME Market to pick up some Old El Paso tortillas and refried beans and, spying Old El Paso's  Fajita Seasoning Mix, I was inspired to merge two of my favorite dishes – Chicken Fajitas and Queso Fundido into the perfect game day bite!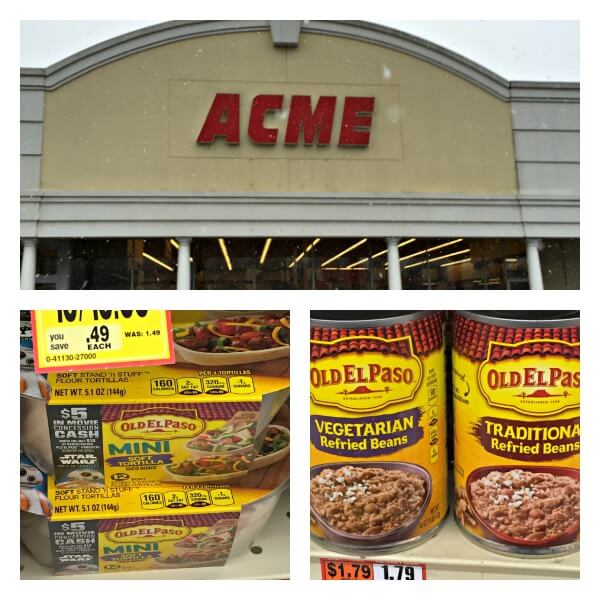 Old El Paso is a staple in my pantry.  I have talked about my love for them before and those Slow Cooker Chicken Tostadas are a must whenever I'm craving slow cooked comfort.  When I was in Chicago for BlogHerFood late last year, some friends and I checked out a Rick Bayless restaurant and had this baja style queso fundido that had poblano rajas and green chile chorizo.  It was molten, melty and glorious.  I still think about it to this day.
Whenever I make queso fundido, it's always the first to disappear.  We are talking melting cheese, meat and spices bubbling away and served on tortillas. You can dress it up with salsa and toppings or dress it down and scoop into tortillas – the options are endless.
One of the keys to flavor for this is the roasted poblano peppers.  Charring the poblanos under the broiler is awesome for two reasons – not only does it get it charred and blackened beautifully – but also warms the kitchen like there was no tomorrow which is great when there is a snow squall going out the back door and you don't want to fire up the grill.  While the queso fundido was bubbling away, apparently the smells from the kitchen were so good that the Jr. Sous Pug wandered into the kitchen a few times to "check" on everything.
While the recipe may seem daunting, the process goes by in a flash.  It is essentially browning, stirring, simmering, layering, baking and everyone can enjoy! My favorite way to serve these are on Old El Paso Mini Soft Tortilla Boats with a bit of their traditional refried beans, some salsa and a dollop of light sour cream – sooooo good!
When you are planning your game day menu, make sure to add this Chicken Fajita Queso Fundido.  It will be gone in a flash!
On to the recipe:
Gather your ingredients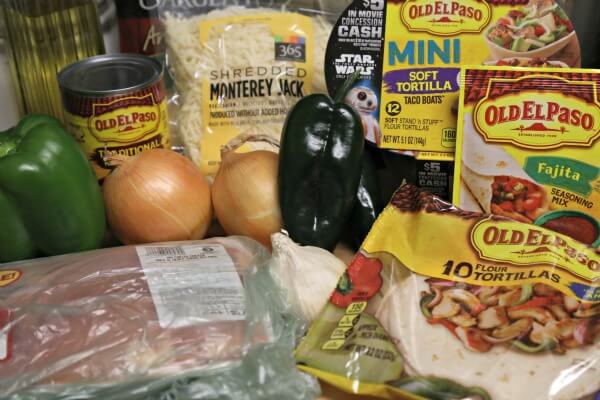 There is nothing like roasted poblanos – the broiler does all of the roasting for you!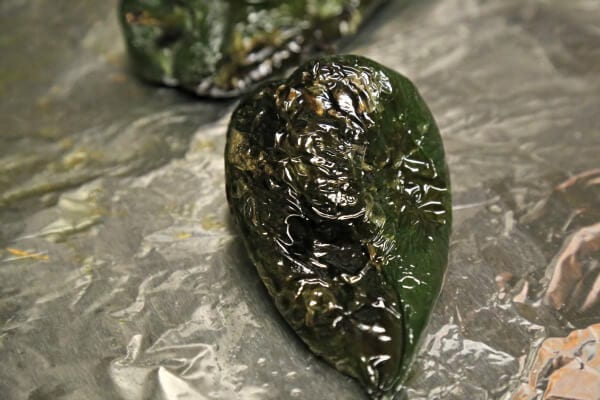 My secret weapon – Old El Paso's Fajita Seasoning Mix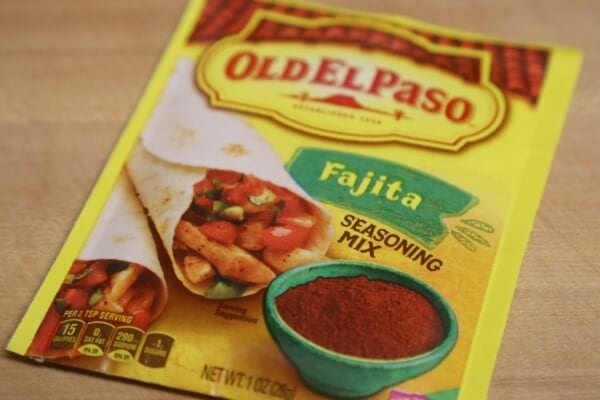 Adding the spices and time to simmer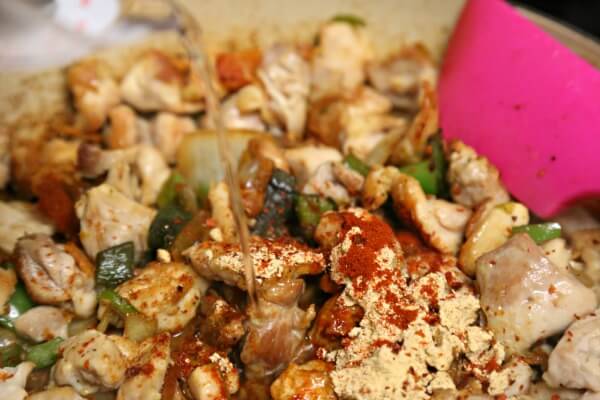 Let's layer and bake this beauty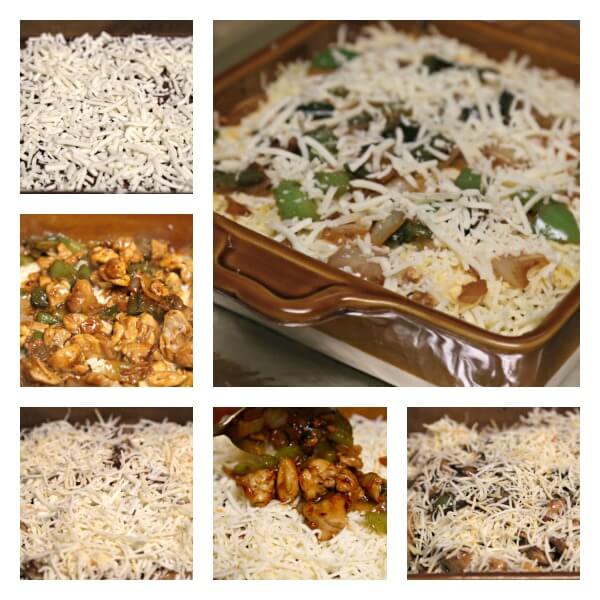 Let's warm up Old El Paso's Traditional Refried Beans with a touch of Smoked Paprika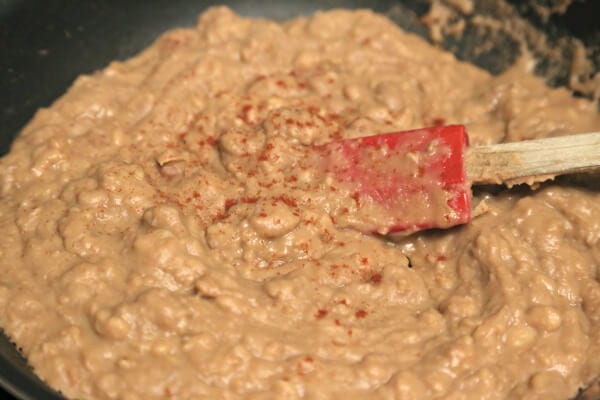 Now – look at all of that lovely baked cheese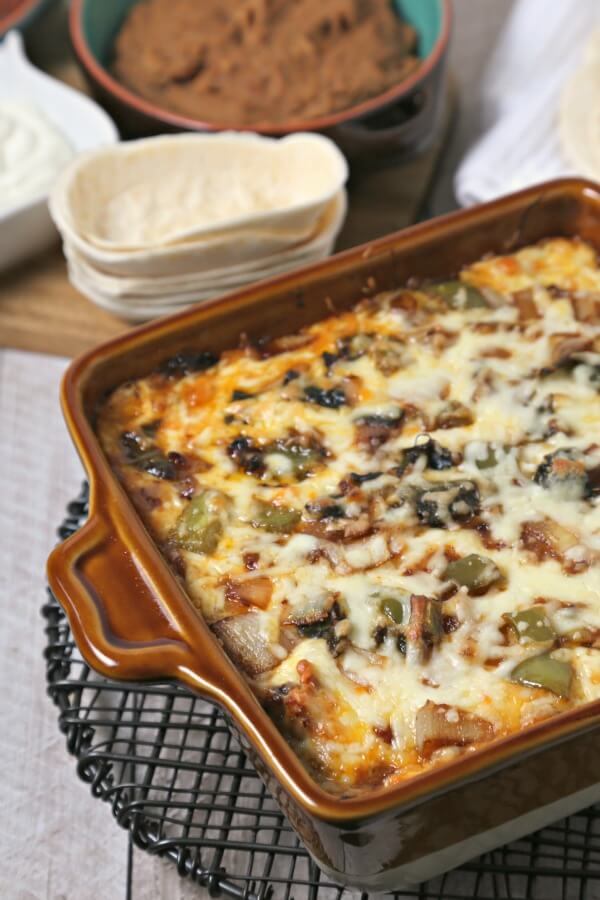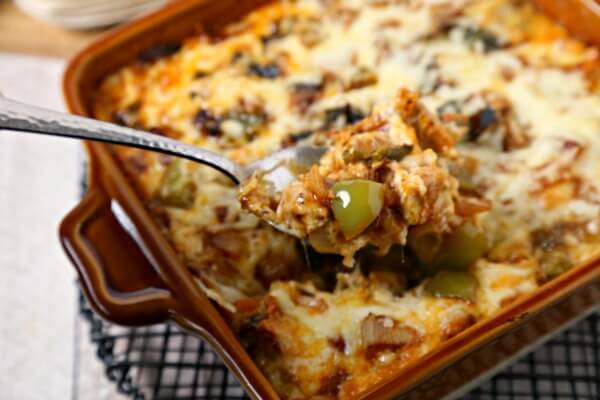 Serve with refried beans, a drizzle of salsa and a dollop of sour cream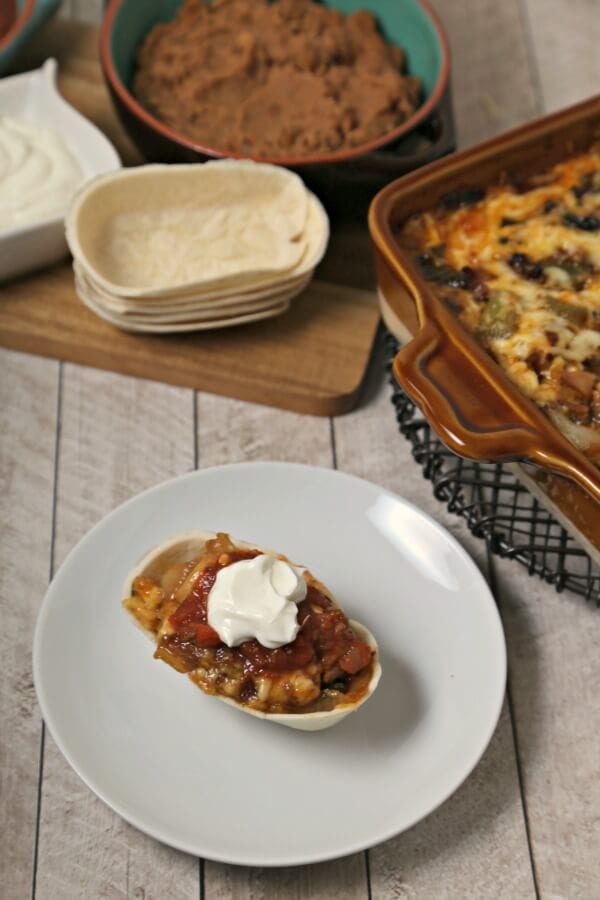 Aly M. Cleary
Yields 8
Chicken Fajita Queso Fundido
Chicken Fajita Queso Fundido is perfect for game day. Spiced tender chicken is simmered with roasted peppers and onions and then baked to perfection with layers of gooey melted cheese. What's not to love?
30 minPrep Time
55 minCook Time
1 hr, 25 Total Time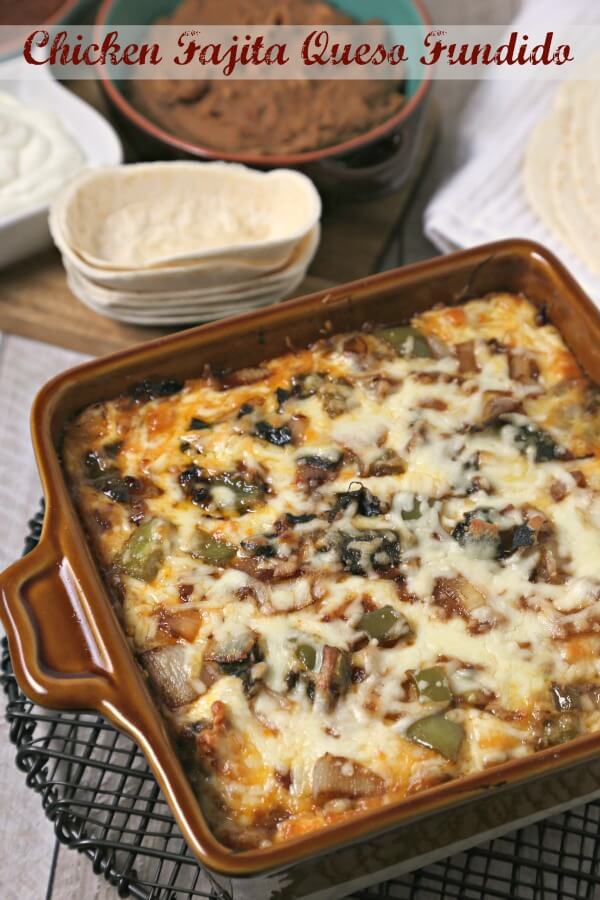 Ingredients
For the Queso Fundido:

1 tablespoon and 1 teaspoon of canola oil, divided
2 poblano peppers
1 pound of chicken thighs, cut into 1" pieces
1/2 teaspoon of kosher salt
1/4 teaspoon of freshly cracked black pepper
2 medium onions, diced
1 large green bell pepper, seeded and diced
2 cloves of garlic, minced
3/4 cup of water, divided
2 tablespoons of Old El Paso Fajita Seasoning Mix
1/2 teaspoon of smoked paprika
1/4 teaspoon of Aleppo pepper (optional)
2 cups of Monterey Jack cheese, shredded
2 cups of Mexican style blend cheese, shredded

For the Refried Beans:

1 can of Old El Paso Traditional Refried Beans
3 tablespoons of water
1/4 teaspoon of smoked paprika

For Serving:

6" Old El Paso flour tortillas, warmed lightly
Old El Paso Soft Tortilla Mini Taco Boats
Sour Cream
Your favorite salsa
Instructions
Heat your broiler and line a small baking sheet with foil.
Lightly drizzle the poblano peppers with 1 teaspoon of canola oil and let broil for about 5 – 7 minutes, checking every couple of minutes and turning until the skin is blackened. Remove the peppers from the oven and reduce the oven temperature to 425 degrees F.
Place into a large plastic bag and seal to let the peppers steam for 10 – 15 minutes while you brown the chicken.
In a large non-stick sauté pan, add the remaining tablespoon of canola oil and heat over medium high heat.
Season the chicken with the salt and pepper.
Add the diced chicken thigh pieces in batches, making sure to not crowd the pan. Brown the chicken on both sides – about 10 minutes or so and set aside.
Add the diced onions and cook for a few minutes until it starts to get translucent. Add the diced bell peppers and cook for a few minutes longer until the peppers start to soften.
While the onions and bell peppers are cooking, remove the poblano peppers from the plastic bag and rub the skin with a paper towel to remove the charring. The skin should easily peel away.
Remove the seeds, stem, and dice the roasted poblano peppers. Add to the pan with the onions and bell peppers and saute for another minute.
Remove about 1/3 of a cup of the sautéed onions and peppers and set aside.
To the remaining pepper mixture, add the garlic and saute for another minute.
Add a quarter cup of water to the pan and deglaze the bottom, making sure to scrape up any fond on the bottom of the pan.
Return the browned chicken to the pan and add the Old El Paso Fajita Seasoning mix, smoked paprika and Aleppo pepper.
Add the remaining water and stir to combine.
Bring the mixture to a bubble and let simmer for about 5 minutes so that the flavors will combine. Set aside.
Spray an 8x8 baking dish with non-stick spray.
Add a layer of cheese to the bottom of the baking dish starting with some Monterey Jack cheese and follow with a bit of the Mexican blend cheese.
Cover the cheese with a layer of the sautéed chicken fajita mixture.
Add another layer of Monterey Jack and Mexican blend cheeses.
Layer the cheese with the remaining chicken fajita mixture.
Reserve about a 1/4 cup of Monterey Jack cheese and add the remaining cheeses over the chicken fajita mixture.
Top the queso fundido with the reserved roasted poblanos, onions and peppers and finish with the reserved 1/4 cup of Monterey Jack cheese.
Bake in the 425-degree oven for about 20 minutes until the cheese is molten and bubbly.

To make the Refried Beans:

To a small non-stick skillet, add the Old El Paso Traditional Refried Beans and the water to break it up a bit.
Add the smoked paprika and stir until everything is combined.
Warm through – about 10 minutes or so until the beans are bubbling.

To serve:

Serve the bubbling Chicken Fajita Queso Fundido with your favorite Old El Paso tortillas and Soft Tortilla Mini Taco Boats.
Add a layer of Refried Beans followed by some of the queso fundido, a drizzle of salsa and a dollop of sour cream.
Enjoy!
7.8.1.2
108
https://cookinginstilettos.com/chicken-fajita-queso-fundido/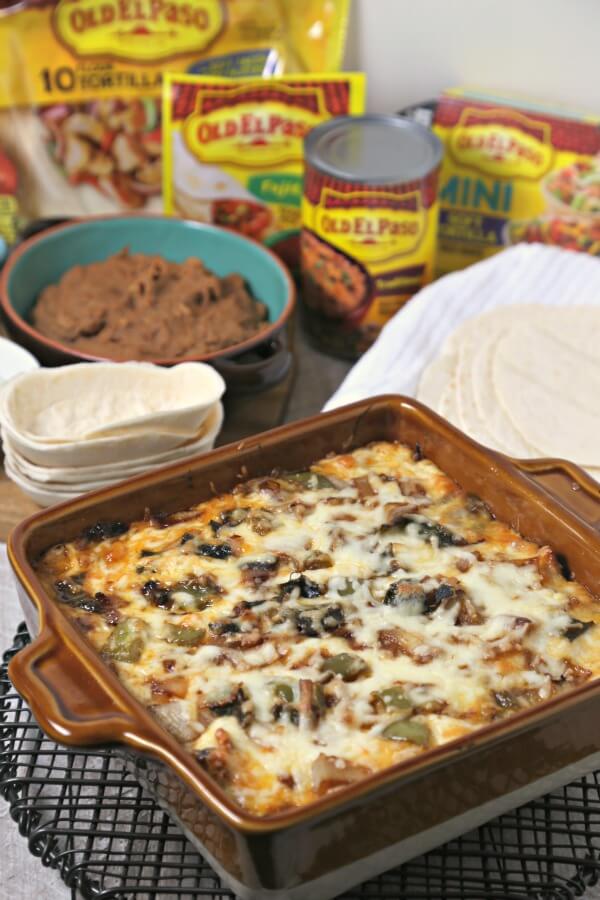 This is a sponsored conversation written by me on behalf of Albertsons. The opinions and text are all mine.