I'm quite the coffee gal – and if espresso is in the mix – even better.  There's nothing like some fantastic espresso percolating on the stovetop.  Melded with some warm chocolatey milk spiced with cinnamon and chilies – even better.  Top it with a creamy chocolatey whipped cream – perfection.
Now – you would pay a fortune for a mug of this at that local coffee house on the corner and, for pennies on the dollar, you can make it at home and control the amount of espresso vs. milk- more chocolate or more spice.   Giada had a great recipe that I played with and this version is my new favorite tried and true.  I love spicy chocolate – I blame Jacques Torres – his Wicked Hot Chocolate set me on that path – so to be able to make it at home was perfect after a long day at the 9to9.  This is perfect to start your weekend or weekday with – curling up with a steaming mug of this as you watch life start moving from the front porch is so relaxing.
Only one thing I beg that you keep in mind – don't mix up heavy cream and half and half.  While I was making this recipe, I grabbed the half and half – rather than reading the label.  2 glass bowls, multiple dustings of cocoa later and I finally realized that it wasn't heavy cream I was whipping with the mixer or the whisk – it was half and half.  I was ready to kick myself with the stilettos for being so silly.  Once I got going with the heavy cream, it was smooth sailing.
So – when you are craving a mug of chocolatey coffee comfort, make this – I guarantee you will tell that coffee house that you guys are on a "break" – Ross/Rachel style
On to the recipe:
Gather the ingredients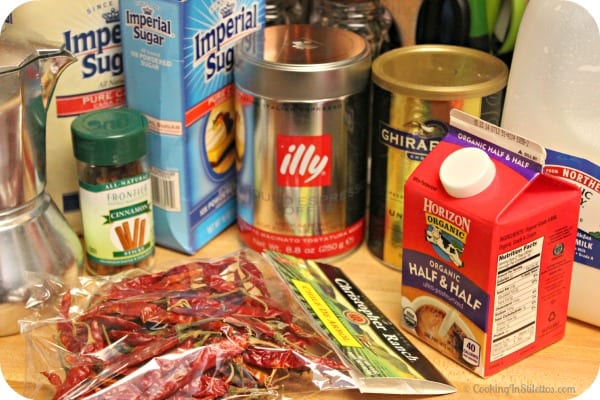 Simmering the milk with the cinnamon and spicy peppers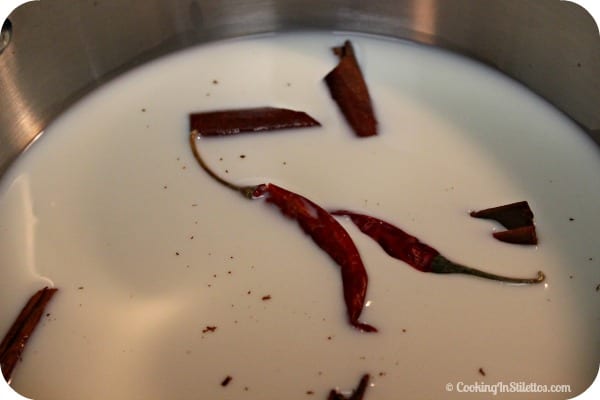 Look at that espresso percolating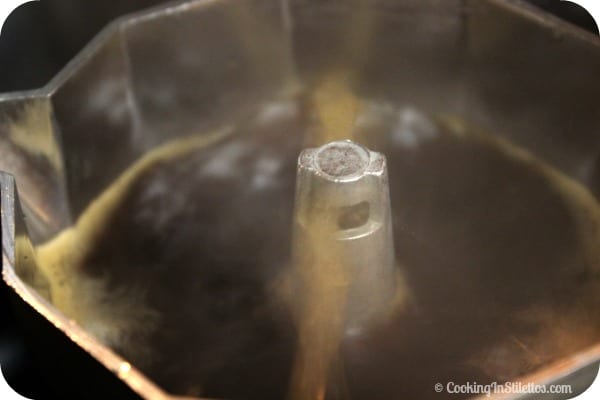 Here's my oops – Heavy Cream v. Half and Half – lesson learned – read the labels!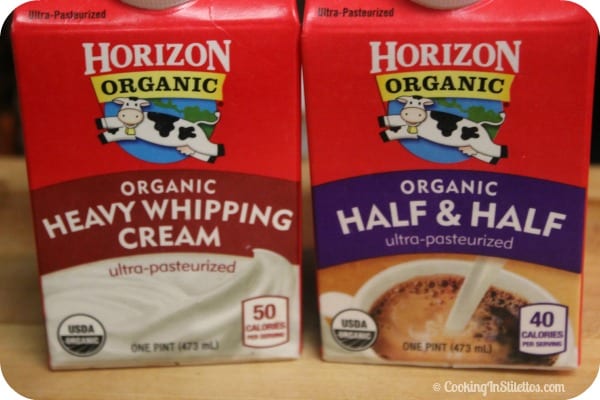 Rich and chocolatey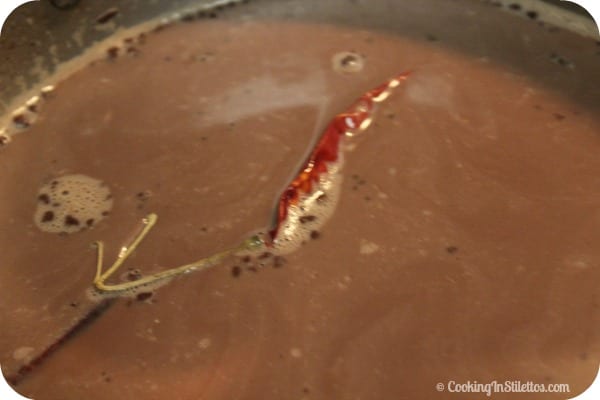 Don't you want a sip?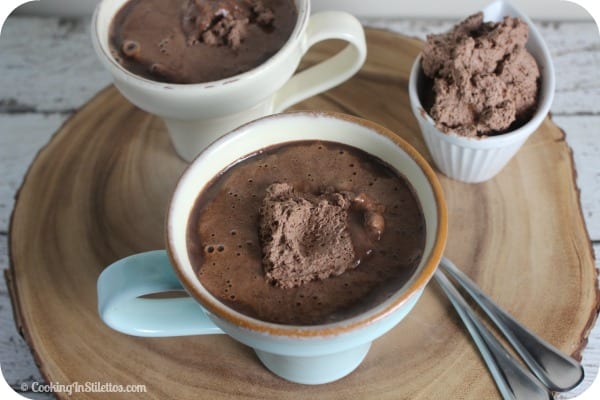 Adapted from Giada de Laurentiis
Yields 4
A Spicy Mocha With Chocolate Whipped Cream
This Spicy Mocha takes the chill off with warming spice and is so much better than the local coffee shop version.
15 minPrep Time
15 minCook Time
30 minTotal Time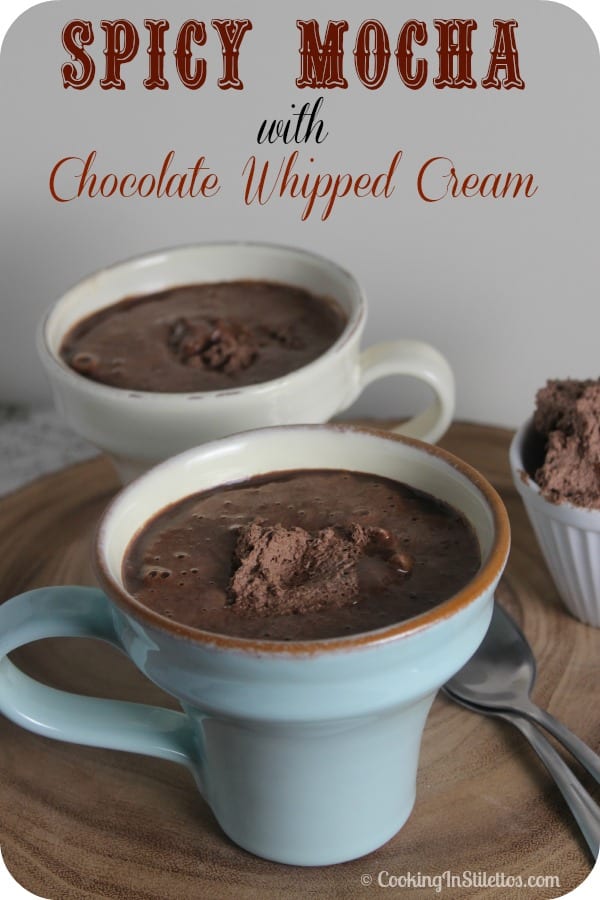 Ingredients
For the Spiced Mocha:
2 1/2 cups of milk
2 dried red chilies
2 cinnamon sticks, broken in half
2 cups of espresso (you can reduce it to 1 1/2 cups if you want less espresso)
3/4 cup of sugar
3/4 cup of unsweetened cocoa powder
For the Chocolate Whipped Cream:
1/2 cup of heavy cream
1/4 teaspoon of vanilla extract
1/4 cup of powdered sugar
1/4 cup of unsweetened cocoa
Instructions
Prepare the espresso maker as you normally would - set on the stovetop.
In a large heavy bottomed saucepan, bring the milk, red chilies and cinnamon sticks to a simmer. Whisk well and cover. Remove from the heat and let steep for 15 minutes.
Start your espresso.
When the espresso is made and the milk has steeped, whisk in the espresso, sugar, and cocoa powder.
Bring to a simmer and, while the chocolate espresso mixture melds together, make the chocolate whipped cream.
In a large bowl, whip together the heavy cream and the vanilla extract with an electric mixture until it hits soft peak stage.
Sprinkle over the powdered sugar and cocoa powder and mix thoroughly.
Ladle the hot steaming spiced mocha into coffee mugs and top with a dollop of chocolate whipped cream.
Enjoy immediately.
7.8.1.2
251
https://cookinginstilettos.com/spicy-mocha-with-chocolate-whipped-cream/
Now – let's see what some of my favorite bloggers brought to the virtual brunch table:
Brunch Beverages:


Brunch Eggs:


Brunch Main Dishes:
Crab Imperial Peppers from The Vintage Cook


Brunch Sides:


Brunch Breads and Grains:


Brunch Desserts: