Are you looking for a super simple but chic brunch dish to surprise Mom with on Mother's Day?  Moms – are you looking for a recipe that you can print out and leave on someone's pillow that isn't overly complicated?  Do I have a recipe for you – a decadent Cinnamon Plum French Toast.
Everyone seems to love French toast on the weekends but the cinnamon plum "syrup" just takes it to a whole new level.  As always, I use Challah for the French toast – the end result is well worth it.  Instead of cranberry juice, I made an executive decision and went with pomegranate as well as dicing the plums in lieu of leaving them halved.  The cinnamon plum syrup is phenomenal over yogurt the next day – that is if you have any left over.
On to the recipe:
Gather the Ingredients
It took all of my willpower not to eat one of these plums the day before. 
The cinnamon stick floats like a
lonely raft in a red sea.
Golden brown French toast
The perfect Mother's Day Brunch dish
Cinnamon Plum French Toast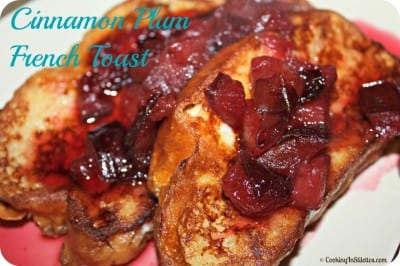 Ingredients
1 cup pomegranate juice
1/2 cup sugar
1 cinnamon stick
1 pound plums
2 eggs
1/4 cup milk
1/2 teaspoon ground cinnamon
1 tablespoon sugar
4 large slices of Challah bread
2 tablespoons unsalted butter
Instructions
In a medium, heavy bottomed saucepan, combine the pomegranate juice and sugar and let dissolve over low heat.
When the sugar is fully dissolved, add the cinnamon stick and then turn the heat up so that the mixture starts to boil. Let boil for a few minutes until the mixture starts to turn into a syrup.
Start preparing the plums by removing the pits from the plums and cut into a large dice.
When the pomegranate mixture appears to have thickened into a syrup, add the plums and cook over a simmer for about 10 minutes or until they are tender.
When the plums are fully cooked, remove from the heat, cover and keep warm.
To prepare the French toast, add the eggs, milk, ground cinnamon and sugar to a large baking dish and whisk together.
To the egg mixture, add 2 pieces of Challah, let soak for a few minutes, and then turn to soak the other side. Repeat with the remaining pieces of Challah.
To a large nonstick skillet, melt half of the butter and cook two of the egg soaked Challah for a few minutes each side until golden brown.
Repeat with the remaining Challah.
Serve drizzled with the cinnamon plum syrup and enjoy!
7.8.1.2
391
https://cookinginstilettos.com/cinnamon-plum-french-toast/