I knew I had to bring a cocktail to the party and for every soiree I hold, there's a strong chance that a sangria will be involved.  I still remember my first sangria when I was much younger and interned at a radio station in West Hartford, Connecticut.  My friend Kelly and I would visit some of the on-air talent when they did appearances at a local watering hole and sangria was on the menu.  Intrigued, I decided to order it instead of a beer and that's when my love affair with sangria was born.  Whenever I see it on a menu, I often order it and that first sip takes me back to my Connecticut days.
The hardest part of the whole cocktail is pitting the cherries but if you want to use frozen pitted dark sweet cherries, feel free.  Sangria is better if you make it the day before – letting the flavors meld.  At the earliest, prep it a few hours before and let it marinate in the fridge.
Onto the recipe:
Gather the Ingredients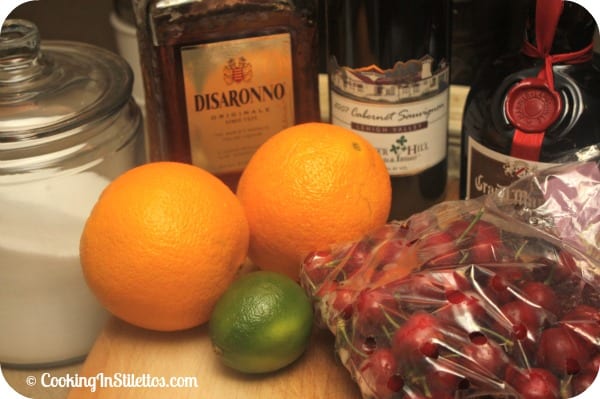 Aren't these cherries gorgeous?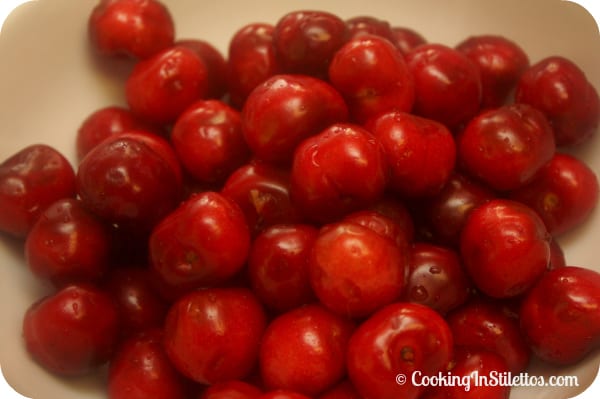 There is nothing better than fresh fruit in a cocktail, IMO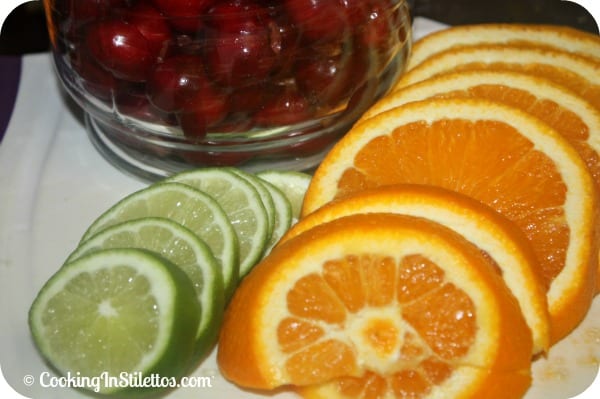 Ahhh – DiSaronno – how you bring back memories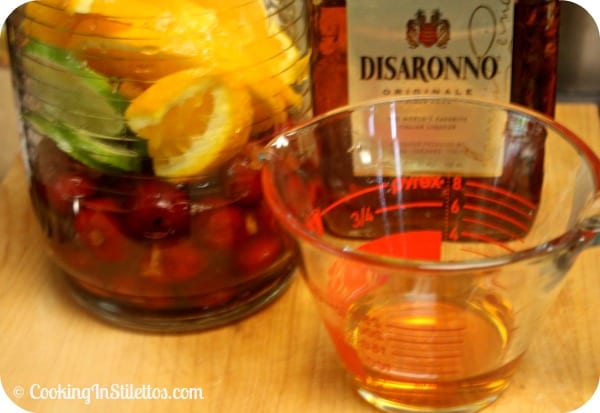 Now – don't you want a sip?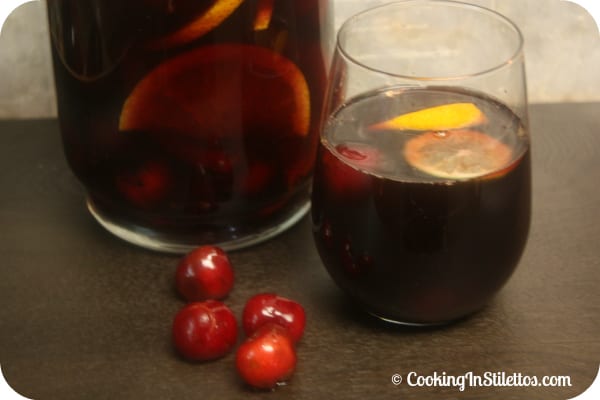 Aly M. Cleary
Yields 6-8
Cherry Sangria – The Perfect Cocktail
This Cherry Sangria is perfect for warm summer days - cool and refreshing, studded with fresh cherries, citrus and a touch of spirit
2 hr, 30 Prep Time
10 minCook Time
2 hr, 40 Total Time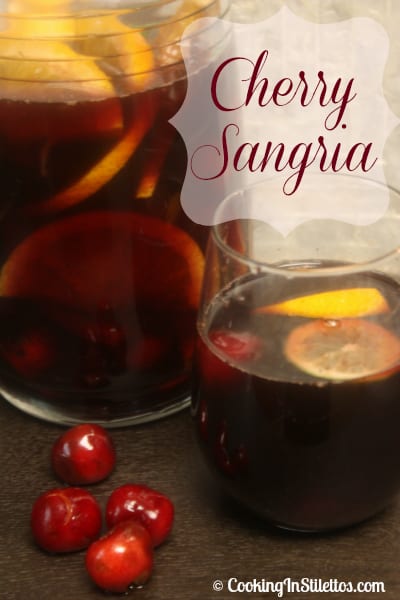 Ingredients
For the Simple Syrup:

1/2 cup of water
1/2 cup of granulated sugar

For the Sangria:

1 lb. of cherries, pitted
1 orange, halved and sliced into thin slices
1 orange (for juice only)
1 lime, thinly sliced
1/2 cup of simple syrup
1/2 cup of unsweetened cherry juice (optional)
1/4 cup of Amaretto (I used DiSaronno)
1/4 cup of orange liquor (I used Grand Marnier)
1 750 ML bottle of your favorite red wine (I used Cabernet Sauvignon
Instructions
To make the Simple Syrup:

To a small saucepan, add the water and the granulated sugar.
Over medium heat, simmer the water and sugar until the sugar is dissoved and cook for 5 minutes.
Set aside to cool.

To make the Sangria:

Add the pitted cherries to a large pitcher.
Follow that with the sliced oranges and limes.
Juice one large orange and add the juice to the pitcher.
Add the simple syrup, cherry juice (if adding), Amaretto, and orange liquor to the pitcher and muddle a bit.
Let sit in the fridge for 2 hours or more and serve.
Enjoy!
7.8.1.2
341
https://cookinginstilettos.com/cherry-sangria/