BREAKFAST COOKIES!
Yes – you heard me right – I said cookies for breakfast.  Now – before you bite my head off – hear me out on the Breakfast Cookie argument.  Ever have a morning when you are racing around like mad with a bizillion things to do and remember "Shoot – I forgot to get breakfast!" and you stop at the local fast food place or D&D or 'bucks and grab one of their breakfast items.  Do you know how many calories are in that item?
Here in Philly, they are required to post calorie counts next to items and when I see 500+ cal. for a BAGEL I panic – seriously.  My butt may be "fluffy" but I have come to the realization that I need to make some good choices and if it means making a cookie that is much lower in calories but high in nutrition, well then – it's a no-brainer. The key is to have JUST one.
Your family doesn't have to know how good it is for them and I pinky swear I will never tell.  I made a few changes but that's because I'm a total pumpkin/butternut squash fiend but you can always use carrot baby food.  I also prefer dried cherries in my cookies.  Normally I soak them in a bit of rum, but since this is a breakfast cookie, I thought I'd behave.
Make these and tell your family that they can have a cookie for breakfast – they will be telling everyone that you are the coolest ever!
Onto the recipe:
Gather the Ingredients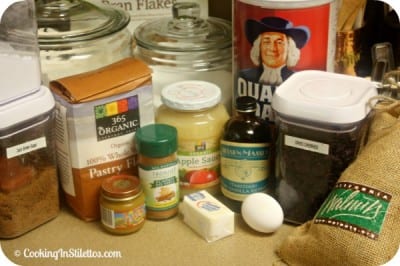 Not the most attractive batter but it's the flavor that counts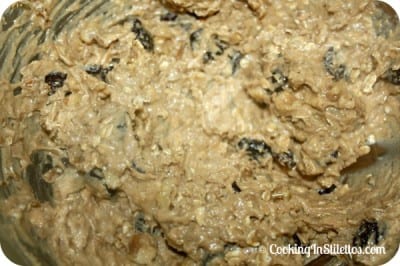 Now tell me you wouldn't want a bite of this?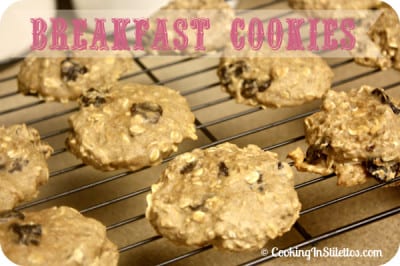 Cookies for Breakfast – Why Not!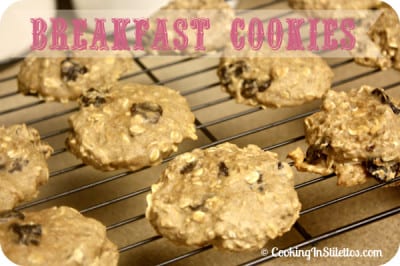 Ingredients
3/4 cup whole-wheat pastry flour
1/2 cup all-purpose flour
1/2 teaspoon baking soda
1 teaspoon pumpkin pie spice
1/2 teaspoon ground nutmeg
1/4 teaspoon salt
2 tablespoons unsalted butter
1/4 cup unsweetened apple sauce
1/4 cup brown sugar
3 tablespoons granulated sugar
1 egg
1/4 cup (1 small jar) strained butternut squash baby food
1 teaspoon vanilla extract
1/2 cup rolled oats
1/2 cup bran cereal flakes
1/3 cup dried cherries
1/3 cup walnut pieces, lightly toasted in a dry skillet
Instructions
Preheat the oven to 350 degrees F.
In a bowl, mix the flours, baking soda, pumpkin pie spice and salt.
In the bowl of a stand mixer, beat the butter, apple sauce, brown sugar and granulated sugar on high and make sure to scrape down the sides. Beat for about a minute until the sugar is dissolved.
Add the egg, baby food and vanilla extract and mix thoroughly.
Slowly add the flour mixture to the mixing bowl making sure to not overmix.
Add the oats, bran flakes, dried cherries and walnuts and mix on low speed just until incorporated.
The dough will be sticky so don't be alarmed.
To a baking sheet lined with either parchment paper or a silpat, scoop out about 3 - 4 tablespoons of batter to form a ball and place on the cookie sheet.
Repeat until you have 12 balls on the cookie sheet.
Wet your hands and flatten the dough into 1/4" thick discs with the flat of your hand.
Bake for 12 - 15 minutes until the cookies are fragrant and soft.
Let the cookies cool slighlty and then remove to a cooling rack to cool completely.
Enjoy!
7.8.1.2
342
https://cookinginstilettos.com/breakfast-cookies/