Confession: I have NEVER had a PB & Banana sandwich – not even growing up (at least from what I recall). PB, PB&J, PB&Fluff – sure but NEVER with banana.  Heck – I never even mixed peanut butter with banana anything.  When I was thinking about what to make for a quick breakfast before I had to rush the SousPug around, I thought there was no time like the present to try something that everyone raves about and Emeril had the perfect version in his latest cookbook, Kicked Up Sandwiches  – a Peanut Butter Banana and Honey Sandwich.
Now – I decided to go with what I had on hand as time was ticking, the Pug was hovering and I made a quick swap of the honey wheat bread to the artisan ciabatta that I had on hand. Also – for peanut butter, if I had more time, I probably would have whipped some up in the Vitamix but I did have some fresh ground peanut butter from WholePaychex that I bought over the weekend. With recent recall scares, I tend to be a bit paranoid and if I have to buy store bought, I do the grind in store kind.
This sandwich was the perfect mix of everything – savory, sweet with a bit of heft from the fresh peanut butter. Toss on the griddle for a couple minutes on each side and the perfect breakfast sandwich was had. The SousPug put up quite the protest. Apparently, the smell of the toasty peanut butter summoned his inner devil and he decided that he was going to throw a pug-sized temper tantrum.  Apparently, his daily banana wasn't enough – he wanted his own sandwich too. Lucky for me, his vet won't allow any peanut butter of any kind so, after having a quick "discussion" with the little imp, I was free to enjoy it all by myself while he begrudgingly ate his banana, all while giving me the evil (blind) eye.
If  you want to throw together something quick but filling, give this a shot. It's perfect for morning, noon or night.
Here's the play by play:
Gathering the ingredients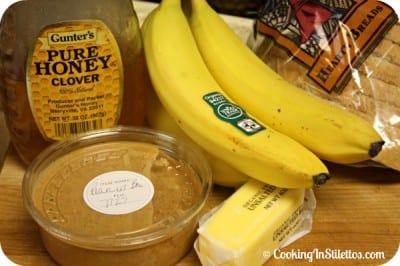 Nothing like fresh ground peanut butter!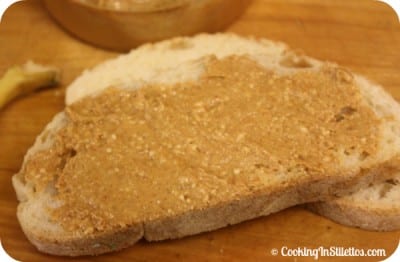 Layering on the banana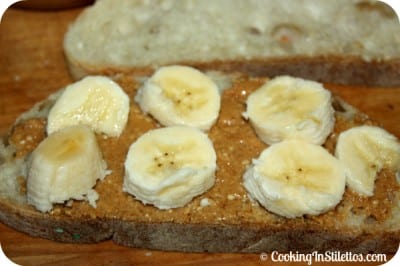 Drizzling the honey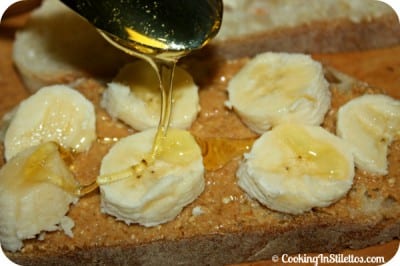 Don't forget to brush with melted butter