One of my favorite tried and true recipes is Giada de Laurentiis Broiled Salmon with a Herb Mustard Glaze. It's one of those super quick meals out of a few pantry items. I follow a simple rule – if I plan on making fish – I buy it the day I plan on serving it. The guys at Whole Foods in Plymouth Meeting are so good – they send me home not only with a gorgeous piece of salmon, but they remove the skin (if asked), and put it with a nice bag of ice to keep it cold on the way home. How thoughtful, right?
I love the combo of both mustards along with the fresh herbs and shallots. A couple quick pulses of a food processor and your sauce is good to go. Serve this Herb Mustard Glazed Salmon with some asparagus and couscous and you have one heck of a weeknight dinner.
Gather the ingredients
Put together the sauce
Isn't This A Gorgeous Piece of Salmon?
Before the broiler
Broiled Salmon with Herb Mustard Glaze
Recipe Redo: Herb Mustard Glazed Salmon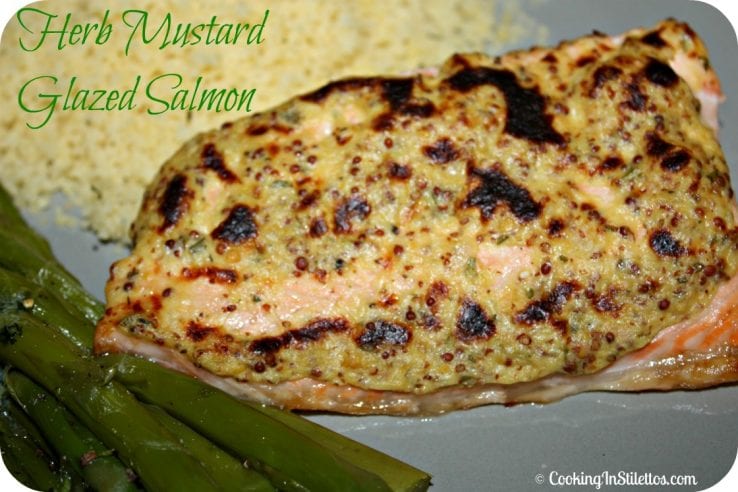 Ingredients
2 garlic cloves
1/2 teaspoon finely chopped fresh rosemary leaves
1/2 teaspoon finely chopped fresh thyme leaves
1 tablespoon pinot grigio
1 tablespoon extra virgin olive oil
2 tablespoons Dijon mustard
2 tablespoons whole-grain mustard, divided
1 shallot
4 (6 to 8 ounce) salmon filets
Salt
Freshly cracked black pepper
Instructions
To a food processor, add the garlic, rosemary, thyme, wine, olive oil, Dijon mustard, 1 tablespoon of whole grain mustard and shallot.
Pulse for about 30 seconds, until well combined.
Transfer to a small bowl and add the remaining 1 tablespoon of whole grain mustard. Mix.
Preheat the broiler.
Line your rimmed baking sheet with foil and spray with a non-stick spray.
Place the salmon filets on the sheet and season with salt and pepper.
Broil for about 2 minutes.
After 2 minutes, brush the mustard glaze liberally on the salmon and return to the broiler.
Continue broiling for another 5 minutes or so until the salmon is cooked through and some of the glaze is caramelized.
Enjoy!
7.8.1.2
390
https://cookinginstilettos.com/recipe-redo-herb-mustard-glazed-salmon/