Tis the holiday season and, with the holidays comes the soirees! There's nothing like a fab gal's night where you dress in your sparkly best, rock the stilettos and, of course, break out the bubbly – specifically the Sauza Sparkling Margaritas!
For parties, I tend the keep everything somewhat minimal.  I serve everything buffet style and focus on the cocktails and the convo. For a signature drink, why not line up bottles of chilled Sauza Sparkling with a bit of fruit that everyone can add to their glass some cordials like Cassis for the Wild Berry and some mango or peach nectar for the Mango Peach Sauza Sparkling and pour in the bubbly bellini style. When it comes to decor, I let the holiday tree sparkle away as the decor focal point.  Plus, there's something to be said for a glass of bubbly while sitting near the tree.  The reflection of the twinkling lights in the glass is so festive!
For the holidays, I love doing dessert parties.  In addition to the typical holiday cookies and mini cupcakes, why not make some sparkling gelatin parfaits.   They do take a bit of time to set up but the end result is well worth it.  I whipped up this Sauza Sparkling Gelatin based on this recipe with the Sauza Original Margarita flavor but it would be fabulous with either their Wild Berry flavor or Mango Peach.  A fruit coulis is so simple to whip up – just take some frozen (and/or fresh) fruit, cook with a bit of sugar, puree in the blender, strain out any seeds and *viola* there you go.  How easy is that?
Just a little bit of pre-holiday soiree prep and you have these festive sparkling desserts that will have your friends thinking you are a dessert genius.

Gather your ingredients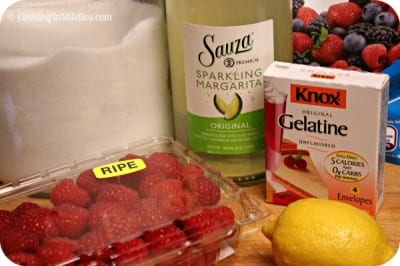 Time to make the gelatin – sprinkle and boil…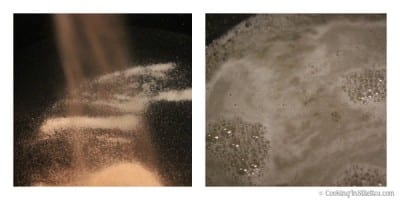 Adding the sparkle with Sauza Sparkling Margaritas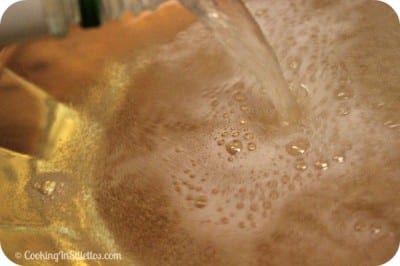 Time to make the coulis – easy peasy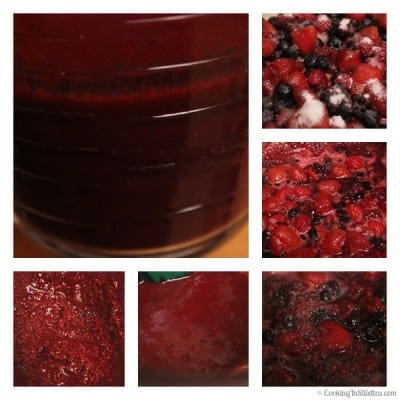 Now this is how you make comfort food sparkle!
Gelatin recipe adapted from Huffington Post | Mixed Berry Coulis recipe slightly adapted from Food.com
Sauza Sparkling Gelatin Parfaits with Mixed Berry Coulis
Just a little bit of pre-holiday soiree prep and you have these festive sparkling desserts that will have your friends thinking you are a dessert genius.
10 minPrep Time
10 minTotal Time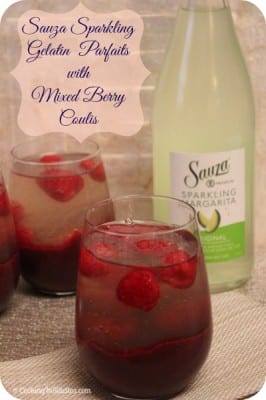 Ingredients
For the Sauza Sparkling Gelatin:

3 envelopes of unflavored gelatin
2 cups of cold water
1 cup of sugar
1 bottle of Sauza Sparkling Margarita
Fresh Raspberries for garnish (about a pint or so)

For the Mixed Berry Coulis:

12 ounces frozen mixed berries (I used mixed blueberries, blackberries, strawberries and raspberries)
1/4 cup water
3 – 4 tablespoons of sugar (depends on how sweet you want it)
1/8 teaspoon salt
2 teaspoons lemon juice
Instructions
To Make the Gelatin:

In a saucepan, pour in the water and sprinkle in the gelatin.
Bring to a boil, stirring occasionally to make sure the gelatin is fully dissolved.
Pour into a large bowl and stir in the sugar.
Whisk to make sure the sugar is fully dissolved.
Pour in the Sauza Sparkling Margarita and whisk together.
Place the bowl in the refrigerator and let set for an hour and a half (at least).

To Make the Mixed Berry Coulis:

In a medium saucepan, tumble in the berries. Add the water, sugar and salt and bring to a simmer.
Cook until the berries are warmed through and start to release their juices and the sugar is dissolved.
Transfer the berry mixture to a blender and blitz until it is smooth.
Using a sieve, strain the berry mixture through leaving all the seeds behind.
Add the lemon juice and set aside.

To assemble:

Into stemless wine glasses or dessert dishes, add a layer of the berry coulis. Set aside to chill.
When the gelatin has chilled about an hour and a half, it should have a gellish type consistency and be significantly thickened. Pour that on top of the berry coulis mixture.
Add some fresh raspberries to the gelatin and return to the fridge to chill for another 4 hours or overnight.
Enjoy!
7.8.1.2
284
https://cookinginstilettos.com/make-your-holiday-soiree-sparkle-with-sauza-sparkling-gelatin-parfaits-with-mixed-berry-coulis-sauzasparkling/
No proper Sauza Gal's Night Soiree would be complete without a visit from the Sauza lifeguard. Check out his take on the holiday cocktails…
Sauza® Sparkling Margarita is our brand new, ready-to-serve sparkling margarita. It's available in three delicious flavors: Original Lime, Mango Peach and Wild Berry. Now you can add a little more sparkle to your ladies' night. Connect and follow us on Facebook, Instagram, Twitter and Pinterest.