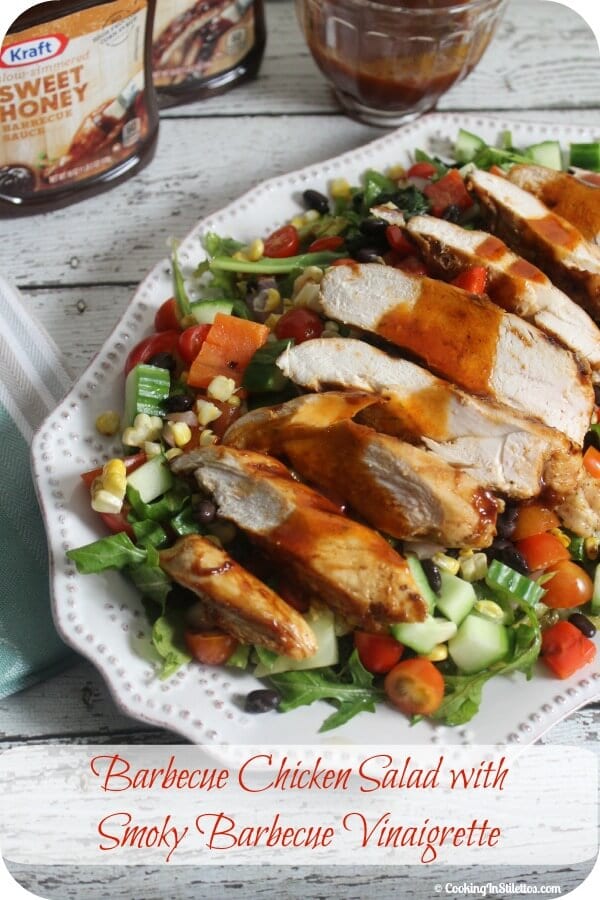 The weather outside is frightful – the Schuylkill River has patches that are frozen, the cold is bitter and January has arrived with a roar. One minute it's climbing to 45+ degrees and next thing you know we're hearing Philly weather forecasters discussing wind chills of 4 degrees!
Recently, Kraft sent some of their new delicious Barbecue Sauces for me to play with. Their barbecue sauces feature high-quality ingredients like tomatoes, sweet molasses, cider vinegar and cane sugar – not a drop of high fructose corn syrup. I had a craving for a Grilled Barbecue Chicken Salad something fierce and like a light bulb moment, it hit me – I had my new grill on deck and it was ready for grilling duty. One thing that I will brave these bone-chilling temps for is some lip-smacking good barbecue chicken.
Sure – I could make it on the stove using my trusty grill pan. However, when I do brave the "indoor grilling", it often results in a battery of fire alarm drills. One whiff of smoke drifts up to the ceiling and those alarms go off with a vengeance. And – when one alarm starts in the living room area, the remaining alarms follow suit. It's like a chorus of fire alarms annoyingly serenading the neighbors and you can hear the chaos from outside my front door. Luckily, my neighbors are aware of my sensitive fire alarms and don't get too cranky.
Thankfully, there was just a little snow on the back porch and, after work one night, I was able to fire up the grill, get it toasty and warm and I got to grilling. In addition to grilling the chicken, I figured I would also grill some of the salad veggies for that added smoky flavor, including the crisp romaine lettuce. And, yes, while it was a bit chilly, I was able to glide from porch to kitchen and warm my slightly chilled fingers by the grill. I also had a fab Evergriller Grill 'n Flip mitt which also helped keep a girl's fingers toasty!
To carry on the barbecue flavor, I made a smoky barbeque vinaigrette adapted from a classic Food & Wine recipe with a bit of the Kraft Barbecue Sauce and that took this salad over the top. This vinaigrette is one you have to keep on hand – it's that good!
The result was a delicious crunchy family sized Grilled Barbecue Chicken Salad that is a tried and true. Added bonus – not a neighbor was disturbed by the screeching fire alarm chorus as the grill handled all of the hard work.
So – when you want a bit of summer warmth on a cold chilly day, make this Grilled Barbecue Chicken Salad with Smoky Barbecue Vinaigrette!
On to the recipe:
Look at what I get to play with – Kraft's new Barbecue Sauces and their Grill 'n Flip Mitt!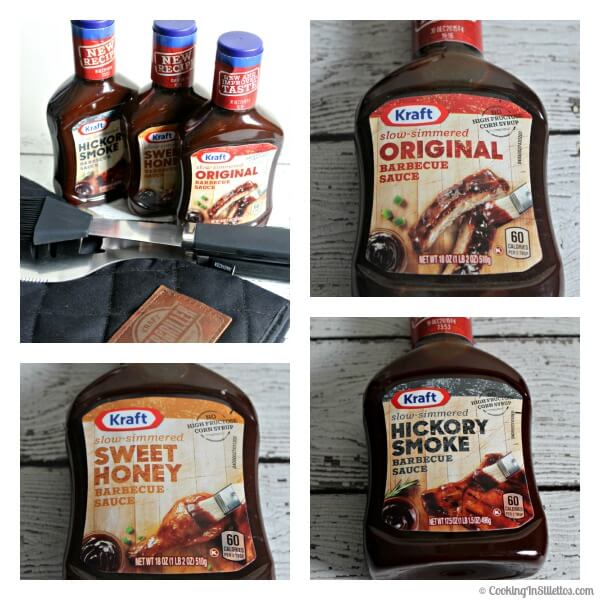 First – let's gather the ingredients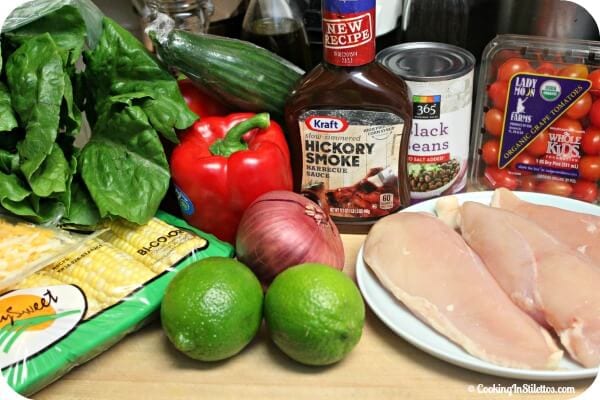 Let's get grilling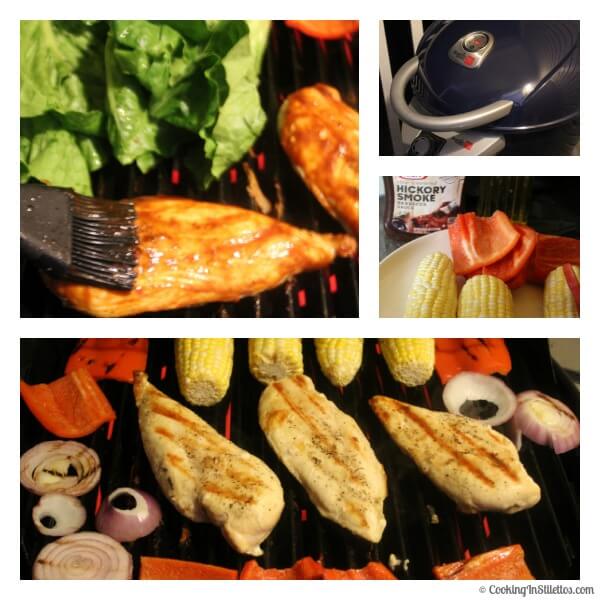 Time to make the vinaigrette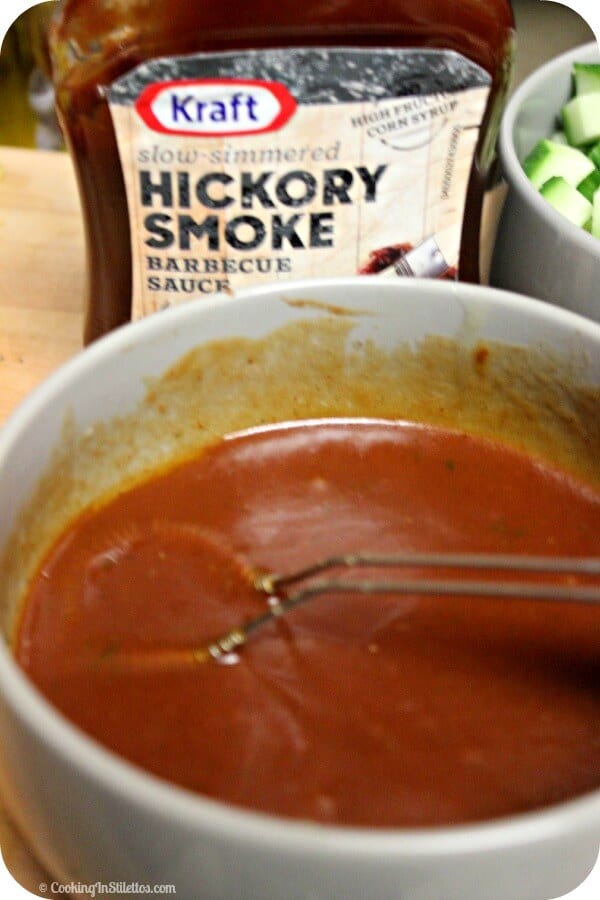 Now – doesn't this look like the ultimate Barbecue Chicken Salad? Grab those mittens and your Kraft Barbecue Sauce – you are going to want to brave the chill to grill this!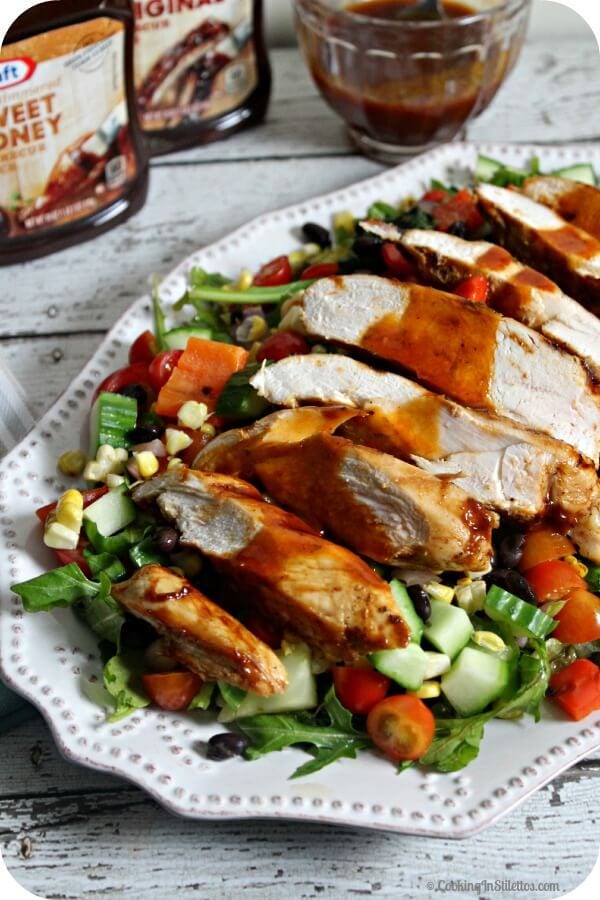 Ingredients
For the salad:

3 boneless skinless chicken breasts
Olive oil
1/3 cup of Kraft Barbecue Sauce (I used the Hickory Smoke Flavor)
1 head of romaine lettuce, outer leaves removed and the root trimmed
2 large red peppers, seeded and cut into quarters
3 ears of fresh corn (I had 4 in the pack so I used all 4) (or 2 cups of frozen thawed fire roasted or sweet corn)
1 small red onion, peeled and sliced into thick rounds
1 English Cucumber, seeded and diced
1 cup of black beans, rinsed and drained
1 pint of cherry tomatoes, halved
3 cups of baby arugula, freshly washed and dried
1/2 cup of shredded Cheddar and Monterey Jack cheese
Kosher Salt and Freshly Cracked Black Pepper

For the vinaigrette:

1/4 cup of Kraft Barbecue Sauce
1/8 teaspoon of cumin
1/8 teaspoon of smoked paprika
2 – 3 teaspoons of honey
Zest and juice of half a lime (about 2 tablespoons)
1/4 cup of extra virgin olive oil
1/4 teaspoon of freshly cracked black pepper
1/4 teaspoon of kosher salt
Directions
Preheat your grill to medium high (or if using a grill pan indoors, preheat over medium high heat).
Brush the grill with a bit of oil so the chicken and veggies don't stick.
Season the chicken with a bit of salt and pepper to season and drizzle with a bit of olive oil.
Place the chicken on the grill and grill on one side for a few minutes.
While the chicken sizzles, drizzle the corn, pepper slices, red onion and romaine with a bit of olive oil.
Flip the chicken and place the corn, peppers and onion slices on the grill.
Char the corn on all sides and let the onions and peppers get some nice grill marks.
Remove the veggies to a plate and let's get that romaine lettuce on the grill.
Add the romaine lettuce to the grill, root side down and char for a couple minutes. Remove to the plate holding the veggies.
Brush the chicken with the barbecue sauce and place the grill cover down, cooking for a few minutes until the sauce gets nicely caramelized.
Remove to a plate and cover with some foil for a few minutes while you get to chopping your grilled veggies.
In a large bowl, add the arugula
Chop up the grilled romaine lettuce into bite size pieces and add to the arugula mixture.
Slice the corn kernels off the cob and add the charred corn kernels to the bowl.
Dice the onions and peppers and add them to the bowl.
Finally, add the diced cucumber, beans, halved cherry tomatoes, shredded cheese and toss.
Remove the chicken from the plate and dice into bite size pieces (or slice for pretty presentation) and layer over the salad.

For the vinaigrette:

In a small bowl, whisk together the barbecue sauce, cumin, smoked paprika, honey, lime juice and zest and olive oil until everything comes together. Taste and add the salt and pepper (if needed). Whisk again.
Drizzle over the salad and enjoy!
7.6.7
994
https://cookinginstilettos.com/grilled-barbecue-chicken-salad-with-smoky-barbecue-vinaigrette/
All images and content are © Cooking In Stilettos. Please do not republish without contacting us first. Thank you.
For some delicious recipe inspiration, Kraft has you covered! You can check out some of their favorite barbecue recipes here and if you are ready to brave the chill and join the Evergriller brigade and enter to win a Grill 'n Flip Mitt of your very own and a year's supply of Kraft Barbecue sauce, enter to win here!
I was selected for this opportunity as a member of Clever Girls and provided product samples by Kraft Foods, and the content and opinions expressed here are all my own.
Did you enjoy this post?
| | |
| --- | --- |
| Share the love | Get free updates |