There's a story behind the creation of these Captain Morgan Chocolate Chip Cookies like with any cocktail-esque creation.
In college, I fell in love with all things Captain Morgan thanks to "A" who constantly had a Captain & Coke in hand.  To this day, it's my spirit of choice.  Mixed with a bit of Diet Coke, I'm in heaven.  When  A. was stationed in Croatia and Bosnia, I was in charge of sending care packages from our crew.  One thing he always whined about was the lack of Morgan on base.  Hence, *poof* Captain Morgan Chocolate Chip Cookies were born.  When he was shipped to Iraq shortly after I moved here, again he whined about the lack of Morgan during a call to say "hi."  Well, a stronger version of Captain Morgan Chocolate Chip Cookies was shipped his way and he told me that the boys in his unit absolutely loved it.  My friends often request this recipe and I always ask them "Morgan Cookies With or Without" for those that might not want a bit of rum goodness.
The recipe is simple – it's the Nestle Tollhouse Recipe with a slight kick.  Give it a shot – you might actually enjoy it.  However, I'm not responsible should you find yourself heading to Costco to get "bargain" size bottles of Morgan for future cookie shenanigans.
Recipe adapted from Nestle Toll House
Captain Morgan Chocolate Chip Cookies
11 minPrep Time
11 minTotal Time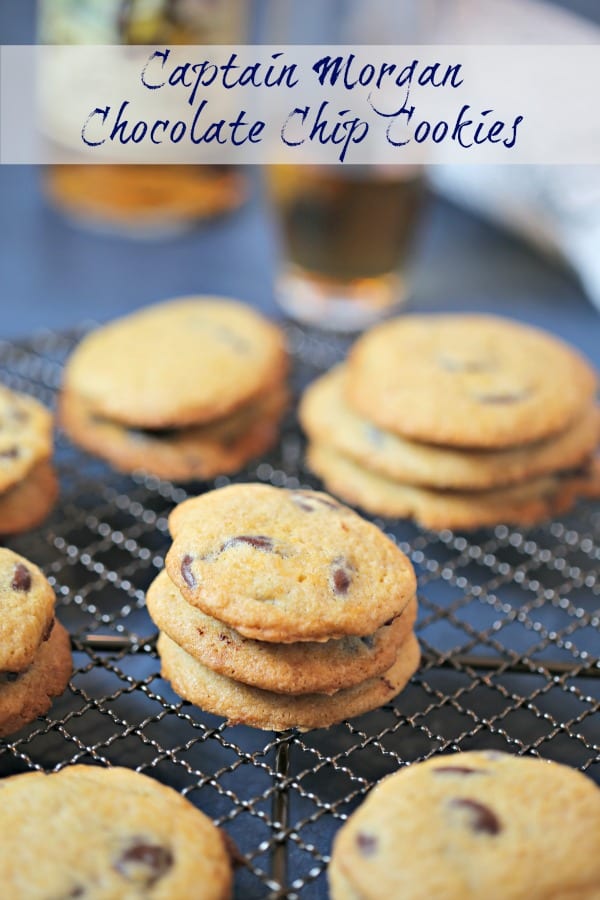 Ingredients
2 1/4 cups all-purpose flour
1 teaspoon baking soda
1 teaspoon salt
1 cup (2 sticks) butter, softened
3/4 cup granulated sugar
3/4 cup packed brown sugar
1 teaspoon vanilla extract
2 large eggs
2 cups (12-oz. pkg.) NESTLÉ® TOLL HOUSE® Semi-Sweet Chocolate Morsels
3 tbsp Captain Morgan Original Spiced Rum; retain some extra for "basting"
Instructions
Preheat oven to 375° F(190 °C ).
Combine flour, baking soda and salt in small bowl.
Beat butter, granulated sugar, brown sugar and vanilla extract in large mixer bowl until creamy.
Add eggs, one at a time, beating well after each addition. Gradually beat in flour mixture. Stir in morsels and Captain Morgan Original Spiced Rum.
Drop by rounded tablespoon onto ungreased baking sheets.
Brush tops of cookies with remaining Captain Morgan Original Spiced Rum.
Bake for 9 to 11 minutes or until golden brown.
Cool on baking sheets for 2 minutes; remove to wire racks to cool completely.
7.8.1.2
6
https://cookinginstilettos.com/tried-true-captain-morgan-chocolate-chip-cookies/