Cheesy Ricotta and Spinach Stuffed Pork Chops will be the star whether it's for an easy weeknight dinner or the main dish at a dinner party. It's comfort food made chic!
Disclosure: This post originally appeared on Cooking In Stilettos in July of 2008. This recipe has been updated with tips and tricks I have used over the years and new photo. This post may contain affiliate links to products I trust and adore in my kitchen. Thank you for supporting Cooking In Stilettos.
This recipe for Cheesy Ricotta and Spinach Stuffed Pork Chops has a special spot in my heart and my culinary notebook.
When I started on my culinary journey so many moons ago, one of the first recipes I found myself inspired to make was G. Garvin's Stuffed Pork Chops with Ricotta and Spinach. I had moved to Orlando, was finally free of the abusive ex-fiance who always took the time to tell me I couldn't cook for bubkus and, while channel surfing one night, I happened to catch G. Garvin's cooking show on TVOne. There was something about this dish that looked so elegant but was so easy to make – even for someone who thought that she could essentially burn water. I raced to the store, picked up the ingredients and learned to make this dish. The feeling when I learned at first bite that I could, indeed, cook, was seared into my memories and I will never forget that.
G. Garvin's recipes from his books, Turn Up The Heat and Make It Super Simple, are always a winner and he's one of the first chefs that I credit with inspiring me to start my culinary journey. I even had the honor of meeting Chef Garvin a few years ago at an event in Philly and I told him his recipes were an inspiration. However, I didn't share how it was this recipe specifically or the story behind it that gave me the inspiration that essentially led me to change my life and career path.
During the Flintstones days of blogging, I shared this scrumptious stuffed pork chop recipe but it was in dire need of photos and my recipe tweaks that I have incorporated over the years. I decided that once I was starting to get settled in the new kitchen, I'd test the oven and see how this came out. Well, it is as delicious as the very first time I tried it and while it takes a few steps, this recipe is essentially, saute, sear, stuff and bake. Like G. Garvin says "super simple". The flavors are out of this world and if there's any of the spinach ricotta filing left over, toss it in a ramekin and bake it alongside the pork chops for a delicious dip perfect with pita chips!
One main tip I've learned over the years is how to stop pork chops from curling. You know when you have boneless pork chops and you go to sear them and they curl up like a ribbon. If you score the fat cap on the side, your pork chops will essentially stay flat. While G. Garvin uses bone-in pork chops for his recipe, I used boneless thick cut pork chops and it worked out beautifully.
How to Stop a Pork Chop from Curling – Score the Fat
For dinner this week or when you are entertaining, whip up these delicious Cheesy Ricotta and Spinach Stuffed Pork Chops. When everyone raves about your culinary skills, just smile and know – you got this!
On to the recipe:
Aly M. Cleary | Adapted from G. Garvin
Yields 4
Cheesy Ricotta and Spinach Stuffed Pork Chops
Cheesy Ricotta and Spinach Stuffed Pork Chops are comfort food made chic. Thick cut boneless pork chops are stuffed with a garlicky cheesy spinach filling and baked to perfection, perfect for a weeknight dinner or a chic dinner party!
30 minPrep Time
45 minCook Time
1 hr, 15 Total Time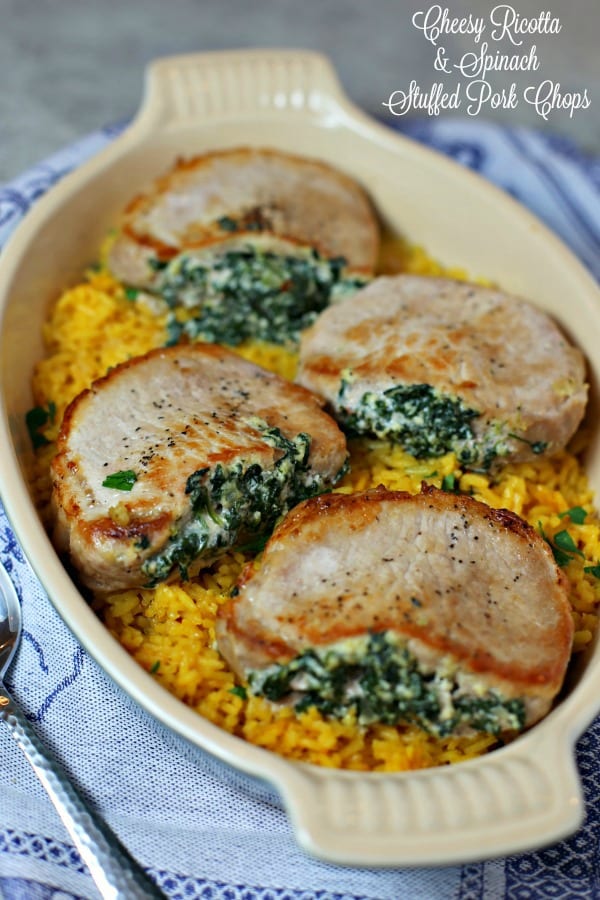 Ingredients
1 tablespoon of unsalted butter
1/4 cup of olive oil, divided
1/3 cup of finely diced sweet onion (about 1/4 of a small sweet onion)
2 cloves of garlic, minced
1/8 teaspoon of crushed red pepper flakes
12 ounces of fresh baby spinach
1/4 cup of ricotta cheese
1/4 cup of grated parmesan cheese
1/2 teaspoon of fresh thyme leaves
1 1/4 teaspoon of kosher salt, divided
1 teaspoon of freshly ground black pepper, divided
4 thick-cut boneless pork chops
Instructions
Heat the oven to 350 degrees F. Line a baking sheet with foil and spray lightly with non-stick spray. Set aside.
In a large non-stick skillet, heat 1 tablespoon of butter and 1 teaspoon of olive oil over medium high heat.
Add the diced sweet onion and sauté for 3 – 5 minutes, until the onion is soft and beginning to hit the translucent stage.
Add the garlic and the crushed red pepper flakes and sauté for another 2 minutes.
To the garlicky onion mixture, add the baby spinach. It will look like a lot but it's going to wilt down like crazy – trust me on this.
Sauté until the spinach is wilted and add the mixture to a heat proof bowl. Let cool for a few minutes and wipe out the sauté pan with a paper towel as you will use it for the next part of the recipe.
Remove the spinach mixture to a cutting board and then finely chop. Return to the bowl.
To the spinach mixture, add the ricotta cheese, Parmesan cheese, fresh thyme, 3/4 teaspoon of salt, 1/2 teaspoon of freshly ground black pepper. Mix well. Set aside.
Score the fat side of the pork chops with a few lengthwise cuts to prevent the pork chops from curling up.
Pat the pork chops dry lightly with a paper towel and then season on each side with the remaining salt and pepper.
To the large sauté pan, add the remaining olive oil and heat over medium high heat until the oil starts to shimmer. Add the pork chops and sear for 3 minutes on each side. Remove to a cutting board and let rest for a few minutes.
Using a sharp knife, make a pocket in the pork chop, taking care to not go through the end of the pork. With a small spoon, stuff each pork chop with some of the ricotta spinach mixture and then secure with a toothpick.
Place on the previously prepared baking sheet and bake for 20 – 25 minutes until golden brown and bubbly.
Enjoy!
Notes
Category: Dinner Cuisine: American
7.8.1.2
7
https://cookinginstilettos.com/cheesy-ricotta-and-spinach-stuffed-pork-chops/