Kalua Pork Bites with Homemade Pineapple Teriyaki Sauce will be a hit at your holiday party, packed with tender Kalua pork, pineapple and ginger, nestled in golden Pillsbury Crescents for the perfect party bite.
This post has been sponsored by Pillsbury. My opinion and love for the brand is my own. Thank you for supporting the brands that make Cooking In Stilettos possible.
For the holidays this year, I'm going to be doing a bit of a tropical spin with a nod to the islands. To start the party, one of my fave appetizers will be gracing the table – scrumptious Kalua Pork Bites with Homemade Pineapple Teriyaki Sauce. Tender Kalua pork is nestled in Pillsbury Crescents with fresh pineapple, ginger, green onions and a made from scratch teriyaki sauce. I promise that one bite and these Kalua Pork Bites will disappear like magic!
What makes this recipe so easy to prepare is using the Pillsbury Crescents for the dough. Tiny squares of Pillsbury Crescents dough are filled with a delicious Hawaiian inspired Kalua filling which are baked until they are puffed and golden. Easy peasy!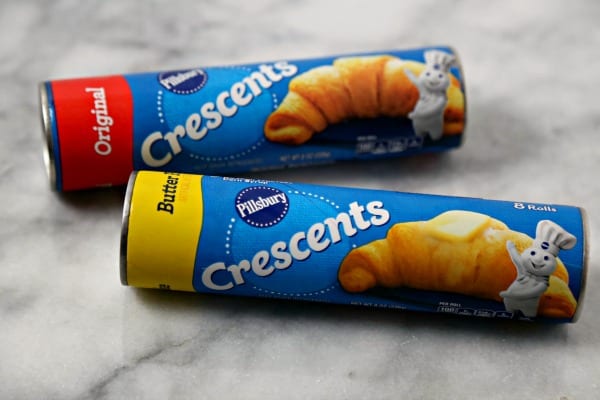 Since I was a child,  Pillsbury Crescents were a must at the holiday table. We always had extra ready to bake because there were people who pilfered the crescent rolls once they came out of the oven, all warm and golden. (I may or may not have been one of those guilty parties. – shhhhhh.) My fridge often has Pillsbury Crescents on hand, perfect to go with winter soups and stews, or if I am entertaining like with these French Onion Bites. As with all of your holiday pantry essentials, you can stock up on Pillsbury Crescents at Walmart. I recommend keeping a few on hand at all times – even for holiday brunches with some homemade jam.
For the Hawaiian holiday spin, I wanted to do a samosa style bite with the Kalua pork filling folded into the pillowy Pillsbury Crescents. This recipe really couldn't be easier to prepare and is perfect for those that like to make things ahead, which is fabulous when entertaining because you always want to be a guest at your own party!
I used my favorite tried and true Slow Cooker Kalua Pork recipe that has the slow cooker doing all of the work. If you have leftover Kalua pork, this recipe works perfectly with it, as you need to let the pork cool for a bit before you make the filling for the dough. Which leads me to another good tip – you want to chill these lovelies before you bake them. Like any pastry, you want the dough cold so it will get maximum puff factor and be light and flaky. With folding these bites, the dough can get warm. I popped the formed bites in the freezer for 15 minutes before baking but you can chill them in a fridge for an hour or so.
If you have leftover filling, you could also do something cool and make Kalua Pork Pocket Sammies using this filling – just bake it for a few more minutes than the bites – like around 20 – 25 minutes. You could make them ahead and freeze them on a baking sheet, and then nestle in a freezer safe bag, baking them off as you need them. See how Pillsbury Crescents makes everything so easy?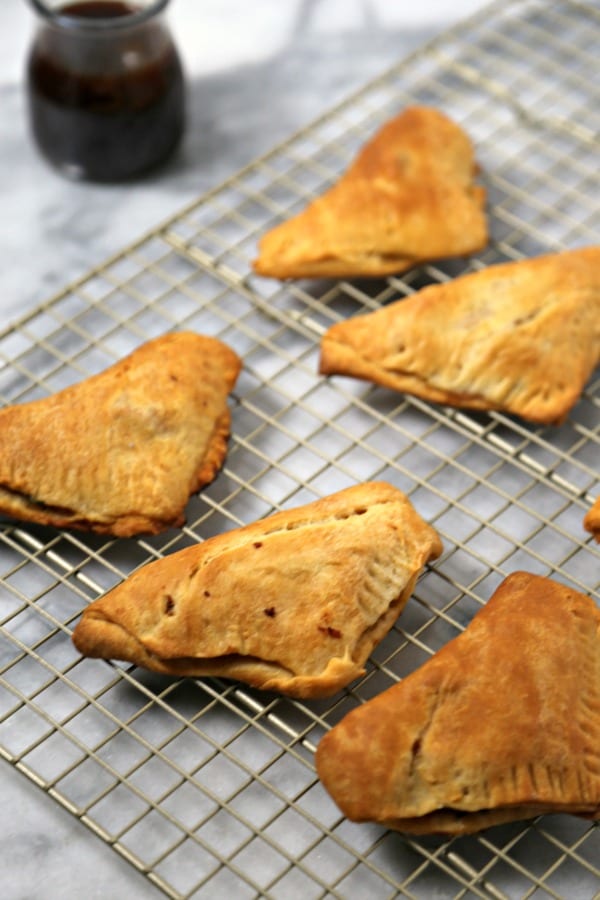 To go with these Kalua Pork Bites is a sweet and spicy Pineapple Teriyaki Sauce that is made from scratch. A few ingredients and a whirl of an immersion blender and you have not only a flavorful sauce to toss with the Kalua pork but also a delicious dipping sauce that you will find yourself making often. You can adjust the spice level to meet your needs – want a bit more sweetness, add more pineapple or a touch more of brown sugar. Like things really spicy – add some more ginger and red pepper flakes. This recipe lets you channel your inner chef.
When you are entertaining this holiday season, pick up Pillsbury Crescents at Walmart , pop some Fiji or Common Kings on the music speakers, and make these festive Kalua Pork Bites with Homemade Pineapple Teriyaki Sauce. Your guests will rave about your culinary mastery at first bite!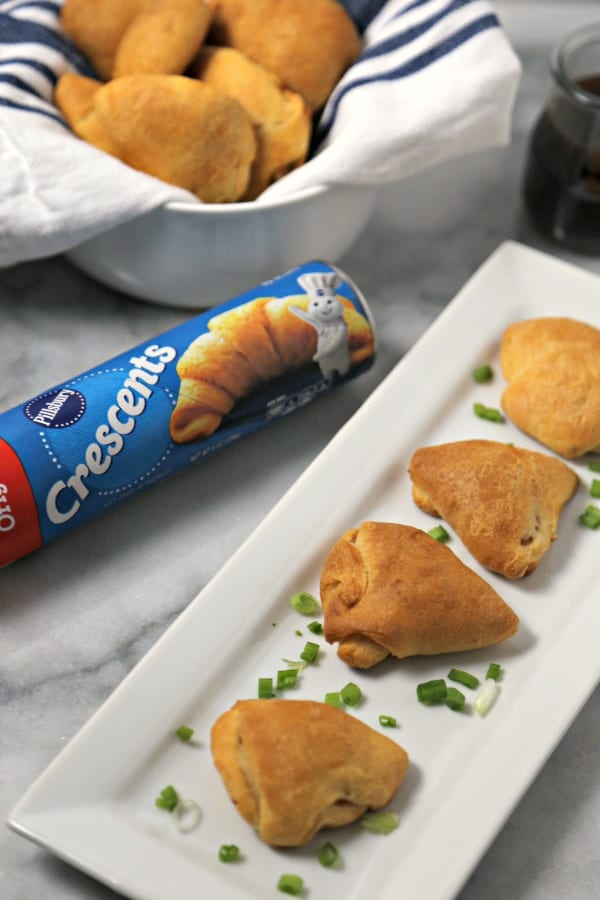 On to the recipe:
Gather your ingredients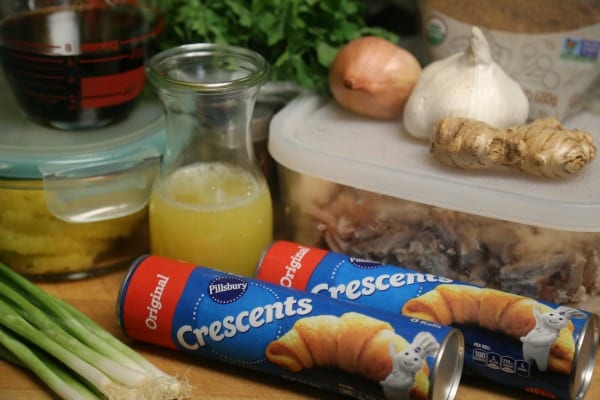 Let's make the Homemade Pineapple Teriyaki Sauce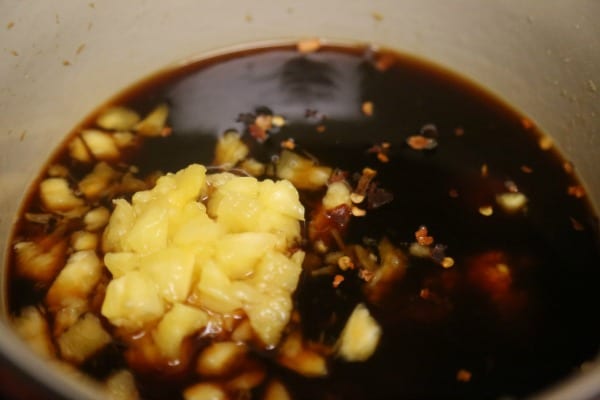 Time to make the Kalua Pork filling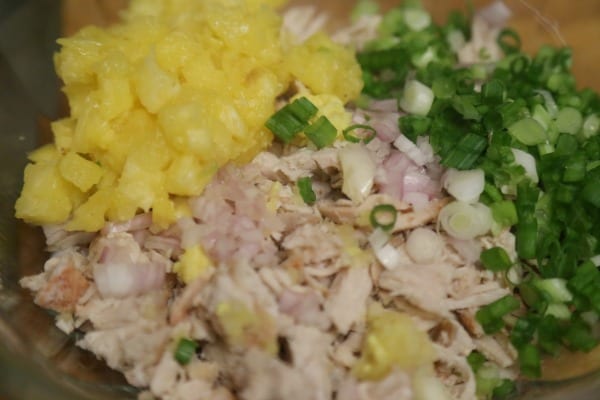 Rolling out the Pillsbury Crescents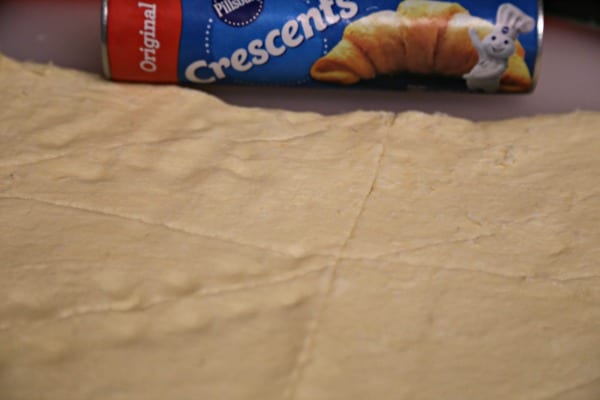 Filling the crescent dough squares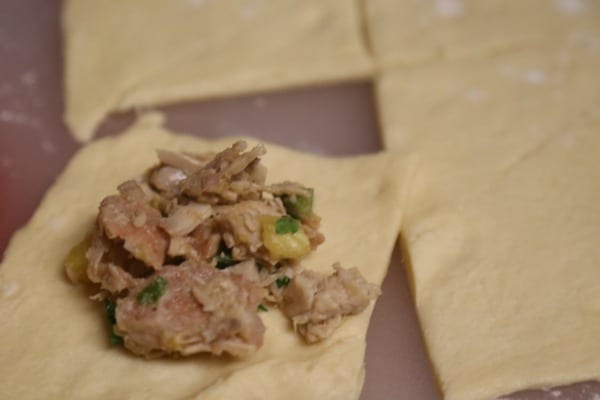 Ready to chill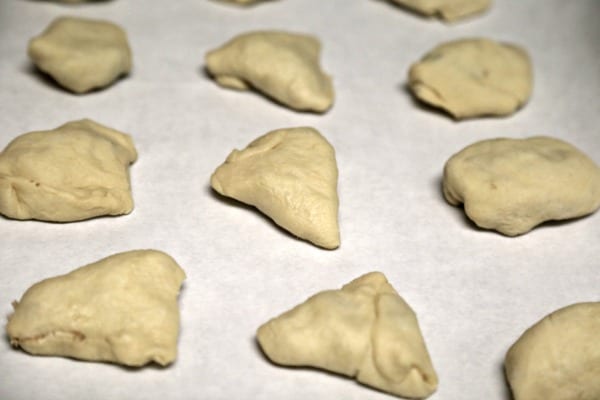 Now – these are the perfect two bite appetizers!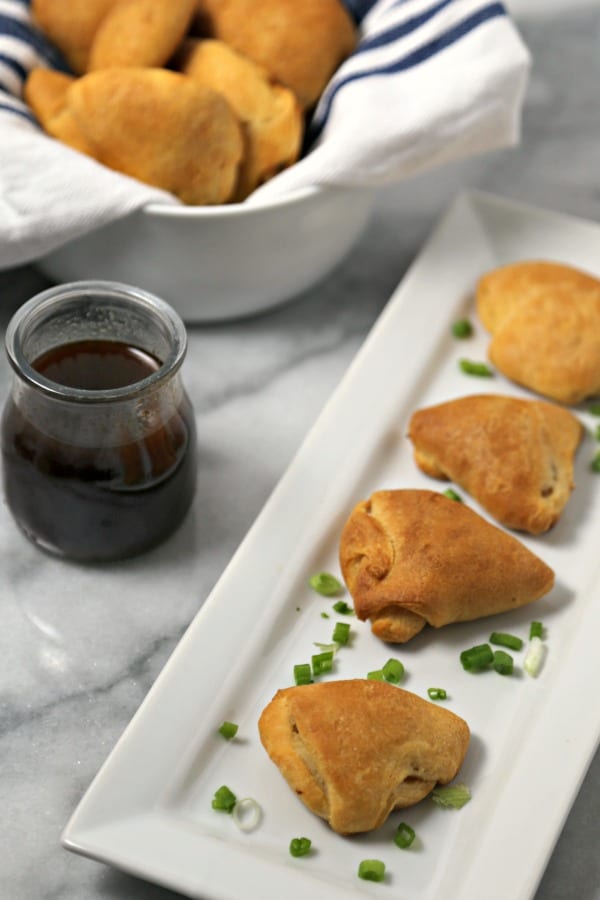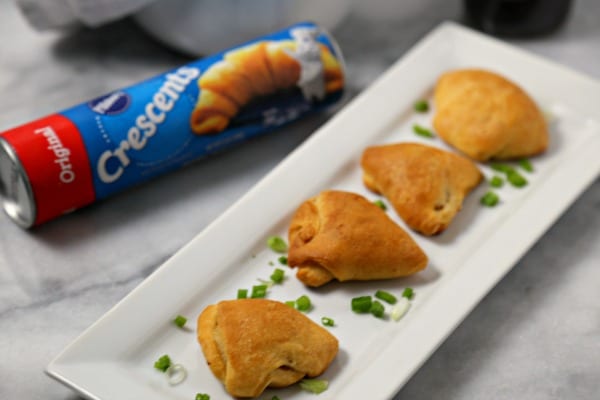 Aly M. Cleary
Yields 30
Kalua Pork Bites With Homemade Pineapple Teriyaki Sauce
Kalua Pork Bites with Homemade Pineapple Teriyaki Sauce is a party favorite and perfect for a Hawaiian holiday! Tender Kalua pork, pineapple & ginger are nestled in Pillsbury Crescents for the perfect party bite!
45 minPrep Time
8 hr, 15 Cook Time
9 hrTotal Time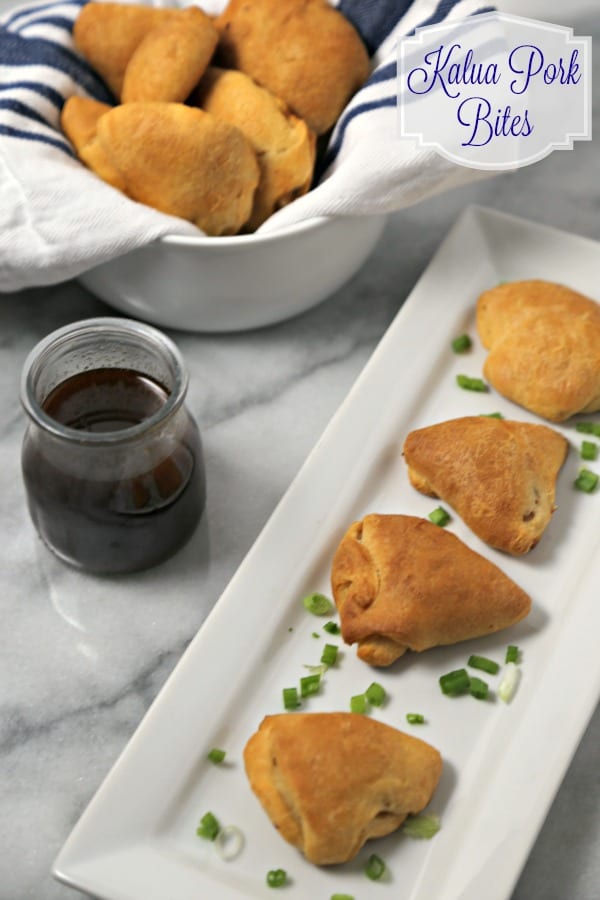 Ingredients
For the Kalua Pork:
2 teaspoons of vegetable oil
3 pounds of boneless pork shoulder
1 tablespoon of Hawaiian red salt or coarse kosher salt
2 teaspoons of ONO Hawaiian seasoning (optional)
1 tablespoon of liquid smoke
1/4 cup of water
For the Homemade Pineapple Teriyaki Sauce:
3/4 cup of low sodium soy sauce
2/3 cup of pineapple juice
1/2 cup of brown sugar
1/3 cup of fresh pineapple, finely diced
3/4 teaspoon of freshly grated ginger
2 cloves of garlic, finely minced or grated
1/8 teaspoon of red pepper flakes
For the Kalua Pork Bites:
2 cups of prepared Kalua Pork, chilled or at room temperature
1/3 cup of fresh pineapple, finely diced
3 green onions, green and white parts, diced
2 teaspoons of finely minced shallot (optional)
1 clove of garlic, minced
1/2 teaspoon of fresh ginger, grated
1/4 cup of Homemade Pineapple Teriyaki Sauce
2 tubes of Pillsbury Crescents
Instructions
To make the Kalua Pork:
Pierce the pork shoulder with a knife so that there are little pockets throughout the meat so that the flavoring can soak in while cooking.
Line a slow cooker with foil so that it overhangs on all sides.
In a large nonstick skillet, add the vegetable oil and heat over medium high heat.
Add the pork shoulder and brown on all sides.
Rub the pork shoulder with the Hawaiian red salt and ONO seasoning (if using) and place the pork shoulder in the foil lined slow cooker.
Add the liquid smoke and 1/4 cup of water.
Fold the foil over the pork so that it is sealed up tight. You want to create an "emu oven" like effect where the pork essentially steams while cooking in the slow cooker. I also add another piece of foil over the top between the cover of the slow cooker and the pork so that it gets an added steam barrier.
Set to Low and cook for 8 hours.
Remove from the slow cooker and shred the pork with two forks. Discard any fat and you can moisten the Kalua pork with any of the juices that collect at the bottom.
Let cool.
To make the Homemade Pineapple Teriyaki Sauce:
In a heavy bottomed saucepan over medium high heat, whisk together the soy sauce, pineapple juice, brown sugar, fresh pineapple, ginger, garlic and red pepper flakes.
Bring the mixture to a boil and then reduce to a simmer for about 7 minutes.
Blend everything with an immersion blender and let simmer for another 4 minutes until it thickens.
Remove from the heat and let cool.
To make the Kalua Pork Bites:
In a large bowl, fold together the Kalua pork, fresh pineapple, diced green onions, minced shallot, garlic, ginger and the Homemade Pineapple Teriyaki Sauce. Set aside.
Roll out a tube of the Pillsbury Crescents and with a rolling pin, roll out the dough a bit thinner, making that the seams fuse together. If the seams reappear, just pinch the dough together. Easy peasy!
Cut the dough into four rectangles, lengthwise and cut across twice, making 15 squares.
Place a little bit of the filling in the center of each square and fold the dough into a triangle-esque shape, pinching the edges together so the filling doesn't escape.
Place on a parchment lined baking sheet.
Continue the same with the next roll of Pillsbury Crescents.
Let the baking sheets chill in the fridge for about an hour or in the freezer for 15 minutes.
Heat the oven to 350 degrees F.
When you are ready to bake, place the sheets in the oven and bake for 15 – 18 minutes, until golden brown.
Let cool on a wire rack and serve the Kalua Pork Bites with the Homemade Pineapple Teriyaki Sauce.
Enjoy!
Notes
You can always prepare the Kalua Pork 2 days ahead and let it chill in the refrigerator until you are ready to make these lovelies. Just reserve 2 cups of the Kalua Pork for this recipe.
7.8.1.2
65
https://cookinginstilettos.com/kalua-pork-bites-homemade-pineapple-teriyaki-sauce/