Thinking back, Triscuits have always been a favorite snack of mine. I remember how my Bampa always had a box on his back kitchen counter (along with his favorite pecan cookies). There was always a box in our pantry at home and, for me, I liked my triscuits either with some cheddar cheese or some spicy mustard (don't judge – I was 9).
Triscuits have recently came out with a new line of crackers that are made with real foods like sweet potatoes, brown rice and red beans. When I was approached to "think outside the box" and play with Triscuits in the kitchen, I starting thinking of easy weeknight meals and how I could incorporate them into the mix. One tried and true is an oven "fried" aka crusted chicken which I normally make with panko but when I started looking at the flavors of the new Triscuits, I immediately gravitated to the Brown Rice Baked with Sweet Potato Triscuits with the Roasted Sweet Onion flavor. A few trusty spices to add a bit more zing and I wound up with a new and improved tried and true that was such a hit that I know it will be in my go-to weeknight meals.
On to the recipe:
Gather the ingredients
Check out some of the new Triscuit flavors
Prepping the Triscuit Coating Mixture
Time to soak in the buttermilk
Time to head to the oven
Now – don't you want a bite?
TRISCUIT CRUSTED CHICKEN
Triscuit Crusted Chicken – Perfect for Easy Weeknight Dinners #TriscuitRealFoods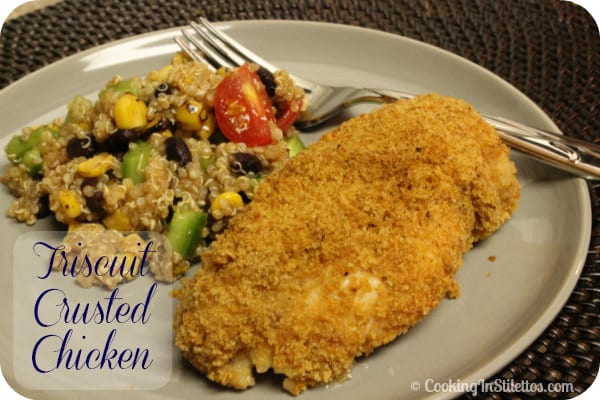 Ingredients
About 30-35 Triscuits (Brown Rice Baked With Sweet Potato / Roasted Onion)
1/8 – 1/4 teaspoon of cayenne pepper (I'm a wimp – I went with 1/8)
1/2 teaspoon of garlic powder
1 teaspoon of smoked paprika
4 – 6 skinless boneless chicken breasts
1 1/4 cup of buttermilk
2 tablespoons of Dijon mustard
1/2 teaspoon of salt
Non-stick cooking spray (or a spray oil mister)
Instructions
Preheat the oven to 375 degrees F.
Lightly spray a cooking sheet with non-stick cooking spray or oil and set aside.
In a food processor or Vitamix, grind the Triscuit crackers to a fine crumb.
In a shallow baking dish, mix the Triscuit cracker crumbs with the cayenne pepper, the garlic powder and smoked paprika.
In another shallow baking dish or bowl, mix the buttermilk, Dijon mustard, salt and pepper and add the chicken.
Let soak for a few minutes.
Make sure the chicken is coated thoroughly with the buttermilk mixture, remove and dip into the cracker coating.
Coat the chicken breasts thoroughly, packing the crumbs onto the chicken.
Place on the baking sheet and proceed to do the same with the remaining chicken.
If you have a spray oil mister, lightly spray the chicken with a bit of oil or lightly drizzle with a bit of olive oil.
Bake for 45 – 50 minutes until the chicken is done and the juices run clear.
Enjoy!
7.8.1.2
331
https://cookinginstilettos.com/triscuit-crusted-chicken-perfect-for-easy-weeknight-dinners-triscuitrealfoods/