There are a few components that take this salad from ordinary to extraordinary.  Not only does it have a southwestern spice rub that gives the chicken va va voom factor, but also has a honey lime vinaigrette that is drizzled over the savory grilled veggies adding a spicy sweetness to the mix. I was going to grill almost everything, including the romaine, but when I pulled the onions, peppers, corn and chicken off the grill and left the top open so I could grab the romaine lettuce off of the table to put it on the grill, I encountered a bit of a problem.  Much like a fighter pilot – one lone red beetle, lured by the spicy smell of some southwestern spice rub that remained on the grill grates, dove down and landed splat right in the center of the grill. I decided that was a sign to not grill the romaine and give the beetle a moment of silence as I closed the grill lid and retreated back to the kitchen, crisp romaine in hand.
Flustered by the kamikaze beetle, I assembled the salad, tossing the chopped romaine with the grilled onions, peppers, and fresh Jersey corn. I tossed some black beans into the mix, added the juicy spicy grilled chicken and drizzled over the honey lime vinaigrette. A few snaps of this lovely and dinner was served.  After the salad was plated and served, I remembered that I forgot to add the queso fresco and for this cheese loving gal to forget the cheese, you know that the salad was THAT good.
Now – if you want to add queso fresco or even some cheddar or monterey jack cheese, feel free. As for me – next time I make this salad (and I can guarantee I will be making this salad rather often), I may not even add the cheese. One thing I will say – Liz's recipe, like all of her others was flawless. When you are looking for the perfect summer salad, make this Grilled Southwestern Chicken Salad. 
Just beware of grill-diving beetles.
On to the recipe:
Gather your ingredients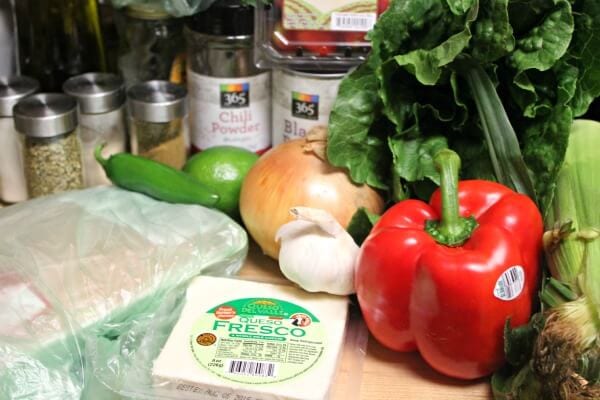 Making the Southwestern Spice Rub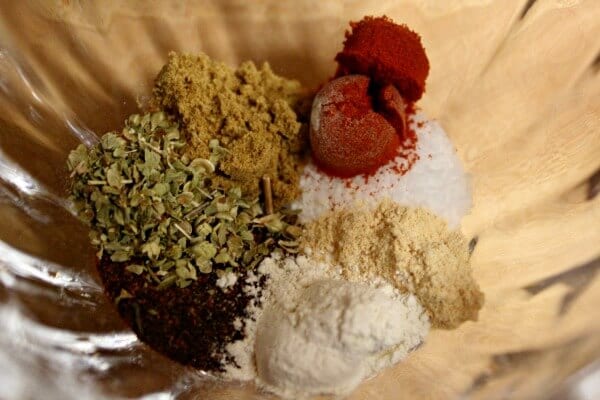 Adding a bit of zesty southwestern spice to some chicken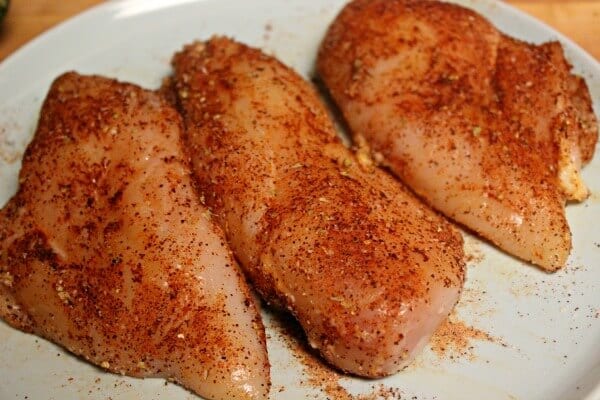 and firing up the grill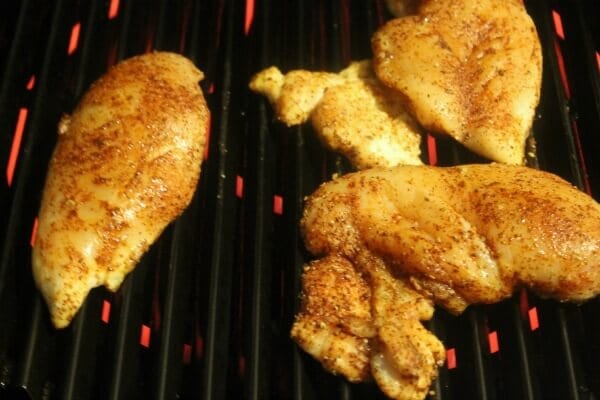 Freshly grilled veggies ready for their debut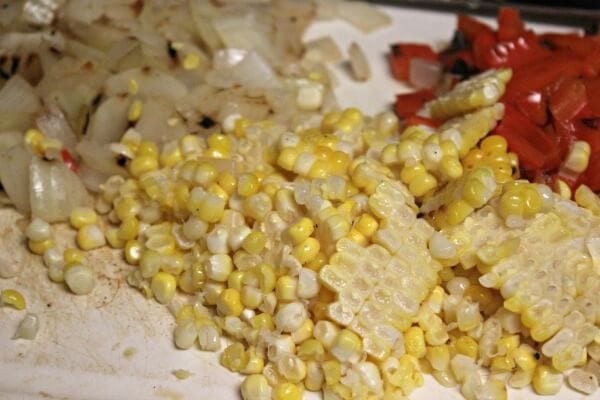 Now – doesn't this look like the perfect summer salad.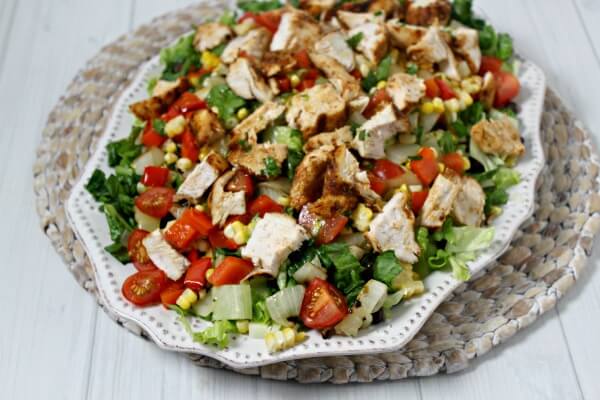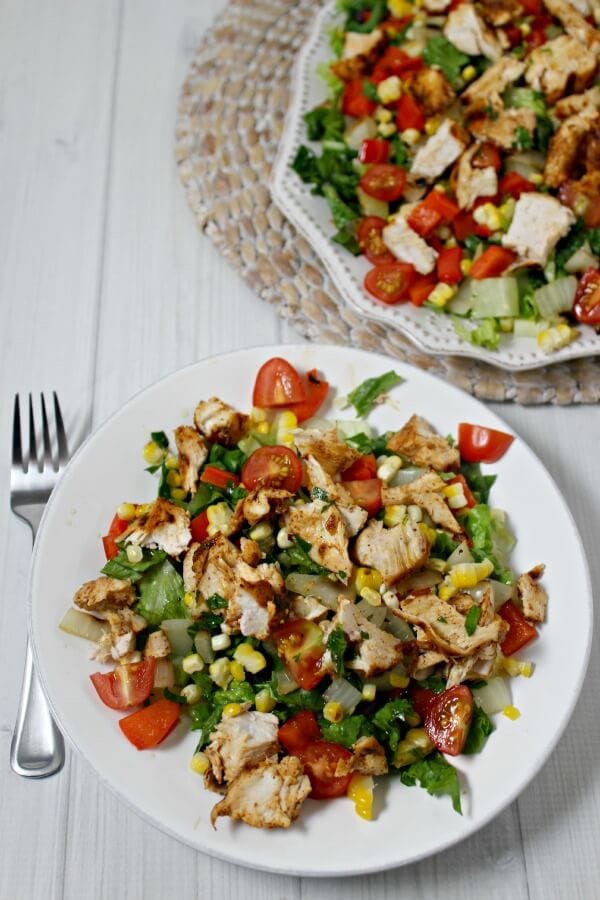 Slightly adapted from That Skinny Chick Can Bake
Yields 4
Grilled Southwestern Chicken Salad
This Grilled Southwestern Chicken Salad is packed with flavor – juicy spice rubbed chicken is tossed with freshly grilled veggies, romaine lettuce and drizzled with a honey lime vinaigrette. This will be your go-to summer salad.
30 minPrep Time
20 minCook Time
50 minTotal Time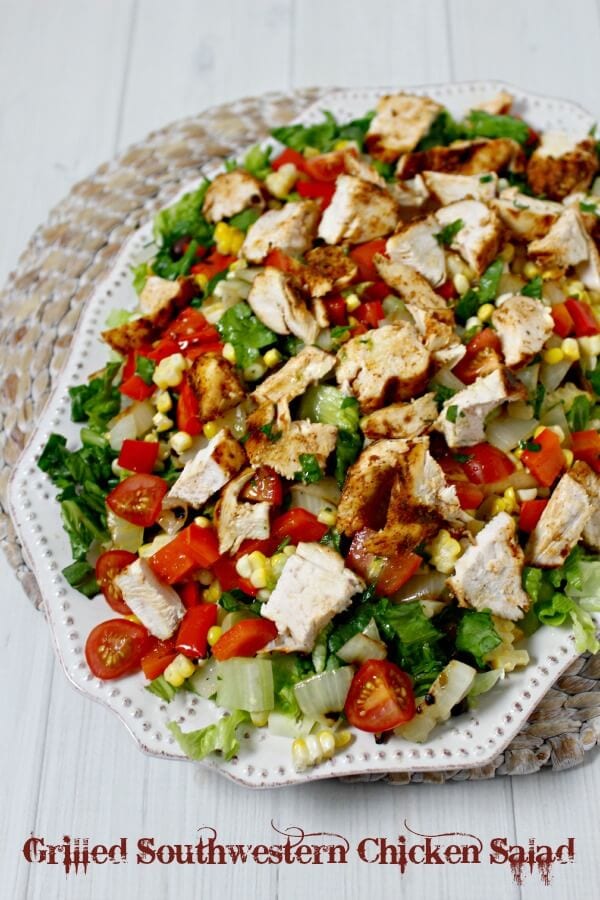 Ingredients
FOR THE SPICE RUB:

1 teaspoon of kosher salt
1 teaspoon of chili powder
1/2 teaspoon of ground cumin
1/2 teaspoon of onion powder
1/2 teaspoon of smoked paprika
1/4 teaspoon of garlic powder
1/4 teaspoon of dried oregano
1/4 teaspoon of freshly ground black pepper

FOR THE HONEY LIME VINAIGRETTE:

Zest and juice of 1 lime
1/4 cup of extra virgin olive oil
2 tablespoons of honey
2 tablespoons of finely diced cilantro (or parsley if you aren't a cilantro fan)
1 garlic clove, finely minced
1/2 teaspoon of minced jalepeno or pinch of cayenne pepper (for spice wusses like moi)
Salt and freshly ground pepper to taste

FOR THE SALAD:

4 boneless skinless chicken breasts
1 tablespoon of canola oil
1 red pepper, seeded and sliced into large pieces
1 small vidalia onion, sliced into large slices
2 ears of fresh corn, shucked and silks removed
1 large head of romaine lettuce, washed, dried and thinly sliced
1 cup of canned black beans, rinsed well
Cherry or grape tomatoes, sliced and quartered (if large)
Queso Fresco or your favorite cheese, crumbled or shredded (optional)
Instructions
Heat your grill.

TO MAKE THE SPICE RUB:

In a small bowl, whisk together the kosher salt, chili powder, cumin, onion powder, smoked paprika, garlic powder, dried oregano, and freshly cracked black pepper. Set aside while you make the vinaigrette.

TO MAKE THE VINAIGRETTE:

In a bowl, whisk together the lime zest, lime juice, olive oil, honey, chopped cilantro (or parsley), minced jalepeno or cayenne pepper, and garlic until everything is mixed well. Taste for seasoning and add salt and pepper as needed. Set aside.

TO MAKE THE SALAD:

Rub the chicken breasts with the southwestern spice rub. Make sure the spice rub gets on all sides and drizzle with a small amount of canola oil.
Place the chicken on the grill and cook until cooked through – about 7 – 10 minutes a side depending on the thickness of the breast.
While the chicken is grilling, prepare your veggies for grilling.
In a large bowl, toss together the red pepper slices, sliced onion and ears of corn with the canola oil.
Place the veggies on the grill, making sure to turn after 5 – 7 minutes.
When everything is grilled and toasty, remove from the grill.
Let the chicken rest while you prepare the veggies.
Chop up the grilled red pepper slices into a small dice, along with the grilled onion. Remove the corn kernels from the corn cobs and set aside.
To a large serving platter or bowl, add the chopped romaine lettuce.
Add the black beans, chopped grilled veggies and quartered cherry or grape tomatoes.
Slice the chicken into small pieces and toss with the veggies.
Drizzle with the honey lime vinaigrette and add crumbled Queso Fresco or your favorite cheese.
Enjoy!
7.8.1.2
158
https://cookinginstilettos.com/grilled-southwestern-chicken-salad/