Have you ever made cheese from scratch? What's your favorite foodie DIY?
Now, on to the recipe:
Gather the Ingredients
Set aside your tools: a large mixing bowl, a mesh strainer and some cheesecloth.

The magic ingredient that turns milk to cheese: lemon juice 
Time to add the lemon juice to the milk mixture and…
Watch the curds begin to form
Time to ladle the mixture into the strainer
End result: luscious creamy homemade ricotta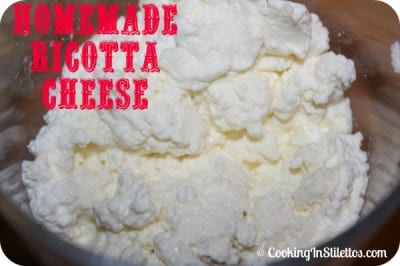 Ingredients
8 cups of whole milk (preferably organic)
1 cup of heavy cream
Juice from 1 lemon (about 3 tablespoons)
1 1/8 teaspoon of kosher salt
Instructions
In a large saucepan, add the milk, cream and salt and bring to a boil over medium heat, make sure to stir so that it doesn't burn.
While the milk mixture is coming to a boil, place a strainer over a large mixing bowl and line with cheesecloth. Set aside.
When the milk mixture comes to a slight boil, add the lemon juice, turn the heat to a slight simmer and continue to stir for a couple of minutes as the curds begin to form.
Pour or ladle the curds and whey into the strainer and allow the mixture to drain for an hour or two, until the liquid is gone and you are left with a creamy ricotta cheese mixture.
Taste for seasonings and add more salt if needed.
Discard the whey (if you don't have another use for it) and you can either refrigerate the ricotta cheese mixture or use immediately.
7.8.1.2
359
https://cookinginstilettos.com/homemade-ricotta/