This Fresh Cucumber Salad, packed with crisp summer produce and tossed with a lemony herb vinaigrette, is perfect for summer entertaining.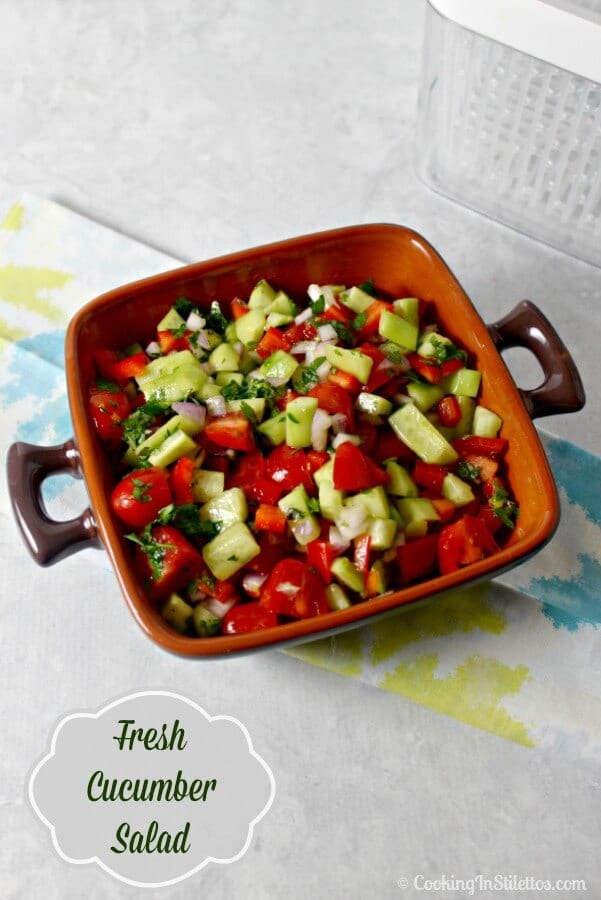 Disclosure: I was sent an OXO Greensaver pictured above to assist with the post as well as fresh cucumbers from Melissa's Produce. I was not compensated for this post. As always, my opinions are my own.  In addition, this post may contain affiliate links to products I adore and trust in my kitchen.  Thank you for supporting Cooking In Stilettos.

I have the perfect picnic salad that y'all are going to love today – a Fresh Cucumber Salad that will have your friends and family swooning!
One thing I adore about the summer is the bountiful fresh produce to be found everywhere – whether it's at the local grocery store, the farmstands that are on the roadsides or farmer's market.  There's so much culinary inspiration to be found.  One thing I do not like – my small-ish apartment fridge that can get packed to the brim with ingredients, various dishes or recipe components and the day to day.  I often joke that it sometimes can be "Jenga" when you open the door so I tend to proceed with caution.
One thing I detest about my fridge – if something goes wonky, it can affect everything.  Fresh berries sometimes turn quickly which can be the sounding bell for produce thanks to ethalyne gas.  Ethalyne gas tends to cause produce to ripen quickly, some quicker than others.  So – if you are like me and tend to shop once a week, guaranteed there can be issues from time to time.
So – when OXO sent me their new Greensaver container to play with along with some fresh cucumbers from Melissa's Produce, I fell in love.  I promptly ordered a couple more for berries, tomatoes and greens and it's been less Jenga shenanigans in my fridge and more organization.  Having a more organized fridge makes this gal VERY happy.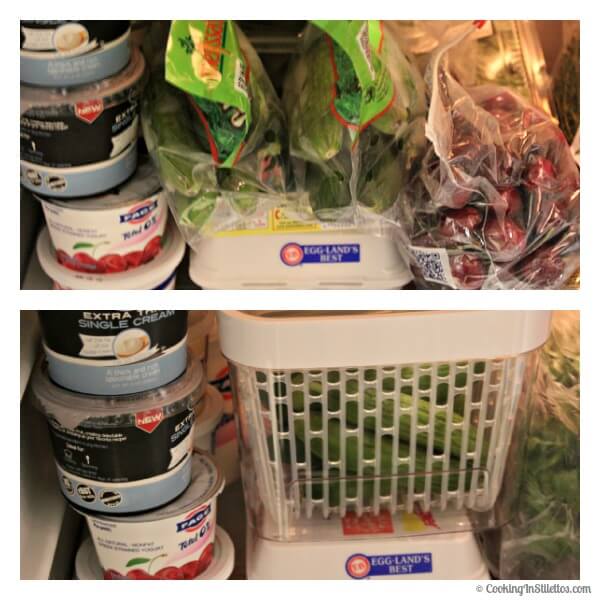 I'm able to see the ingredients, they are able to breath and you can adjust the ventilation.   Having learned that most households waste about 25% of their produce, I was happy to see a product that can help reduce the waste and keep more money in the wallet.  Plus – with the ventilation and the carbon filters that are part of the Greensaver products, moisture and other factors that can rot veggies are no longer a factor.   My fridge looks so swanky with these lovelies holding my fresh fruits and veggies.  Now – I just need to figure out how to organize the cheese & dairy overflow.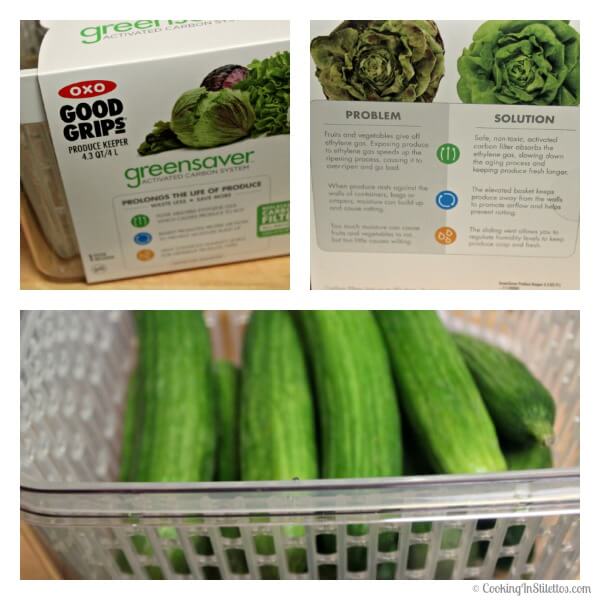 Melissa's Produce has some of the freshest produce around.  They sent some of their baby cucumbers to go with the OXO Greensaver so I decided to make something that screams summer in my household – a fresh cucumber salad.  One good thing to note – my cucumbers were fresh a week later much due to the fabulousness that is the OXO Greensaver.  Consider me a happy happy camper.
Let me tell you – I have a thing for summer cucumbers.  As far back as I can remember,  my mother used to serve cucumbers that were marinated in a touch of vinegar.  It was always cool and refreshing and I remember enjoying the summer cucumbers out on our back deck.  This salad brings the flavors of summer together and is tossed with a lemony herb vinaigrette that you will find yourself making often.  You can add a bit of crumbly ricotta salata to it to add a bit more heft and it's perfect either right away or the next day for lunch.  One key is to salt the cucumbers to make sure that you pull out that water that can make them a bit mushy the next day.  This is the ultimate fresh cucumber salad.
On to the recipe:
Gather your ingredients
Let's chop up these baby cucumbers shall we?
Adding some of the lemony herb vinaigrette
Now – tell me you wouldn't love this?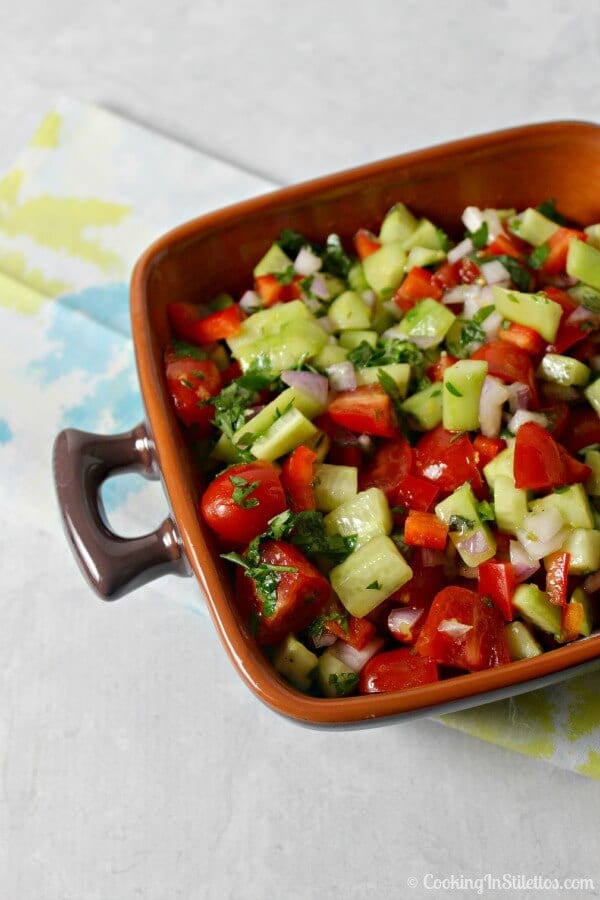 Print
Fresh Cucumber Salad
This fresh Cucumber Salad is perfect for summer. Fresh baby cucumbers are tossed with peppers, red onion and cherry tomatoes and a lemony herb vinaigrette.
Author:
Prep Time:

30 minutes

Total Time:

30 minutes

Yield:

4-6

Category:

Salad

Cuisine:

American
Ingredients
For the salad:
5 small baby cucumbers, peeled and diced into 1/3″ pieces
1 large red pepper, seeded and diced
1/2 a small red onion, diced
1/2 a pint of cherry tomatoes, halved
2 tablespoons of flat leaf Italian parsley, finely chopped
For the vinaigrette:
Zest and juice of one large lemon
1/4 cup of olive oil
1 tablespoon of thyme, chopped
2 tablespoons of basil, finely chopped
1/2 teaspoon of champagne vinegar
1/2 teaspoon of kosher salt
1/4 teaspoon of freshly cracked black pepper
Instructions
In a small colander over a bowl, salt the cucumbers with about 1/2 teaspoon of kosher salt. Let sit for 30 minutes until the water drains. Rinse and set aside.
In a large bowl, toss together the diced red pepper, diced red onion, cherry tomatoes, chopped parsley and the rinsed cucumbers.
In a small bowl, whisk together the zest and juice of a large lemon, olive oil, thyme, basil, champagne vinegar, salt and pepper until everything is perfectly mixed.
Toss some of the vinaigrette with the cucumber mixture until everything is coated. Add more vinaigrette if needed.
My Favorite Finds for this Recipe:

Did you enjoy this post?
| | |
| --- | --- |
| Share the love | Get free updates |