When I was asked to try the new Veggie Snacks from Green Giant, I knew I had to come up with a killer dip that would compliment their flavors. Chips on their own are great but chips with dip – even better.
These Green Giant Veggie Snacks are so full of flavor and are a new favorite around the house. Plus – you know how I am about labels that I need a dictionary to decipher – thankfully, these chips don't need Sheldon Cooper to translate. Final determination – these Green Giant Veggie Snacks will be taking place of the chip that starts with a "D" that has been evicted from my pantry permanently.
I was sent the Roasted Vegetable Tortilla Chips and the Barbecue Mulitgrain Chips so to go with these chips, I decided to play on the roasted veggie flavor and made a spicy sweet Roasted Red Pepper Dip. To cut down on the calories – I took a page from Shaina's book and subbed most of the sour cream/cream cheese that would normally be found in a dip like this for Greek yogurt. I kept only a bit of the sour cream for richness but you could make it with just yogurt if you would like. Everything can get whirled in the blender or food processor and is together in a hot minute. Let it chill in the fridge for a spell and you will have a thick and creamy dip that packs a punch and is a perfect compliment to these Green Giant Veggie Snacks.
Make this Roasted Red Pepper Dip for your next soiree – just don't expect to have any leftovers – it's that good!
On to the recipe:
Gather the ingredients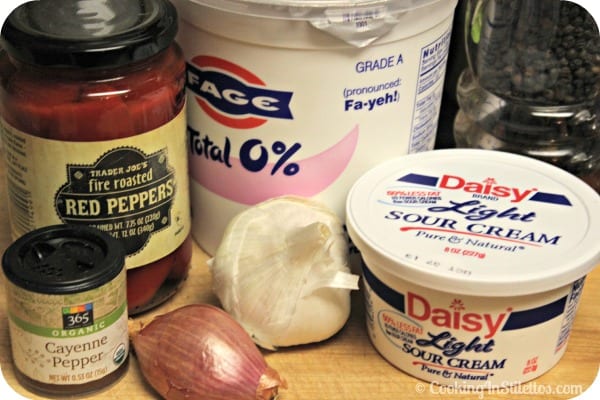 The peppers were no match for the Vitamix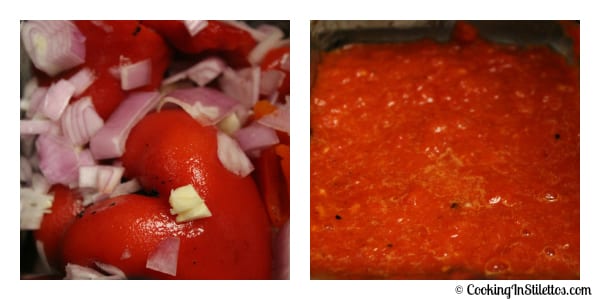 Which chip to try first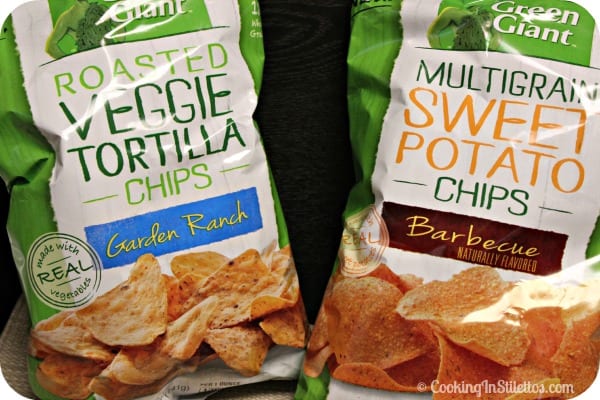 Wanna bite?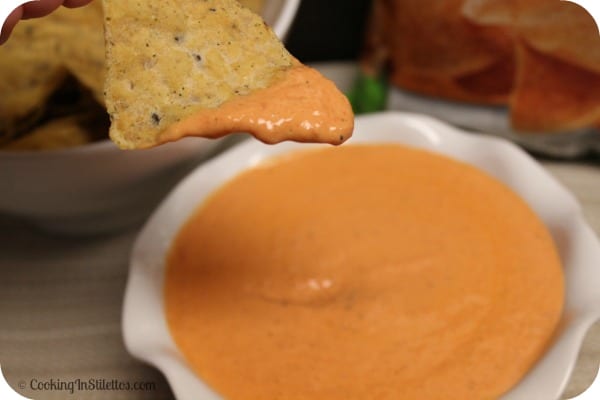 Aly M. Cleary
Yields 6
Tried and True: Roasted Red Pepper Dip
This easy Roasted Red Pepper Dip will have your guests clamoring for more and couldn't be easier to whisk up!
1 hr, 15 Prep Time
1 hr, 15 Total Time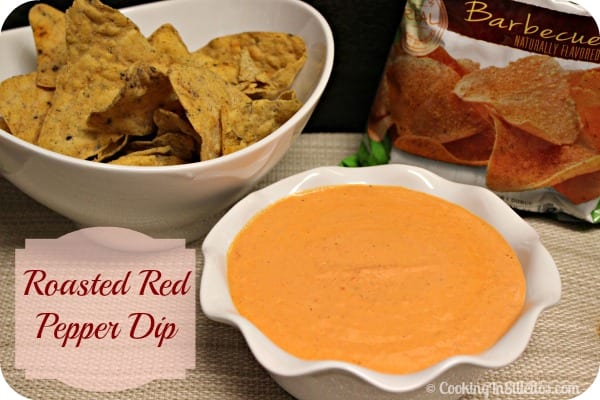 Ingredients
1 12 ounce jar of roasted red peppers, drained
1 shallot, diced
1 clove of garlic
1/8 teaspoon of cayenne pepper
3/4 cup of Greek non-fat yogurt
1/4 cup of sour cream
Salt and pepper to taste
Instructions
In a blender or food processor, add the roasted red peppers, diced shallot and minced garlic.
Let whirl for a minute until you have a smooth puree.
Add the cayenne pepper and pulse quickly.
Add the sour cream and Greek yogurt to the pepper puree and mix thoroughly.
Salt and pepper to taste.
Pour into a bowl and let chill for an hour or so.
Enjoy!
7.8.1.2
321
https://cookinginstilettos.com/roasted-red-pepper-dip/