I've been reading Ilona's Kitchen for quite some time and I love her "tell it like it is" attitude.  She is a true Jersey gal – and for this Philly gal, it's like talking to some of my fave people!  She's always got great recipes and if the recipes aren't "it" – she'll tell you and what she'd like to do to improve it.  She's said a few times that she's not a fan of chicken sausage but when I saw some roasted garlic chicken sausage at Trader Joe's, I knew that I had to make her Roasted Potatoes, Chicken Sausage and Peppers. 
Confession:  I will be making this again – it was the perfect quick to whip up meal – perfect for the busy weeknights I have been having.  The most effort was chopping everything up – the oven did all of the hard work.  The leftovers were perfect, whipped into a frittata the next day.  I only made a couple changes as I added a bit of smoked paprika to the mix and, as I didn't have rosemary, I used a bit of thyme.  Per her post's suggestion, I served them with some over easy eggs and *viola* rave reviews!
On to the recipe:
Gather the ingredients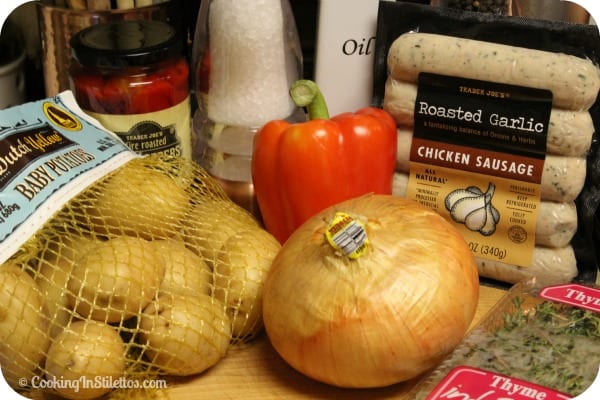 Make sure everything is mixed evenly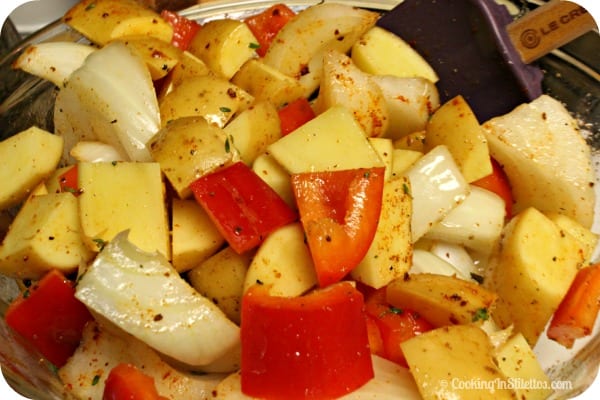 Chopping the Sausage – no fuss!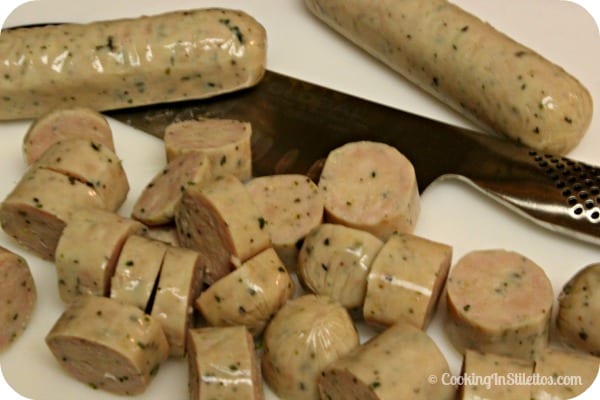 Learned a new tip – for an over easy egg, put a bit of water in the fry pan and cover.  Who knew?!?!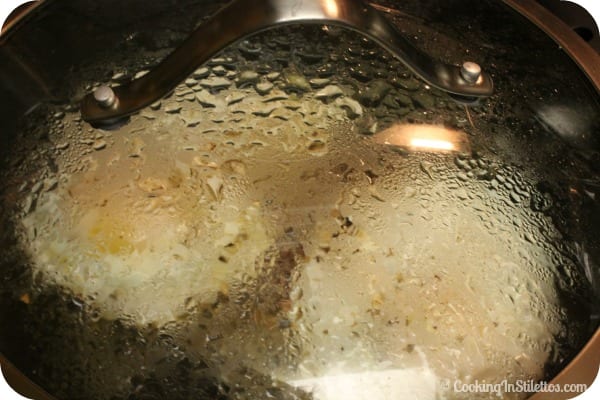 Easy weeknight meal!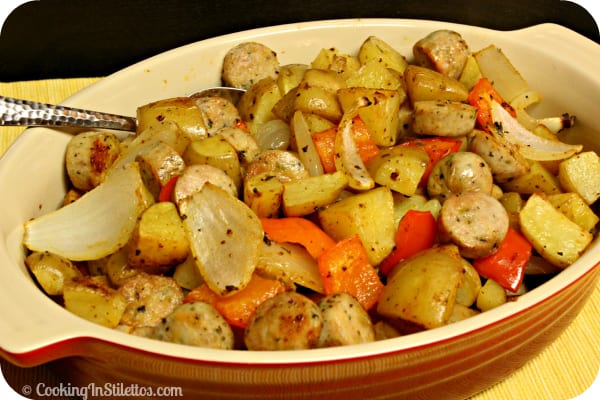 Yields 4
Secret Recipe Club: Roasted Potatoes, Chicken Sausage and Peppers
This easy dinner comes together quickly all in one pan. Garlic sausage tossed with spiced potatoes, peppers and onions. What's not to love?
5 minPrep Time
45 minCook Time
50 minTotal Time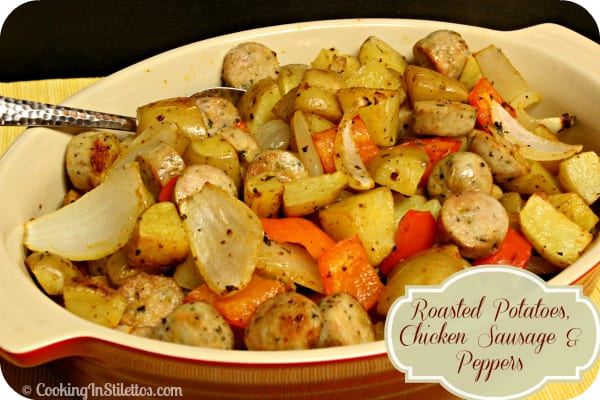 Ingredients
1 1/2 pounds of new potatoes
1 medium onion, chopped into large quarters and separated.
1 red bell pepper, cut into 1 inch pieces
3 roasted red peppers, sliced into large pieces.
3 teaspoons of extra virgin olive oil
kosher salt and fresh cracked pepper to taste
1 teaspoon of fresh thyme
1/2 teaspoon of smoked paprika
1/2 teaspoon of garlic powder
1 pound of Italian chicken sausage, with each link cut into 7 - 8 pieces
Optional: Serve with a sunny side up egg
Instructions
Preheat the oven to 375 degrees, F.
Spray a baking sheet with either olive oil spray or canola oil and set aside.
Cut the potatoes into 1" pieces.
In a large bowl, combine the potatoes, onions, red peppers, roasted red peppers, olive oil, salt, pepper, thyme, smoked paprika and garlic powder.
Make sure everything is coated evenly.
Pour the mixture onto the prepared baking sheet and place in the oven. Bake for 15 minutes, tossing occasionally to make sure nothing sticks.
After 15 minutes, add the sausage to the baking sheet and toss with the potatoes and vegetables.
Let the mixture continue to bake for 30 minutes and toss the mixture every 10 minutes or so to ensure that nothing burns.
Make sure the potatoes are cooked through and serve.
Enjoy!
7.8.1.2
327
https://cookinginstilettos.com/roasted-potatoes-chicken-sausage-and-peppers/