It's going to be a bit bacon-centric around these parts as we are celebrating all things #BaconMonth. I knew that if I was going to toss my stiletto in the proverbial bacon recipe ring, I had to bring something that was worthy of the kickoff day.  So, in honor of our hostess, Julie of Bread Booze Bacon, I brought these Bacon Bourbon Bread Pudding Muffins With Spiced Bourbon Syrup to the bacon party.
Whenever I'm entertaining, I love making either one showstopper dessert or breaking out my muffin tins for individual servings.  Bread pudding muffins are always a hit with my friends and family – it's comfort food with a bit of a twist.  I love making a rum version but decided to marry the sweet and savory for today's event with bourbon soaked dried cherries, a riff on my Sweetly Spiced Bacon and bourbon both in the custard and also in the syrup that drenched these lovelies.  Now – while I love my rum, after one bite of these, I decided these will be one of my holiday entertaining desserts, either using the extra large muffin tins as pictured here or just individual standard size muffin tins.  I have to warn you – don't "quality control" too much of the Sweetly Spiced Bacon or the plumped up boozy cherries – or make some extra just in case.
These Bacon Bourbon Bread Pudding Muffins with Spiced Bourbon Syrup are a chic spin on a comforting classic with a bit of a twist.  After all, bacon and bourbon are a match made in heaven and will have your friends and family buzzing about your ingenuity at your next soiree!
On to the recipe:
Gather your ingredients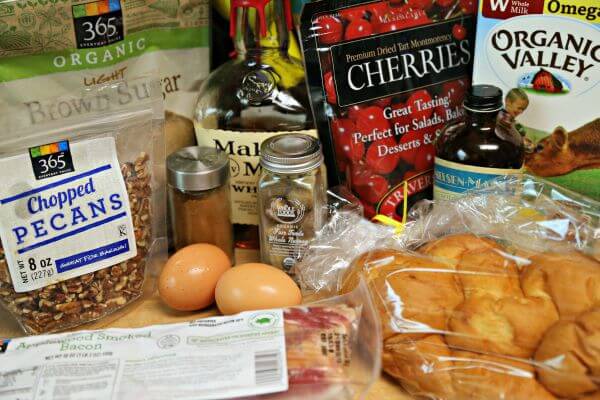 Let the cherries soak in a bit of bourbon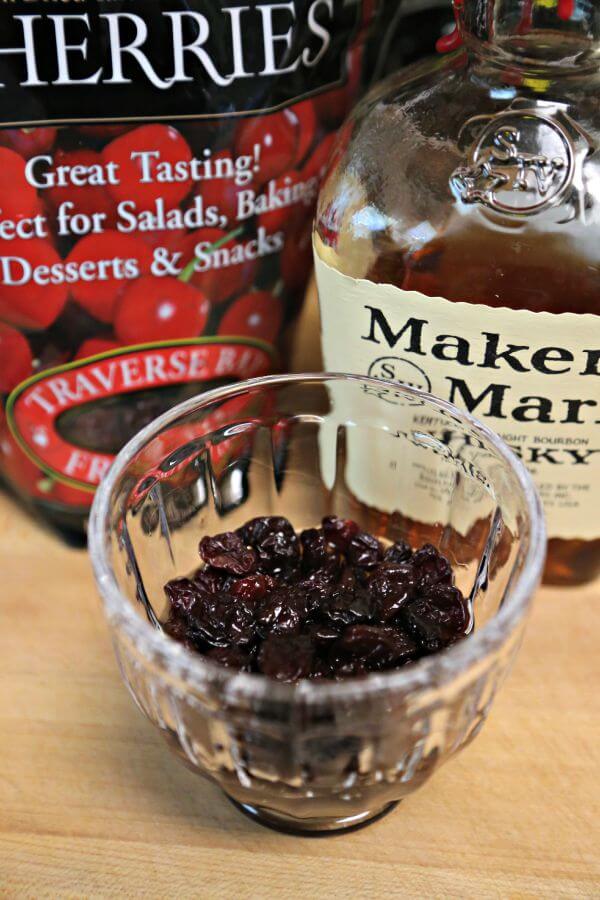 Is there anything better than some sweetly spaced bacon?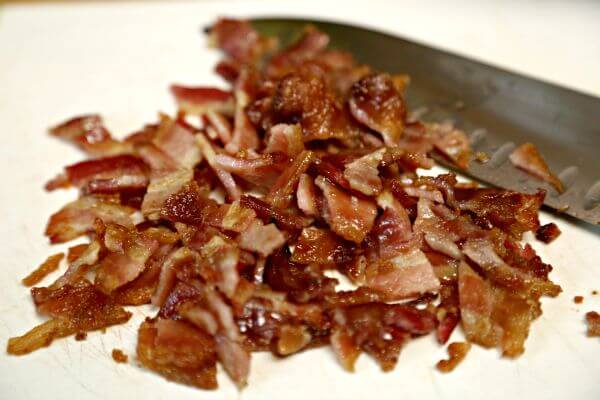 Everything ready to mix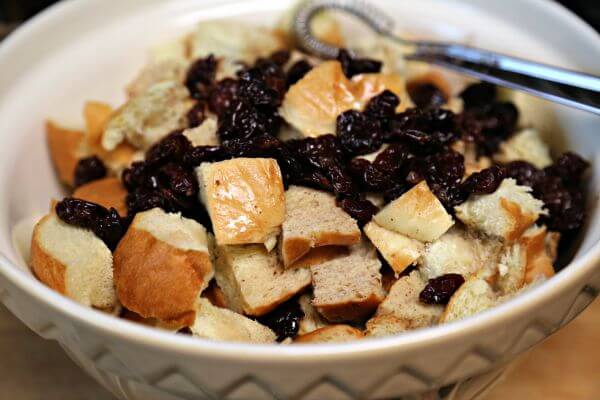 Puffed and glorious – right out of the oven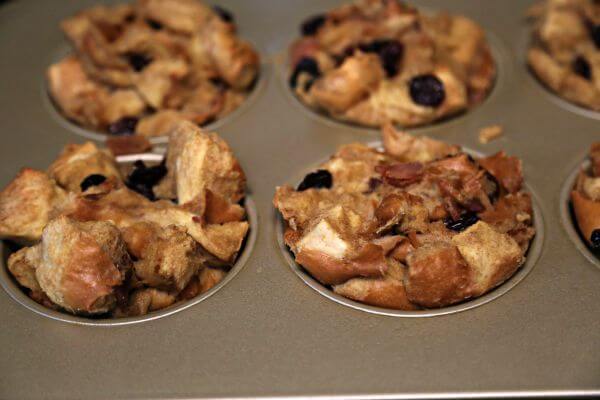 Now this, my friends, is the showstopper dessert – bacon, bourbon & boozy cherries, all drizzled with a spiced bourbon syrup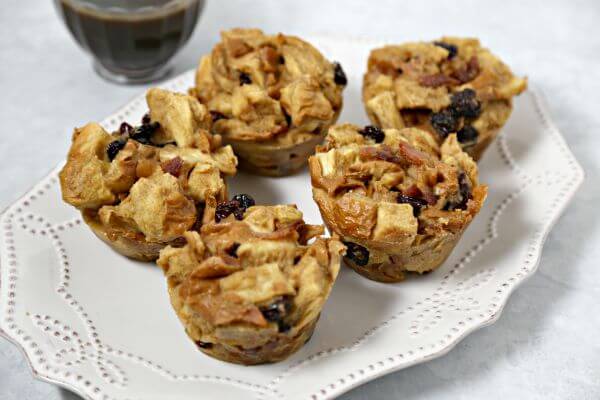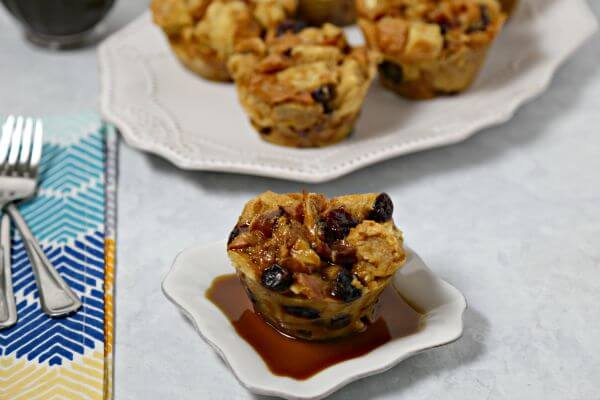 Aly M. Cleary
Yields 6
Bacon Bourbon Bread Pudding Muffins With Spiced Bourbon Syrup
These Bacon Bourbon Bread Pudding Muffins with Spiced Bourbon Syrup will be the ultimate dessert showstopper. Custard soaked challah studded with bourbon plumped cherries and sweetly spiced bacon and drizzled with a spiced bourbon syrup. How bad can that be?
30 minPrep Time
45 minCook Time
1 hr, 15 Total Time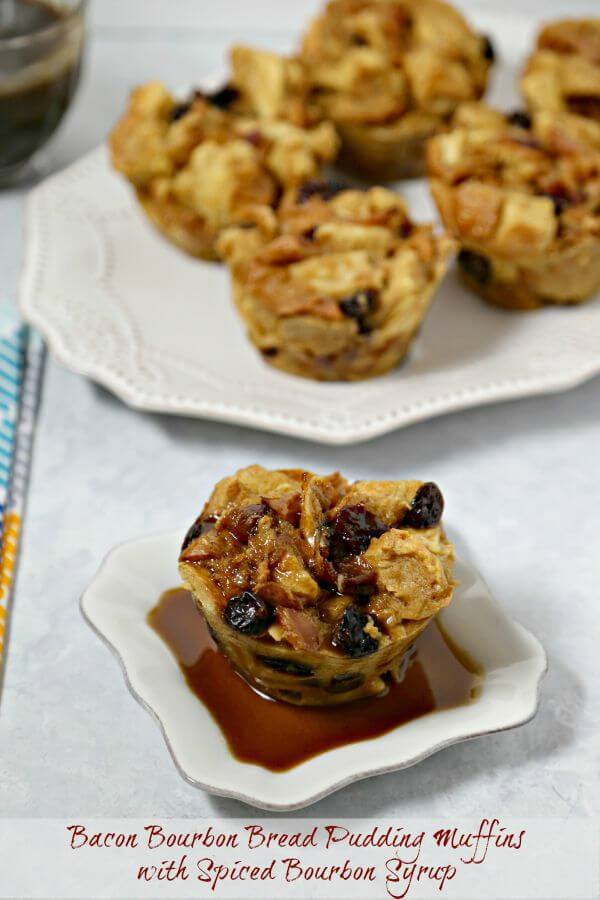 Ingredients
For the Sweetly Spiced Bacon:

5 strips of thick sliced bacon
2 tablespoons of brown sugar
Black pepper (optional but adds a nice savory note to complement the bacon)

For the Bread Pudding Muffins:

3/4 cup of dried cherries
1/3 cup of bourbon
2 eggs
2 cups of milk
1/2 cup of brown sugar
1 teaspoon of vanilla extract
1 teaspoon of ground cinnamon
1/4 teaspoon of freshly grated nutmeg
1/4 teaspoon of kosher salt
1 loaf of challah, cut into cubes

For the Spiced Bourbon Syrup:

1 cup of brown sugar
1 cup of water
2 tablespoons of heavy cream
2 tablespoons of bourbon
1/2 teaspoon of ground cinnamon
Instructions
To make the Sweetly Spiced Bacon:

Preheat the oven to 400 degrees f.
Line a baking sheet with foil and add a baking rack over the foil. Lightly spray with nonstick spray.
Line up the bacon on the rack and sprinkle over the brown sugar.
If using, add some freshly ground black pepper over it.
Bake for 20 minutes or so until everything is crisp and golden.
Let cool while you prepare the bread pudding mixture.

For the Bread Pudding Muffins:

Reduce the oven heat to 325 degrees F.
Spray an extra large muffin tin with nonstick spray and set aside.
In a small bowl, soak the dried cherries in the bourbon and allow them to plump up for about 10 minutes or so.
In a bowl, whisk together the eggs, milk and brown sugar until everything is dissolved and mixed thoroughly.
Add the vanilla extract, ground cinnamon, freshly grated nutmeg and kosher salt and whisk together.
To a large bowl, add the cubed challah and pour over the custard.
Chop up the cooled sweetly spiced bacon strips into small pieces and add to the custard mixture along with the soaked dried cherries and any bourbon remaining.
Stir together until everything is combined.
Using a large scoop, add the bread pudding mixture to each muffin cup.
Bake for about 25 minutes until everything is puffed and golden.
Let cool on a rack while you make the syrup.

For the Spiced Bourbon Syrup:

To a heavy bottomed saucepan, add the brown sugar and water. Whisk together to mix and then bring to a boil over medium high heat.
When the mixture has reduced to about half, about 7 to 10 minutes, remove from the heat and add the heavy cream.
Whisk together and then add the bourbon and cinnamon and whisk until everything is mixed together.
Serve over the Bacon Bourbon Bread Pudding Muffins and enjoy!
7.8.1.2
151
https://cookinginstilettos.com/bacon-bourbon-bread-pudding-muffins-with-spiced-bourbon-syrup-baconmonth/
Let's see what my favorite #BaconMonth participants brought to the table:
Maple Bacon Chocolate Chip Cookies
Bourbon Bacon Bread Pudding Muffins with Spiced Bourbon Syrup