I am a member of the Collective Bias® Social Fabric® Community. This shop has been compensated as part of a social shopper amplification for #CollectiveBias and its advertiser.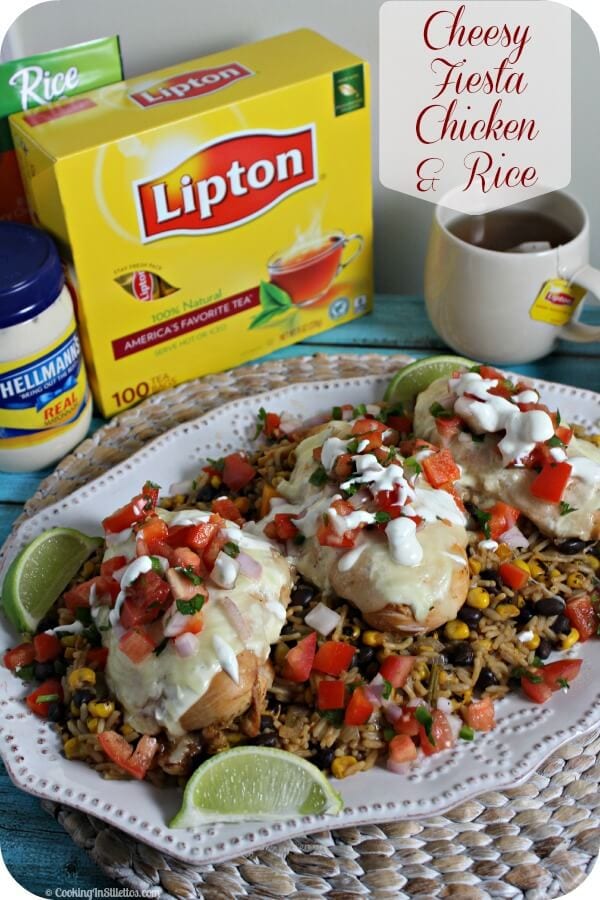 Recently, my family and I traveled to sunny San Clemente in Southern California for my cousin's wedding. It was a much-needed rest from the day-to-day and time with my family brought memories of my Nana and Bampa. Whenever I think of my Nana, I always remember her fondness for tea. Granted, there might have been a hot toddy or two but 9 times out of 10, it was a steaming cup of tea with the teabag wrapped around the handle that I remember. I would steal a sip every now and then until I was old enough to have a cup of my very own. Nowadays, when I am stressed or just need a break from coffee, I will get a cup of hot tea and it's like this wave of calm just hits. Ice tea is also a favorite, as I tend to keep some in the fridge but it's the hot tea I reach for when I just need that extra bit of calming warmth.
I was asked what food I would pair with my favorite cup of Lipton tea. It was a no-brainer – my favorite comfort food – chicken & rice – and a mug of steaming hot tea. I know – you are probably thinking "Aly – did you fall off your stilettos?" but trust me when I say, at least for me, it works. I love love LOVE Arroz Con Pollo and make it often in my household – mainly after work after a long day. Sometimes I do it from scratch, other times I break out a rice mix to save some time. I marinate the chicken with some limes, cook the rice with some onions and some veggies and *poof* there it is – a comfort dish that has me curling up on the couch with the Jr. SousPug. On the table within arm's reach is a large steaming hot cup of tea.
Inspired by my recent trip to California, I started thinking of something a bit more jazzy than my standard chicken & rice dish and I remembered a dish that I used to love at a chain restaurant which was essentially chicken with some cheese, tortilla strips and over some rice. It was a favorite of mine for a long time and while I haven't had it for a spell, I decided to make my spin on it, incorporating some of my favorite flavors.
I headed to the local Walmart and, after grabbing a box of Lipton tea for some ice tea for the holiday weekend, I spotted the Knorr rice mixes in a nearby aisle. I knew my chicken dish had to incorporate some of the fresh Spanish flavors that I loved in SoCal, so I grabbed a packet of the Spanish Rice, as well as some chicken rice for later (plus – they had some great recipes on the back for me to play with too!) The other thing I wanted to accent the dish was a Mexican crema – which is a thinned out sour cream sauce with a bit of lime action. That crema would also help anchor the cheese that was going to smother the chicken. I grabbed some Hellman's mayonnaise and it was back to the kitchen for some chopping action.
Everything paired together makes the dish sing – the marinated chicken, the rice, the homemade pico de gallo, the cheese and the lime crema – all work together to make a chicken dish your family will ask you to make over and over again.  This Cheesy Fiesta Chicken and Rice with Homemade Pico De Gallo is what's for dinner tonight!
On to the recipe:
First – let's shop– on the list – Lipton Tea, Knorrs Spanish Rice and some Hellman's Mayo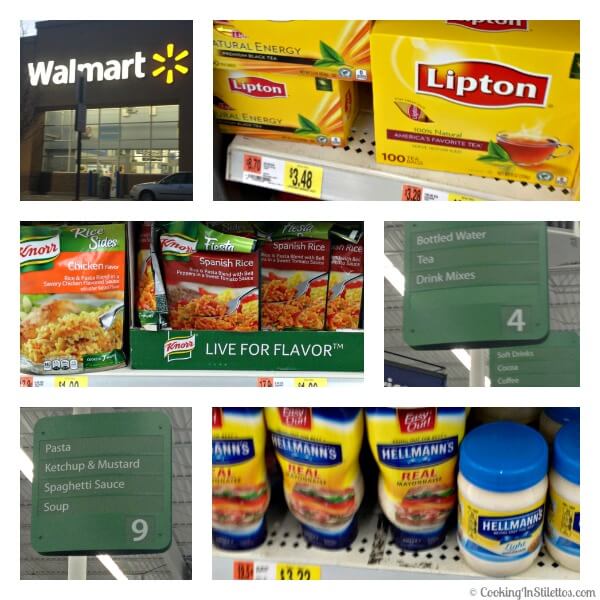 The #TeaRiffic Pairs (or trio)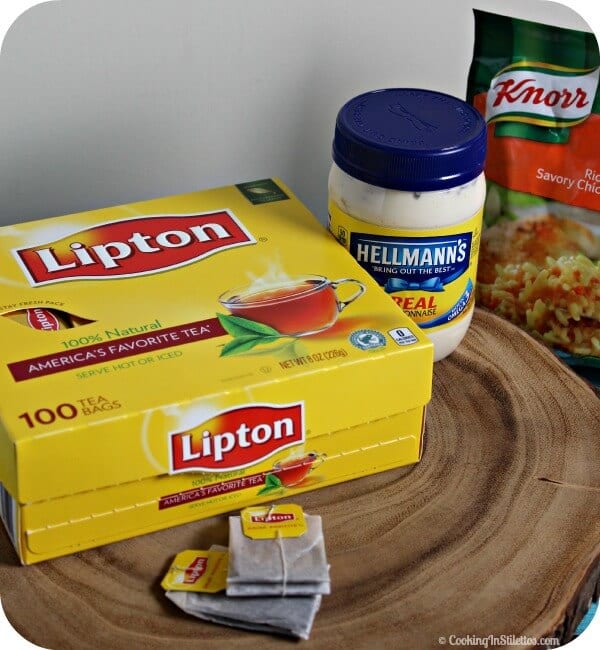 Gather the ingredients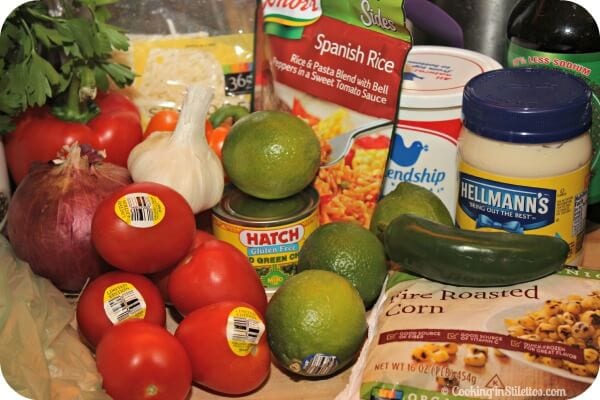 While the chicken is marinating, let's make homemade pico de gallo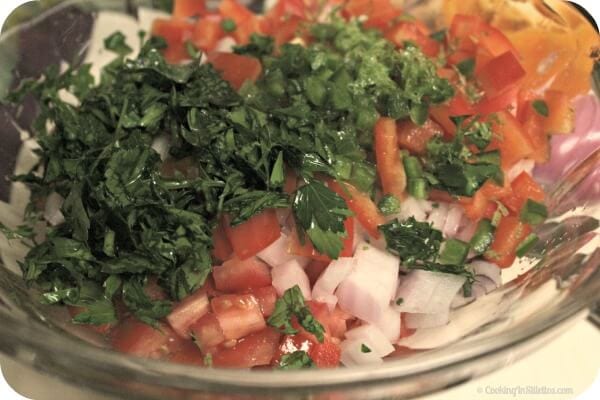 Marinated Chicken ready to bake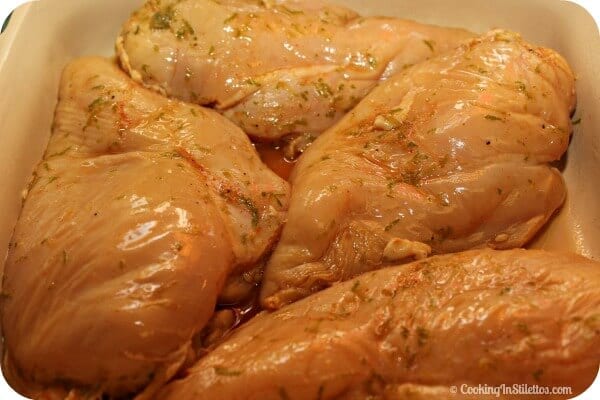 Let's whip up a batch of Spanish Rice but add our own spin to it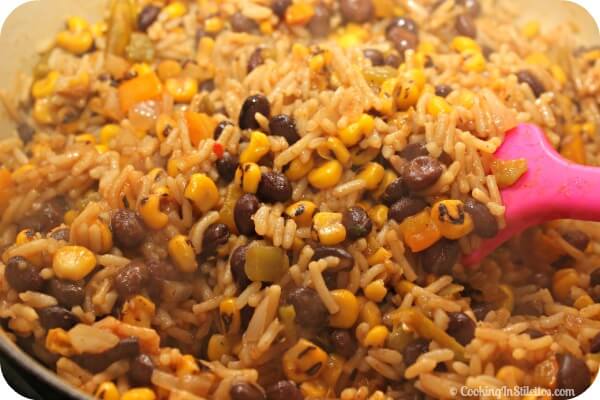 A bit of the lime crema anchors the Monterey jack cheese perfectly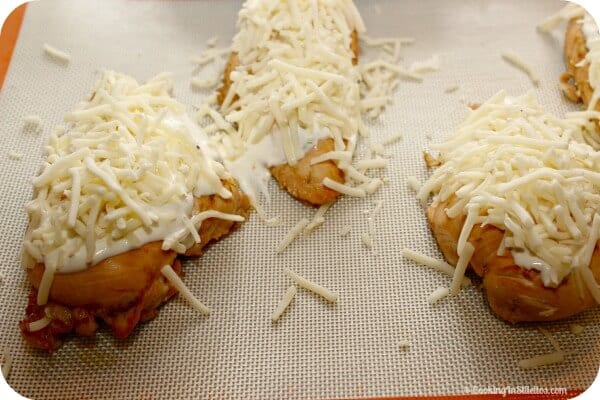 Now – this – this is the ultimate comfort food dish!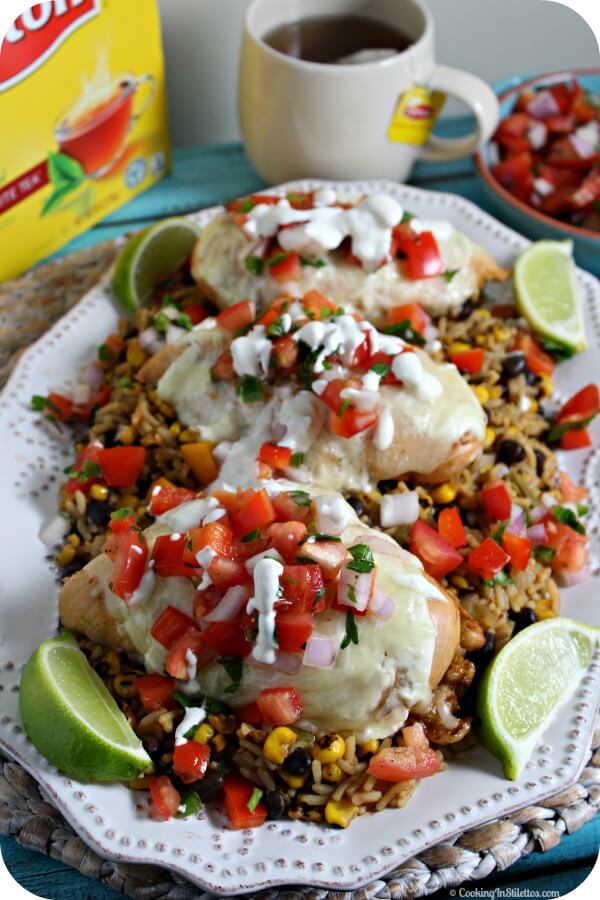 Grab a fork – it's time for dinner!
Cheesy Fiesta Chicken and Rice With Homemade Pico de Gallo
---
Ingredients
For the Chicken:

1/3 cup of soy sauce
Zest and juice of 3 limes
1 cup of water
3 cloves of garlic, minced or grated
1/2 teaspoon of smoked paprika
1/4 teaspoon of liquid smoke
1/2 teaspoon of freshly cracked black pepper
4 chicken breasts
1 cup of shredded Monterey jack cheese

For the Fresh Pico de Gallo:

6 roma tomatoes, deseeded and diced
1/2 a red onion, diced
1 red pepper, seeded and diced
1 jalapeño, seeded and diced
2 tablespoons of minced cilantro (or if you don't like cilantro, flat leaf parsley works well too)
Zest and Juice of one lime
Salt and Pepper to taste

For the Roasted Corn and Black Bean Fiesta Rice:

1 package of Knorrs Spanish Rice
2 1/4 cups of water
1/2 a red onion, diced
1 orange or red pepper, seeded and diced
1 clove of garlic, minced
1 can of black beans, drained and rinsed
1/2 can of green chilies, drained
1 1/2 - 2 cups of frozen fire roasted corn, thawed

For the Lime Crema:

1/4 cup of Hellman's Mayonnaise
1/4 cup of Sour Cream
Zest and juice of half a lime
1/8 teaspoon of smoked paprika
1/8 teaspoon of freshly cracked black pepper
1/4 teaspoon of salt
Directions
In a large plastic bag, add the soy sauce, lime zest and juice, water, garlic, smoked paprika, pepper and liquid smoke.
Whisk to mix.
Add the chicken breasts and let marinate for an hour or so.
While the chicken is marinating, make the Homemade Pico de Gallo.
In a large bowl, add the diced tomatoes, onion, red pepper, diced jalapeño, lime zest, cilantro (or parsley) and juice. Taste for seasoning and adjust accordingly.
Set aside and let the flavors marry.
Preheat the oven to 400 degrees F.
Lightly spray a large baking dish (9 x 13 would be perfect) with a bit of nonstick cooking spray.
Remove the chicken from the marinade and place in the baking dish.
Bake the chicken for about 20 – 25 minutes or so until the juices run clear.
While the chicken is baking, let's make the Roasted Corn and Black Bean Fiesta Rice.
To a medium Dutch oven or saucepan, add 1 tablespoon of olive oil and preheat over medium high heat.
Add the diced onions and peppers and sauté for 5 minutes or so until softened.
Add the garlic and sauté for another minute or so.
Add the black beans, roasted corn and green chilies. Stir to combine.
Add the Spanish rice packet and water. Stir to ensure everything is mixed.
Bring everything to a boil and then cover and reduce to a simmer.
Boil for about 7 – 10 minutes or so until the rice has absorbed the liquid.
Now – it's time to make the Lime Crema.
In a small bowl, whisk together the Hellman's mayonnaise, sour cream, lime zest and juice, smoked paprika, pepper and salt. Taste and adjust for seasoning.
When the chicken is done, remove from the oven and place the chicken on a baking sheet lined with a silpat or aluminum foil.
Brush a bit of the lime crema over the chicken breasts and top with some of the shredded Monterey jack cheese.
Return to the oven and bake for another couple of minutes, until the cheese melts.
Garnish the chicken with some of the pico de gallo and drizzle with a bit of lime crema.
Serve with the roasted corn and black bean fiesta rice and enjoy!
7.6.8
852
https://cookinginstilettos.com/cheesy-fiesta-chicken-and-rice-with-homemade-pico-de-gallo/
All images and content are © Cooking In Stilettos. Please do not republish without contacting us first. Thank you.
For some more inspiring ideas, check out the Lipton #TeaRifficPairs Pinterest board.  You can also find some more fab ideas at www.walmart.com/lipton and www.liptontea.com
Did you enjoy this post?
| | |
| --- | --- |
| Share the love | Get free updates |