Gather the Ingredients
Simmering the Beef
Bringing the potatoes (and garlic) to a boil
Loving my new ricer! So fluffy!
Adding the flavor with a bit of milk and cheese
Before Baking – Peppers At Attention
Shepard's (or Cottage) Pie in a Stuffed Pepper – perfection!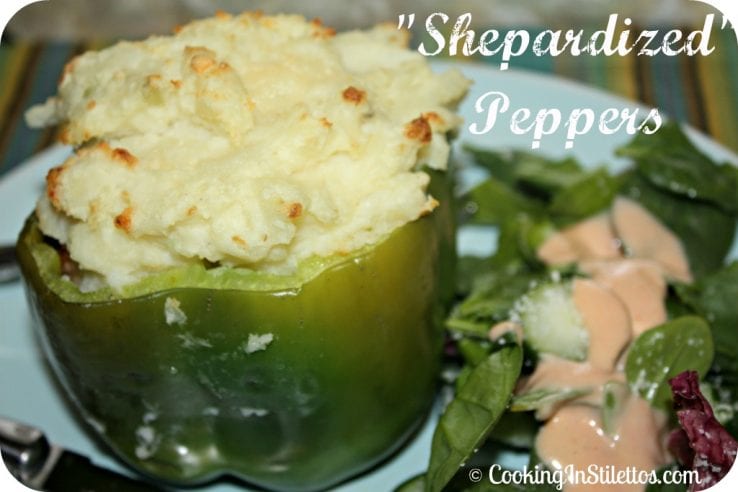 Ingredients
For the Peppers:

4 large bell peppers
1 pound lean ground beef
2 medium carrots, grated
1 onion, grated
2 cloves garlic, minced
1 tablespoon Worcestershire sauce
1 tablespoon tomato paste
1/2 tablespoon minced rosemary
1 tablespoon fresh thyme
3/4 cup beef stock
1 teaspoon kosher salt
1/2 teaspoon freshly cracked black pepper

For the Potato topping:

2 pounds russet potatoes, peeled and cut up
2 garlic cloves, smashed
4 tablespoons unsalted butter
1/4 cup half and half
Salt
Pepper
1/4 cup grated parmesan cheese, plus extra for garnish
Instructions
Preheat oven to 350°F .
Spray a small casserole pan with nonstick spray and set aside.
Wash the peppers thoroughly, cut off the tops and remove the seeds. Rinse again and set aside to dry.
In a large sauté pan, over medium heat, start to brown the beef. When the meat is mostly browned, add the grated carrot, onion and garlic.
When the meat mixture is fully browned, add the rosemary, thyme, and Worcestershire sauce followed by the beef broth, making sure to scrape up any brown bits on the bottom of the pan.
Season with salt and pepper and cook the mixture over medium low until most of the liquid is reduced.
In a large pot, bring the potatoes and 2 smashed garlic cloves to a boil in some salted water.
When the water is boiling, turn the heat down and simmer until the potatoes are fork-tender, about 15 minutes.
Drain the potatoes and put the potatoes (and garlic) through a potato ricer.
In a small saucepan, melt the butter. Add the half and half to the melted butter and quickly wisk to incorporate. Season with salt and pepper, and add the grated parmesan cheese.
Pour the milk mixture into the riced potatoes and stir to combine.
Add the peppers to the casserole pan, taking care to make sure that every pepper is in snugly and standing up. If they can't stand up, trim the bottom of the pepper to create a more level surface.
Fill the peppers with the beef mixture, top with the mashed potatoes and sprinkle the tops with a bit more parmesan cheese.
Bake for about 30 minutes, until the potatoes are lightly browned.
Enjoy!
7.8.1.2
384
https://cookinginstilettos.com/shepardized-peppers/