This month's Secret Recipe Club assignment was a fun one! I printed out about 10 recipes to mull over and I could have easily picked 10 more. Her recipes are fabulous, her photography is stellar and I just love love love her blog – The Kitchen Witch. Little known fact, I do have a kitchen witch in my kitchen. I got my kitchen helper in Salem many moons ago when I finally stood on my own two stilettos and told the ex-fiancee to take a hike. So, when I was perusing The Kitchen Witch, I had to smile because, while I don't often look at my own KW, it's always there overseeing all the simmering pots on the stove from its perch on my wall.
The Kitchen Witch is home to Rhonda, aka Giggles, a biker chick currently living in  Oregon who was inspired to start her own abode on the web after being inspired by her daughter who also has a fab blog, Leftovers for Lunch.  Giggles reminds me a lot of my bff Meowmix with her drive, determination and, of course, being a biker gal. The photos on Giggles' site make me want to really learn my camera settings and get out and explore the views here in my neck of the woods.
I couldn't decide from the plethora of recipes that were on there and, like I said, I have 10 more fun kitchen experiments to try like Coffee Milk, Pumpkin Oatmeal Cookies, Bacon Hash and Broiled Eggs, Simple Artisan Bread, and so much more. However, I had to narrow today's SRC Reveal to just one so, being that yesterday was Father's Day, and my father's two favorite dishes are Stuffed Peppers and Shepard's Pie, I had to go with Shepard's Pie Peppers. Because I am kinda a legal wench, I wanted to play with the name hence the "Shepardized" part of it. However, as one can always argue something legally, it's technically it's "Cottagized" Peppers because if I made this with ground lamb, I would have been shot because my father is not a fan of lamb. But, really, let bygones be bygones and focus on the main issue – flavor –  because the flavor is out of this world.
Many thanks to Giggles for a brilliant recipe idea that is a new favorite tried and true and I'm so thankful you crossed my path!
Ingredients
For the Peppers:

4 large bell peppers
1 pound lean ground beef
2 medium carrots, grated
1 onion, grated
2 cloves garlic, minced
1 tablespoon Worcestershire sauce
1 tablespoon tomato paste
1/2 tablespoon minced rosemary
1 tablespoon fresh thyme
3/4 cup beef stock
1 teaspoon kosher salt
1/2 teaspoon freshly cracked black pepper

For the Potato topping:

2 pounds russet potatoes, peeled and cut up
2 garlic cloves, smashed
4 tablespoons unsalted butter
1/4 cup half and half
Salt
Pepper
1/4 cup grated parmesan cheese, plus extra for garnish
Directions
Preheat oven to 350°F .
Spray a small casserole pan with nonstick spray and set aside.
Wash the peppers thoroughly, cut off the tops and remove the seeds. Rinse again and set aside to dry.
In a large sauté pan, over medium heat, start to brown the beef. When the meat is mostly browned, add the grated carrot, onion and garlic.
When the meat mixture is fully browned, add the rosemary, thyme, and Worcestershire sauce followed by the beef broth, making sure to scrape up any brown bits on the bottom of the pan.
Season with salt and pepper and cook the mixture over medium low until most of the liquid is reduced.
In a large pot, bring the potatoes and 2 smashed garlic cloves to a boil in some salted water.
When the water is boiling, turn the heat down and simmer until the potatoes are fork-tender, about 15 minutes.
Drain the potatoes and put the potatoes (and garlic) through a potato ricer.
In a small saucepan, melt the butter. Add the half and half to the melted butter and quickly wisk to incorporate. Season with salt and pepper, and add the grated parmesan cheese.
Pour the milk mixture into the riced potatoes and stir to combine.
Add the peppers to the casserole pan, taking care to make sure that every pepper is in snugly and standing up. If they can't stand up, trim the bottom of the pepper to create a more level surface.
Fill the peppers with the beef mixture, top with the mashed potatoes and sprinkle the tops with a bit more parmesan cheese.
Bake for about 30 minutes, until the potatoes are lightly browned.
Enjoy!
Notes
Recipe slightly adapted from The Kitchen Witch
7.6.8
807
https://cookinginstilettos.com/shepardized-peppers/
All images and content are © Cooking In Stilettos. Please do not republish without contacting us first. Thank you.
Gather the Ingredients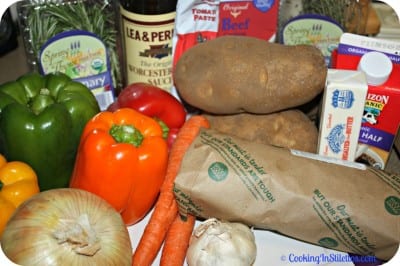 Simmering the Beef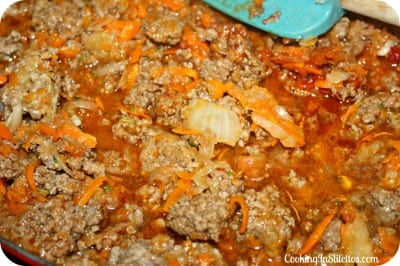 Bringing the potatoes (and garlic) to a boil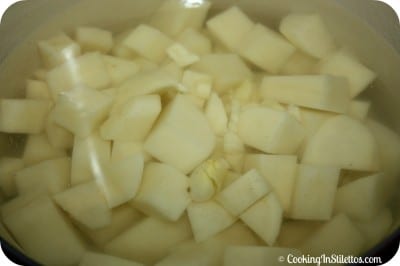 Loving my new ricer! So fluffy!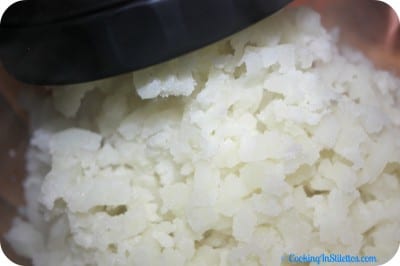 Adding the flavor with a bit of milk and cheese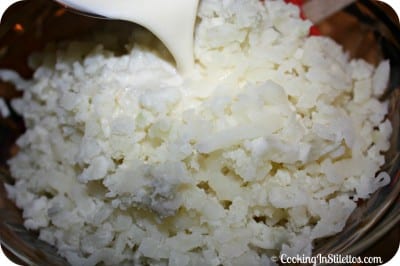 Before Baking – Peppers At Attention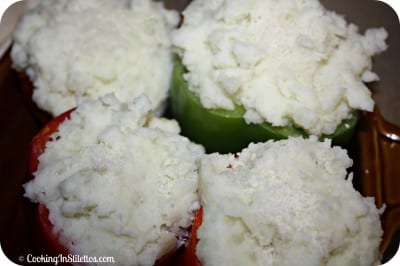 Shepard's (or Cottage) Pie in a Stuffed Pepper – perfection!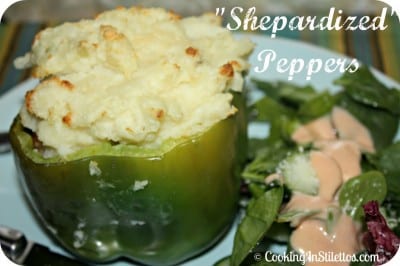 Did you enjoy this post?
| | |
| --- | --- |
| Share the love | Get free updates |