This Thanksgiving Turkey with Cranberry Chile Tequila Glaze is the ultimate Thanksgiving turkey – spicy, sweet and packed with flavor thanks to a rich cranberry chile tequila glaze. 
 
Disclosure:  OXO sent the tools to assist with the making of this post.  My opinion and love for the brand are all my own.  There may be affiliate links contained within this post.  Thank you for supporting the brands that make Cooking In Stilettos possible.

Thanksgiving is fast approaching – have you started thinking of your menu yet?
There has been a turkey that I have always wanted to try but I'm used to the traditional Thanksgiving Turkey – basted with butter, crispy skin and stuffed with a bit of onions, garlic, thyme, sage and rosemary.  However, when Marcela Valladolid made an Apricot and Tequila Glazed Turkey on her show, I made a mental note to give that recipe a try.  After all, you know I love adding a bit of "spirit" to some dishes and a turkey injected with a butter and tequila infusion – now that is intriguing.
OXO recently challenged a group of food bloggers to make "The Ultimate Thanksgiving Turkey" for #OXOTurkeyDay and the first thing I thought – I need to make that tequila turkey.  I love Latin flavors and, with a few twists, this Cranberry Chile Tequila Glazed Turkey took center stage.  OXO sent us some tools to help make the turkey preparation super simple and you know their tools always produce a fantastic dish.  I mean, look at these OXO tools we had to play with…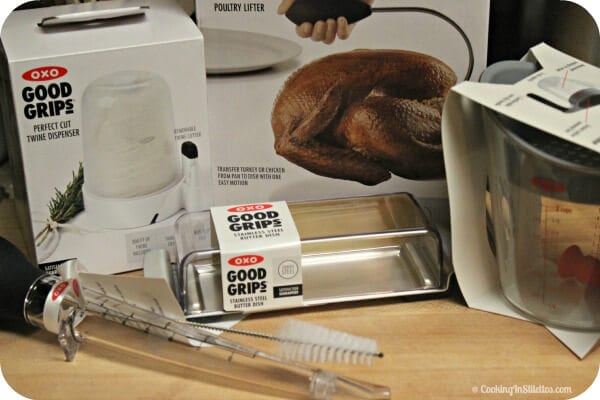 Everything you might need for the perfect turkey!  I especially loved the Poultry Lifter, angled baster and the fat separator.  After many a drama lifting the bird from pan to plate over the years, seeing this poultry lifter was like angels singing. …