As summer heats up, the urge for light, refreshing dishes that require little effort in the kitchen grows. Whether it's a backyard barbeque or a simple weeknight supper, the emphasis is on quick, tasty, and easy recipes that capture the spirit of the season. This collection of quick and easy summer dishes is intended to deliver exactly that – a culinary repertoire that highlights fresh ingredients, lively tastes, and, most importantly, your valuable time.
1. Watermelon, Feta, and Mint Salad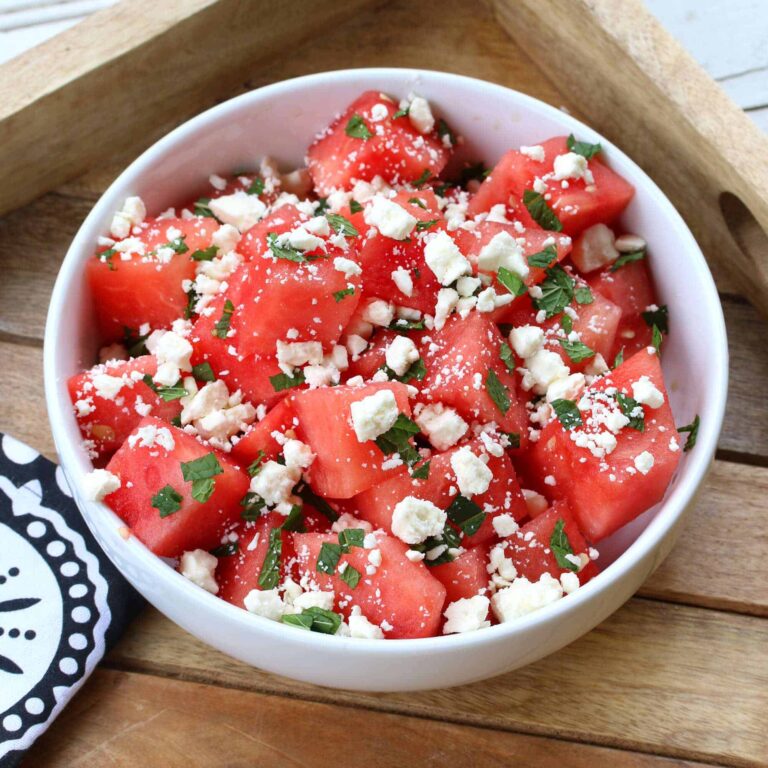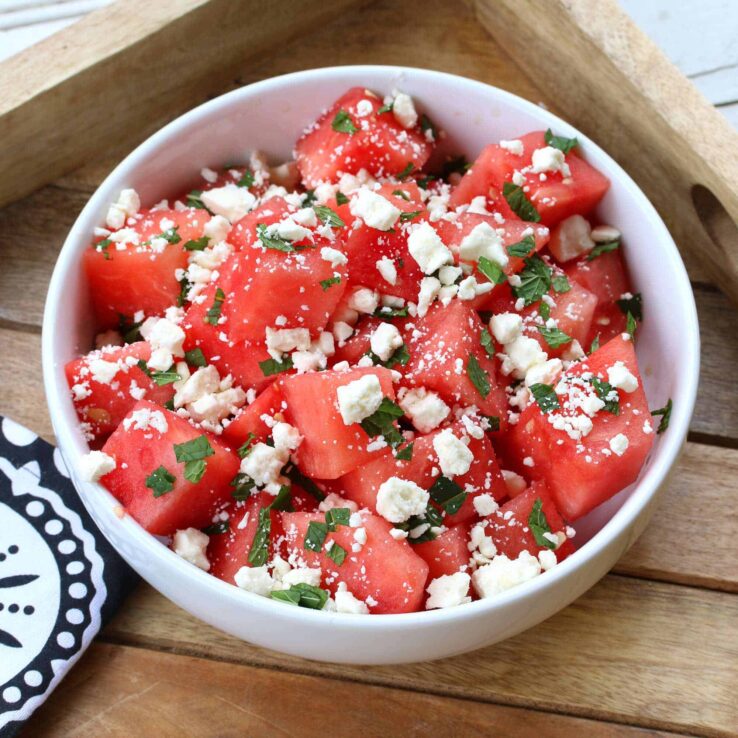 Nothing screams summer more than a refreshing watermelon salad. Toss juicy chunks of watermelon with crumbled feta cheese and fresh mint leaves, creating a delightful blend of sweet and tangy flavors. The cool, crisp watermelon paired with the creamy saltiness of feta and the aromatic freshness of mint makes this salad a true seasonal delight.
For an extra layer of taste, drizzle a little balsamic glaze over the top, adding a burst of sweet and savory notes that'll keep you cool on the hottest of days.
2. Gazpacho
Gazpacho is a classic Spanish dish that epitomizes the essence of summer. It's a refreshing, chilled soup made by blending together a medley of fresh vegetables like ripe tomatoes, cucumber, bell pepper, red onion, and garlic. A touch of olive oil adds a silky texture, while salt, pepper, and vinegar provide the perfect balance of flavors.
The beauty of gazpacho lies in its simplicity – no cooking is required! Just blend the ingredients until smooth, chill it in the refrigerator for a few hours, and Boom! You'll have a nutritious, flavorful, and vibrant soup that's ideal for beating the heat on hot summer days. Top it off with fresh herbs or diced veggies to further enhance the taste, texture, and vibrant hues of the soup.
3. Chicken Tacos
Shredded chicken tacos in the instant pot are a terrific and convenient supper alternative that will satisfy your taco cravings in no time. Tender and juicy chicken is boiled to perfection in an instant pot, flavored with a variety of spices and flavors. The beauty of this dish resides in its simplicity; all you need is some boneless chicken, a few spices, and your trusty instant pot to do the rest of the job.
Once the chicken is cooked, slice it with two forks for a delicious, melt-in-your-mouth feel. Serve the tasty, shredded chicken in warm tortillas with your favorite taco fixings, such as fresh salsa, guacamole, shredded lettuce, and a sprinkling of cheese.
4. Lemon Herb Chicken
The Lemon Herb Chicken is truly tempting due to its lemony and savory flavors, guaranteed to raise your summertime dishes to a totally different level. The succulent chicken breasts are marinated in a delicious mixture of acidic, fresh lemon juice, flavorful garlic cloves, and aromatic plants. Whether you roast or bake the chicken, you will ultimately end up with a dish that is moist and tender and guaranteed to please the taste buds.
This recipe is light and pleasant, making it a great option for a quick and tasty summer meal. Pair it with a refreshing salad or some scrumptious grilled vegetables to round off the meal.
5. Grilled Shrimp Skewers
Grilled shrimp skewers are a classic summer treat that perfectly captures the season's soul. The preparation is quick and hassle-free – just marinate fresh shrimp in an enticing blend of olive oil, spicy garlic, sparkling lemon juice, and spices and herbs for a mere 15-20 minutes. Once infused with flavor, thread the juicy shrimp onto skewers and let them sizzle on the grill for 2-3 minutes per side until they're a tantalizing pink color with a hint of delicious charring.
The result is a tantalizing dish that effortlessly combines a burst of freshness with a delectable smoky aroma. These tasty skewers can be enjoyed either with a tangy dipping sauce or atop a bed of fresh greens, resulting in a light and refreshing meal suitable for warm summer gatherings.
6. Caprese Avocado Toast
Caprese Avocado Toast converts the simple favorite into a sophisticated and delectable treat. Begin by spreading creamy mashed avocado on whole-grain toast for a healthful and comforting base. Elevate the flavor further by Layer on slices of juicy tomatoes and creamy fresh mozzarella, each granting their own distinct flavor. Finally, a pinch of salt and pepper gives a slight bite, while the pièce de résistance is the tempting tangy glaze that falls over the toppings, infusing a delightful acidic sweetness.
This quick and beautiful take on avocado toast is a universal plate that can be served at any time of day, whether as a delicious breakfast, a light lunch, or a stunning appetizer at gatherings.
7. Lemon Garlic Butter Grilled Corn
Lemon-Garlic Butter Grilled Corn takes the classic grilled corn on the cob to a whole new level of flavor. To prepare this delectable side dish, start by blending softened butter with minced garlic, zesty lemon zest, and a dash of salt. While grilling the corn over medium heat, let the sweet kernels get slightly charred to enhance their natural flavors.
Once the corn is perfectly cooked, generously spread the zesty lemon-garlic butter over the cobs, transforming them into a tantalizing treat. This delectable twist on grilled corn will surely be a hit at any summer barbecue or outdoor gathering, leaving everyone craving more of this delightful treat.
8. Banana Pops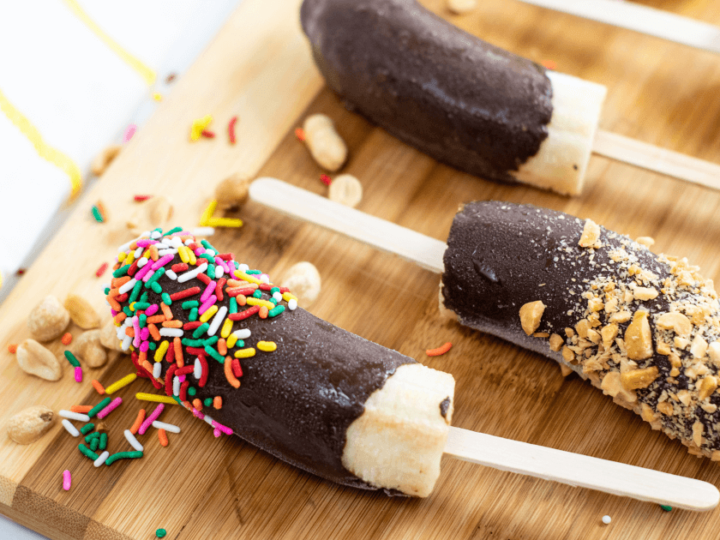 Beat the summer heat with these delightful frozen banana pops. Insert popsicle sticks into peeled bananas and dip them into melted chocolate, creating a luscious coating. For added texture and flavor, roll the chocolate-coated bananas in chopped nuts, coconut flakes, or colorful sprinkles.
Freeze them until solid, and you've got a wonderful treat that's not only tasty but also a healthy alternative to ice cream. These frozen banana pops are a delightful treat that is sure to please both youngsters and adults.
Conclusion
In conclusion, these simple and delectable summer recipes are the ideal way to combat the heat and savor the flavors of the season without spending hours in the kitchen. From grilled shrimp skewers to a cool watermelon feta salad and soothing gazpacho, these dishes offer the perfect blend of flavor and ease of preparation. Whether you're entertaining at a barbecue or going on a picnic, these recipes will keep you calm, nourished, and ready to make the most of the upcoming sunny days.