The holiday season is just around the corner and one of my favorite brands, OXO, is raising money for Cookies for Kids' Cancer. Whenever OXO has a campaign to raise money for this cause, I'm all in.  For the holidays, I have brought these rich must make Boozy Black Forest Cookies to the party.
Long time readers of Cooking In Stilettos know that this charity is near and dear to my heart as a dear childhood friend, Justine, died from neuroblastoma, a deadly childhood cancer.  This is my third year participating and it's a cause that I think helps so many.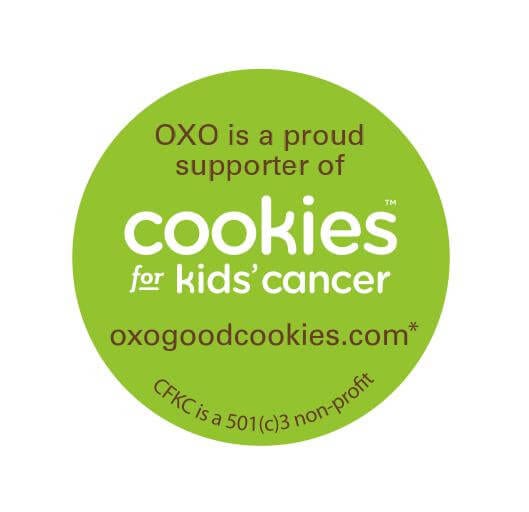 This charity was started by two employees of OXO whose son, Liam, was battling cancer.  What once started as a bake sale turned into something huge.  Cookies for Kids' Cancer fights the good fight, raising funds for research to help children win this battle.  So, when you see that lovely sticker on OXO products, they will donate a portion of the proceeds to Cookies for Kids' Cancer*   In 2015, OXO will donate up to $100,000 to Cookies for Kids' Cancer through product proceeds, bake sale matches and other fundraising efforts.  Talk about being a good cookies, right?  OXO has some fabulous products that will make your holiday season bright – both for gift giving and, of course, to use in your kitchen.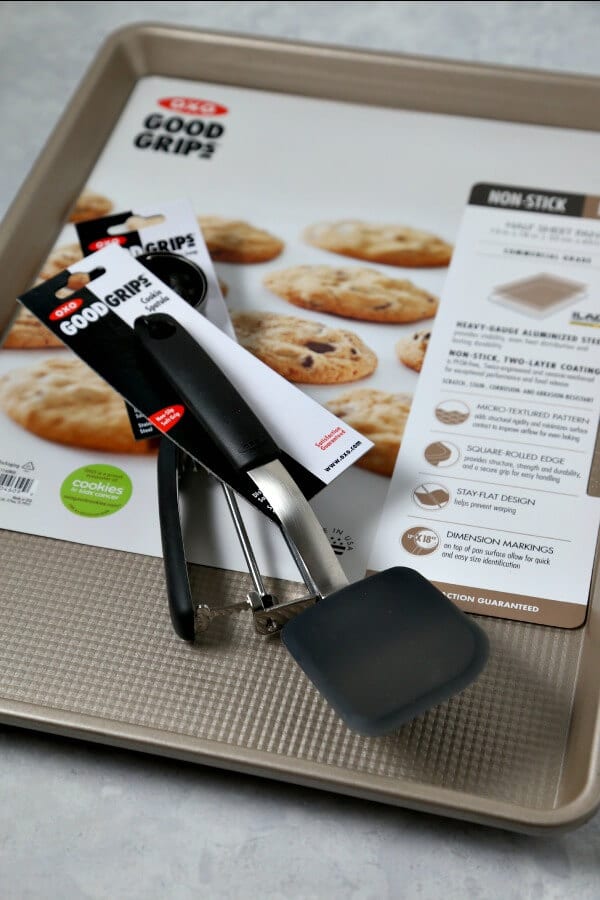 OXO sent some of their favorite cookie tools over to play with – specifically their Non-Stick Half Sheet Baking Pan, a Medium Cookie Scoop and a Cookie Spatula, just the right size for cookies – no awkward maneuvering to just get one cookie off the baking pan to the cooling rack.  If you look through my kitchen, you will see that I rely on OXO to help my dishes turn out fabulous. OXO products are vital to organizing my pantry, they help spruce up my summer gardening and, of course, how can you bake without some of OXO's must have tools – like their cookie scoops (which I have multiples of in every size– like shoes, a gal needs options), their spatulas and my new obsession – their baking pans. I have to tell you, I stocked my baking cabinet last year with a fancy kitchen store brand's *ahem* goldish tinted bakeware which I thought was the only foolproof baking pans out there.  After I played with OXO's pan, I have to confess – I. Was. Wrong!
OXO's nonstick half sheet pans have this raised coating which will help your cookies not stick to the pan.  Now – whenever I make cookies that I know have the chance to spread and potentially get especially messy, like these cookies could possibly do, I do break out the parchment sheets to go with. Eventually something always gets on the pans and I hate scrubbing baking sheets at the end of the day. However, this baking pan came out flawless – in the oven it went, out of the oven it came and looked as shiny and fabulous as it did when I first opened the box. Love It!
Y'all know I love a good boozy bite and these Boozy Black Forest Cookies need to be on your holiday cookie list for the office and for the grown folks. Now – if you want to make it little-one friendly, my suggestion is to leave out the amaretto and use some hot water instead to plump up the cherries. Another suggestion I have is to possibly chill the dough for about 30 minutes. It's a somewhat wet dough once the amaretto gets mixed so if you are impatient like me, be prepared to get a bit messy when rolling the cookies in powdered sugar. Another thing I found is that some of the powdered sugar melted into the cookies while baking so I decided to break out my favorite powdered sugar dusting wand and channeled my inner Tinkerbell and a falling of freshly powdered sugar wafted over these rich and luscious chocolate treats. The outside of the cookie is crisp while the center is rich and gooey, studded with amaretto soaked cherries and lots of dark chocolate.
Boozy Black Forest Cookies will be a holiday favorite for the cookie jar – just one bite and I promise you will be smitten!
On to the recipe:
Gather your ingredients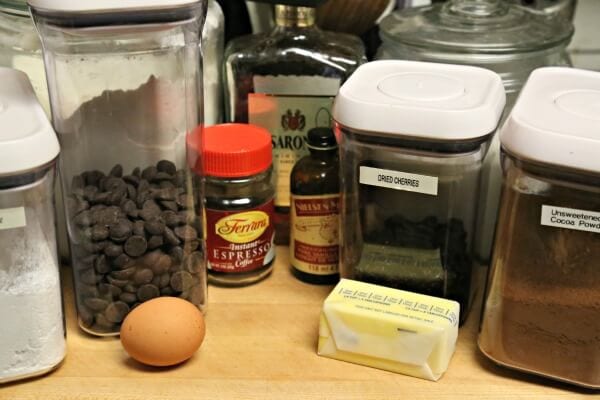 Let's get a bit of amaretto love into the dried cherries shall we?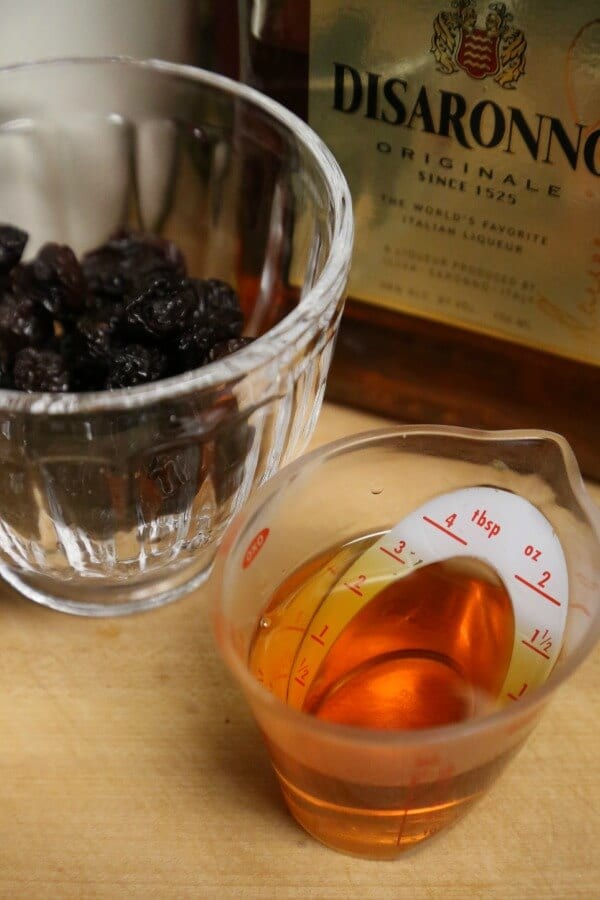 Whisking the cocoa powder and butter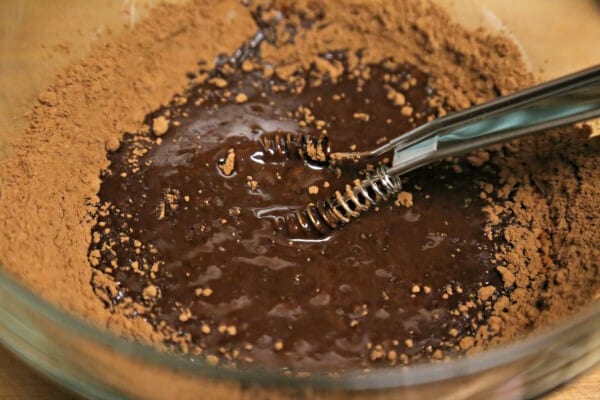 Mixing the cherries and chocolate into the dough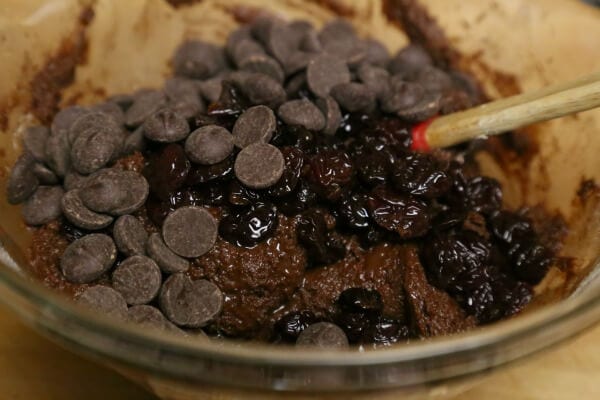 Ready to Scoop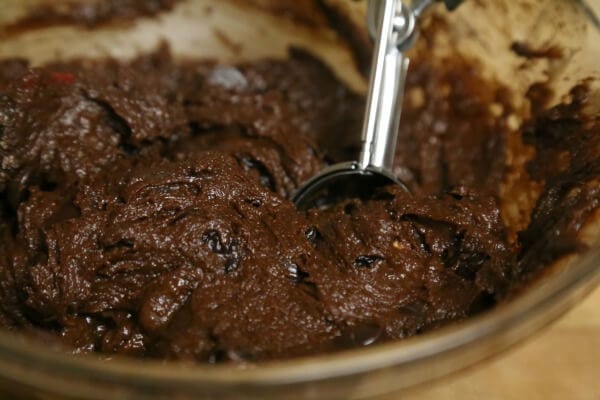 They need a touch more powdered sugar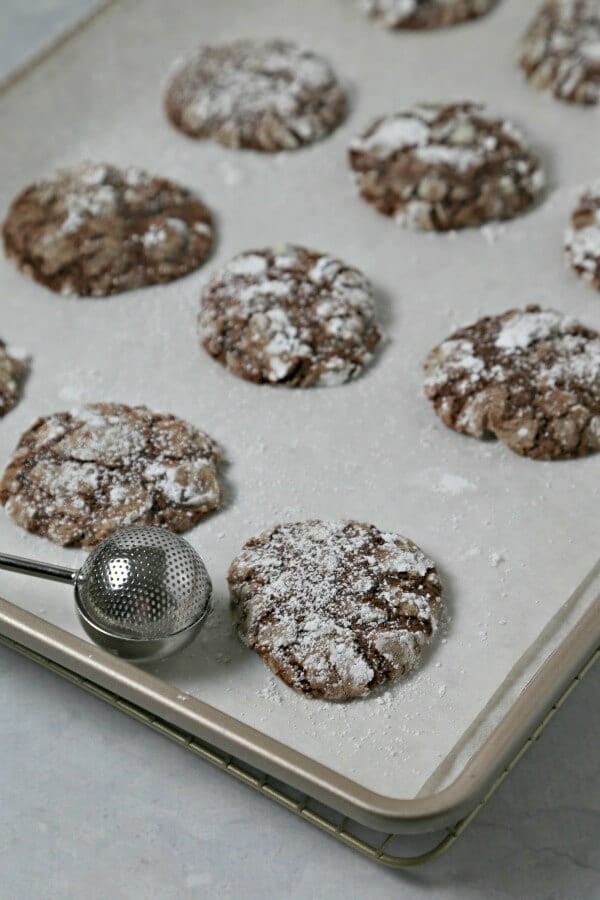 Try to have just one – I dare you!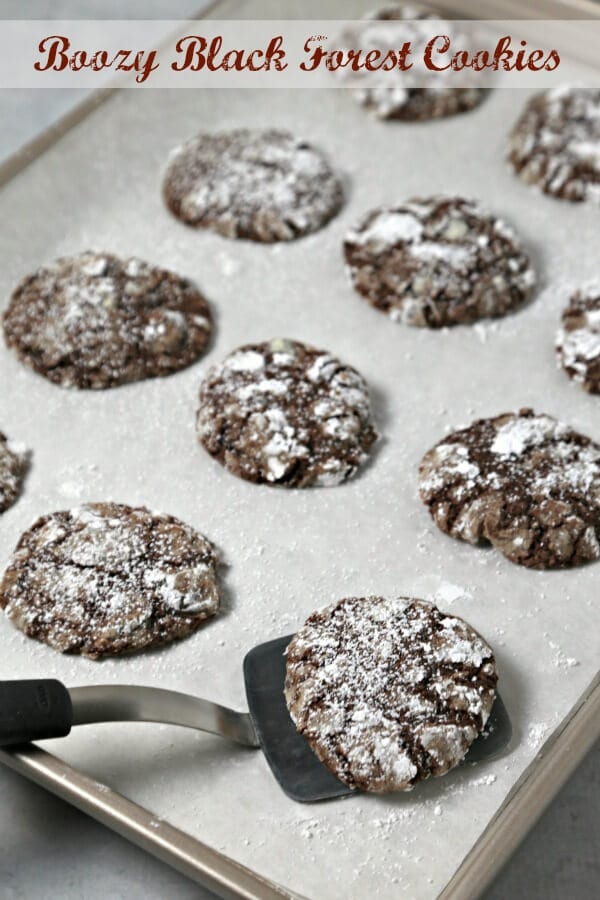 Adapted from Cuisine at Home
Yields 2
Boozy Black Forest Cookies
These Boozy Black Forest Cookies meld the flavors of black forest cake and add a little kick. Amaretto soaked cherries and bittersweet chocolate are folded into a rich chocolate dough for a crispy chewy cookie bite!
30 minPrep Time
20 minCook Time
50 minTotal Time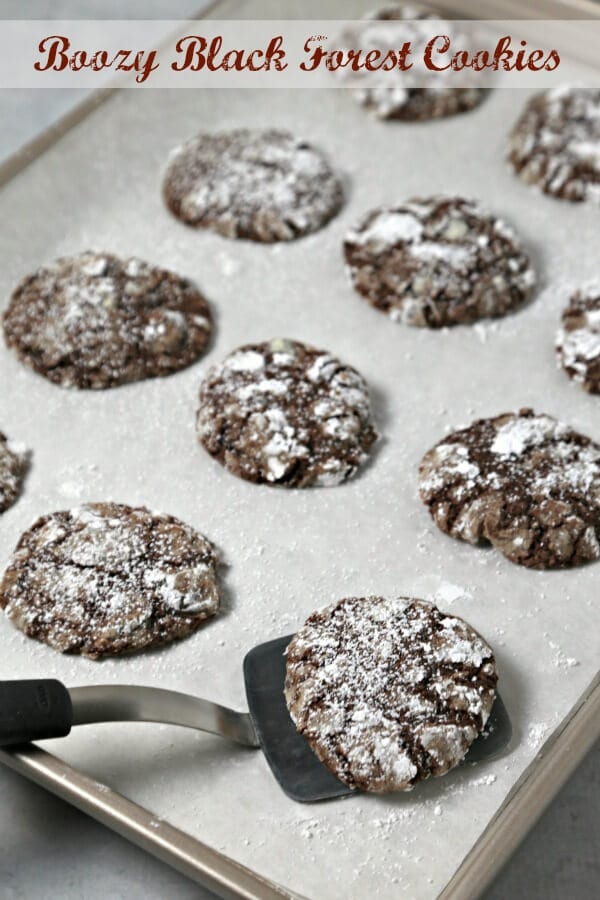 Ingredients
1/2 cup of dried cherries
3 tablespoons of amaretto
1 cup of all-purpose flour
1 cup of granulated sugar
1 teaspoon of baking powder
1/4 teaspoon of kosher salt
1/2 cup of unsweetened cocoa powder (not dutch process!)
5 tablespoons of unsalted butter, melted
1 large egg
1 teaspoon of instant espresso dissolved in 2 tablespoons of hot water
1 teaspoon of vanilla extract
1/2 cup of bittersweet chocolate chips
1 cup of powdered sugar, plus extra for garnish if needed.
Instructions
Heat the oven to 350 degrees F.
Line two baking sheets with parchment paper or a silpat and set aside.
In a small bowl , mix the dried cherries with the amaretto and leave them to soak up the amaretto for about 15 – 20 minutes.
Sift together the flour, sugar, baking powder, and salt in a large bowl and set aside.
In another bowl, add the cocoa powder and melted butter. Whisk until smooth.
Add the egg, espresso mixture and vanilla extract to the cocoa butter mixture and whisk again until everything is combined.
Pour the wet ingredients into the dry and mix carefully – try to not overmix it. The dough will be stiff.
When the dough seems to be almost fully mixed – it should be pretty firm. Fold in the cherries and the amaretto as well as the chocolate chips.
Mix thoroughly but take care to not over mix. The dough might be a bit wet.
You can chill for 30 minutes if you wish. If you are as impatient as me, using a small or medium cookie scoop, form the batter into balls and add them to a smaller bowl containing the powdered sugar.
Roll each dough ball through the powdered sugar a couple times and place each ball on the prepared cookie sheet.
Bake for about 12 – 15 minutes, until the edges are crisp and the center is just about set.
Let cool on the pan for about 5 -7 minutes then cool fully on a cooling rack.
Enjoy!
Notes
Cookies for Kids' Cancer is a recognized 501c(3) public charity duly incorporated under the laws of the state of New Jersey. Your donations are tax deductible to the fullest extent allowable by law. 100% of proceeds raised by Cookies for Kids' Cancer fund pediatric cancer research.
7.8.1.2
125
https://cookinginstilettos.com/boozy-black-forest-cookies/
Disclosure: I was not compensated for this post. This is a cause near and dear to me and I welcomed the chance to help with the cause. OXO will be donating $100 for this post to charity and sent a set of baking tools to help with this recipe.